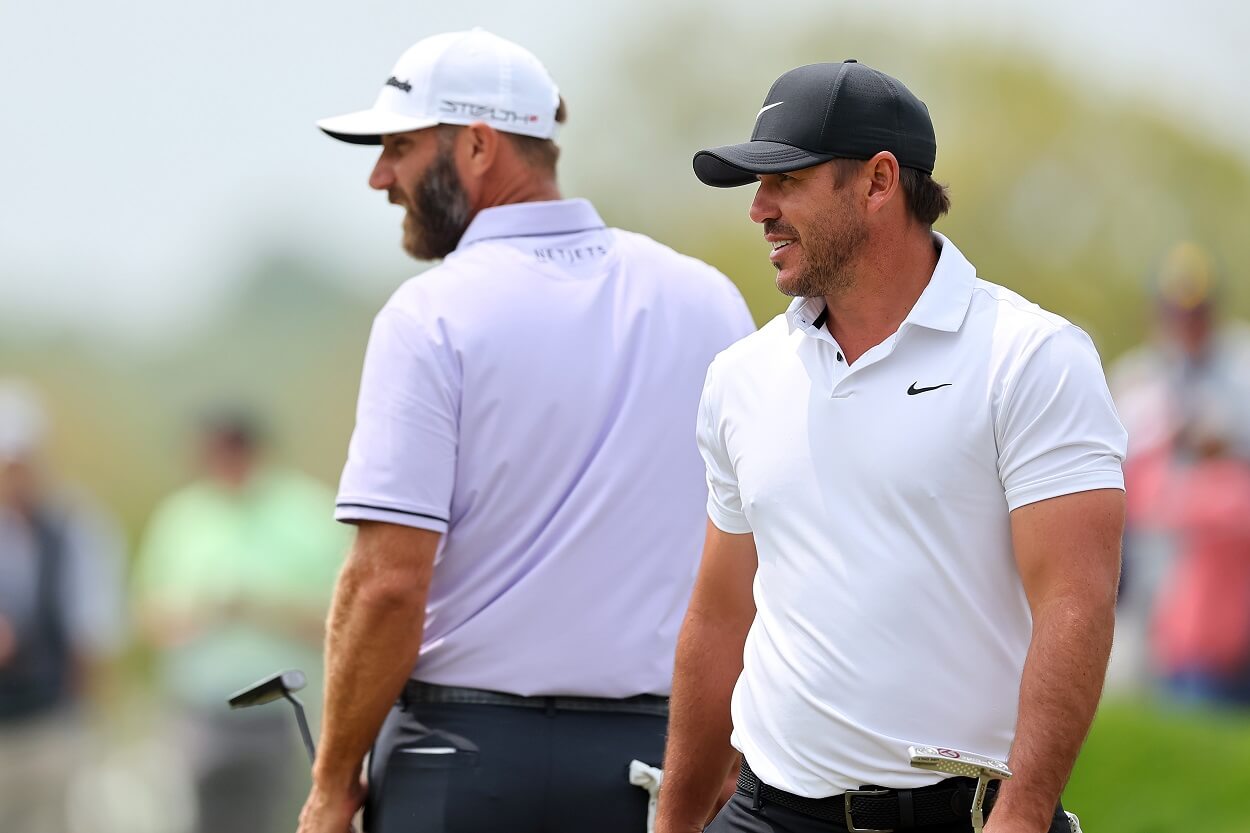 Ranking the 5 Best Players of the LIV Golf Era
A look at the best players of the LIV Golf era.
As LIV Golf has merged with the PGA Tour and the DP World Tour, one has to assume the Saudi-backed series as we've known it for the past year will come to an end once the 2023 season is complete.
There are still plenty of details to come on that front, but as Saudi Arabia's Public Investment Fund will be the primary investor in this new, yet-to-be-named entity, one would think that LIV Golf is no longer necessary as there's now no reason to attempt to compete with the PGA Tour as PIF now controls it.
With that in mind, we thought it might be fun to rank the five best players of the LIV Golf era — the short era that it was, anyway.
And just to end the suspense early, you certainly won't find Phil Mickelson on this list. Sure, he had that throwback runner-up performance at the Masters — and we are taking major championship starts into account here.
But when it came to the LIV Golf events, he's never once been a factor. Lefty has just one top-10 finish in 15 starts, and his average finishing position is 30.6. And let's not forget these are just 48-player fields. But as I've said previously — he's got no reason to really care, given the fact that he received $200 million in upfront money just to show up. But I digress.
Here's a quick look at the top five players of the LIV Golf era.
5. Patrick Reed
Despite never winning a single LIV Golf event, Patrick Reed still deserves a spot in the top five. Besides, it's not as if he never came close.
In six starts in 2022, not including the Team Championship, the nine-time PGA Tour winner earned three top-five finishes, including a runner-up in Bangkok, and only finished lower than 17th once. He also owns a pair of top-four finishes in 2023 and has only been outside the top 20 twice in seven starts. Reed also finished 18th or better in each of the first two major championships, including a tie for fourth at the Masters.
I nearly put Cameron Smith in this spot, but he joined LIV Golf so late last year that I just couldn't quite justify putting him in the top five, despite his victory in Chicago and several top-10 finishes. He also continues to play well in major championships, so he'll likely crack the top five soon.
Peter Uihlein also just narrowly missed the cut. It's kinda weird to see the phrase "missed the cut" in a LIV Golf piece, isn't it?
4. Branden Grace
Branden Grace has gone somewhat under the radar as one of LIV Golf's best players, but he's undoubtedly been just that over the last year.
In seven starts in 2022, the South African notched a victory in Portland, finished 18th or better five times, and finished second in the individual standings, which earned him an $8 million bonus.
And in seven starts during the 2023 campaign, Grace owns a trio of top-three finishes and currently resides in the No. 4 slot in the season standings.
3. Talor Gooch
Talor Gooch got off to a solid start in LIV Golf, earning top-10 finishes in each of his first four starts in 2022. His next three events didn't go as well, although he still finished 12th in Jeddah and finished 11th in the individual standings.
The one-time PGA Tour winner continued to play decently to start the 2023 season, finishing 14th in Mayakoba and Tucson and 18th in Orlando. Gooch then broke through with his first LIV Golf victory in Australia and won again the very next week in Singapore. He then recorded a third victory at Valderrama and sits atop the individual standings. He's also very close to jumping into the No. 2 spot here.
2. Dustin Johnson
Truth be told, if major championships weren't a factor here, Dustin Johnson would likely be in the No. 1 spot.
After all, the 24-time PGA Tour winner played some of his best golf in recent years during the 2022 LIV Golf season, earning six finishes of eighth or better in seven starts, including a victory in Boston. And in that seventh start, DJ finished 16th in Bangkok, which helped him to the season-long points title and a cool $18 million bonus.
And while he hasn't been nearly as consistent in 2023, Johnson earned a second LIV Golf win in Tulsa and sits in fifth place in the standings.
1. Brooks Koepka
Brooks Koepka didn't have the greatest start to his LIV Golf career last year, carding just one top-20 finish in his first four starts. But he then finished ninth in Bangkok and won in Jeddah, his first win of any kind in more than a year.
He regressed a bit to start the 2023 season, finishing 31st in Mayakoba and 29th in Tucson. But he then took his second LIV Golf victory in Orlando and put himself in position to win the Masters a week later, ultimately tying for second after a rough final round at Augusta.
Following a pair of top-six finishes in his next three starts, Koepka had no such breakdown at Oak Hill and won his third PGA Championship title, becoming the first and still only active LIV Golf player to win a major. He carded another top-20 at the U.S. Open, tying for 17th at Los Angeles Country Club, and currently sits in second in the 2023 overall standings.