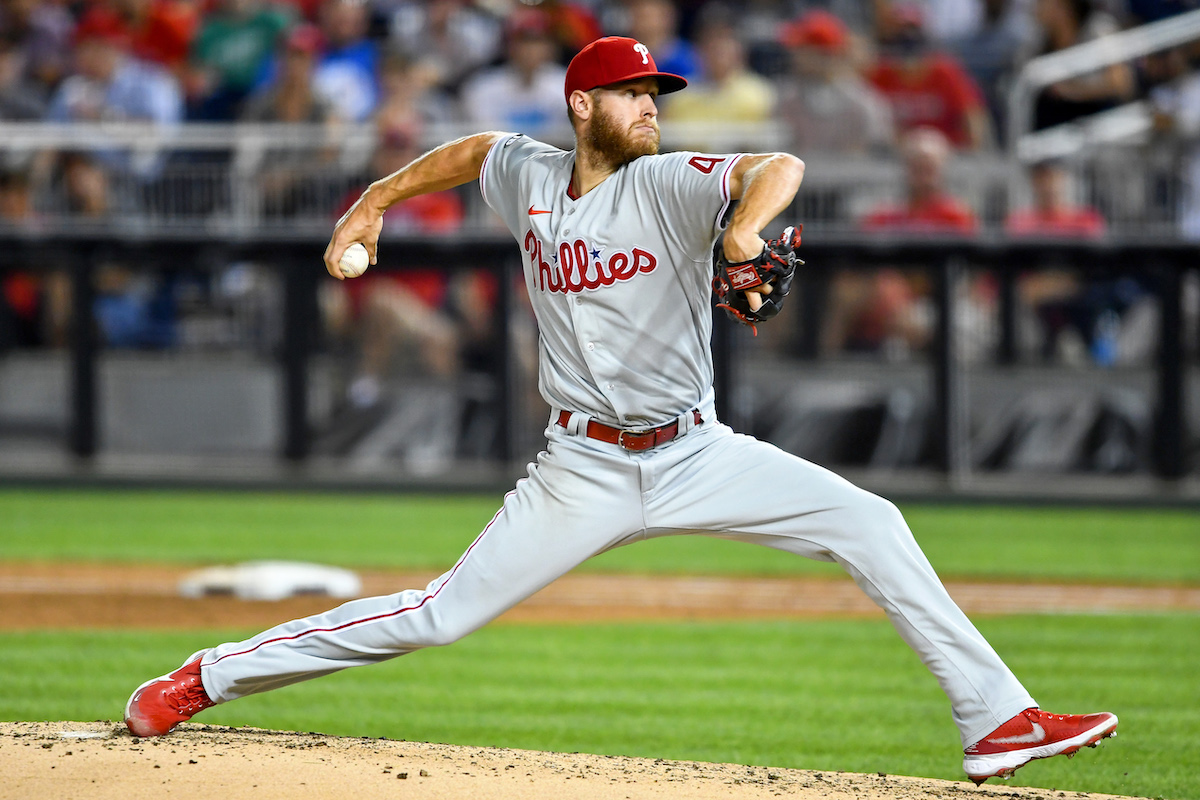 Ranking Jacob deGrom, Max Scherzer, Zack Wheeler, Top 10 NL East Starting Pitchers for 2022 MLB Season
The NL East is brimming over with high-quality starting pitchers in Jacob deGrom, Max Scherzer, Aaron Nola, Zack Wheeler, Sandy Alcantara, Charlie Morton, and more. But how does the top 10 shake out?
The MLB pitching talent taking the mound in the National League East verges on ridiculous.
The Atlanta Braves, ready to provide a memorable encore to their World Series victory over the Houston Astros, can throw out Charlie Morton, Max Fried, and Ian Anderson. The New York Mets have arguably the best one-two punch in baseball with Max Scherzer and Jacob deGrom, and the rest of their rotation isn't too shabby. The Philadelphia Phillies have twin aces in the form of Aaron Nola and Zack Wheeler.
The Miami Marlins always seem to have plenty of young talent, including Trevor Rogers, Pablo Lopez, and Sandy Alcantara this time around. The Washington Nationals might have the worst rotation in the division, but they still have plenty of upside in the form of Stephen Strasburg and Josiah Gray, who could break out in a big way.
Figuring out how all these notable starting pitchers stack up is a challenge, but we're up for it.
This countdown of the 10 best NL East starting options hinges on a combination of past results and future projections, weighing everything from ongoing injury concerns to potential progression/regression in an attempt to predict the expected level of play for the entirety of the 2022 season.
That last part can't be emphasized enough.
Beginning with the upside-laden set of honorable mentions you can see below, these rankings are not moment-in-time snapshots. Nor do they predict the final level reached when the 2022 postseason field is determined. They account for expected volume and production during the whole campaign, relying on both anecdotal observations and plenty of numbers, including the listed 2022 stats that come from Fangraphs' THE BAT projections.
Honorable Mentions: Ian Anderson, Atlanta Braves; Carlos Carrasco, New York Mets; Stephen Strasburg, Washington Nationals; Ranger Suarez, Philadelphia Phillies; Huascar Ynoa, Atlanta Braves
10. Chris Bassitt, New York Mets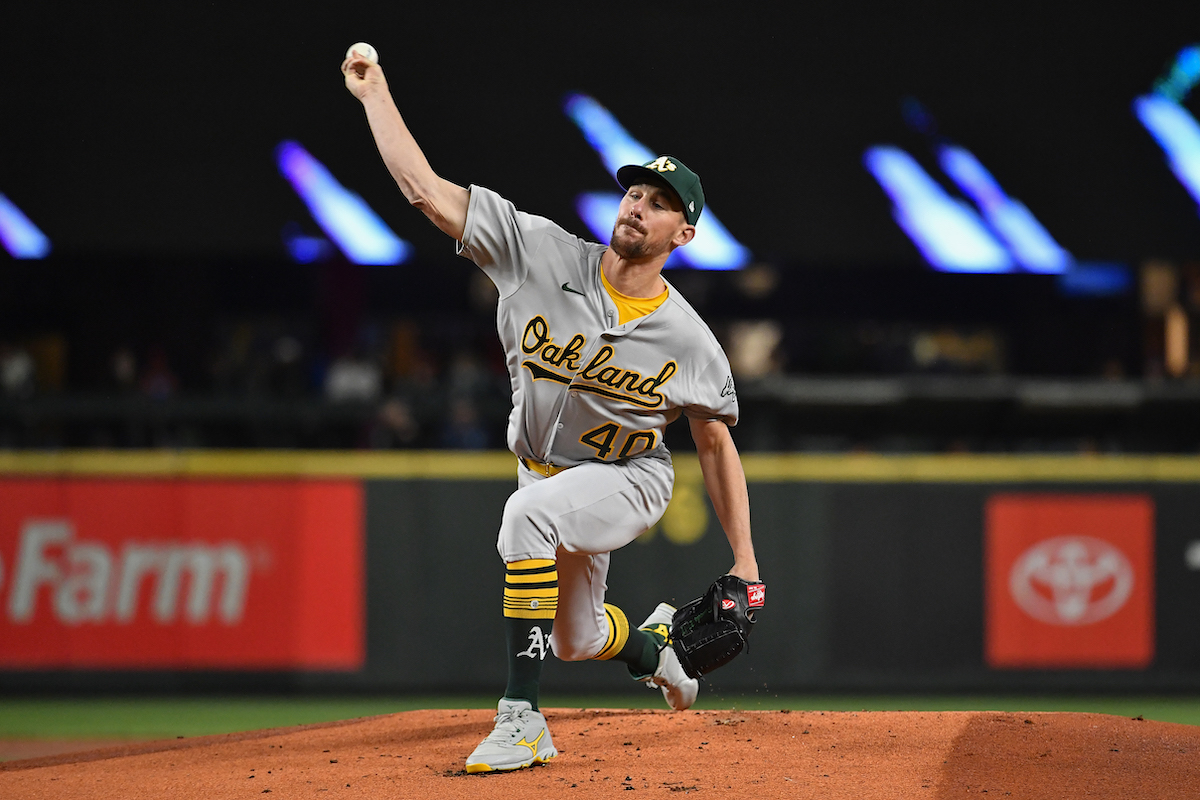 Age: 33
2021 Stats: 157.1 IP, 27 GS, 12-4, 159 K, 39 BB, 3.15 ERA, 1.06 WHIP, 3.3 WAR
2022 Projected Stats: 165.0 IP, 29 GS, 11-10, 157 K, 54 BB, 4.18 ERA, 1.25 WHIP, 2.5 WAR
Chris Bassitt is a consistent overachiever, in large part because he induces a lot of ground balls and pop-ups that are easier for the fielders behind him to get their gloves on. His ERA has been well below the more indicative metrics (xERA, FIP, xFIP, SIERA) for each of the last four seasons, and at some point, we have to assume he's doing something right rather than consistently benefitting from an inordinate amount of luck.
The 33-year-old began using his sinker and cutter with less frequency in 2021, turning instead to far more sliders and a heavier dose of the traditional four-seamer. And that was a good thing considering the two pitches he moved away from were the ones that yielded the highest expected batting averages — .286 and .297, respectively.
Though Bassitt may well bring his "luck" — or whatever it is — from the Oakland Athletics to the New York Mets, he's probably due for at least some regression. His skill set, however, ensures a high floor, which is what it takes to earn the final featured spot and keep Ian Anderson at the top of the honorable-mention heap.
9. Pablo Lopez, Miami Marlins
Age: 26
2021 Stats: 102.2 IP, 20 GS, 5-5, 115 K, 26 BB, 3.07 ERA, 1.12 WHIP, 2.3 WAR
2022 Projected Stats: 144.0 IP, 26 GS, 10-10, 140 K, 45 BB, 4.01 ERA, 1.26 WHIP, 2.7 WAR
Pablo Lopez added velocity to his fastball during the 2021 season, but that didn't help elevate his whiff rate on the heater. Instead, it set the stage for him to enjoy more success with his off-speed stuff — specifically his changeup. The four-seamer remained his most valuable pitch because it induced so much weak contact, but the changeup offers the upside needed for him to validate the 2021 breakout over a larger sample.
And therein lies the concern.
Lopez is a 26-year-old with three different shoulder injuries in his history, and that makes the scalability questionable. He may have five different solid pitches and a changeup that gets plenty of batters to chase it outside the zone — per Pitcher List's Ben Palmer, only Alex Cobb's splitter, Clayton Kershaw's slider, and Jacob deGrom's slider had higher chase rates — but without a truly elite offering and with enduring questions about how he'll hold up over 150-plus innings, he can't rise any higher. Yet.
8. Max Fried, Atlanta Braves
Age: 28
2021 Stats: 165.2 IP, 28 GS, 14-7, 158 K ,41 BB, 3.04 ERA, 1.09 WHIP, 3.8 WAR
2022 Projected Stats: 178.0 IP, 30 GS, 13-10, 166 K, 58 BB, 4.07 ERA, 1.31 WHIP, 3.2 WAR
Seeing the "8." next to Max Fried's name feels misleading, if only because the NL East is so overloaded with top-end pitchers. But fear not. He'll look like he's in a far more impressive spot once we mix the divisions together for an overall ranking.
As good as Max Fried's 3.04 ERA and 1.09 WHIP over 165.2 innings might look, his numbers were that much better after you remove a slow start from the equation. He got knocked around pretty badly in two of his first three outings, but then he settled into quite the groove. Over his final 25 starts and 154.2 IP, he posted a 2.44 ERA (3.09 FIP) and 0.98 WHIP with 144 strikeouts and just 36 walks.
Then he backed it up in the playoffs. Kind of. Fried did have two bad starts — one apiece against the Los Angeles Dodgers in the National League Championship Series and the Houston Astros in the World Series — but he also pitched six shutout innings against the 'Stros in Game 6 and began his postseason journey with nine strikeouts over six clean innings against the Milwaukee Brewers.
If Fried loses his elite fastball command, things fall apart quickly. But he still thrives with his curveball and heater far more often than not.
7. Trevor Rogers, Miami Marlins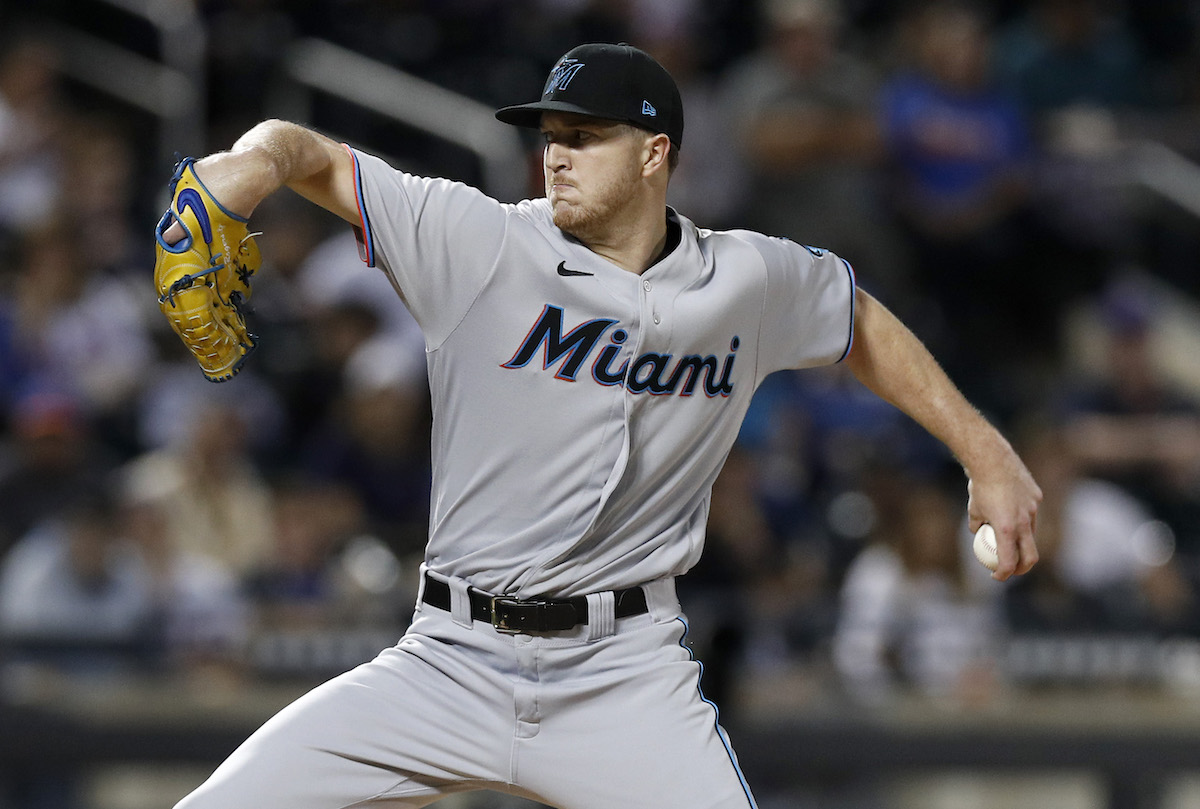 Age: 24
2021 Stats: 133.0 IP, 25 GS, 7-8, 157 K, 46 BB, 2.64 ERA, 1.15 WHIP, 4.2 WAR
2022 Projected Stats: 159.0 IP, 30 GS, 10-12, 175 K, 63 BB, 4.23 ERA, 1.34 WHIP, 3.0 WAR
Trevor Rogers isn't going to replicate his 2.64 ERA, which he impressively put up during his first full season in the majors, but the underlying metrics (weighed down as they are by a lackluster second half following his placement on the family medical emergency list in August and subsequent placement on the bereavement list) do help showcase the high level at which he was already operating.
More fly balls are inevitably going to leave the playing field, but Rogers didn't benefit from much BABIP luck or a remarkably low LOB% en route to a 3.39 xERA, 2.55 FIP, 3.54 xFIP, and 3.72 SIERA. Given his incredible fastball (.219 xBA and .362 xSLG) and complementary changeup, he's already on the verge of acedom even without developing a slider that he currently uses as a tertiary offering without much success.
But that fastball. Oh, that fastball. Only 10 four-seamers had a better cumulative run value in 2021, and it's hard to complain about finishing behind Carlos Rodon, Robbie Ray, Freddy Peralta, Walker Buehler, Logan Gilbert, Max Scherzer, Gerrit Cole, Liam Hendriks, Lance Lynn, and Josh Hader.
6. Charlie Morton, Atlanta Braves
Age: 38
2021 Stats: 185.2 IP, 33 GS, 14-6, 216 K, 58 BB, 3.34 ERA, 1.04 WHIP, 4.6 WAR
2022 Projected Stats: 152.0 IP, 27 GS, 12-8, 165 K, 55 BB, 3.94 ERA, 1.27 WHIP, 2.9 WAR
Charlie Morton just keeps defying Father Time and throwing out sub-3.50 ERA seasons as he pushes closer to his 40th birthday.
Why should this season be any different? After all, his strikeout and walk rates were both better than his career average, and while he benefited a bit from batted-ball luck, the underlying numbers actually suggest that his 3.34 ERA was misleadingly high. His 3.32 xERA, 3.18 FIP, 3.31 xFIP, and 3.53 SIERA almost unanimously agree on that front.
Most of Morton's repertoire isn't particularly noteworthy, with his changeup, cutter, and sinker checking in as below-average pitches. His four-seamer was barely positive, yielding a .233 xBA and .392 xSLG. But his curveball, generating a .173 xBA and .245 xSLG, remains one of the best pitches in MLB. Only Carlos Rodon's four-seamer, Adrian Houser's sinker, and Kevin Gausman's splitter added more run value in 2021.
5. Sandy Alcantara, Miami Marlins
Age: 26
2021 Stats: 205.2 IP, 33 GS, 9-15, 201 K, 50 BB, 3.19 ERA, 1.07 WHIP, 4.2 WAR
2022 Projected Stats: 189.0 IP, 30 GS, 12-11, 171 K, 58 BB, 3.86 ERA, 1.24 WHIP, 3.5 WAR
As good as Sandy Alcantara's season-long numbers were for the Miami Marlins, he was even better during the later stages of the year after cutting back on his changeup in favor of a slider virtually no one could square up.
Per Pitcher List's Nick Pollack, he posted a 2.21 ERA and 0.88 WHIP with a 29% strikeout rate from Aug. 11 through the end of the season while throwing his changeup 18% of the time (23.5% for the full season) and slider 31% of the time (24.1% for the full season). Individually, both pitches yielded strong results all year, but the pairing of his sinking fastball with the slider action worked that much better in fooling hitters.
Alcantara may only check in at No. 5 within his own division, but he's the first of the literal handful of NL East arms who could finish the year as top-five pitchers throughout all of baseball. His stuff and consistent year-over-year improvements are that impressive.
4. Aaron Nola, Philadelphia Phillies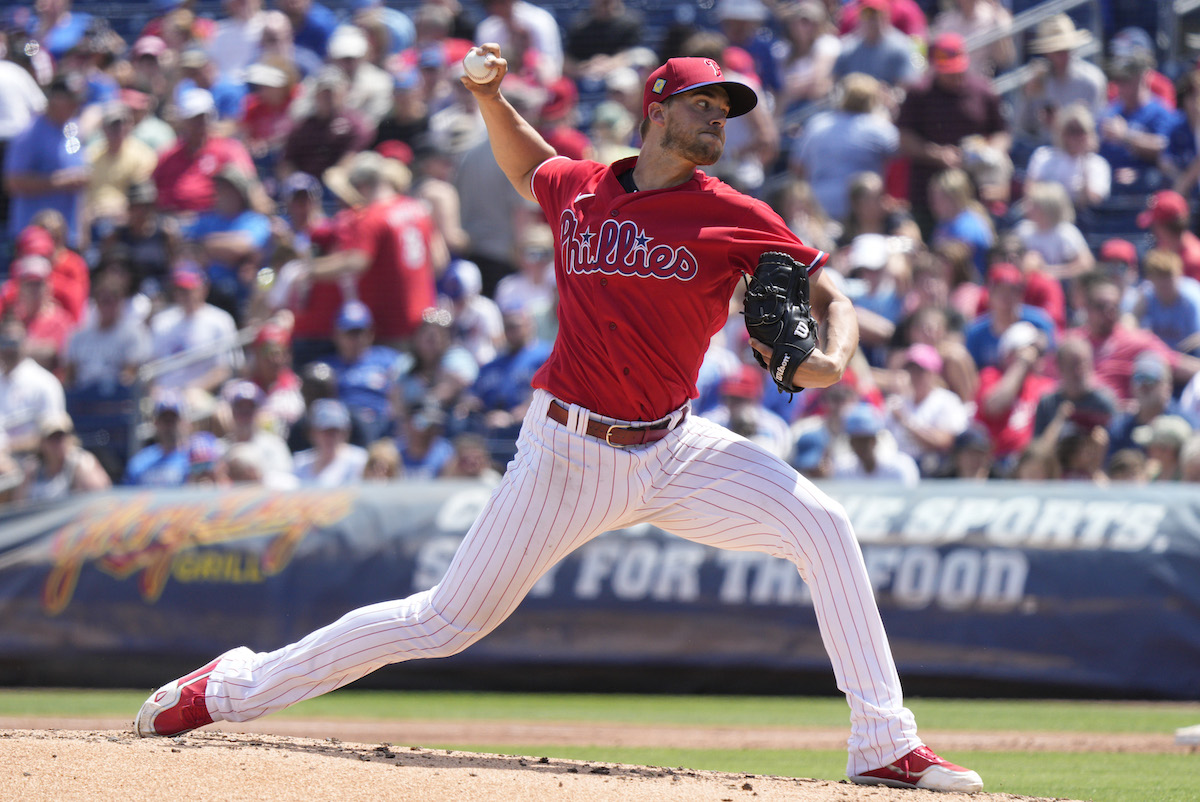 Age: 28
2021 Stats: 180.2 IP, 32 GS, 9-9, 223 K, 39 BB, 4.63 ERA, 1.13 WHIP, 4.5 WAR
2022 Projected Stats: 181.0 IP, 30 GS, 14-9, 198 K, 50 BB, 3.67 ERA, 1.16 WHIP, 3.9 WAR
Aaron Nola is a phenomenal example of just how misleading ERA can be.
In a vacuum, that 4.63 ERA looks terrible and should have him slotting in far below some of the other impressive options who have already appeared in these rankings. But we're not evaluating things in a vacuum.
Nola's .308 BABIP was unsustainably high, his 66.8 LOB% was unsustainably low, and even while allowing more fly balls than ever before, he lowered his line-drive percentage and induced plenty of soft contact. That all led to a 3.37 xERA, 3.37 FIP, 3.37 xFIP, and 3.26 SIERA that give the impression of a much better pitcher who still has plenty of room to grow for the Philadelphia Phillies.
The Philly defense may not be too much better behind him, and the bullpen is basically a running joke at this point, so Nola may still underperform relative to his indicators. But put him in a different situation, and his ability to rack up strikeouts while fooling batters with his elite curveball would make him look that much more impressive. His talent is so much better than his surface-level numbers might indicate.
3. Max Scherzer, New York Mets
Age: 37
2021 Stats: 179.1 IP, 30 GS, 15-4, 236 K, 36 BB, 2.46 ERA, 0.86 WHIP, 5.4 WAR
2022 Projected Stats: 172.0 IP, 28 GS, 13-9, 218 K, 52 BB, 3.55 ERA, 1.09 WHIP, 4.1 WAR
Max Scherzer will turn 38 in late July, and that's perhaps the biggest cause for concern with a pitcher who's dealt with more random injuries over the last few years.
The veteran right-hander still had his four-seamer sit at 94.3 mph in 2021, and his fastball-slider combo remains one of the elite pitch pairings in the majors. He turns to those two offerings 66.2% of the time, supplementing them with a changeup, curveball, and cutter that are all effective, and they're virtually untouchable when he's on top of his game.
But when batters do manage to barrel up Scherzer's premier pitches, they're starting to produce a bit more hard contact than they did during his true peak years. He allowed 1.15 homers per nine innings during his stints with the Mets and Washington Nationals in 2021, and that was the second straight season above 1.0 after three straight years below.
Scherzer remains completely dominant and as competitive as ever, and he'll look like a Cy Young candidate most times he takes the mound. But a few small cracks, the perception of which might be exacerbated by his age, are starting to emerge.
2. Zack Wheeler, Philadelphia Phillies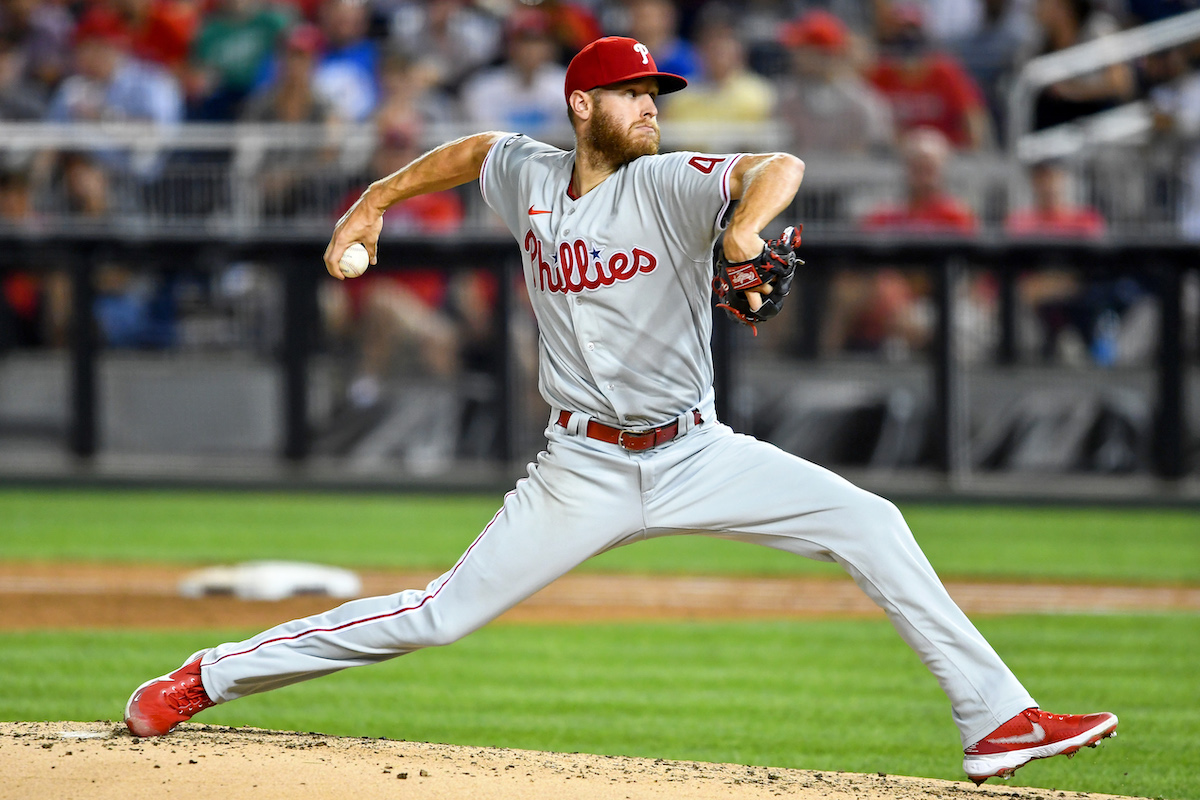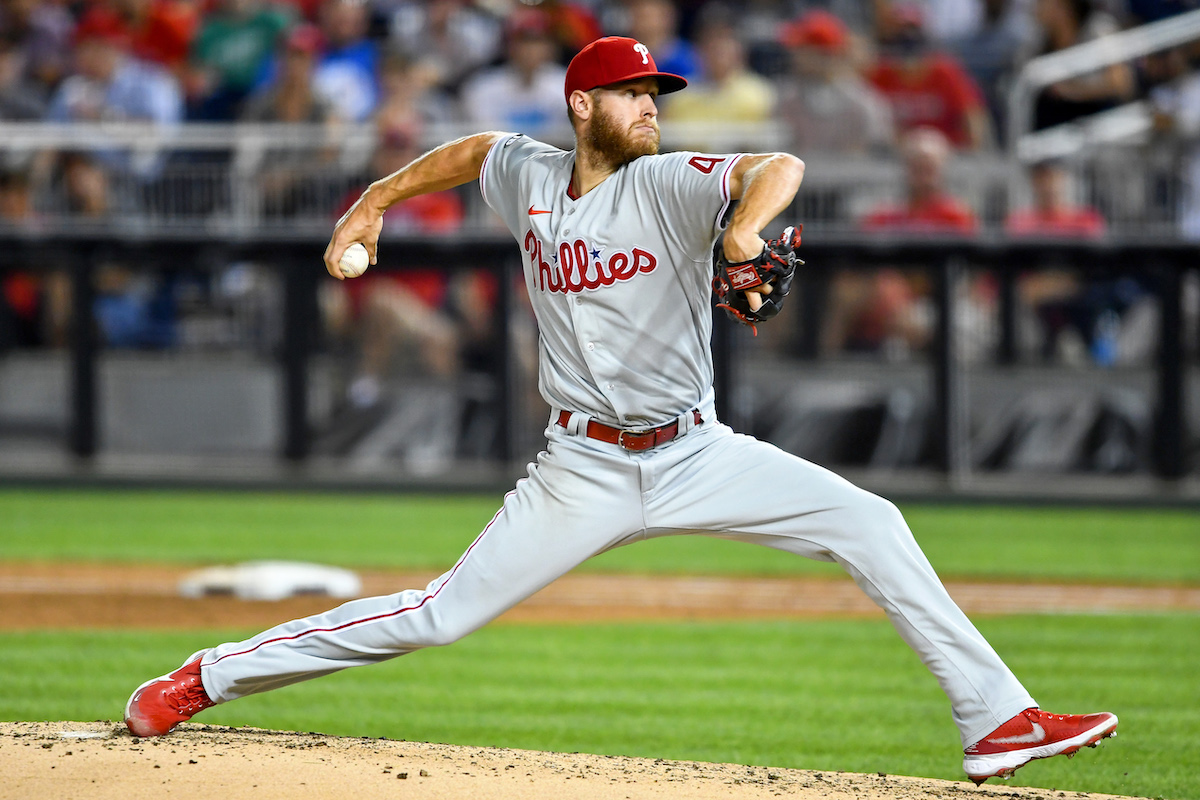 Age: 31
2021 Stats: 213.1 IP, 32 GS, 14-10, 247 K, 46 BB, 2.78 ERA, 1.01 WHIP, 7.3 WAR
2022 Projected Stats: 179.0 IP, 28 GS, 14-8, 181 K, 48 BB, 3.39 ERA, 1.17 WHIP, 4.7 WAR
Looking at Zack Wheeler's Statcast profile is akin to believing that red is the only color allowed to exist. He throws the ball hard, gets hitters to chase pitches outside the zone, racks up strikeouts without allowing walks, doesn't allow hard contact, keeps the average exit velocity quite low, and so much more. Just about everything is elite these days, and that's largely due to the 31-year-old treating his slider as his go-to complementary pitch.
In 2019, Wheeler turned to the slider on 19.8% of his pitches, and it generated a .248 xBA and .415 xSLG. He used it less frequently (15.9%) in 2020 even as it led to a .249 xBA and .314 xSLG. But this past season, he skyrocketed the usage to 24.9% and reaped the benefits of a pitch that held batters to a .224 xBA and .344 xSLG.
Now, he has three pitches that added double-digit run value: the slider (11), the sinker (10), and the four-seamer (14). His curveball is a plus pitch, too, just for good measure. It's no longer outside the realm of realistic possibilities that he could emerge as the single best pitcher in baseball even with a — trying to be nice here — bad defense behind him when he does allow contact.
1. Jacob deGrom, New York Mets
Age: 33
2021 Stats: 92.0 IP, 15 GS, 7-2, 146 K, 11 BB, 1.08 ERA, 0.55 WHIP, 4.9 WAR
2022 Projected Stats: 150.0 IP, 24 GS, 12-6, 217 K, 44 BB, 2.65 ERA, 0.97 WHIP, 5.4 WAR
The concern here is obvious.
Jacob deGrom has struggled to stay healthy, following up his 68.0 innings in 2020 with only 92.0 in 2021. Every time he takes the mound, New York Mets fans have to hold their breath that he won't need to leave the appearance with some malady that threatens to make him skip his next turn in the rotation. But while that makes this risky, the talent is so overwhelming every time he's able to go that we'll willingly chase the reward of having him at No. 1.
Though deGrom did benefit from a .213 BABIP, his 1.08 ERA wasn't that far out of line with the performance indicators, especially because the 33-year-old actually upped his fastball velocity to a career-best 99.1 mph. A 1.54 xERA, 1.24 FIP, 1.61 xFIP, and 1.74 SIERA are nothing short of outrageous, lending further credence to the idea that deGrom was having one of the best pitching seasons in baseball history before he was shut down.
Hitters had an expected batting average of .102 against his slider and .170 against his four-seamer, and the respective slugging percentages were .160 and .312. That's coming while he threw those pitches 90.8% of the time. His adversaries knew what was coming and still couldn't hit him.
Maybe it's foolishly optimistic to expect that he'll actually get to 150 innings in 2022, but even that relatively low level of volume would allow him to leave no doubt that he's the best pitcher on the planet when fully operational.
All stats, unless otherwise indicated, courtesy of Baseball Reference, Fangraphs, and Baseball Savant.