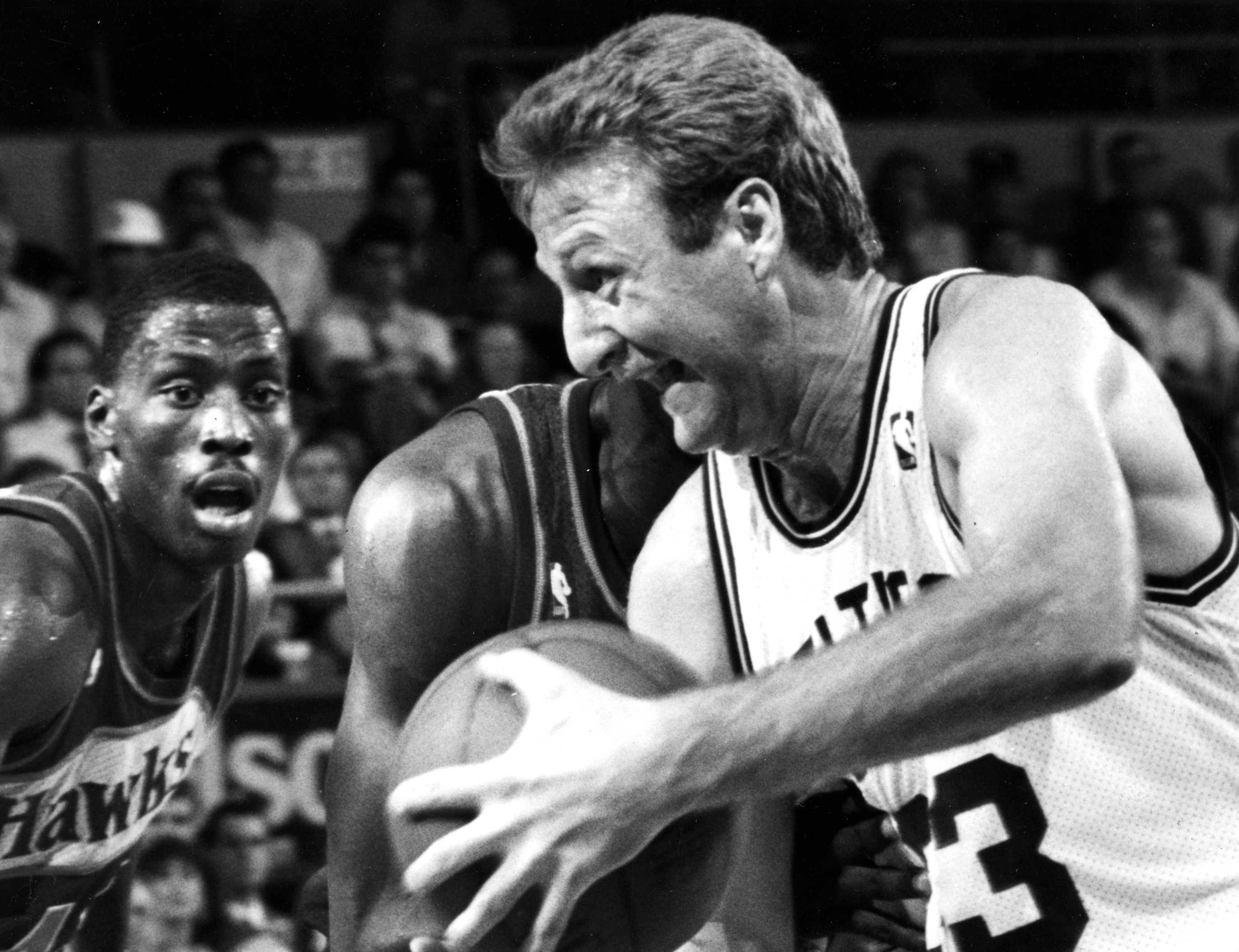 Ranking the Top 10 Boston Celtics Players of All Time: Is Larry Bird or Bill Russell No. 1?
Larry Bird or Bill Russell: Who came in at No. 1 on our list of top 10 Boston Celtics players of all time?
There doesn't seem to be much doubt that Larry Bird and Bill Russell are the top two players in Boston Celtics history, but who's next? We took a deep look into the iconic franchise's best players in history and came up with the top 10 players ever to suit up for the Celtics. It's clear Bird and Russell are the top two, but in what order? Here is a closer look at our top 10 Boston Celtics players of all time.
No. 10: Sam Jones
A 10-time NBA champion and five-time All-Star, Sam Jones was known as "Mr. Clutch" for many of his big shots with Boston. It took Jones a while to heat up in the NBA, as he averaged just 9.0 points in his first three professional seasons.
In his next nine seasons, however, Jones put up 20.1 points per game, cementing himself as one of the NBA's best. Jones was inducted into the Naismith Memorial Basketball Hall of Fame in 1984 and is also a member of the NBA's 75th Anniversary Team.
We put Jones ahead of Kevin Garnett and Tiny Archibald because of longevity with the team. Garnett played just six seasons in Boston, while Archibald played five. JoJo White gave Jones a run for his money for that No. 10 spot.
No. 9: Robert Parish
Robert Parish got new life when Red Auerbach pulled the trigger on a deal with the Golden State Warriors. The Celtics had the top pick in the 1980 NBA Draft but moved it, along with the No. 13 pick, to the Warriors. In return, the Celtics received Parish and the third pick in the draft. At No. 3, they selected Kevin McHale.
Parish and McHale teamed with Larry Bird to form arguably the best frontcourt in NBA history. In their first season together, they won the first of their three championships in the 1980s.
Nobody has played more games in the NBA than Parish, a 7-foot-1 center who was a nine-time NBA All-Star. He averaged 16.5 points and 10.0 rebounds in his 14 seasons in Boston. Parish played 21 years in the league and was inducted into the Naismith Memorial Basketball Hall of Fame in 2003. He's also a member of the NBA's 75th Anniversary Team.
No. 8: Tom Heinsohn
Tom Heinsohn may have been overshadowed by teammate Bill Russell, but he still managed to put up some big numbers. Heinsohn played nine seasons with the Boston Celtics and made an immediate impact with the franchise.
Drafted as a territorial pick by the Celtics in 1956, Heinsohn came to the Celtics the same year Boston made a trade for Russell, a rookie out of San Francisco. Heinsohn was named Rookie of the Year over Russell after averaging 16.2 points and 9.8 rebounds in his first season. As a rookie, Heinsohn scored 37 points and pulled down 23 rebounds in Game 7 of the NBA Finals to earn his first title.
Heinsohn won championships in eight of his nine NBA seasons. He was a six-time NBA All-Star and averaged 18.6 points and 8.8 rebounds. He was inducted into the Hall of Fame in 1986.
No. 7: Paul Pierce
Paul Pierce averaged 21.8 points over his 15 seasons with the Celtics. A 10-time NBA All-Star, Pierce didn't have the luxury of playing with stars as Bird and Russell did. For much of Pierce's early years with the Celtics, he was the lone star as Boston struggled through some rough seasons.
Before the 2007-08 season, Danny Ainge pulled off a couple of trades to give Pierce some much-needed help. After a 24-58 season, Ainge brought in Kevin Garnett and Ray Allen. In their first season together, Boston's new Big Three won 66 games and their first championship since 1986.
Pierce was inducted into the Hall of Fame in 2021 and is also a member of the NBA's 75th Anniversary Team.
No. 6: Kevin McHale
It's hard to imagine any big man with better post moves than Kevin McHale. McHale spent much of the first five years of his NBA career coming off the bench but still managed to put up significant numbers.
During the 1983-84 season, he started just 10 games, but he earned the first of his seven All-Star appearances after averaging 18.4 points and 7.4 rebounds. He also helped guide the Celtics to the championship that season.
He became a full-time starter in the 1985-86 season and rattled off six straight All-Star appearances. During the 1986-87 season, he averaged career-highs in points (26.7) and rebounds (9.9).
McHale was inducted into the Hall of Fame in 1999 and also earned a spot on the NBA's 75th Anniversary Team.
No. 5: Bob Cousy
Bob Cousy played 13 seasons with the Boston Celtics and was an All-Star in every one of them. The flashy point guard led the NBA in assists for seven straight years, but he was much more than a playmaker.
Cousy had the benefit of playing with Bill Russell, Tom Heinsohn, and Sam Jones, yet he still managed to average 18.5 points in his Celtics career. He was All-NBA 12 times and earned six championships with the Celtics.
Cousy was inducted into the Hall in 1971 and also earned a spot on the NBA's 75th Anniversary Team.
No. 4: Dave Cowens
Some may argue Cousy might be a better fit at No. 4, but we'll give the slight edge to Cowens, an undersized center at 6-foot-9.
Cowens often found himself matched up with much bigger and stronger centers, yet he found a way to more than hold his own. As a rookie, he averaged 17.0 points and 15.0 rebounds. By his third NBA season, he was an MVP.
Cowens, a 1991 Hall of Fame inductee, earned seven straight All-Star appearances (8 total) by outrunning and outhustling his opponent.
"One of my great pleasures was watching him wear down the Bob Laniers, Lew Alcindors (Kareem Abdul-Jabbar)," former Celtics reporter Bob Ryan said, per The Athletic. "He would just run, run, run, run, and by the fourth quarter, he would still be running, and their tongues would be hanging out. His game was a game of attrition."
No. 3: John Havlicek
A tremendous athlete, John Havlicek was the ninth overall pick in the 1962 NBA Draft. He was such a good athlete that the Cleveland Browns drafted him in the seventh round of the 1962 NFL Draft, even though he never played college football.
"He didn't really shoot from the outside or dribble that much," said former teammate Tommy Heinsohn in April 2019, per The New York Post. "But he was like a wide receiver in football, and he would run and catch long passes from (Bob) Cousy for layups."
Havlicek played 16 seasons with the Celtics and was a 13-time All-Star. He averaged 20.8 points and was named All-defense in eight seasons. He was an eight-time champion and was inducted into the Hall of Fame in 1984.
No. 2: Bill Russell
Bill Russell revolutionized the game of basketball with his defense-first mentality. A tremendous shot blocker before blocked shots were even a statistic, Russell was an intimidating force inside the paint. He made his opponents change their game and did so with a psychological approach.
"Basketball is a game that involves a great deal of psychology," Russell said during the early part of the 1963 season, according to Sports Illustrated. "The psychology in defense is not blocking a shot or stealing a pass or getting the ball away. The psychology is to make the offensive team deviate from their normal habits. This is a game of habits, and the player with the most consistent habits is the best. What I try to do on defense is to make the offensive man do not what he wants but what I want."
Russell was the leader of some special Celtics teams. A 12-time NBA All-Star, Russell won 11 championships in his 13 years in Boston. He led the league in rebounding in his first three seasons, and he finished his career averaging 22.5 boards per game. The Celtics simply dominated with Russell leading the way.
Russell averaged 15.1 points in his career and was a five-time MVP. He was inducted into the Hall of Fame in 1975.
No. 1: Larry Bird
Many would put Russell here because of the 11 championships, but we're putting Bird at No. 1 because of his better all-around game. Bird had no weaknesses.
Bird turned around a 29-win team with a strong first season that not only earned him Rookie of the Year but also guided the Celtics to an NBA-best 61 victories. He's arguably the best passing forward of all time, and he could shoot and rebound with the best of them.
Bird made his teammates better and led Boston to three championships in the decade. Like Russell, he won three straight MVPs, but Bird did so with plenty of competition, as there were 23 teams in the league. When Russell played, there were eight.
Even Bob Cousy, who was a teammate of Russell, said Bird was the best.
"Before Bird, I used to vacillate," said Cousy to Sports Illustrated in March 1986. "The question didn't seem relevant. But Bird came along with all the skills, all the things a basketball player has to do. I think he's the greatest."
Russell has the better numbers, but Bird was the better all-around player.