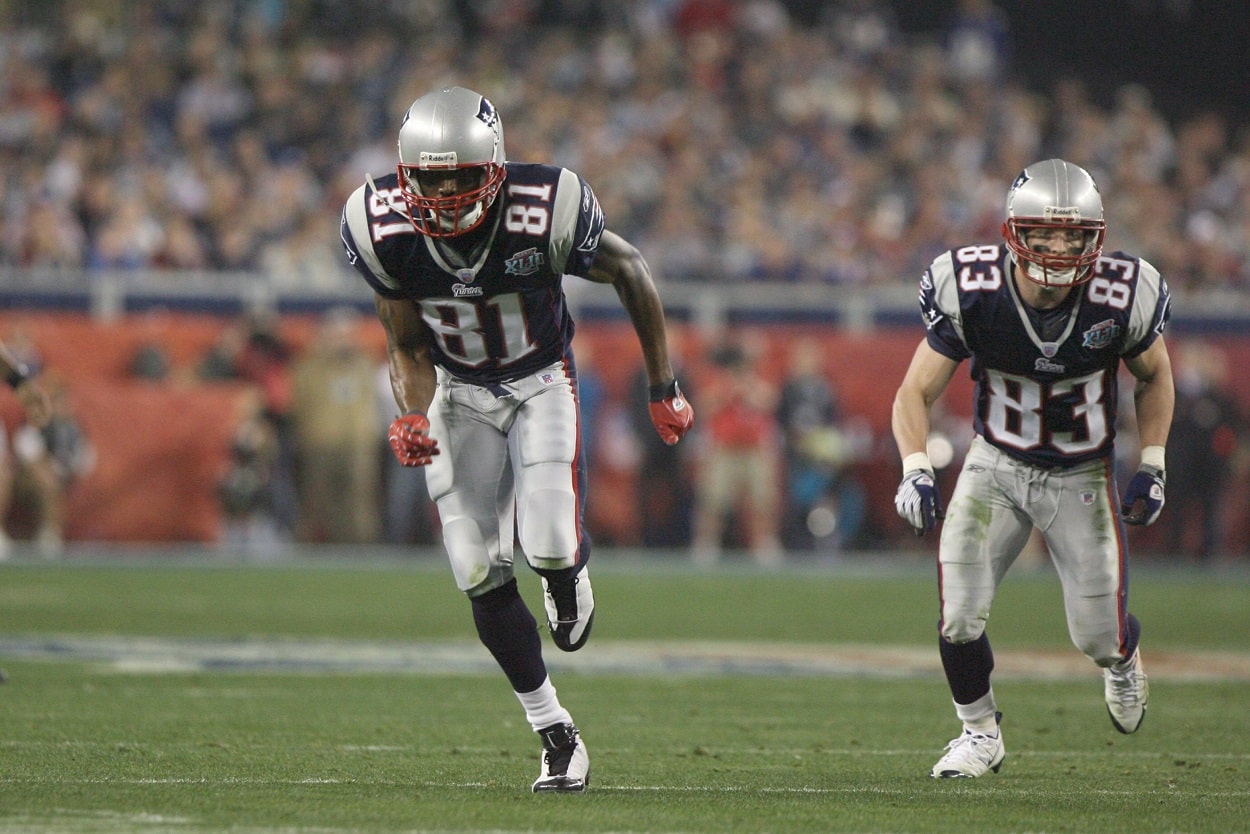 Ranking the Top 20 Players in New England Patriots History: A Few of Tom Brady's Favorite Teammates Headline Nos. 20-11
Counting down the top players in New England Patriots history, starting with No. 20 to No. 11.
For a franchise that's captured six Super Bowl championships, it's challenging to narrow down a list of all-time greats. After all, the New England Patriots have employed a number of big-time stars not named Tom Brady, Rob Gronkowski, or Ty Law. 
However, for this exercise, we're being super selective in an effort to spotlight the 20 best players in Patriots history. While valuable contributors like Kevin Faulk and Mike Vrabel unfortunately didn't make the cut, that simply speaks volumes about the quality and depth of the selection pool. 
So, who earned a spot on the list? Let's kick things off by looking at players No. 20-11, starting with someone who Bill Belichick trusted to keep the team's biggest star safe.
20. Matt Light, LT, 2001-2011
Tasked with protecting TB12's blind side, Matt Light kept the GOAT out of harm's way for a decade. A three-time Pro Bowler and one-time All-Pro, the former Purdue standout played a crucial role in New England's first three Super Bowl titles. Light deserves tremendous credit for not only locking down the left tackle spot from 2001-2011 but also for being well-respected in the locker room and on the field.
19. Adam Vinatieri, K, 1996-2005
Although he ended up spending four more seasons with one of the Patriots' biggest rivals than he did in Foxborough, there's no way you can talk about the best players in franchise history without mentioning Adam Vinatieri. One of the holdovers from the Bill Parcells era, the sure-legged kicker achieved legend status by nailing several clutch postseason field goals, including an improbable 45-yarder in the snow against the then-Oakland Raiders. As much as Belichick and Brady mattered, New England wouldn't have won three Super Bowls over four years without Vinatieri. 
18. Devin McCourty, S, 2010-Present
He may not be worthy of a spot in Canton, but Devin McCourty has certainly set himself up to earn a bust in the Patriots Hall of Fame. Since he joined the franchise as a first-round pick in 2010, the dependable defensive back has started 188 regular-season games and another 24 postseason contests. Incredibly durable, reliable, productive, and intelligent, McCourty will go down as one of the best homegrown stars of the Belichick era in New England. 
17. Tedy Bruschi, LB, 1996-2008
A fan favorite who never wore another team's colors, Tedy Bruschi recorded five seasons with at least 100 tackles, earned three Super Bowl rings, and won Comeback Player of the Year honors after returning from a career- and life-threatening stroke. The rugged inside linebacker was almost like an extension of Belichick on the field, setting his teammates up to succeed by ensuring they were lined up correctly. Bruschi's ear-to-ear smile lit up a room, but his intensity on the field made him one of the best defenders in team history. 
16. Randy Moss, WR, 2007-2010
If Randy Moss hadn't shot his way out of Foxborough, there's a good chance he would have landed in the top 10. Ultimately, though, his brief run of dominance warrants a spot on this list. A well-recognized name who came to New England with a point to prove, Moss showed the rest of the league he was far from finished by setting the single-season touchdown reception record in his first year with the team. Incredibly, despite only playing 52 games with the Patriots, the Pro Football Hall of Famer only falls behind Stanley Morgan (67) and Rob Gronkowski (79) in career receiving touchdowns.
15. Willie McGinest, OLB, 1994-2005
While Willie McGinest didn't have a peak like Randy Moss, he ranks ahead of the record-setting receiver because of his valuable contributions over the course of 12 years. The hulking linebacker racked up 78 sacks in 171 regular-season games while also setting the edge against the run. What makes McGinest an all-time great, though, is the fact he still holds the NFL record for career postseason sacks (16). 
14. Stanley Morgan, WR, 1977-1989
Unfortunately for Stanley Morgan, he didn't get to play with a quarterback who was even close to Tom Brady's level. However, the fleet-footed wideout still earned Pro Bowl honors four times in 13 seasons with the Patriots by running by corners and safeties with relative ease. Morgan's explosive speed helped him compile a franchise-record 10,352 receiving yards—a mark that may never be surpassed.
13. Ben Coates, TE, 1991-1999
Long before Rob Gronkowski arrived, New England ran its offense through another tight end who dominated in the passing game. And from 1994-98, you'd be hard-pressed to find a better player at the position than Ben Coates. The five-time Pro Bowler finished 10 catches shy of 500 across nine seasons with the Patriots. And by totaling 50 touchdown receptions in 142 games, Coates is tied with Moss for third in franchise history. 
12. Wes Welker, WR, 2007-2012
Let's just say Wes Welker would rank No. 1 in several categories if he had spent a few more seasons with the team. During his insanely productive six-year run with the Patriots, the uber-quick, ultra-tough wideout caught 672 passes for 7,459 yards and 37 touchdowns. He revolutionized the slot receiver position, forming an almost-telepathic bond with TB12 that resulted in so many frustrating moments for overmatched defenders. Welker may have left New England without a Super Bowl ring, but not before he established a reputation as one of the best players to ever suit up for the franchise. 
11. Bruce Armstrong, LT, 1987-2000
Before Matt Light came along, the Patriots featured a standout left tackle. Ironically, like the man who eventually replaced him, Bruce Armstrong spent his entire NFL career in New England. A first-round pick in the 1987 draft, the Miami native earned six Pro Bowl selections, including four straight from 1994-97. Playing one of the most important positions in sports at a high level for over a decade warrants the No. 11 spot.
Stay tuned for the top 10.
Stats courtesy of Pro Football Reference
Like Sportscasting on Facebook. Follow us on Twitter @sportscasting19 and subscribe to our YouTube channel.