Ravens GM Eric DeCosta Says He's Bad at Drafting WRs, Immediately Gets Crushed by WR He Drafted
Baltimore Ravens general manager Eric DeCosta is already having a tough 2023 NFL offseason. He and the franchise are at war with their MVP quarterback, Lamar Jackson, over a contract extension, and that's already hurting the team in free agency. Also, DeCosta's track record for drafting wide receivers to help his QB has come under fire. On that last point, DeCosta recently admitted he's struggled to draft Ravens WRs in recent drafts, and then one of the receivers he drafted, Rashod Bateman, immediately took to Twitter to destroy his GM.
The Ravens got horrible production from WRs in 2022
Ravens GM has all kinds of problems on his hands this offseason, including the prospect of drafting a wide receiver in the 2023 NFL Draft.
In 2022, the Ravens were 28th in the league in passing yards (3,048), and while Lamar Jackson's injury had something to do with that, the lack of quality WRs did as well. Baltimore's leading pass-catcher was tight end Mark Andrews, with a respectable 73 catches for 847 yards.
The team got almost no production from its wide receivers, though.
Demarcus Robinson was the team's leading receiver at the position, with 48 catches for 458 yards. After that, it was Devin Duvernay with 37 catches for 407 yards and Rashod Bateman with 15 catches, 285 yards.
To put that in perspective, even the four teams below the Ravens in passing yards —the Carolina Panthers, Tennessee Titans, Atlanta Falcons, and Chicago Bears — all had at least one WR with more yards than Robinson.
Eric DeCosta admits he's bad at drafting wideouts, infuriating WR Rashod Bateman
The state of the Ravens WRs is obviously a problem in the 2023 offseason, which means Ravens GM Eric DeCosta will likely draft at least one in the 2023 NFL Draft.
DeCosta is widely regarded as one of the best-drafting GMs in the game, having learned under legendary drafter and former Ravens GM Ozzie Newsome. Since joining the Ravens organization in 1996, DeCosta has had a hand in drafting superstars like Ed Reed, Terrell Suggs, Jamal Lewis, Bart Scott, Haloti Ngata, Marshal Yanda, C. J. Mosley, and Lamar Jackson before taking over as GM in 2019.
Ahead of the 2023 NFL Draft, DeCosta spoke with Ravens Vault podcast host Sarah Ellison about his struggles drafting wideouts since he's become the GM.
"If I had an answer, that would probably mean I would have some better receivers. … We're gonna keep swinging," DeCosta said. "There have been some guys that have been successful players for us that were draft picks. We've never really hit on that All-Pro type of guy, which is disappointing, but it's not for a lack of effort. … It's one of those anomalies that I really can't explain, other than to say that we're not going to stop trying. "
This seemingly infuriated one of those receivers DeCosta drafted, Rashod Bateman. In a now-deleted tweet, Bateman responded, "How bout you play to your player's strength and & stop pointing the finger at us and #8," referring to Lamar Jackson.  
"Blame the one you let do this…. we take heat 24/7. & keep us healthy … care about US & see what happen..ain't no promises tho … tired of y'all lyin and capn on players for no reason," Bateman wrote.
The tweet is no longer available, but the message is now out there.
The Ravens lousy track record with WRs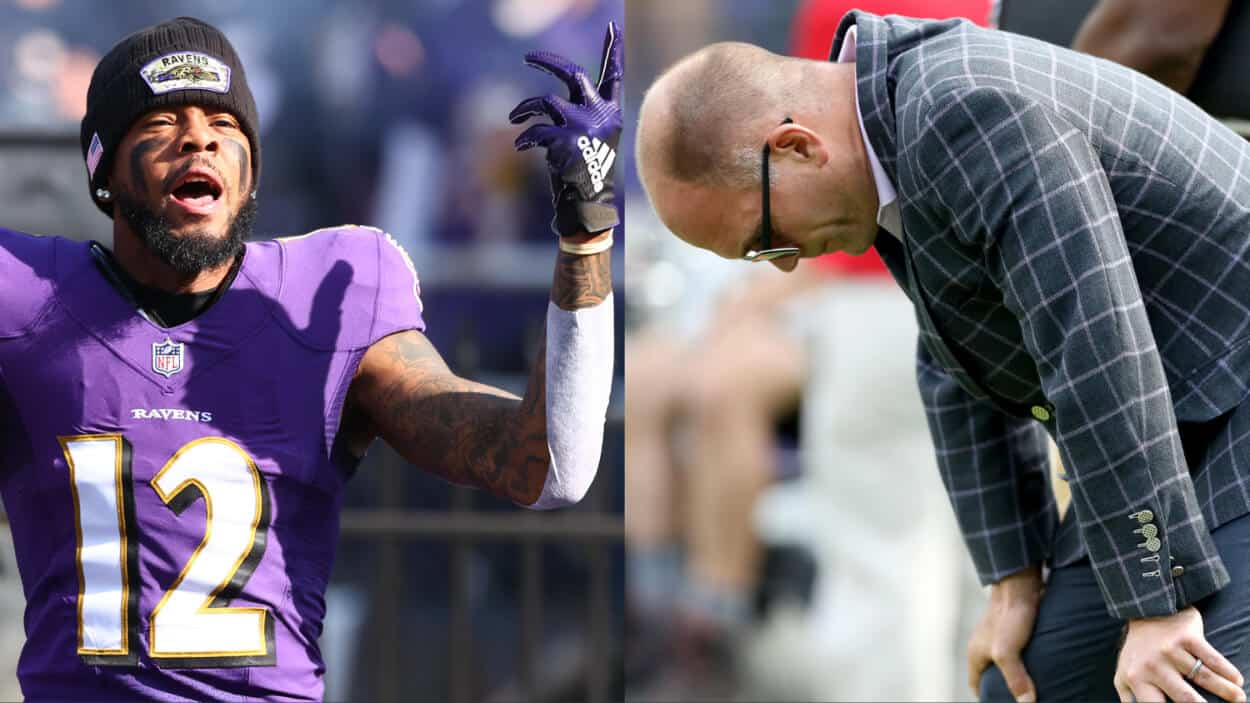 Since Eric DeCosta took over in 2019, the Ravens have picked four receivers in the first three rounds of the NFL draft. Those players are Marquise "Hollywood" Brown (2019, Round 1), Miles Boykin (2019, Round 3), Devin Duvernay (2020, Round 3), and Rashod Bateman (2021, Round 1).
Brown had 195 catches for 2,361 yards and 21 touchdowns in three seasons with the Ravens, but DeCosta traded him to eth Arizona Cardinals on draft day last year. Outside of that, none of the other three have produced over 90 catches or 880 yards in the NFL yet.
The Ravens' struggle to draft wideouts didn't start with DeCosta, though.
Ozzie Newsome didn't have a great track record at that position, either. The last five WRs he drafted were Jaleel Scott (2018, Round 4), Jordan Lassley (2018, Round 5), Chris Moore (2016, Round 4), Breshad Perriman (2015, Round 1), Michael Campanaro (2014, Round 7).
You have to go back to 2011 and Torrey Smith (Round 2) to find the last successful NFL wideout the Ravens drafted. And, in fact, Smith and Brandon Stokley (1999, Round 4) are the only truly successful WRs Newsome ever drafted.
This is not a great sign for the franchise if it picks a wideout in the 2023 NFL Draft.