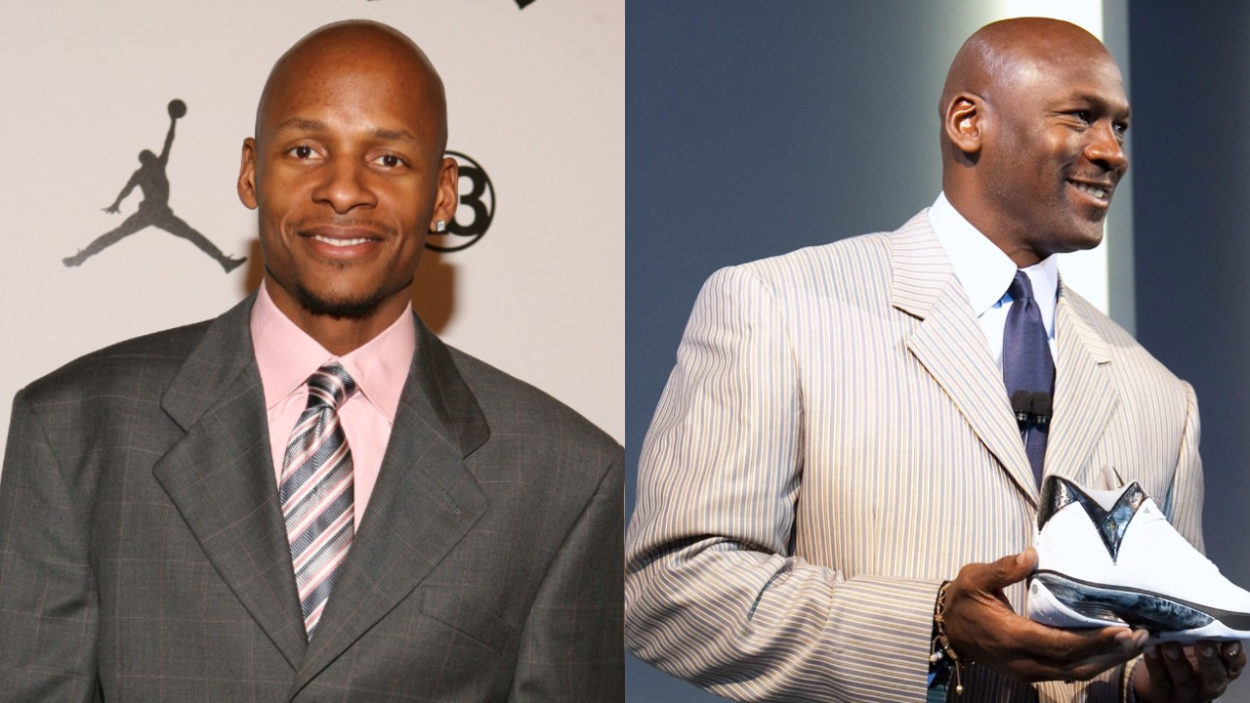 Ray Allen Didn't Know Anything About Jordan Brand When Nike Approached Him About Joining: 'Jordan's Doing It, I Want to Be a Part of It'
Ray Allen had one of the most successful careers in NBA history, becoming a two-time NBA champion and a Hall of Famer. He is also one of the most successful athletes to ever sign with Michael Jordan's Jordan Brand. However, he didn't really know what it was when Nike first approached him about it.
One of the top shoe brands in basketball today is Michael Jordan's Jordan Brand. Sure, it's a part of Nike, but it has developed into its own beast with tons of fans and loyalists. However, the brand had to start somewhere, and NBA legend Ray Allen recently said that he had no idea what Jordan Brand was when Nike first approached him about it.
Ray Allen was Michael Jordan and Jordan Brand's first athlete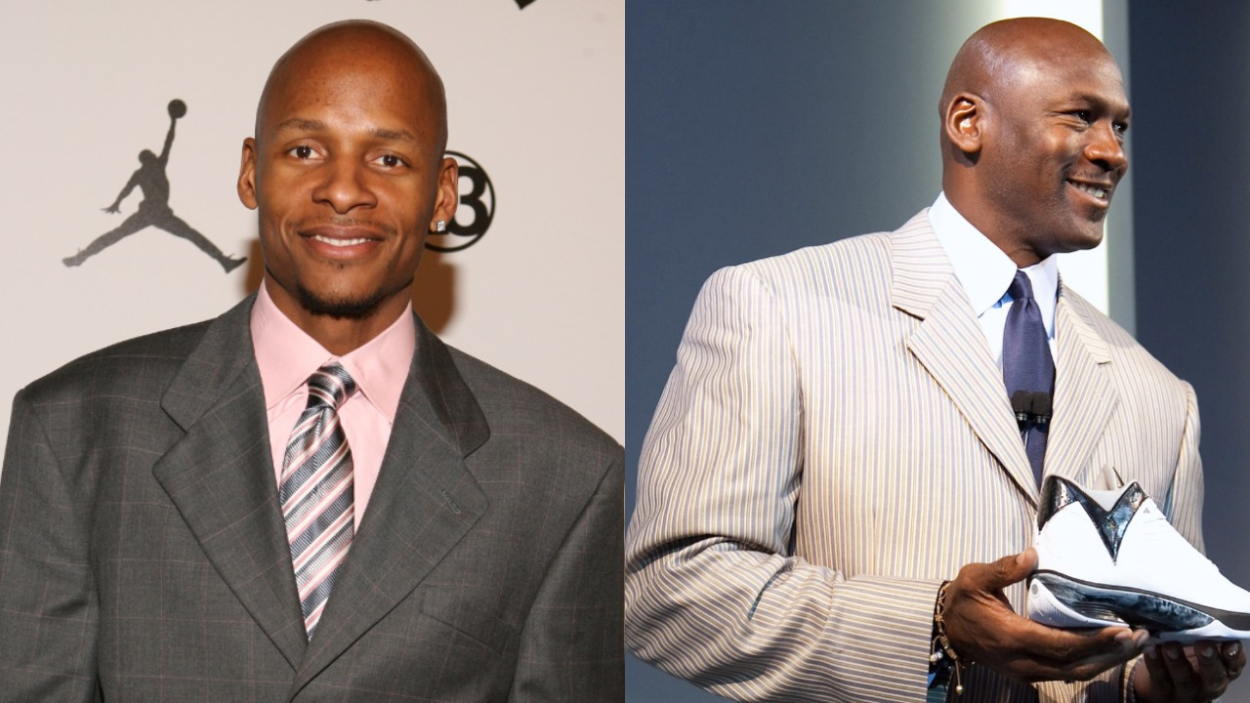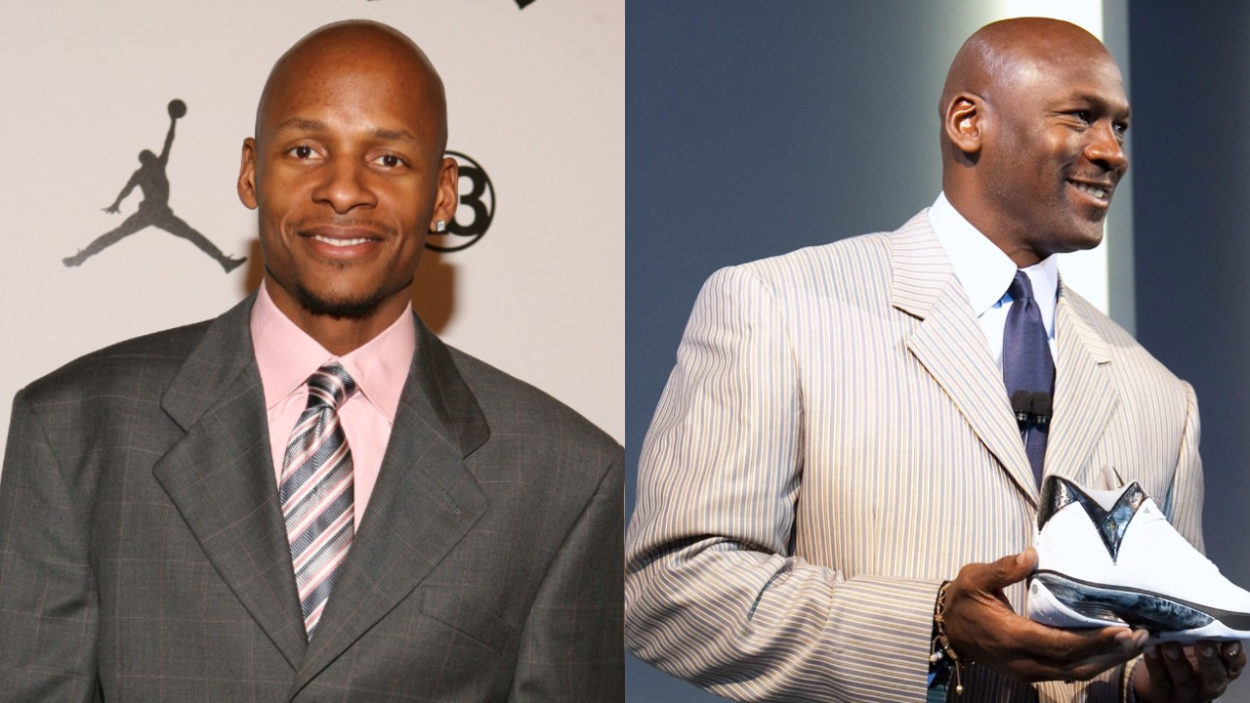 Michael Jordan's shoes have been some of Nike's most popular items both during and after his playing career. However, toward the end of his playing days, Jordan and the athletic apparel giant decided to take a massive step into uncharted territory by launching Jordan Brand.
According to The Undefeated, Nike made the official announcement on Sept. 9, 1997. It called it "a sub-brand of NIKE, Inc." that was "a pure, authentic basketball brand of premium, high-performance basketball footwear and apparel inspired by the performance legacy, vision, and direct involvement of Michael Jordan."
If you're going to launch a new brand, though, you need big-named athletes to endorse it. Of Jordan Brand's original athletes were Allen, Derek Anderson, Eddie Jones, Vin Baker, and Michael Finley, aka Team Jordan's starting five. 
But of those five, Allen was the very first athlete to endorse Jordan Brand — and he lived up to the hype.
Ray Allen didn't know what Jordan Brand was
Allen ultimately became a two-time NBA champion in his career, as well as a Hall of Famer, and the NBA's all-time leader in 3-point field goals made. In a recent appearance on Knuckleheads with Quentin Richardson and Darius Miles, Allen discussed how he first joined Jordan Brand.
"They were talking about it, so when they mentioned it to me, I didn't know what it was," Allen said on the June 8 episode. "It wasn't something that we had ever seen before. Because I had always worn Nikes, so I was like I'ma wear Nike; Nike's going to be an umbrella company to Jordan, so I'm all for it; I'm down. Jordan's doing it, I want to be a part of it."
According to The Undefeated, Allen had actually backed out of a deal he had with FILA so he could sign with Nike before ultimately joining Team Jordan. When looking at how much Jordan Brand has grown over the years since, Allen certainly made the right choice.
Michael Jordan's Jordan Brand is worth billions now
Jordan Brand hasn't just had some success since its introduction, it has become one of the most successful decisions Nike has ever made. According to Forbes, it's worth over an estimated $10 billion. It also made $3.1 billion in the fiscal year that ended in May 2019.
Allen discussed just how much the brand has grown since he became the first athlete to endorse it.
"Two years ago, I went to Sneaker Con in Dubai; I did it on behalf of brand Jordan, and it's incredible to go to the Middle East and see shoes that you had on your feet on display," he said on Knuckleheads.
Allen also brought up how much social media has played a role in his realization of just how big Jordan Brand and sneaker culture has become over the years.
"I would be wearing shoes, and then that's all they talked about after the game was shoes that I had on my feet," Allen said. "I was like, 'Wow, this is a real thing. There's a culture out there that exists that I'm a part of that follows this. This is legit.'"
Jordan Brand has since signed athletes across all sports like Carmelo Anthony, Zion Williamson, Dak Prescott, Derek Jeter, Maya Moore, and many others. Allen was the very first athlete, though, and has watched the brand develop into one of the powerhouse sneaker brands in the world.