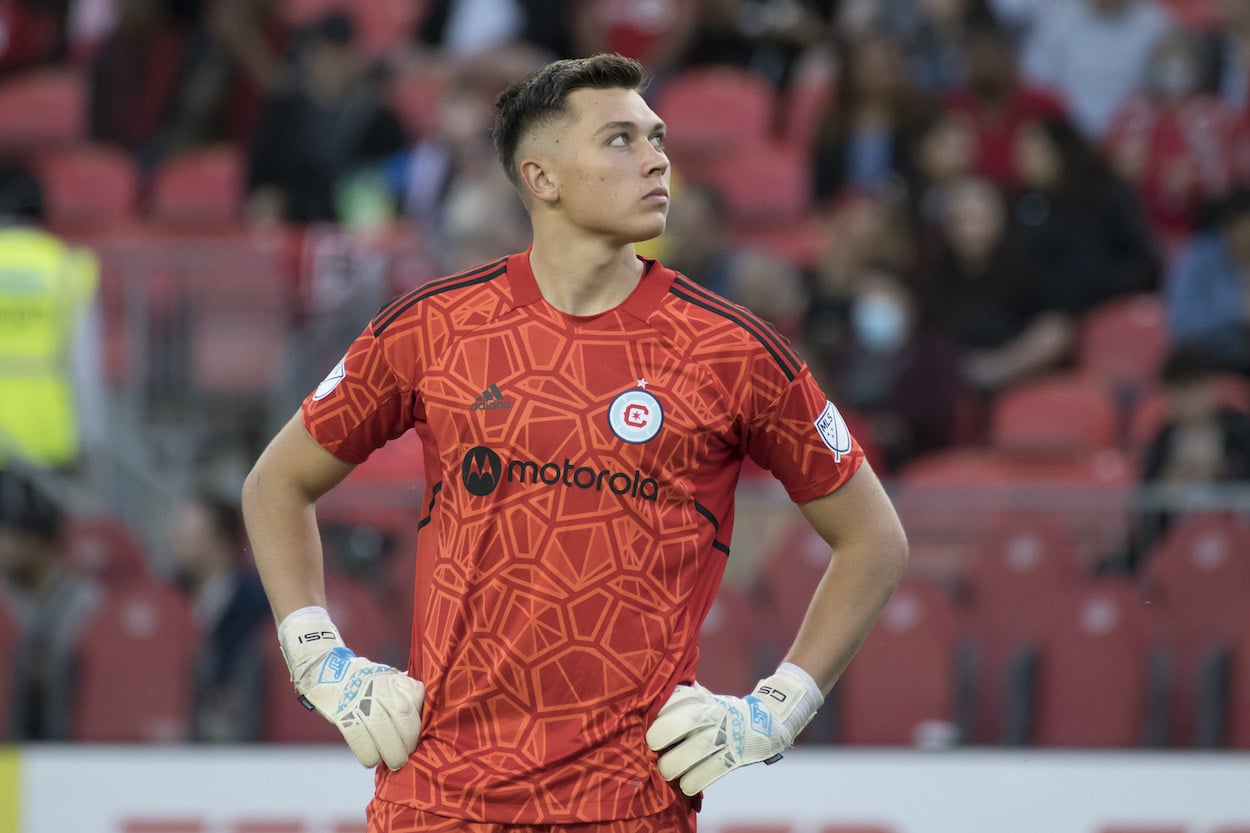 Real Madrid is Coming for MLS Teenage Goalkeeping Sensation Gaga Slonina, according to insider Fabrizio Romano
Gaga Slonina is becoming a star goalkeeper in MLS at just 18, but could soon be heading to the biggest stage in the world at Real Madrid.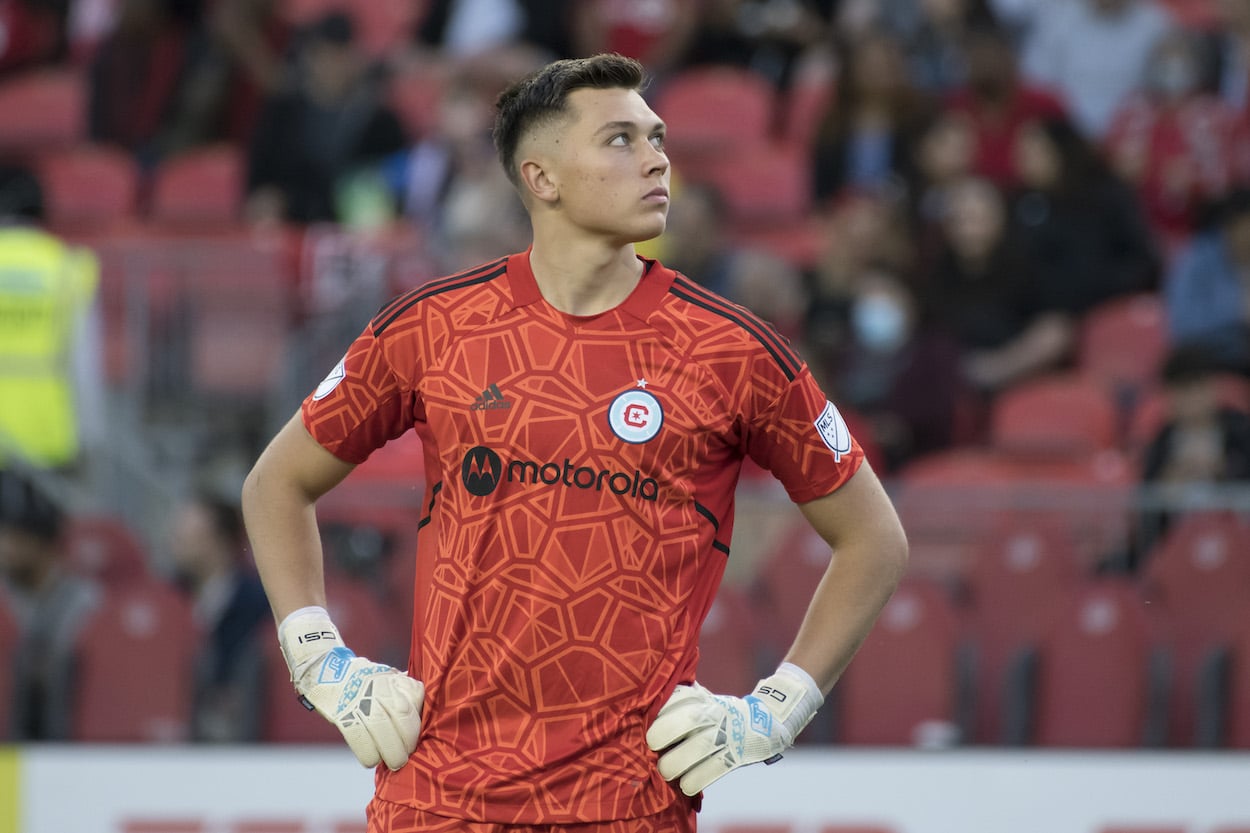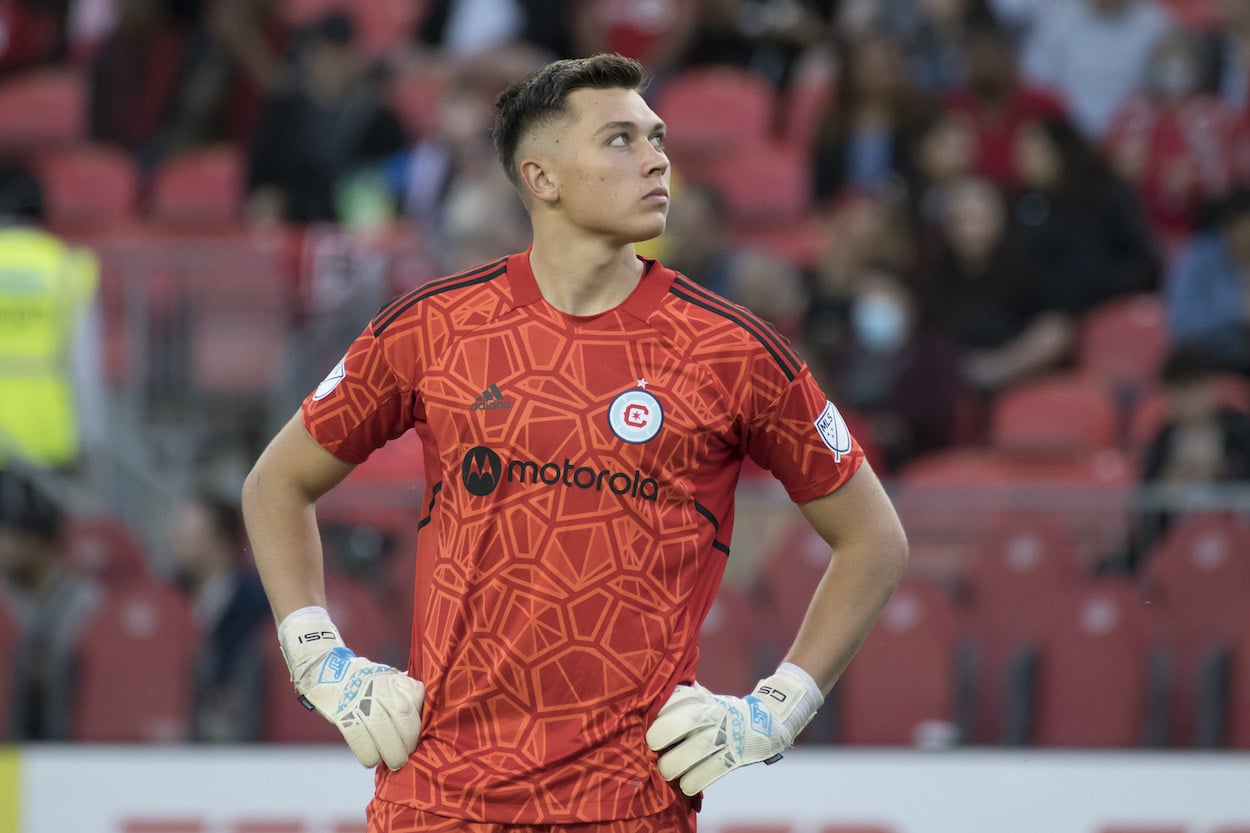 Real Madrid is the best football team in Spain right now and the kings of Europe after beating Liverpool 1-0 in the 2021-22 UEFA Champions League Final. Despite all the success, the bosses at the Bernabéu are always looking to tweak things and keep Real Madrid on top. In the summer of 2022, that might mean making a shocking move for 18-year-old goalkeeper Gabriel "Gaga" Slonina of MLS's Chicago Fire.
Soccer insider Fabrizio Romano reports a European giant is interested in Gaga Slonina
Due to the nature of European football, there isn't one or two insiders who have the pulse of everything happening. European football Adam Schefter's or Adrian Wojnarowski.'s don't really exist. The closest thing the sport has to a true insider when it comes to transfer information is Italian journalist Fabrizio Romano.
While Romano doesn't have quite the track record of the NBA or NFL insiders, his reports are generally more accurate than any one reporter.
This is why Romano's report that Real Madrid is interested in 18-year-old American goalkeeper Gaga Slonina is so noteworthy.
Slonina is a Chicago native and the son of Polish immigrant parents. At just 14, he signed his first MLS contract with the Chicago Fire. This made him the second-youngest player ever to do so. Three years later, at 17, he became the youngest ever goalkeeper to start an MLS match. Four saves and zero goals later, he became the youngest to keep a clean sheet, too.
In 2022, still a teenager, Slonina is the Fire's No. 1 keeper. Despite the team's poor record, the keeper is one of the lone bright spots, starting all 14 games.
Slonina also recently received a call-up to the Polish Nation Team, thanks to his dual citizenship. The youngster rejected the offer, though, pledging his allegiance to the USMNT instead.
Now, teams around the world are looking at Slonina as a top goalkeeping prospect. And Romano reports that one of the biggest clubs in the world, Real Madrid, will come calling.
How Gaga Slonina will fit with Real Madrid goalkeepers
If the Gaga Slonina to Real Madrid rumor is true, it likely won't be an immediate move.
Belgian goalkeeper Thibaut Courtois is firmly entrenched at Real Madrid's No. 1. The 6-foot-7 keeper was Man of the Match in Real Madrid's Champions League win over Liverpool. He made nine saves and preserved his team's 1-0 margin.
Courtois just turned 30 in early May. He also signed a deal in 2021 that will keep him at the club through the 2025-26 season.  
While it makes sense that Slonina could sign now, stay at Chicago for a few years, and replace Courtois when he's still just 22, it won't necessarily be that easy. Real Madrid already owns the rights to several other goalkeeper prospects. 
Courtois' current backup is 23-year-old Andriy Lunin, who is in line to be the future Ukrainian National Team goalkeeper. 
Real Madrid Castilla, the club's second-division team, features Toni Fuidias and Luis López, a pair of 21-year-old Spanish net-minders. Also, 22-year-old Spanish keeper Diego Altube is under contract with Real Madrid but spent the last season on loan with CF Fuenlabrada. 
If Slonina does end up with Real Madrid, his path to starting at Santiago Bernabéu Stadium will not be easy. 
Real Madrid is the most decorated European soccer club of all time
Real Madrid cruised to its 35th LaLiga title this season, cruising to the finish line with a 13-point lead over Barcelona. That trophy gives Los Blancos nine more than their second-place rivals.
In Europe, the club has been even more dominant. Winning the 2021-22 Champions League title over Liverpool gives the club 14 UCL and European Cup victories, double the number AC Milan has won right behind the Spanish side.
A former Real Madrid player, winger Francisco "Paco' Gento, sits alone at the top of the list for players with the most Champions League trophies with six.
Prior to the team winning its 14th European title, three of the four players who've won five trophies played for Real Madrid. Only AC Milan's Paolo Maldini joined Cristiano Ronaldo, Alfredo Di Stéfano, and José María Zárraga in the five titles club.
After Real Madrid took home its most recent Champions League victory, that club grew to include six more Real Madrid players, as the franchise now dominates all things Champions League-related. Current players Gareth Bale, Luka Modrić, Karim Benzema, Dani Carvajal, Isco, Marcelo, and are now with Ronaldo, Di Stéfano, and Zárraga.
It's an incredible run of dominance that most likely makes Real Madrid the greatest football club of all time.
Like Sportscasting on Facebook. Follow us on Twitter @sportscasting19 and subscribe to our YouTube channel.