Red Sox Pitcher Eduardo Rodriguez 'Scared' About Heart Issue From COVID-19
The coronavirus (COVID-19) is again wreaking havoc with the world of sports. Four months after shutting down sports, COVID-19 has been interfering with the return of many of those sports. In one specific case, it has taken its toll on Boston Red Sox pitcher Eduardo Rodriguez. Rodriguez has been temporarily shut down because of a heart condition that stemmed from the virus and he admits he's 'scared.'
Eduardo Rodriguez's baseball career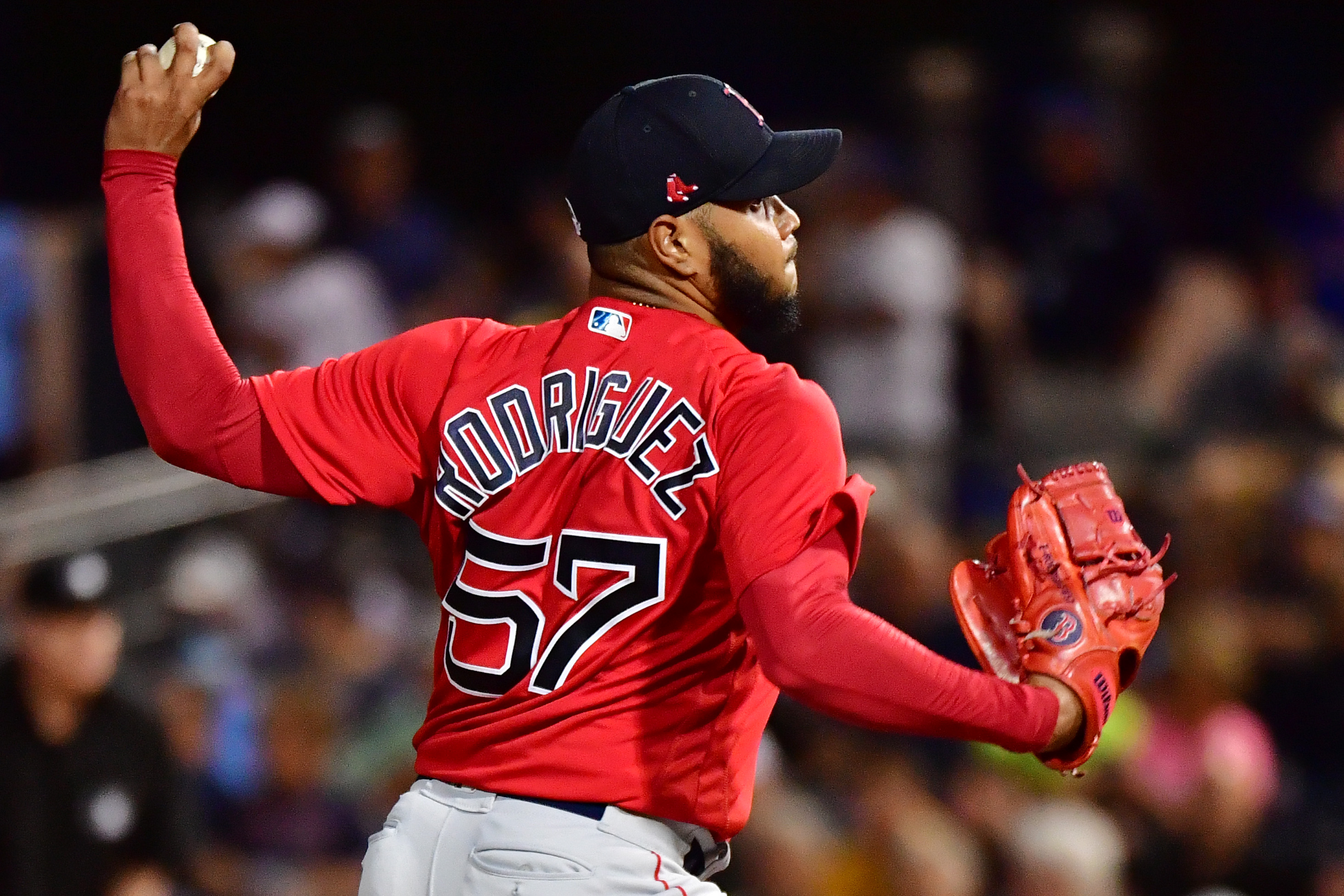 RELATED: David Price Slams MLB and Rob Manfred Over the Miami Marlins Coronavirus Outbreak
In five Major League Baseball seasons, Eduardo Rodriguez has worked his way into becoming the ace of the Boston Red Sox pitching staff. At least last season, the southpaw was Boston's go-to guy. Rodriguez was both Mr. Reliable and Mr. Effective in 2019.
Last season, Rodriguez started a league-high 34 games and pitched 203.1 innings for the Red Sox. He finished with a 19-6 record and a 3.81 ERA. Rodriguez also racked up 213 strikeouts. He finished sixth in the Cy Young Award voting.
During his five-year career, Rodriguez has compiled a 51-31 record. In three of those seasons, he has finished with double-digit wins. In 2018, Rodriguez went 13-5 in 129.2 innings pitched. He finished with a 3.82 ERA that season. He has made at least 20 starts in every season.
COVID-19 causing more problems
On March 11, COVID-19 shut down the sports world. When Rudy Gobert of the Utah Jazz tested positive for the virus that night, NBA Commissioner Adam Silver put a halt to the season. Soon after, the NHL and other leagues followed suit.
The start of Major League Baseball's season was pushed back several months, and the season was condensed to 60 games. This week, the Miami Marlins have had an outbreak of positive tests, forcing the postponements of games in an already-shortened season. The Marlins game against the Baltimore Orioles game tonight has been postponed for the second straight night.
According to ESPN, the total number of Marlins players and staff members to test positive for the virus is 17, all within the last five days. MLB Commissioner Rob Manfred said Monday that additional steps for the season to continue may be considered. "A team losing a number of players that rendered it completely non-competitive would be an issue that we would have to address and have to think about making a change," he said. "Whether that was shutting down a part of the season, the whole season, that depends on the circumstances."
Eduardo Rodriguez' heart condition stems from COVID-19
According to NESN.com, Boston Red Sox pitcher Eduardo Rodriguez is dealing with myocarditis, an inflammation of the heart muscle that is usually brought on by a virus. Last Thursday, it was announced that Rodriguez would be shut down for a week due to complications from his bout with COVID-19.
He confirmed to radio station WEEI.com that he was diagnosed with myocarditis and his heart's activity needs to be limited. "That's the most important part of your body," Rodriguez said. "The first time I hear, I was kind of scared a little. Now that I know what it is, I'm still scared, but now I know exactly what it is. I just talk to my mom, talk to my wife, let them know what I have, and now I've got to take the rest."
Rodriguez is expected to be re-evaluated this week, but the timetable for his return is unknown. "It's been weird, man, it's been hard, weird," he said. "First, I got the COVID, feel all the symptoms and everything, at some point thinking that's how bad it was the first four days. And then get here, and now that I have this, I was hoping that I get ready and go for the season as quick as I can. Now I've got to get a week off, wait for the results of the next MRI. I would say it's been weird, really weird for me."