Reggie Wayne Had a Much Better Career Than Every WR Drafted Before Him
Reggie Wayne had a fantastic 14-year career for the Indianapolis Colts. He is not yet in the Pro Football Hall of Fame as he just played in 2014, but he most likely will be in there soon. The Colts selected Wayne No. 30 overall in the 2001 NFL draft but, believe it or not, five wide receivers were drafted before him. Wayne got the last laugh, though, as he had a better career than all of them.
Four of the five wide receivers drafted before Reggie Wayne were no-names
The first wide receiver selected in the 2001 NFL draft was David Terrell as the Chicago Bears selected him at No. 8. Terrell only played in the NFL for five seasons and his best year was in 2004 when he caught 42 passes for 699 yards and one touchdown. He never had one season with over 700 receiving yards or more than 50 catches. How was he a top 10 pick and how was he selected before Wayne?
Another wide receiver was selected directly after Terrell by the Seattle Seahawks and that was Koren Robinson. He did actually have one Pro Bowl season but it was as a kick returner. His best season was in 2002 when he had 78 catches for 1,240 yards and five touchdowns, but that was the only season he had 1,000 or more receiving yards.
The Washington Redskins then selected Rod Gardner at No. 15 overall. Gardner only played in the NFL for six seasons and his best season was in 2002 when he caught 71 passes for 1,006 yards and eight touchdowns. He, however, didn't have another season where he gained 750 receiving yards or more.
Additionally, the Philadelphia Eagles selected Freddie Mitchell with the 25th overall pick. Mitchell only played in the NFL for four seasons and never had 500 receiving yards or more in a season.
Santana Moss was the only one to have a productive career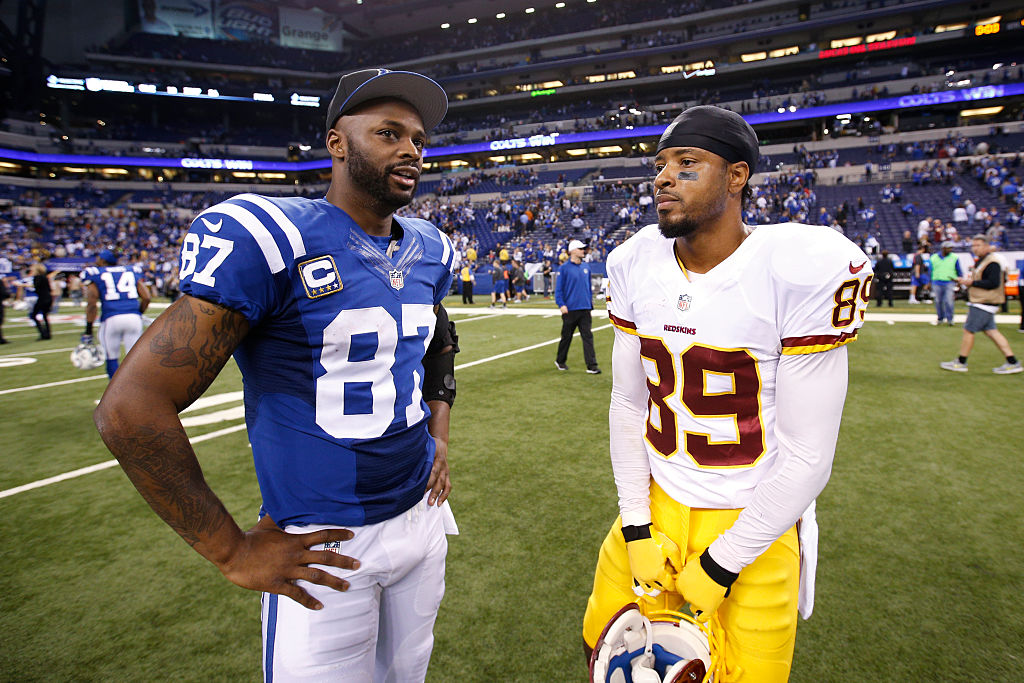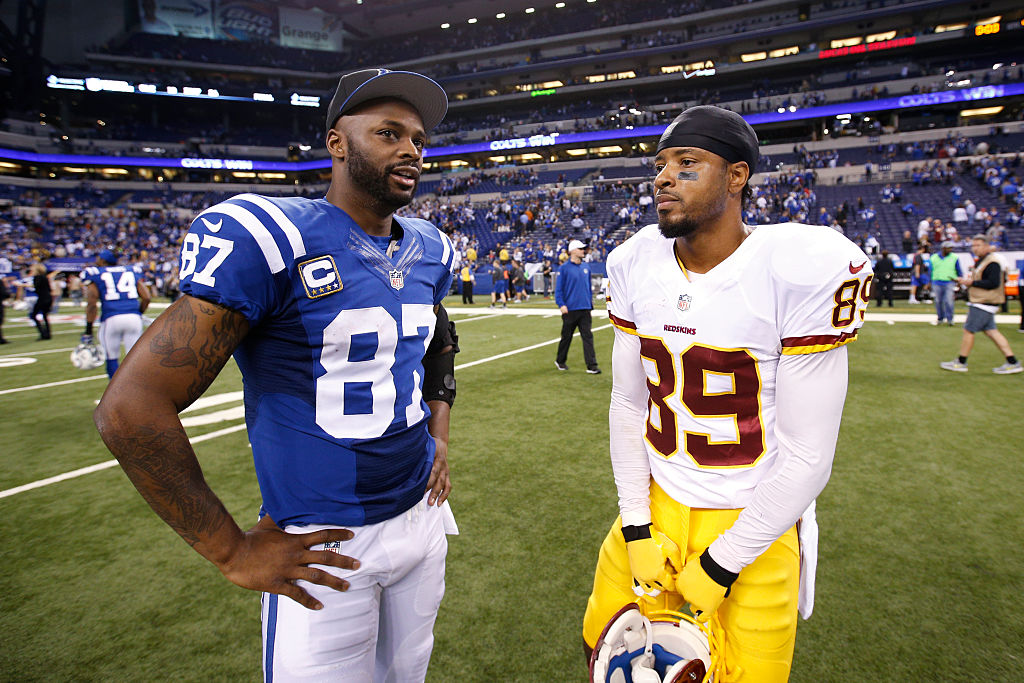 The New York Jets selected Santana Moss with the 16th overall pick in that draft and he was the only one selected before Wayne to have a good career.
Moss played for the Jets for four seasons and had success. This includes the 2003 season where he had 74 catches for 1,105 yards and 10 touchdowns. However, he played 10 seasons with the Washington Redskins and really had some great seasons. His best season was in 2005 when he earned the only Pro Bowl selection of his career. He caught 84 passes for 1,483 yards and nine touchdowns that year.
Here is a look at some more of his stats.
Four seasons with 1,000 receiving yards or more and three other seasons with 800 receiving yards or more
732 career receptions for 10,283 yards and 66 touchdowns
1,398 career punt return yards and three career punt return touchdowns
While he certainly had a great career, Reggie Wayne still had a better one. It isn't even close.
Reggie Wayne is a future Hall of Famer
From his second season to his last season, Reggie Wayne was one of the greatest wide receivers in the game. In that time span (2002-2014) Wayne only had one season with under 700 receiving yards. That was in 2013 and he only played in seven games that year.
Additionally, Wayne had seven straight seasons from 2004 through 2010 with 1,000 or more receiving yards. He also led the NFL in receiving yards in 2007 with 1,510.
Here are all of Wayne's accomplishments.
Six-time Pro Bowler
First-team All-Pro in 2010
Super Bowl Champ
1,070 career receptions (10th all-time)
14,345 receiving yards (10th all-time)
The stats speak for themself. Reggie Wayne is a Hall of Fame wide receiver. Pro Football Reference's Hall of Fame Monitor has Wayne's Hall of Fame score at 107.01. The average score of wide receivers currently in the Hall of Fame is 106.82. None of the guys selected before Wayne will even get close to entering the Pro Football Hall of Fame. Moss' score is 37.5.
Reggie Wayne was a hard-working wide receiver throughout his NFL career and he proved all the teams who passed on him wrong. Reggie Wayne was the best wide receiver in the 2001 NFL draft and is one of the best pass-catchers of all-time.