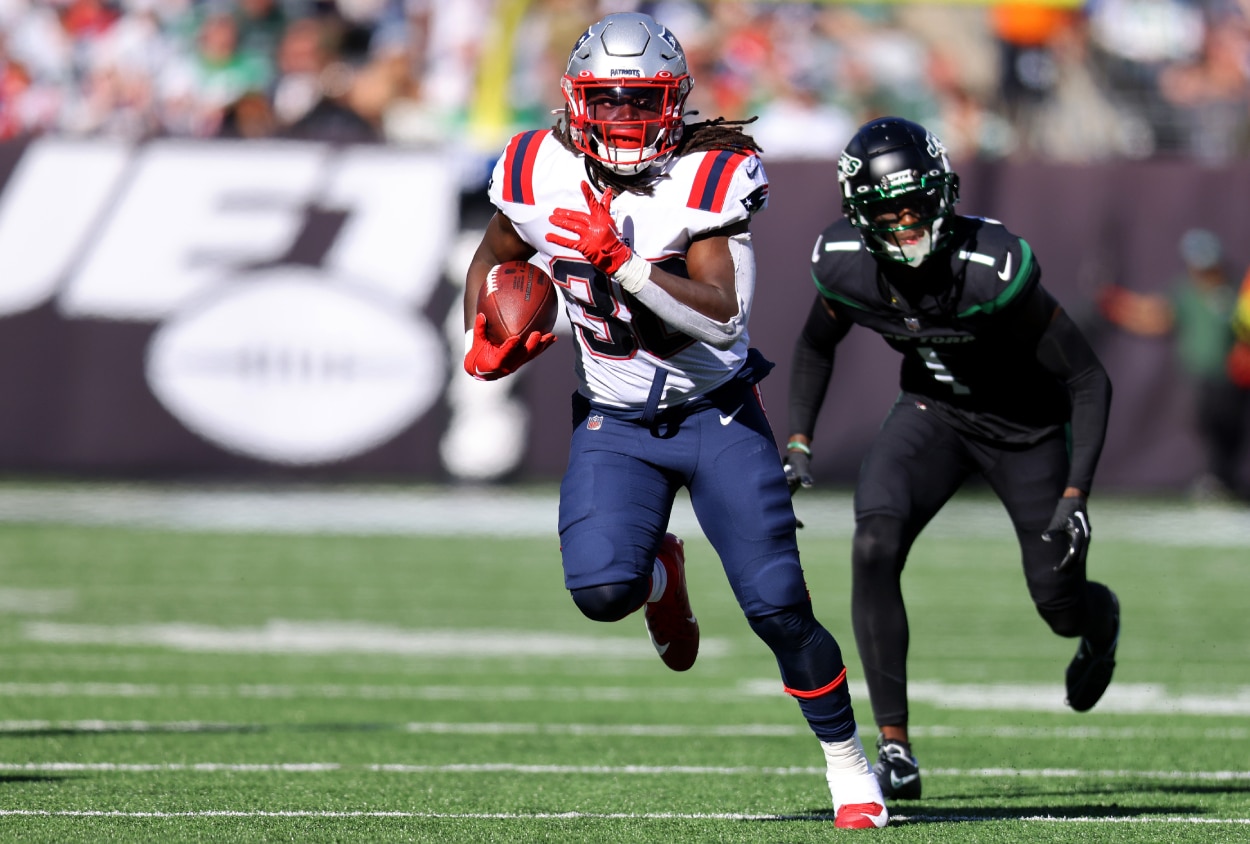 Rhamondre Stevenson 'Still Got a Ways to Go,' and That's a Scary Thought for the Rest of the NFL
Rhamondre Stevenson had turned himself into one of the best backs in the NFL.
Rhamondre Stevenson needed a chance, and he finally got one. The New England Patriots running back got one in Week 5, and he's certainly capitalized. Stevenson is rapidly becoming one of the best backs in the NFL.
Entering the season at the No. 2 back behind Damien Harris, Stevenson shined when Harris left New England's 29-0 victory over the Detroit Lions in Week 5 with a hamstring injury. Stevenson carried the ball 25 times for 161 yards and hasn't slowed down since.
Rhamondre Stevenson has become the focal point of the Patriots offense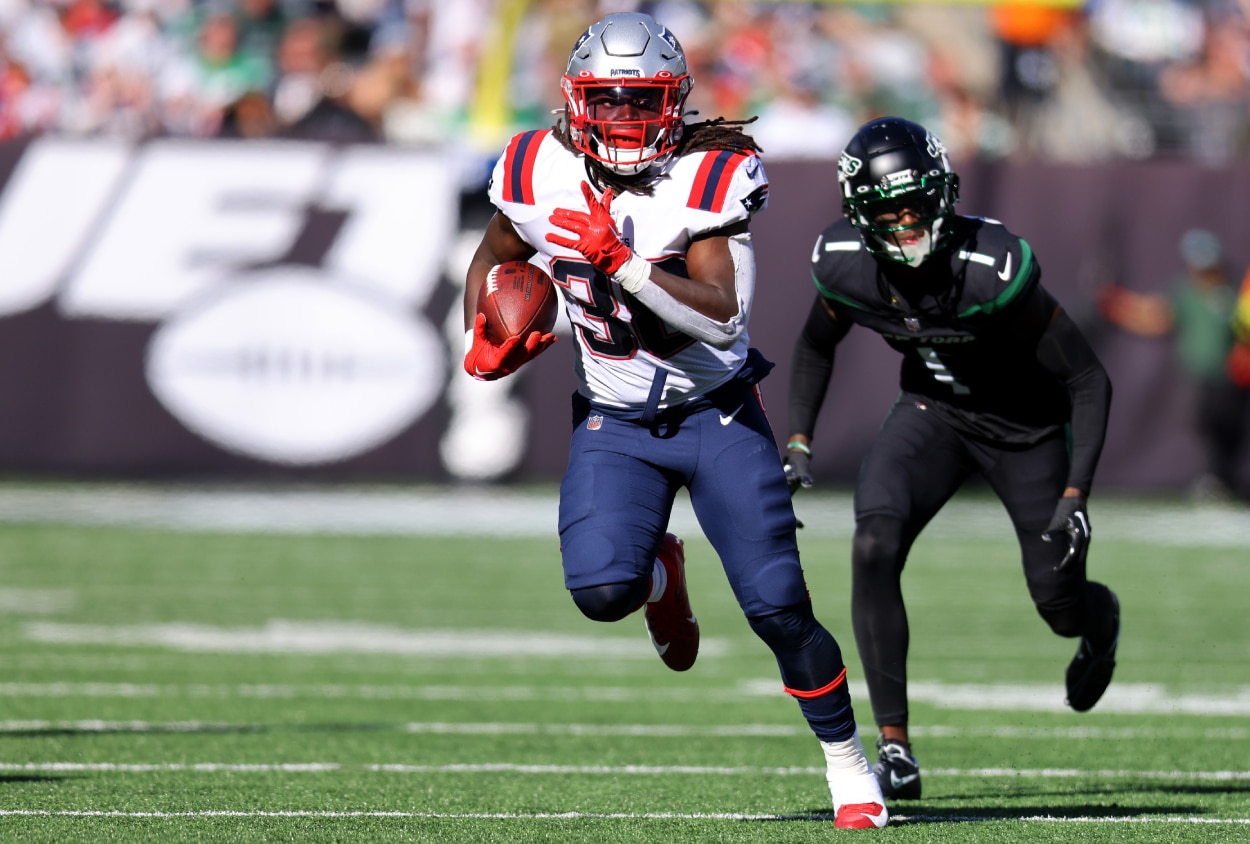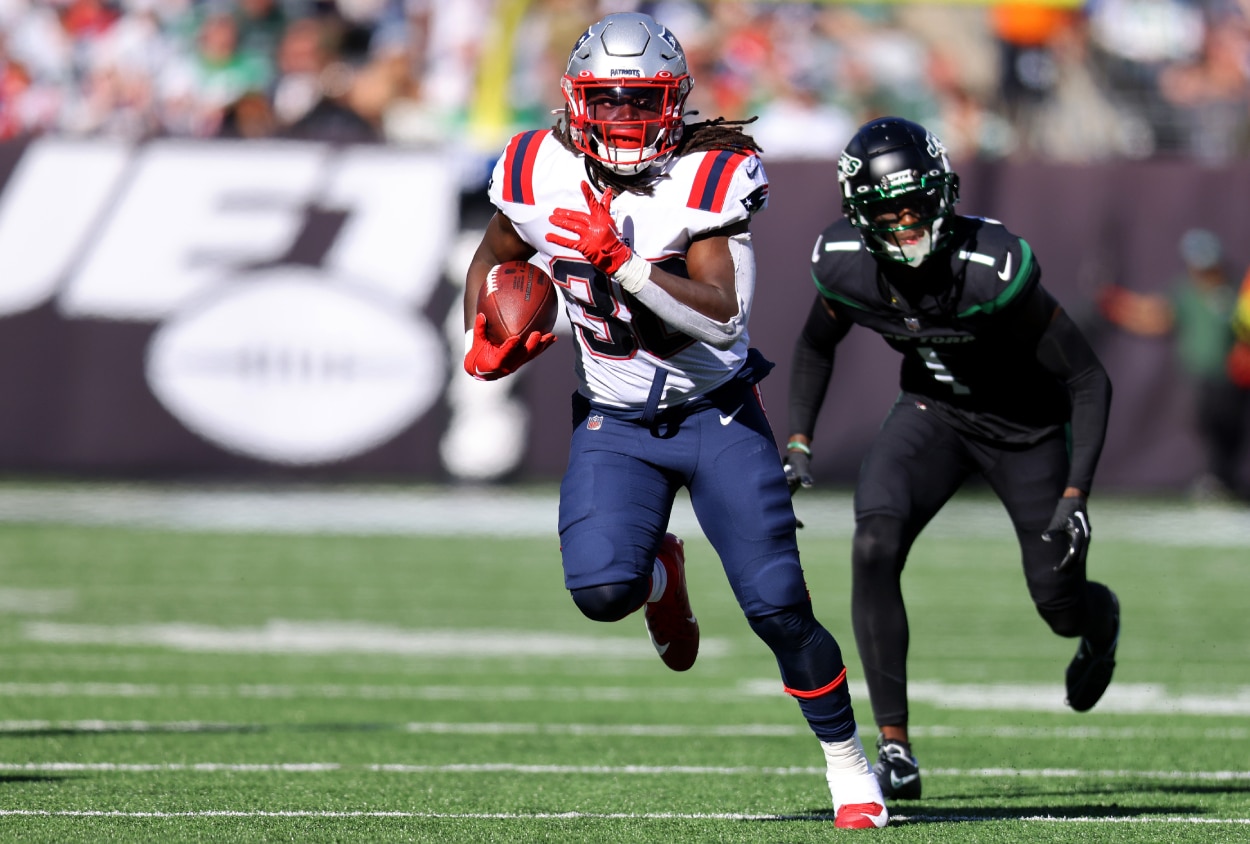 The hype has always been there for Stevenson. He just needed some patience. When Harris went down with a hamstring injury in the first half against the Lions, Stevenson seized the opportunity.
Not only was he now the main ball carrier, but the Patriots were run-happy that weekend with rookie quarterback Bailey Zappe filling in for the injured Mac Jones. Stevenson was the workhorse with his 25 carries. He also caught two passes for 14 yards.
Stevenson worked hard in the offseason so he could play a bigger role in New England's passing game. Last year, he had 14 catches all season. With the versatile James White retiring, the door was open for Stevenson to become a bigger part of the offense if he expanded his game.
While White was considered a third-down back, Patriots coach Bill Belichick wanted Stevenson to play all three downs.
"When you play players on every down, then you're looking at a different type of player, and a different set of responsibilities," Belichick said before the season, per CBS Sports. "Some of those are advantages for us. Some of them may not be advantages. Those guys have all improved. But it's a lot. They're looking at all three downs, not really just third down. And so we have to plan accordingly on that."
Stevenson 'still got a ways to go' says Bill Belichick
After his career game against the Lions, Stevenson followed it up with another gem. He rushed 19 times for 76 yards and two touchdowns in a 38-15 win over the Cleveland Browns. He also had four receptions.
In an ugly Monday Night Football loss to the Chicago Bears, Stevenson's pass-catching prowess shined. He led the team with eight catches for 59 yards. He also had 11 carries for 39 yards and a touchdown.
Stevenson has proven he's a complete back (and one of the best in the game right now). Belichick was quick to praise the second-year back, but said he still has much room for improvement.
"Yeah, Mondre just gets better every day," Belichick said, according to NESN. "He's one of the guys that I've coached that really has shown just continuous improvement almost every day he walks into the building. Just in every phase of the game. This kid's really come a long way in just every part of his game.
You mentioned some of the things in the passing game, awareness, route running, blitz pickup, recognition, getting out on fake blitzes, versus reading the difference between fake blitzes and blitzes. In the running game his patience and setting up blocks, running on the second level, stiff arm and contact balance, ball security. You name it.
"I have a ton of respect for the way he's worked at his game, improved his training habits. He's still got a ways to go. But he just gets better at all the things he works at every day. He's got a long list of them. But he's made significant progress in so many areas. He's really been impressive."
If Stevenson still has a ways to go, that's some tough news for NFL defenses.
Have thoughts on this topic? Keep the conversation rolling in our comments section below.