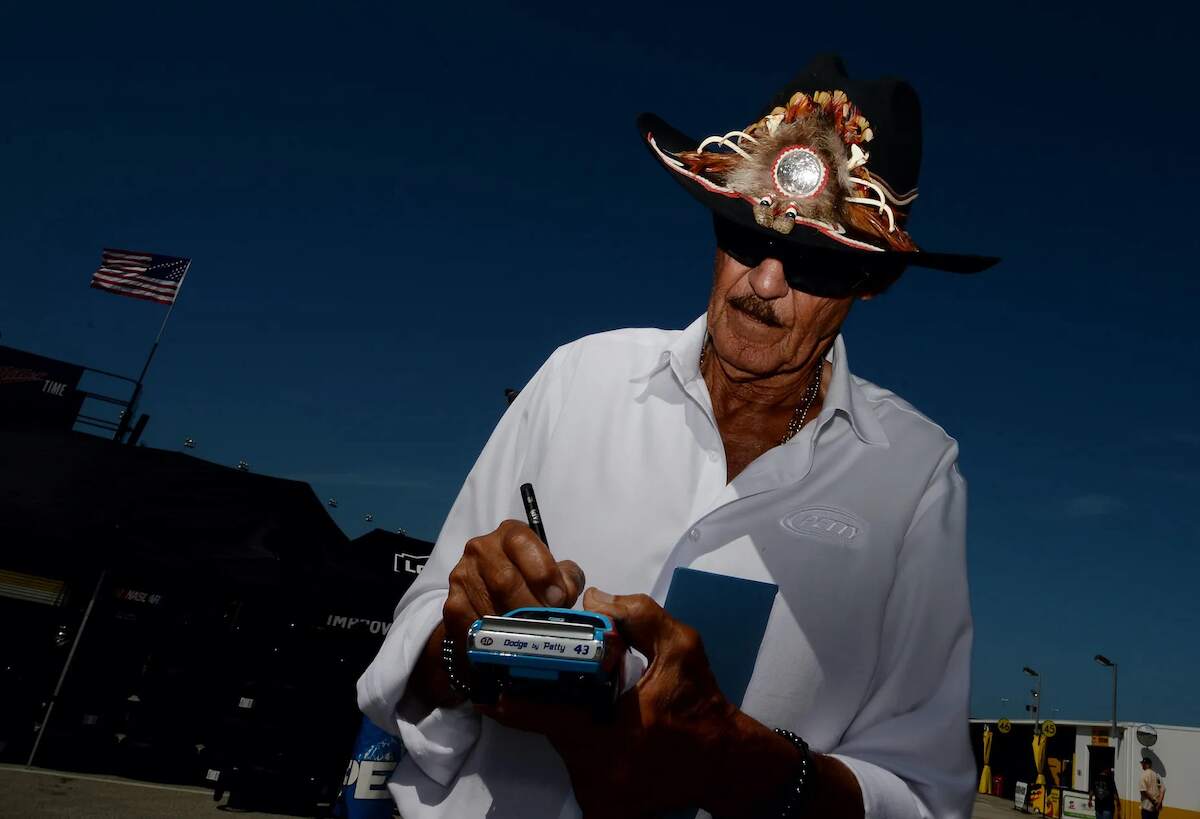 Richard Petty Helped Start 1 of NASCAR's Most Treasured Traditions as a Humble Way to Say Thank You: 'These People Are Letting Me Feed My Family'
Richard Petty is a NASCAR legend for his on-track exploits, but he also helped create one of the sports' treasured traditions to thank fans.
Even if you're not a hardcore motorsports fan, you're probably familiar with Richard Petty. Between his incredible racing resume and signature look, the King can seem like a pretty intimidating guy. In reality, though, he helped start a treasured NASCAR tradition with a humble gesture of thanks.
During the early days of NASCAR, things were quite a bit less commercial than they are now. Even the great Richard Petty wasn't rolling dough. One day, however, he signed an autograph to thank a fan for coming out to the race. From there, the rest is history.
Richard Petty is rightfully considered to be a NASCAR legend
In pro sports history, some guys have picked up ironic nicknames. Richard Petty, however, is certainly worthy of being called "the King."
Growing up, Petty actually showed some potential in another sport — he was a talented football player—but decided that his future was in auto racing. He followed his father's footsteps onto the track and made his NASCAR debut at age 21. He promptly claimed Rookie of the Year honors, foreshadowing the success that he'd find throughout his career.
As Petty grew up behind the wheel, his star continued to rise.  Barring a brief stint in drag racing, he spent more than three decades on the NASCAR circuit, earning 200 wins and seven Cup Series championships along the way.
As you might imagine, that success led to plenty of fame and fortune. While it's been quite a while since Richard Petty participated in a race, he's still one of NASCAR's most recognizable names. He's also built up an estimated $65 million net worth, which is nothing to sneeze at, either.
Richard Petty signed autographs as a way to say thank you
While selfies have become more popular in recent years, asking for an autograph used to be the best way to commemorate meeting a celebrity. During his time on the NASCAR circuit, Richard Petty signed more than his fair share.
According to a 2017 write-up in USA Today, Petty's team estimates that the King has inked his name more than two million times for fans. He's written it on everything from die-cast cars and pictures to a duck. When he started signing, however, things were much simpler.
"Basically, when we first started racing, and it was convertible racing in Columbia, South Carolina, and I think maybe when the race was over, one person asked for an autograph," Petty explained in a USA Today video. "You went to the next race; you had two or three people. And then, all of a sudden, you sit down, and you say, 'You know, I'm signing these autographs; these people were paying me."
Petty went on to explain that, at the time, there weren't major sponsorship deals. Guest paid their money to the promoter, who in turn shared a cut with the drivers. Without fans, there was no payday. The King wanted to thank those people for their support.
"You said, 'Look, these people are letting me feed my family, doing what I want to do, driving the car," the King continued. "And so every time you write a Richard Petty [autograph], it's 'thank you for being a race fan' because, you know, you put me in this position.
NASCAR's autograph tradition still lives on today
It goes without saying that NASCAR is quite a bit more commercial than it was when Richard Petty first hit the track. Signing autographs, however, is still a key part of the racing experience.
While every driver has their own preferences — some prefer to be left alone at certain times ahead of a race — virtually everyone will sign an autograph for a fan. It's something that hits close to home. As David Ragan told Jacksonville.com in 2016, he was once a kid hoping to meet his heroes ahead of the race. Once he turned pro, he wanted to pay that experience forward.
Although things have changed over the years — COVID-19, for example, prompted a wave of digital autographs — it still boils down to the same principle that motivated Richard Petty: taking care of the fans who make NASCAR what it is.
"Basically, as I said, it was a new sport, so people around me, you know, the drivers, they said, 'This is the way it needs to be done" Petty continued. "So, a lot of them started following suit, and they still follow suit."