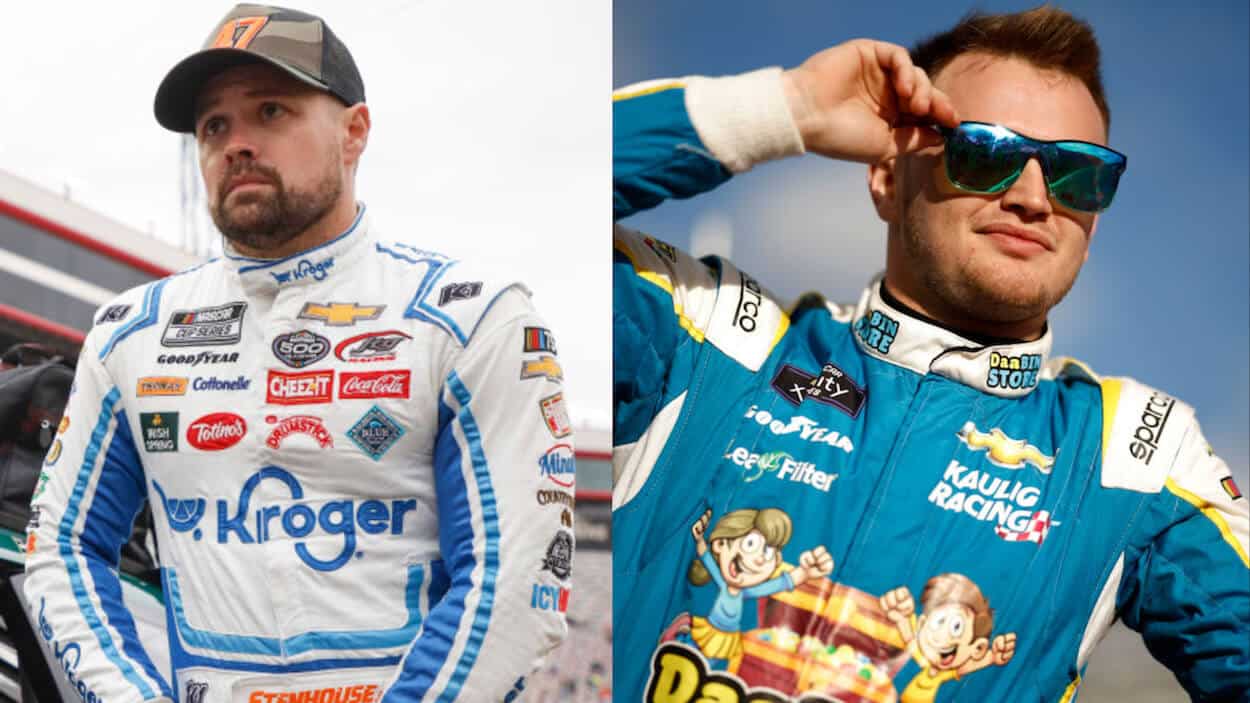 Ricky Stenhouse Jr. Offers Hope That Justin Haley's Dismal Season May Improve After Recent Engagement
Can a personal change prompt a turnaround on the race track? Justin Haley will certainly be hoping that's the case.
Add Justin Haley to the growing list of NASCAR Cup Series drivers who are either married or heading in that direction.
According to Haley's Twitter feed, the Kaulig Racing driver popped the question to girlfriend Haley Mottinger just a few days ago — and she said, "yes."
Mottinger's first name isn't a misprint, by the way. "Haley" is her real first name, but I digress. The bottom line is that Justin Haley is now engaged to the love of his life.
And you just never know — Haley's new status as a soon-to-be-married man might even coincide with an improvement on the race track, even if it's pure coincidence. 
Fellow Cup Series driver Ricky Stenhouse Jr. certainly knows a little something about that.
Marriage seems to be treating Ricky Stenhouse Jr. favorably
Since getting married to his now former fiancée Joye Goodfleisch late in the 2022 NASCAR Cup Series season, Ricky Stenhouse Jr. has enjoyed quite the career renaissance — again, even if it's merely coincidental. 
On top of winning the 2023 Daytona 500 and snapping a losing streak dating back more than five years, Stenhouse is in the midst of his best overall Cup Series season since 2017. That year, he went to Victory Lane twice and made the playoffs.
Eight races into the 2023 campaign, Stenhouse has recorded three top-10 finishes that include two top-fives and his unlikely victory in NASCAR's most prestigious race, and he's been consistent enough to currently sit 13th in the standings. That's a major improvement from a season ago when the JTG Daugherty Racing driver finished 26th in points and posted a total of five top-10 finishes, which included only one top-five all year.
Even if Stenhouse doesn't move up in the standings by the end of this season, he will match his best points finish in 11 seasons as a full-time Cup driver by simply holding steady. 
While being married may not be the main reason for Stenhouse's remarkably better performance, it's safe to say it hasn't hurt anything. 
This much is certain: Stenhouse and his wife seem to be making the most of life as a married couple.
Are better days now ahead for the newly engaged Justin Haley?
A quick look at the NASCAR Cup Series standings paints an ugly picture for Justin Haley. He's ranked 32nd — next to last among drivers who've entered every race — largely because NASCAR penalized him 100 points for an irregularity that series officials found on his race car at Phoenix Raceway last month. Then, to add insult to injury, Haley and Kaulig Racing subsequently lost their appeal of the penalty, despite Hendrick Motorsports having its matching penalty for the same infraction dismissed.
Take away the penalty, and Haley would be 22nd in points — still not great, but a far cry from the hole in which he currently finds himself.
The good news? Haley arrived at Martinsville Speedway this weekend feeling upbeat for two reasons: He and his fiancée got engaged earlier this week. And he has some momentum coming off a strong Sunday at the Bristol Motor Speedway dirt track, where he came home a season-best sixth in his No. 31 Chevrolet.
Maybe, just maybe, the excitement of knowing he's locked down his future bride — in combination with a host of other factors — will now lead to a string of good days at the race track for Haley. 
Or maybe Sunday night at Bristol was a flash in the pan, and the 23-year-old Wisconsin native's season of struggles will continue.
Either way, Haley seems really happy right now. And he has every reason to be. 
As does Ricky Stenhouse Jr.