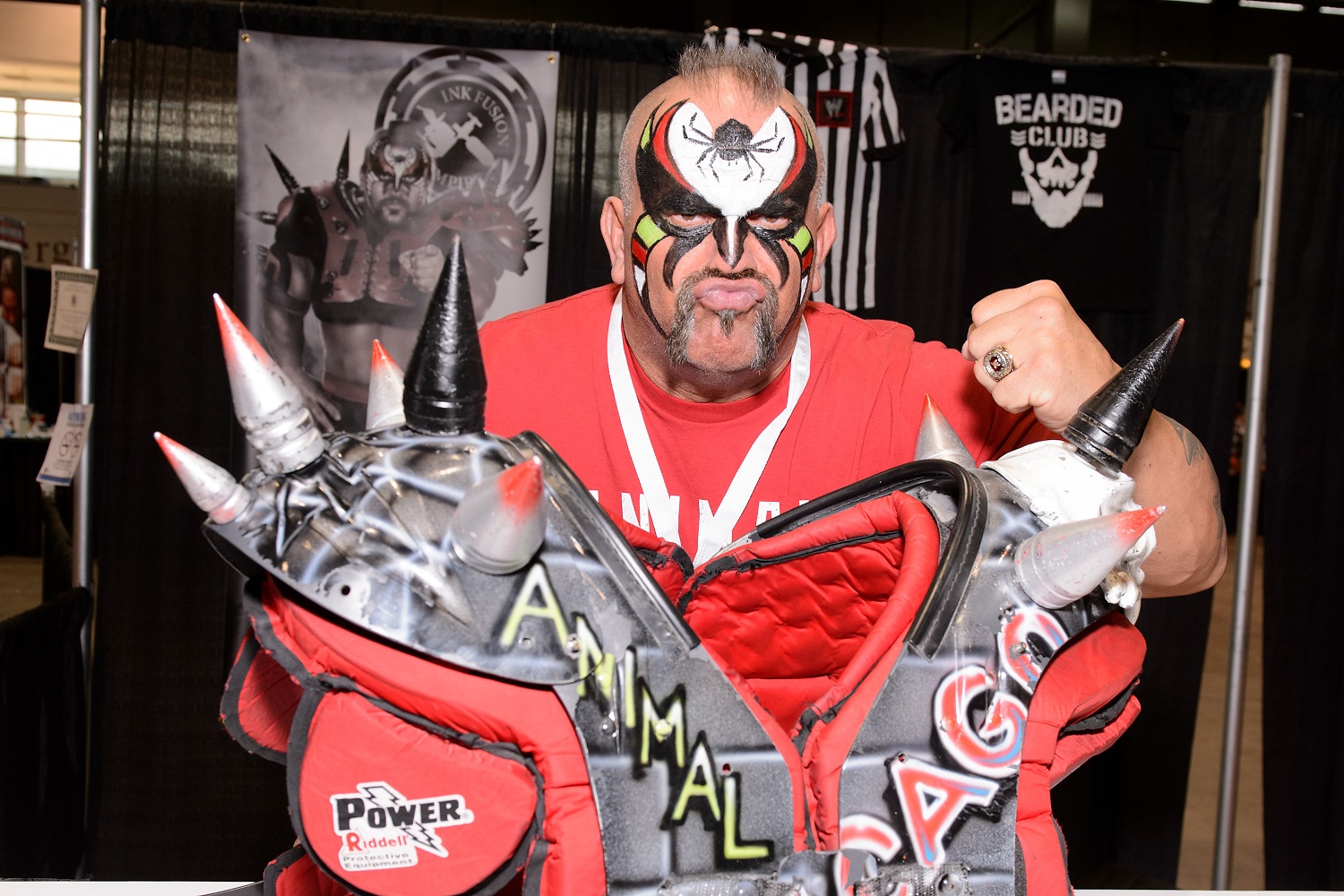 Road Warrior Animal Initially Wasn't Fond of the Gimmick That Helped Him Become a Pro Wrestling Icon
Joseph Laurinaitis, better to known to pro wrestling fans as Road Warrior Animal, originally took issue with the gimmick that made him a legend.
Professional wrestling icon and WWE Hall of Famer Joseph Laurinaitis, better known as Animal of The Road Warriors/Legion of Doom, passed away late Tuesday night at the age of 60 but his legacy as one half of arguably the greatest tag team in history will certainly live on forever.
The crazy thing is that Animal, who won tag titles with his longtime partner Hawk in just about every major promotion on the planet, initially wasn't overly fond of the gimmick that helped him become a Hall of Famer.
Animal originally thought The Road Warriors gimmick made him look like one of The Village People
Joseph Laurinaitis was first discovered while working as a bouncer at a bar in Minnesota. An imposing figure due to his love of power lifting, Laurinaitis caught the eye of famed professional wrestling trainer Eddie Sharkey, who thought that he would do well in the industry. Sharkey also recruited Michael Hegstrand, who would later become Road Warrior Hawk, Barry Darsow, who became Smash of Demolition, and Rick Rood, aka Ravishing Rick Rude, from the same bar and trained the four of them together.
Laurinaitis made his pro wrestling debut in November 1982 as The Road Warrior but wrestled only a few singles matches before the legendary Paul Ellering came up with the idea that would change his life forever. Ellering was looking to put together a stable of heels for Georgia Championship Wrestling and decided to put Laurinaitis in a team with Hegstrand. He changed their names to Animal and Hawk, gave them a biker gimmick, and The Road Warriors were born in early 1983.
The funny part is that Animal originally wasn't fond of the gimmick as he said that the attire the team initially wore made him feel like a member of The Village People. It was at this point that the duo shaved their heads, painted their faces, and started wearing dog collars and spikes. This was the true birth of The Road Warriors and they went on to become one of the most dominant and popular tag teams in professional wrestling history.
After winning tag titles all over the world as The Road Warriors, they became the Legion of Doom in WWE
It didn't take long for The Road Warriors to make a name for themselves. While numerous promotions tried to make them heels, the fans went crazy for Hawk and Animal. They had a hard-hitting style that made them wildly popular and they quickly became one of the top tag teams on the planet. Along with Paul Ellering, they joined the AWA in 1984 and had one reign as the AWA tag champs.
They became huge stars in Japan the following year and also began working matches for Jim Crockett Promotions, engaging in feuds with the likes of The Midnight Express and The Four Horsemen. When JCP became WCW in 1988, Hawk and Animal were one of the company's top draws until leaving for WWE in 1990.
Upon their arrival in WWE, Vince McMahon retired The Road Warriors name and began calling them the Legion of Doom. Their first feud was against Demolition, who many saw as Road Warrior knockoffs, which pitted them against their former training partner, Barry Darsow. At the 1991 edition of SummerSlam, they defeated The Nasty Boys to win the WWE tag titles, becoming the first team to win the tag team championships of all the major American promotions of The Golden Era.
When Hawk left the company in 1992 due to a dispute over a new gimmick, Animal stayed on a singles wrestler and would sometimes team up with former Demolition member Crush. However, a back injury forced him out of action and he left the company soon after.
The later years of Animal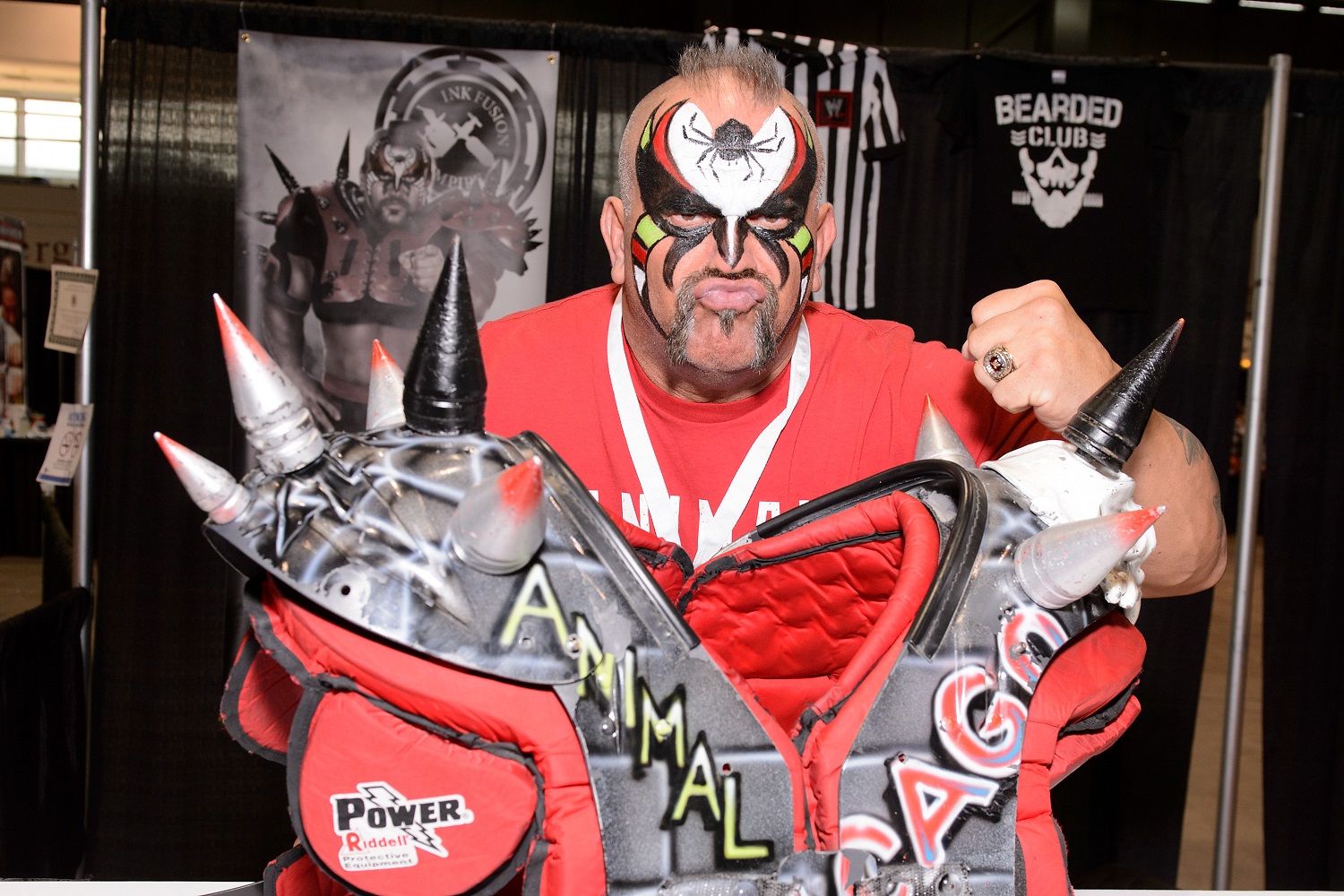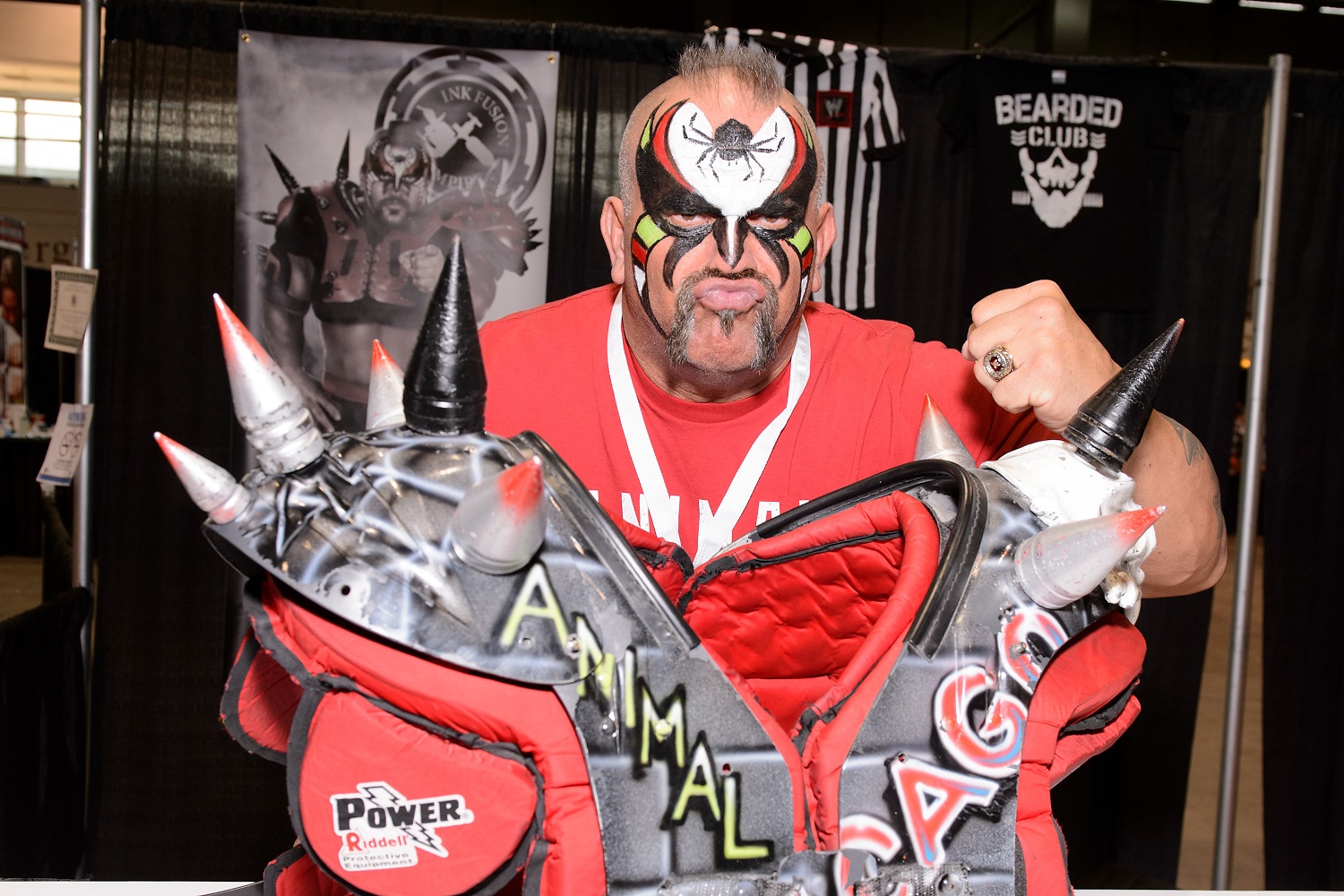 As his injury left him unable to wrestle for a number of years, Animal served in a managerial/advisory role for a short time in WCW before finally returning to the ring in early 1996. The Road Warriors reunited and wrestled several matches for the WCW tag titles but never won them. Hawk and Animal returned to WWE as LOD in 1997 and promptly won the tag titles from The Godwinns but lost them to The New Age Outlaws, which helped launch Billy Gunn and Road Dogg into superstardom.
A controversial storyline in 1998 saw WWE use Hawk's real-life troubles with drugs and alcohol, which was not received well. They introduced a third member to the team, Puke (who later become Droz), to team with Animal as Hawk tended to his issues but the original duo left WWE as neither agreed with how the company was exploiting such a personal matter. Animal made a brief return to WCW in the company's final year but his contract was not picked up when Vince McMahon bought out his competition in 2001. Hawk would tragically die of a heart attack in 2003 at the age of 46, just seven months after LOD made a surprise appearance on Monday Night Raw, the duo's final appearance together in WWE.
Animal would pop up in WWE from time to time over the years, also appearing sporadically in TNA, but received a lot of attention for different reasons later in his life as his son, James, became an All-American linebacker for Ohio State and enjoyed an eight-year career in the NFL, last playing for the New Orleans Saints in 2016.
Animal released an autobiography in 2011, the same year in which The Road Warriors/Legion of Doom and Paul Ellering were inducted into the WWE Hall of Fame.
It was announced Wednesday morning that Joseph Laurinaitis had passed away at the age of 60. TMZ Sports reported that he passed away late Tuesday night at Tan-Tar-A Resort in Osage, Missouri. The report stated that police had received a call at 11:49 p.m. from Laurinaitis' wife but when they arrived on the scene, emergency personnel had already declared him deceased. The family is expected to release a statement later today.
RIP, Animal.