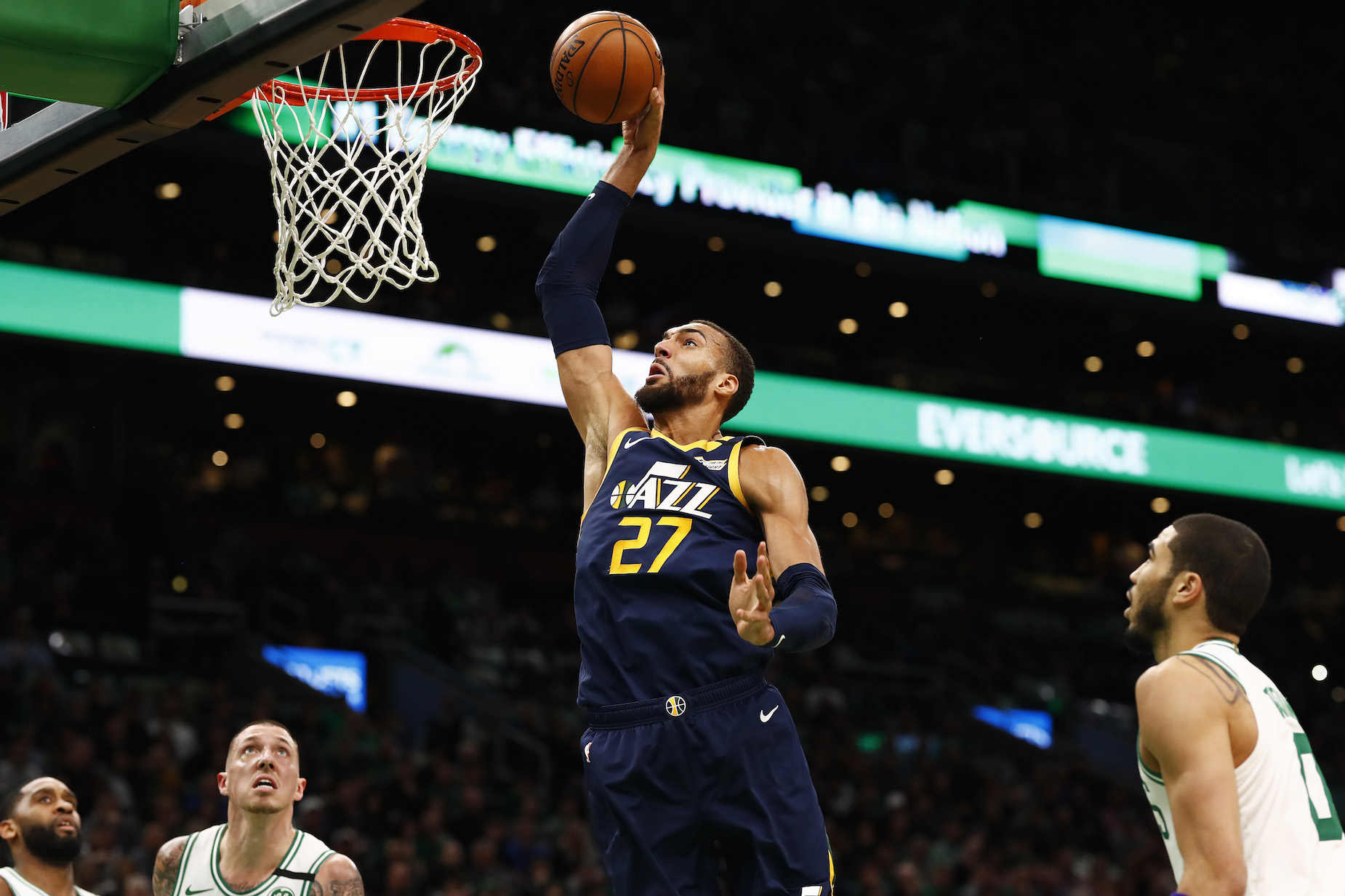 Rudy Gobert's COVID-19 Diagnosis Halted the 2020 NBA Season But Also Made Him a Hero
While Rudy Gobert's COVID-19 diagnosis forced the NBA to suspend the season, it also made the Utah Jazz big man a hero.
Even if you're not an NBA fan, you probably know the name Rudy Gobert. In March, the coronavirus was still an abstract concept, seemingly confined to Europe and Asia. Then, seemingly out of nowhere, the Utah Jazz big man tested positive for COVID-19. Before anyone could process what happened, the NBA season was suspended, and our lives as we knew them began to change.
Thanks to his previous behavior, Gobert was quickly branded as careless and negligent; even if he didn't know he was sick, he became the man who ruined the NBA season. In retrospect, though, the big man's actions inadvertently made him a hero, too.
Rudy Gobert's basketball career
Prior to this season, Rudy Gobert wasn't exactly a household name. Despite that reality, though, the Utah Jazz big man has grown into a solid player.
Gobert grew up in France, where he started playing basketball for his hometown club. He eventually landed with Cholet Basket and worked his way from the youth team into the senior squad. In 2013, though, he decided he was ready for a new challenge.
The big man entered into the 2013 NBA draft and joined the Denver Nuggets as the 27th overall pick. Gobert never reported to Colorado, though, as the Nuggets traded his rights to the Utah Jazz.
Gobert didn't see much action during his rookie year, but the big man improved with each passing season. While his sheer size always made him a capable defender and rebounder, the center has developed into a legitimate NBA pro. He earned Defensive Player of the Year honors in both 2018 and 2019; he's also averaging 15 points and 13.6 rebounds per game for the 2019-20 season.
The diagnosis heard round the world
Before the coronavirus pandemic fully engulfed the United States, the NBA was preparing to play games in empty arenas. It was in that context that Rudy Gobert made a now-infamous decision.
At the end of his media availability, the Jazz big man touched the reporters' microphones and recorders. While his actions were apparently intended to highlight the limits of social distancing in an NBA setting, his intentions would be rendered irrelevant within a matter of days.
On Wednesday, March 11, Gobert tested positive for COVID-19; that set off a chain reaction of quarantines and cancelations, forcing the NBA to suspend on-court activity for months. Due to his actions days earlier, the big man became a pantomime villain; he was the perfect example of how one careless person could place countless others at risk.
Rudy Gobert became an inadvertent hero
After the NBA season was placed on hold, NBA fans and, if you believe the rumors, at least some Utah Jazz players weren't too keen on Rudy Gobert's behavior. While the center was, at a minimum, careless, he also became an inadvertent hero.
Bruce Arthur of the Toronto Star, for example, has repeatedly referred to the big man as a hero. The underlying theory is that Gobert's diagnosis and the NBA's suspension—which he forced—caused Americans to begin grappling with the realities of the coronavirus; even if the disease was still abstract to most people, basketball fans "knew" someone who had tested positive.
"Gobert also deserves appreciation because he was us," Jenni Carlson wrote in The Oklahoman. "He wasn't concerned about coronavirus, neither getting it nor spreading it. He was cavalier about the possibilities, even to the point of touching teammates and their belongings prior to his diagnosis." Despite that reality, he still made a difference.
"He was the change agent for how Americans think about coronavirus," Carlson continued. "Millions of us came to better understand its impact and its reach, and the result has been unprecedented actions to try and get it under control."
Those assertions come with a few caveats, though. Calling Gobert a hero shouldn't neglect the sacrifices by medical personnel and front-line workers around the world. Furthermore, his initial carelessness shouldn't be excused; the big man has since apologized and donated $500,000 to COVID-related causes.
As we can all attest, the coronavirus pandemic is still active; by all accounts, our new normal won't be going away anytime soon. At the same time, though, things in North America could have been worse without Rudy Gobert.
Stats courtesy of Basketball-Reference