Russell Westbrook's Decline Has Been Happening for a While and the Lakers Should Have Seen It Coming
Just when you thought Russell Westbrook hit rock bottom, he fired up a deep-hole drilling rig. In the Los Angeles Lakers' loss to the Sacramento Kings on Jan. 12, Westbrook scored eight points on 2-of-14 shooting. That performance came on the heels of a six-point, 2-of-12 dud in a loss to the Memphis Grizzlies. Is it shocking to see a former NBA MVP play so poorly? Sure it is. But the thing is that we really should have seen this one coming.
Over his last three games, Westbrook is averaging 7.7 points, 10.0 rebounds, and 8.3 assists on 20% shooting (he was 4-of-14 in a Jan. 7 win over the Atlanta Hawks). He's missed all six of his 3-point tries. The good news is that Westbrook only has four turnovers in that span. But in five January games, Westbrook is shooting 29.3% with 12 missed 3s (and the next make will be his first of 2022). Again, though, the trends were there. The triple-double obsession of the national media obscured them.
Venturing into the analysis of Russell Westbrook
The "Russell Westbrook is inefficient" card is worn to the point the art on the front is almost gone. That's not a surprise; Westbrook's career is the unofficial front line of the ongoing analytics vs. eye test warfare in NBA circles.
As his root, Westbrook is — and always will be — a high-usage player who overwhelms with athleticism and force of will. During his 2016–17 MVP campaign, his usage rate was a record 41.7%.
It worked for the Oklahoma City Thunder. Kevin Durant was gone. To whom was Westbrook going to defer? Victor Oladipo? Enes Freedom (then Enes Kanter) gave Westbrook a run for his money with 10.2 shots in 21.3 minutes per game.
Westbrook posted massive numbers for the Thunder that season. Expected to experience a significant regression, Oklahoma City won 47 games, with Westbrook leading the league in scoring at 31.6 points a game. He added 10.7 rebounds and 10.4 assists per night, recording just the second triple-double season in NBA history. Oscar Robertson had company in his once-exclusive club.
Despite the "Westbrook is inefficient" narrative, he was wildly productive in 2016–17.
But here's the thing: His decline was already starting.
Russell Westbrook's impact diminished during his MVP season
Though analytics such as Win Shares vary based on injuries (and pandemic-shortened seasons), a player's ratio of Win Shares per 48 minutes can be telling.
Basketball Reference says an average player records a WS/48 of roughly .100. During Russell Westbrook's MVP season, his WS/48 was .224, 10th-best in the NBA. Durant led the NBA at .278 during his first season with the Golden State Warriors.
That came a season after Westbrook's career-best mark in WS/48, though. In 2015–16, he was fifth in the NBA with a .245 mark, behind Durant's .270, and dusted by Stephen Curry's .318.
In the five seasons since Westbrook's WS/48 has declined. Not fractionally, either. He has regressed significantly in each of the last five years.
Beginning with his MVP season, here are Westbrook's WS/48 figures (remembering that .100 is an average player's expected number):
2016–17: .224
2017–18: .166
2018–19: .124
2019–20: .098
2020–21: .075
2021–22: .041 (through Jan. 12, 2022)
Westbrook went from more than twice better than average to below average in three seasons. Now in his age-33 season, he's venturing into "why in the bloody blue heck did Sam Presti agree to a player option for $47.1 million for 2022–23" territory.
Why did many miss the downward trend?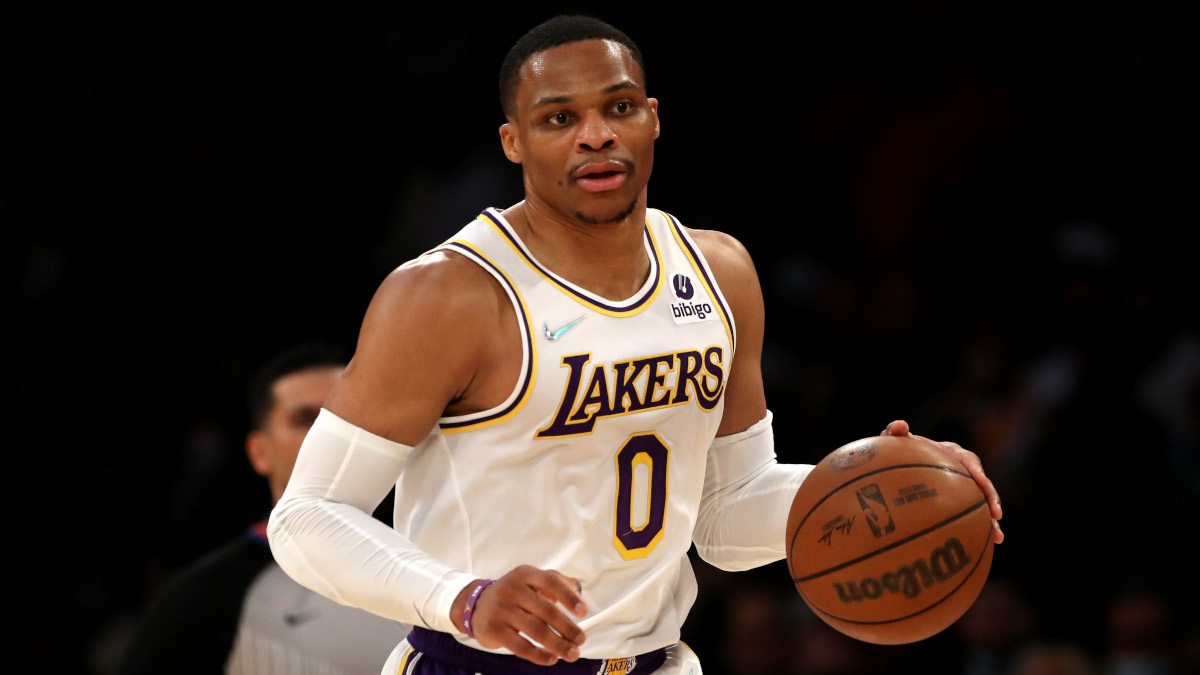 Despite his diminishing impact, Russell Westbrook still dazzled statistically. From 2017–18 through 2020–21, he averaged a triple-double three times in four years. He took one of the rarest occurrences in sports and made it as routine as a trip to the grocery store.
Since many in the NBA media obsess over a player having three double-digit numbers on the same stat sheet, Westbrook had the necessary cover for his decline.
Meanwhile, his teams weren't getting better either. Despite the additions of Carmelo Anthony and Paul George in 2017–18, the Thunder improved by only one victory and lost in the first round of the playoffs despite home-court advantage.
Anthony left OKC after one season. George and Westbrook led the Thunder to 49 wins in 2018–19. Seeded sixth, Damian Lillard ended the Westbrook era in Oklahoma City in a five-game first-round battle. In 2019–20 with the Houston Rockets, Westbrook reunited with James Harden for a 44–28 record and a second-round exit.
Last season, Westbrook and Bradley Beal led the Washington Wizards to a 34–38 finish and a first-round loss after emerging from the play-in tournament. It took a 17–6 finishing sprint to get that far.
This year, the Lakers are 21–21. LA is struggling to stay out of play-in territory, though it's unlikely they'll miss that party.
The evidence was right there. We couldn't see it because of the pile of stat sheets.
Statistics courtesy of Basketball Reference.
Like Sportscasting on Facebook. Follow us on Twitter @sportscasting19.