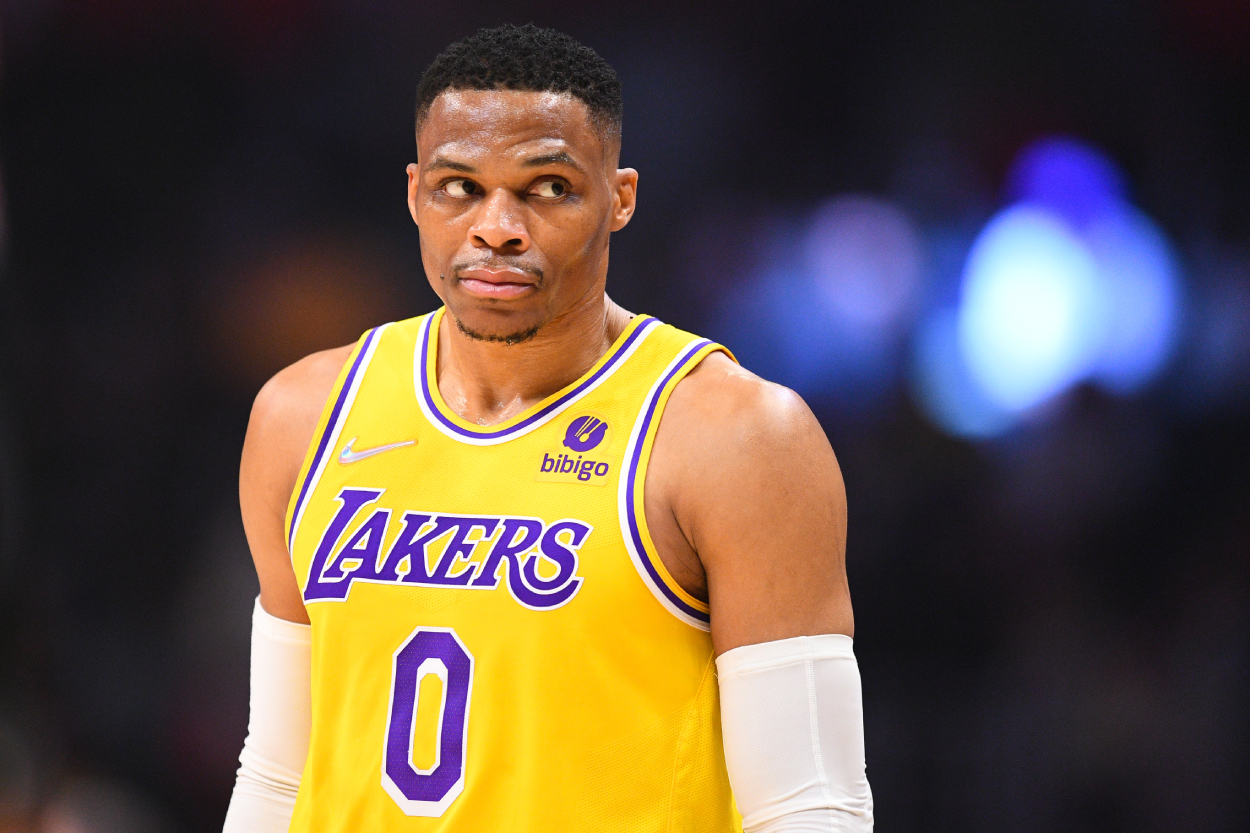 Russell Westbrook's Ego Could Jeopardize His NBA Future, According to Kendrick Perkins
Russell Westbrook is having an awful season for the Los Angeles Lakers, and his former teammate Kendrick Perkins believes his ego could jeopardize his NBA future.
Russell Westbrook's talent is declining right before our very eyes.
The Los Angeles Lakers guard is no longer the dominant star he used to be, which has shown in his performance this season. He has gone from an MVP-caliber player to someone who barely deserves to start.
And if he doesn't check his ego, Westbrook's NBA future could be in jeopardy. According to his former teammate Kendrick Perkins, general managers are potentially too nervous to even take a chance on him.
Russell Westbrook's talent has declined drastically
Just two seasons ago, Russell Westbrook earned his ninth All-Star selection in 10 seasons, averaging 27.2 points on 47.2% shooting for the Houston Rockets.
This year, he's having arguably the worst campaign of his career and has become the recipient of significant trash talk from fans and players.
The 2016-17 NBA MVP and two-time scoring champion has been unable to build solid chemistry with LeBron James and company. His shooting woes have played a major role in LA going 29-40 through its first 69 games and sitting in ninth place in the Western Conference.
Westbrook is averaging 17.9 points on 43.2% shooting. He's also only making 27.7% of his three-pointers.
The guard's contract is over after next year, and he could join his fourth team in four seasons if the Lakers trade him this offseason. But once his contract expires, Westbrook could have a hard time finding another job in the league, especially if he isn't open to taking a lesser role.
Kendrick Perkins fears for Russ and his NBA future
Kendrick Perkins played with Russell Westbrook on the Oklahoma City Thunder in parts of five seasons. They reached three Western Conference Finals together and one NBA Finals. But despite his history with Russ, Perkins — who has suggested that Westbrook should sit the rest of the year — is nervous about his former teammate's future.
"I'm not an insider, but I have a lot of relationships around the league with general managers, and it's gonna come to a point in probably the next year, where nobody's gonna want Russell Westbrook on their roster," Perkins said on the March 17 episode of SportsCenter. 
He continued: "And it's not because of his talent. It's gonna be because: Is he gonna be willing to take a lesser role at this point in his career? We see his game is on a decline right now, and now he's gonna have to realize and know that he [isn't] the Russell Westbrook of old. A lot of GMs are gonna be really scared to take a chance on him because they're gonna be afraid that he's not gonna want to take a lesser role."
Westbrook has always been someone who plays with a chip on his shoulder, so it might be difficult for him to become a bench player.
But he might have to.
Russell Westbrook will have to set his ego aside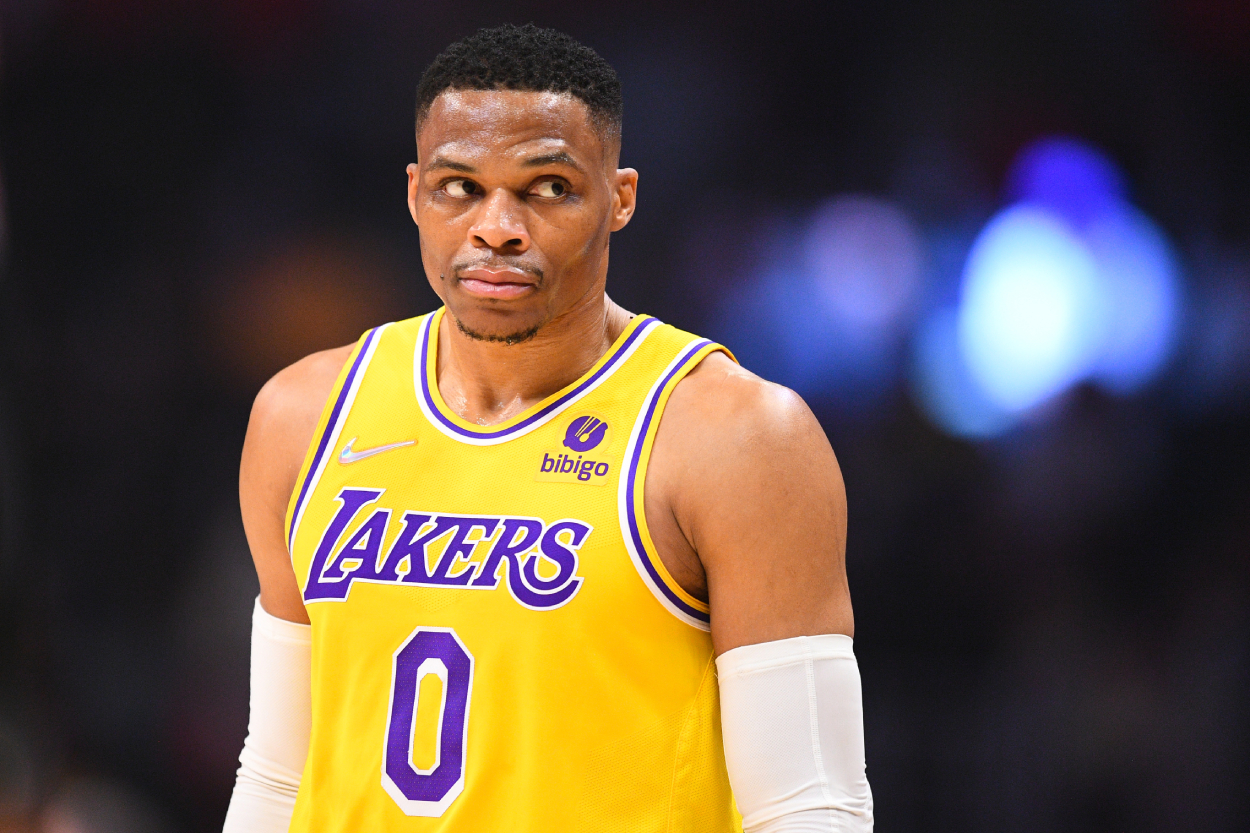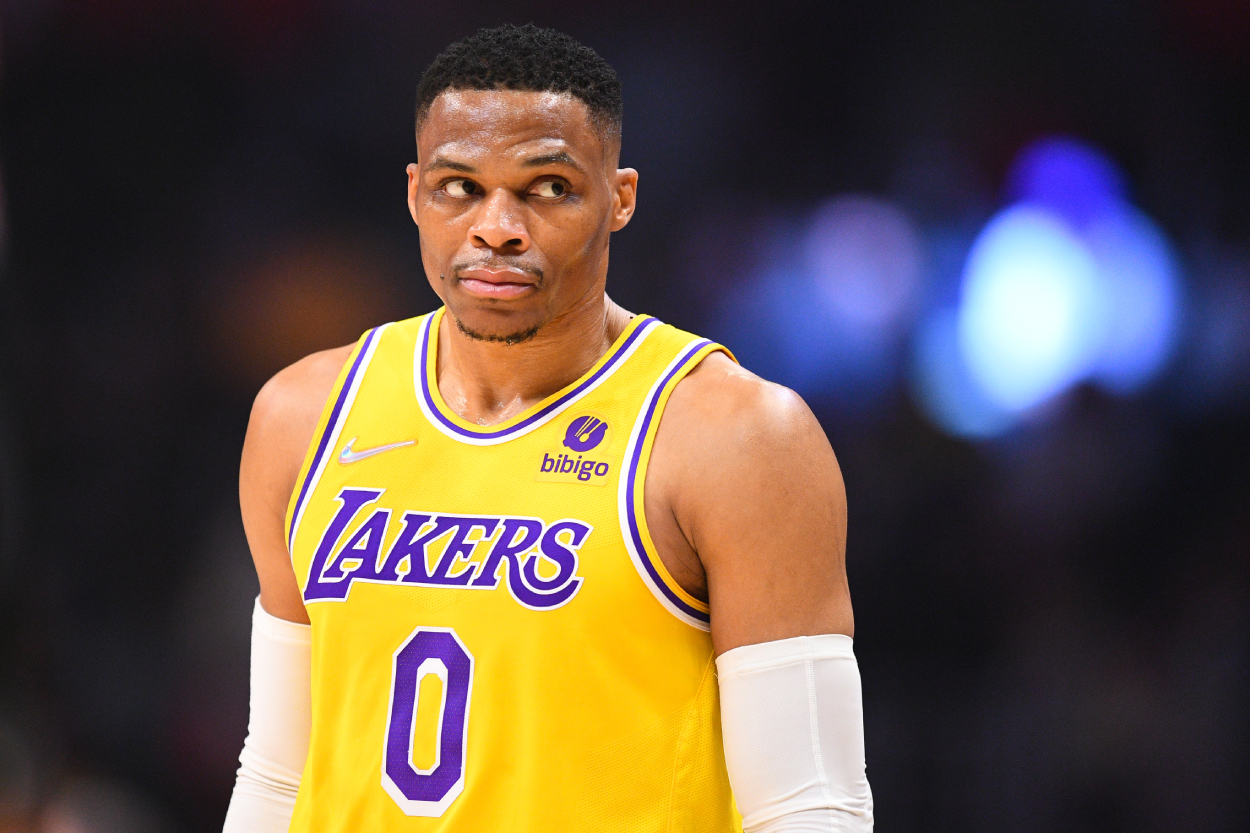 So, when Perkins says "lesser role," what exactly does that mean? As expected, he believes Russell Westbrook will have to come off the bench.
"I don't know if Russell Westbrook is willing to do that right now," Perkins said. "… Next year is gonna be huge for him, but right now, GMs are really scared to touch Russell Westbrook."
Based on Westbrook's productivity, it's clear he's no longer a starting-caliber player. A 43.2% shooting percentage isn't going to cut it.
But he can still likely find success within an offensive scheme, just not as the focal point of an offense.
For example, Carmelo Anthony only shot 40.4% in 2017-18 with the Thunder when he had yet to realize he was no longer a starter. This year off the bench for the Lakers, though, he is making 44.3% of his shot attempts.
Other great stars have also had to go through transitions to the bench. Vince Carter went from earning eight straight All-Star selections in his prime to only starting 36 out of 555 games in his last eight seasons. Dwyane Wade was a former NBA scoring champion who led the Miami Heat to three NBA titles, and he averaged 15.0 points off the bench in his final year.
Westbrook can still have great success in the league. However, if he wants his career to continue after next season, he will have to set his ego to the side.
Stats courtesy of Basketball Reference