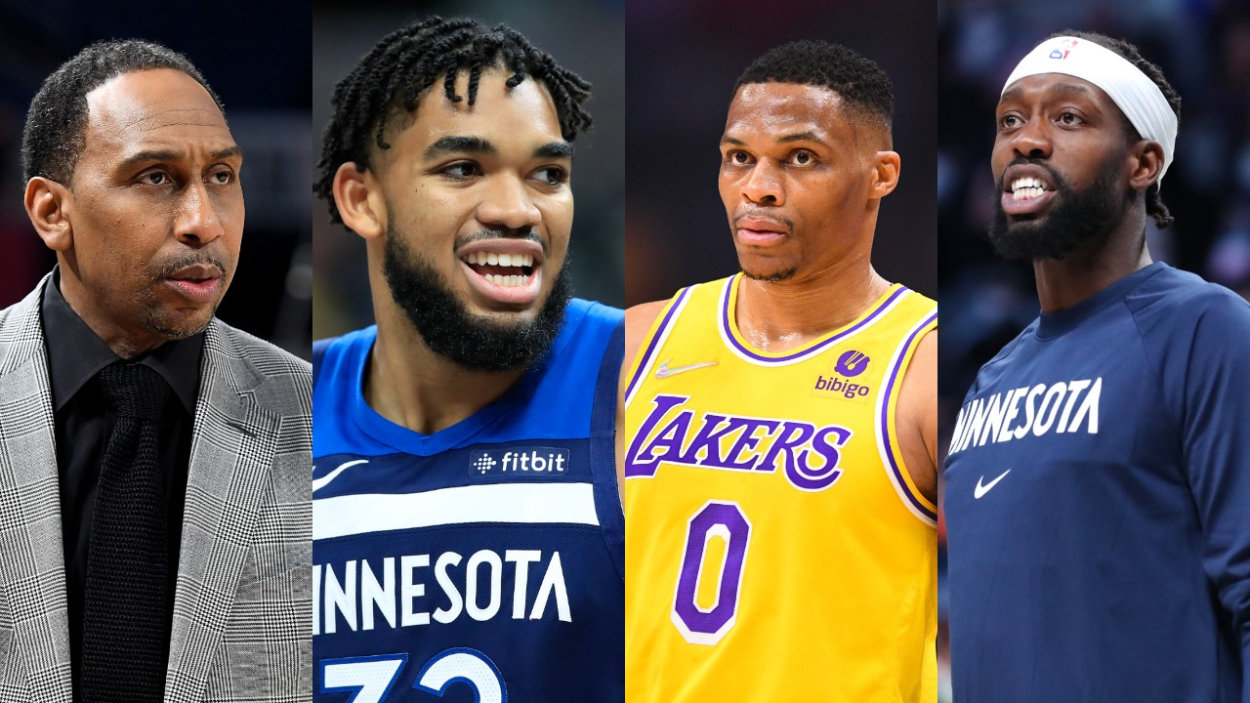 Stephen A. Smith Blasts Karl-Anthony Towns, Patrick Beverley for Taunting Russell Westbrook
Timberwolves stars Patrick Beverley and Karl-Anthony Towns recently clowned Russell Westbrook in a win over the Lakers. Stephen A. Smith, though, took issue with their actions.
If you thought Russell Westbrook's comments regarding his "Westbrick" nickname would silence some of the trash talk sent his way, you were sorely mistaken. Minnesota Timberwolves players, specifically guard Patrick Beverley and star big man Karl-Anthony Towns, may have talked more trash to Westbrook than anyone ever has throughout his decorated career.
They completely clowned him during a win over the Los Angeles Lakers this week.
But while some fans encourage players to throw verbal jabs at each other, Stephen A. Smith wasn't a fan of how Beverley and Towns treated Westbrook. The ESPN commentator blasted them for it and even called their actions "classless."
The Timberwolves clowned Russell Westbrook in their win over the Lakers
Russell Westbrook has become the butt of every joke this NBA season. He has had one of the worst years of his career with the Lakers, averaging 17.9 points on 43.2% shooting.
LA has also been a mess with him at point guard. The team is 29-40 and in ninth place in the Western Conference.
So, since Westbrook has seemingly enjoyed talking trash while playing with a chip on his shoulder throughout his career, opponents and fans have spent significant time clowning him this year. And the Timberwolves took it to another level.
During a 124-104 Minnesota win on March 16, Karl-Anthony Towns looked up as if he were confused when Westbrook air-balled a three-pointer in the fourth quarter. Patrick Beverley, who has a history with Westbrook, also pinched his nose at one point earlier in the game, and he appeared to say "trash," according to ESPN.
Westbrook addressed their behavior after the loss.
"I honestly don't pay no mind to it," he said, per ESPN. "Maybe the other guys [do]. But they weren't talking to me. They were talking to individual guys particularly, but the trash talking doesn't bother me none."
He continued: "Nobody over there has done anything in this league that would make me pick my eyes up, like, 'Oh, they're talking mess. Let me respond.' No. It's fine. They're good. They won the game. Happy for them. Move onto the next one."
Stephen A. Smith, though, seems bothered by how the Timberwolves players treated Russ.
Stephen A. Smith took issue with Patrick Beverley and Karl-Anthony Towns
Stephen A. Smith appeared on the March 17 episode of ESPN's First Take, and he shared that he has a lot of love for both Patrick Beverley and Karl-Anthony Towns. But he wasn't a fan of their actions against Russell Westbrook.
"He is clearly having an absolutely, positively miserable season; the worst season of his career. But to mock him like that, I was like, 'Damn, that's kind of classless y'all. Y'all can do better than that, especially when you're Minnesota and you ain't been doing anything for the better part of the last two decades,'" he said. "… It was a little excessive. A little bit unclassy, I might say."
Perhaps, their trash talk was a little excessive. But the actions should be embraced, not criticized.
We should embrace trash talk between NBA players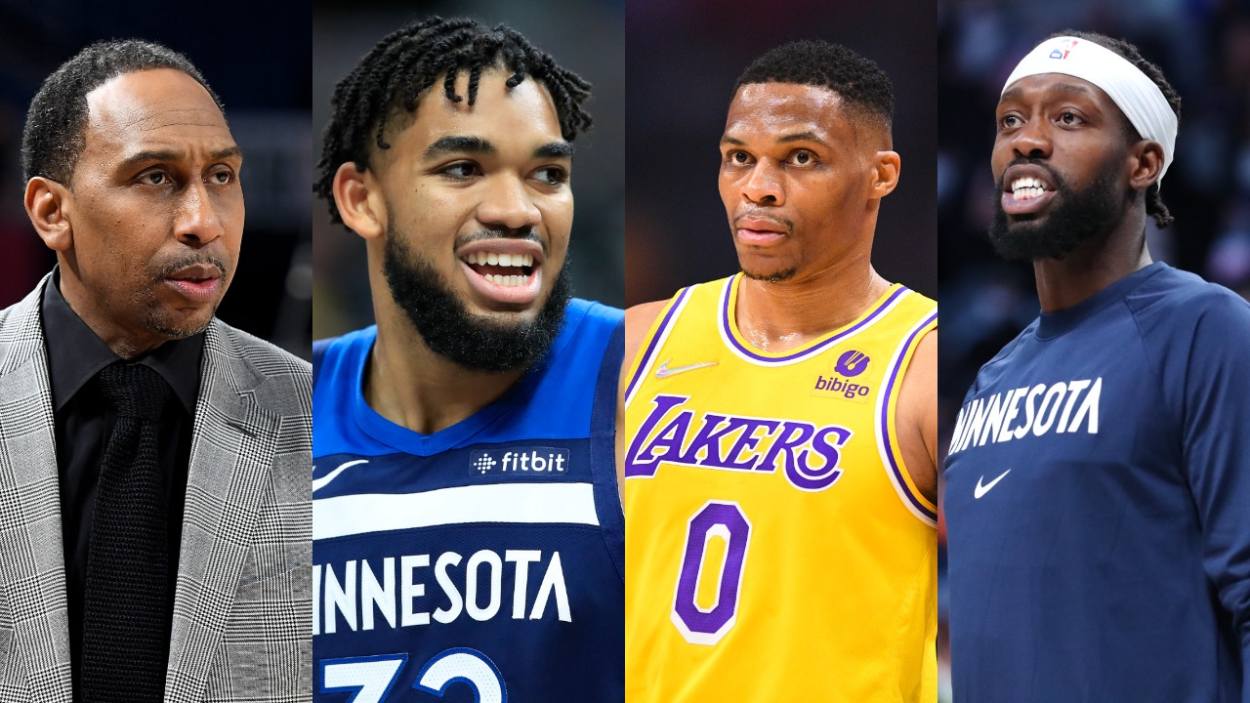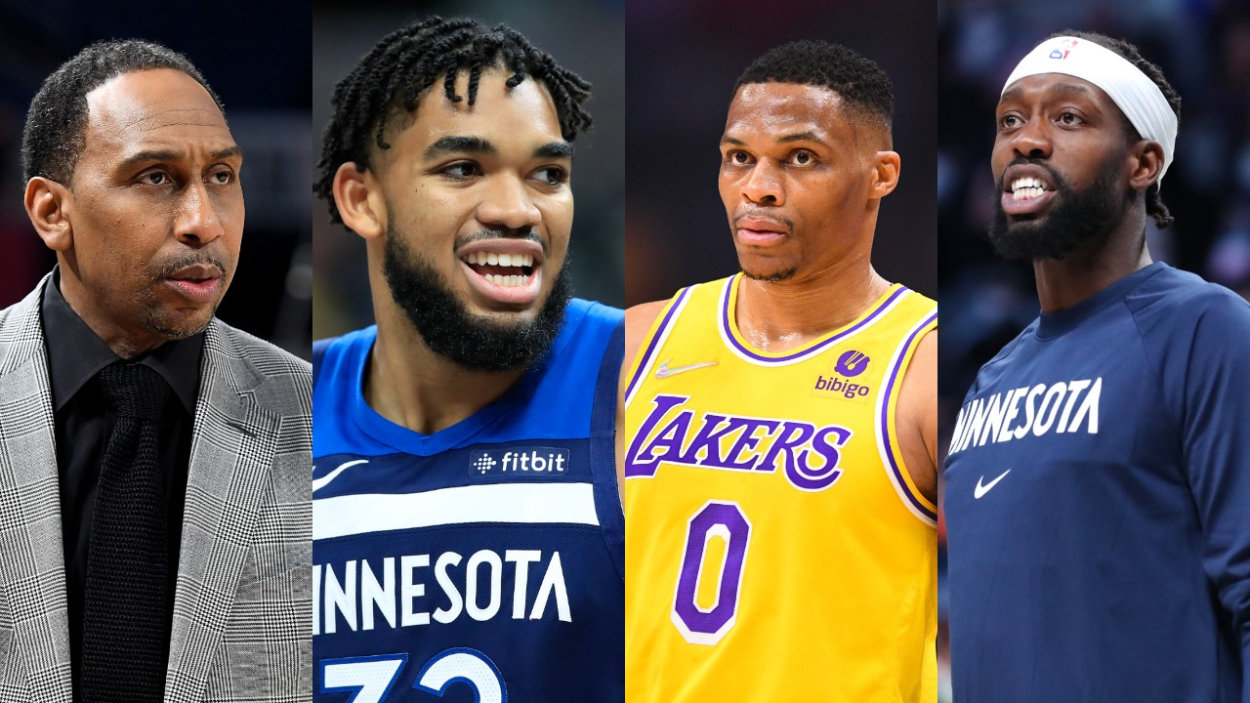 I just want to add a quick disclaimer that I have always been a Russell Westbrook fan. I hate that he's the recipient of this trash talk, but no one should be exempt from it.
Trolling should be embraced.
NBA rule changes have resulted in refs calling more fouls, which has led to some people saying that this generation "soft." In fact, Stephen A. Smith himself once said some players today are "soft as putty."
But talking trash is the opposite of being "soft." It leads to more conflict and a potentially more physical style of basketball on the court.
Smith can't have it both ways. He can't ask players to toughen up while also calling them out for being unclassy.
If he and others want a less-soft NBA, they need to embrace this trash talk. We all should. It's more entertaining, and it shows just how much the players want to win.
Stats courtesy of Basketball Reference