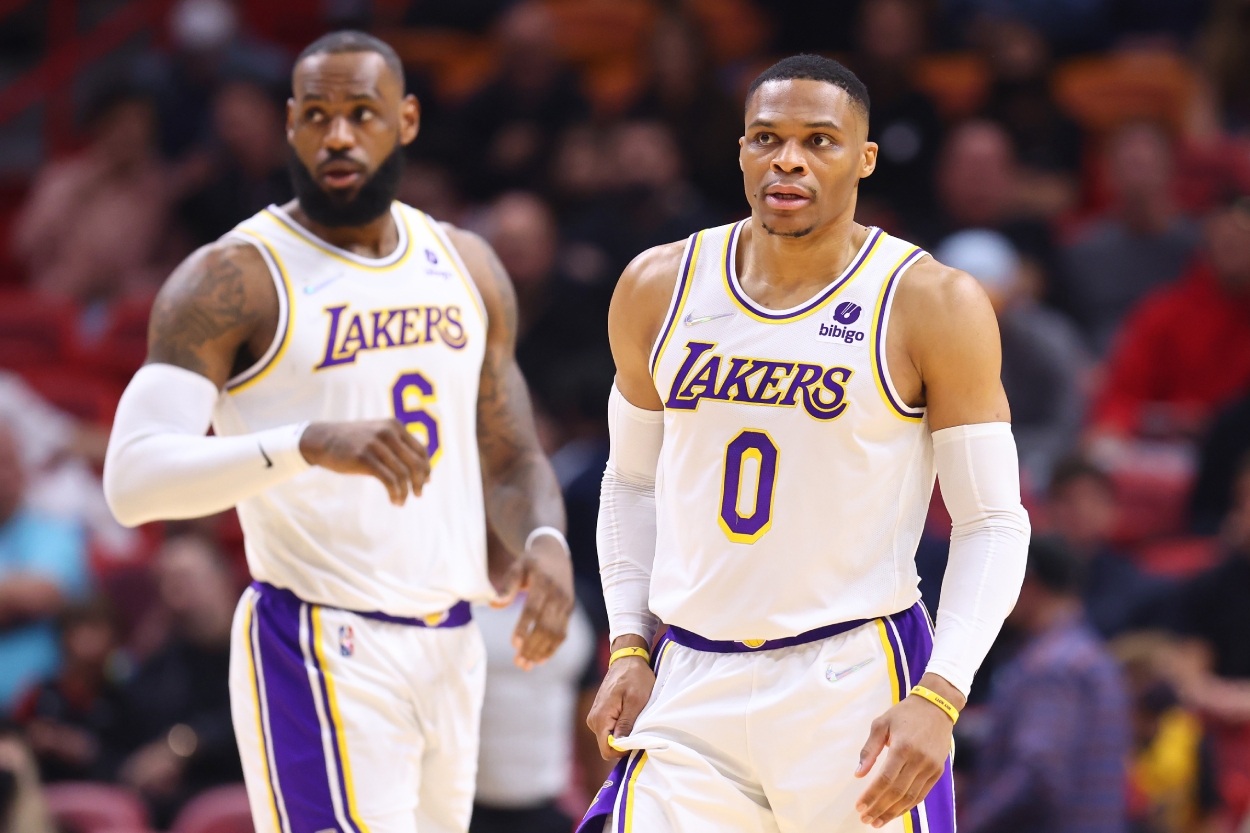 Russell Westbrook Subtly Throws LeBron James, Anthony Davis Under the Bus With Blunt Comment
Russell Westbrook couldn't quite click with LeBron James and Anthony Davis this season, and he subtly threw his Los Angeles Lakers teammates under the bus during his exit interview.
The Los Angeles Lakers' trash season may have resulted from numerous injuries, specifically to LeBron James and Anthony Davis. But perfect health wouldn't have made too much of a difference.
Would the Lakers have made the NBA Play-In Tournament? Possibly, but they still wouldn't have been a top contender in the Western Conference. The players on the roster just didn't complement each other, and Russell Westbrook's fit with Davis and James was less than pretty.
So, what does Westbrook think about his time with AD and LeBron this season? He has actually said he would like to see what they could do with health on their side, given that the three only played in 21 games together.
However, he also somewhat threw them under the bus in his exit interview.
They didn't let Russ be Russ.
Russell Westbrook subtly threw LeBron James and Anthony Davis under the bus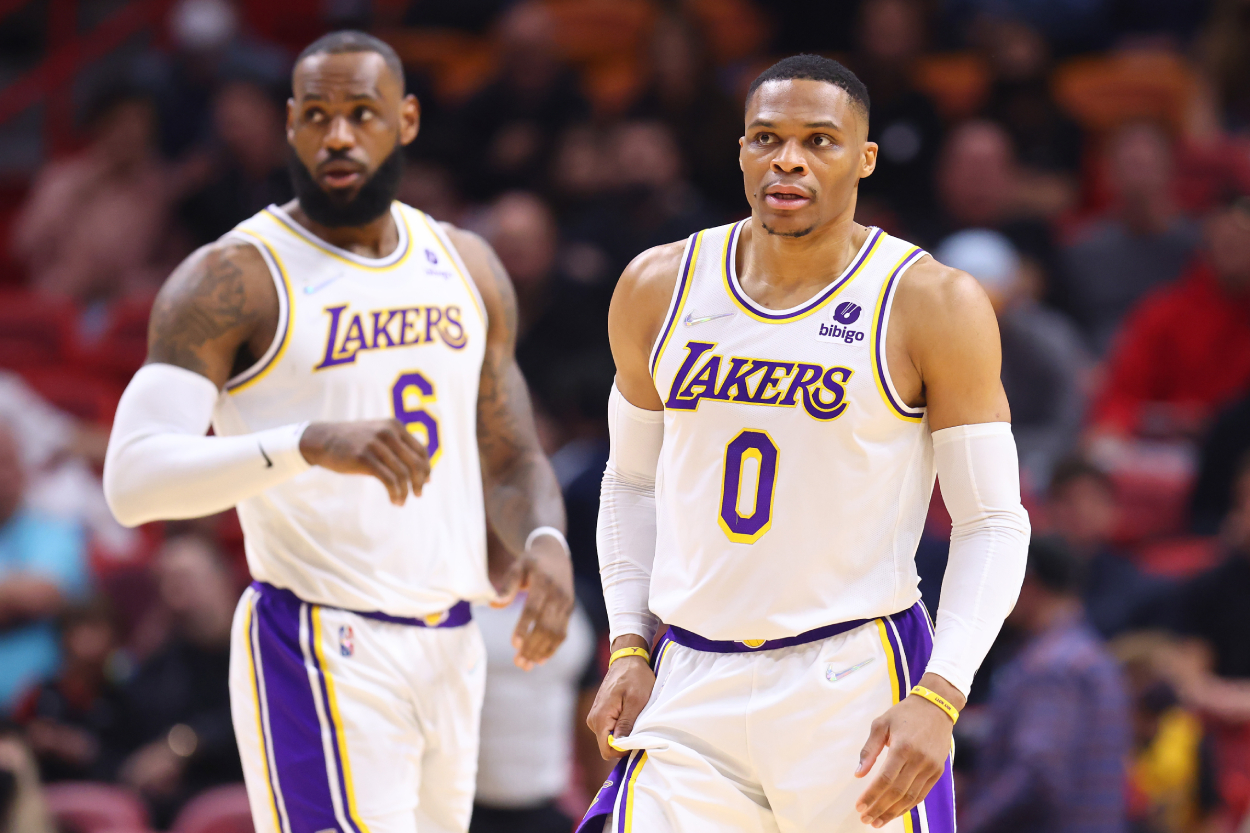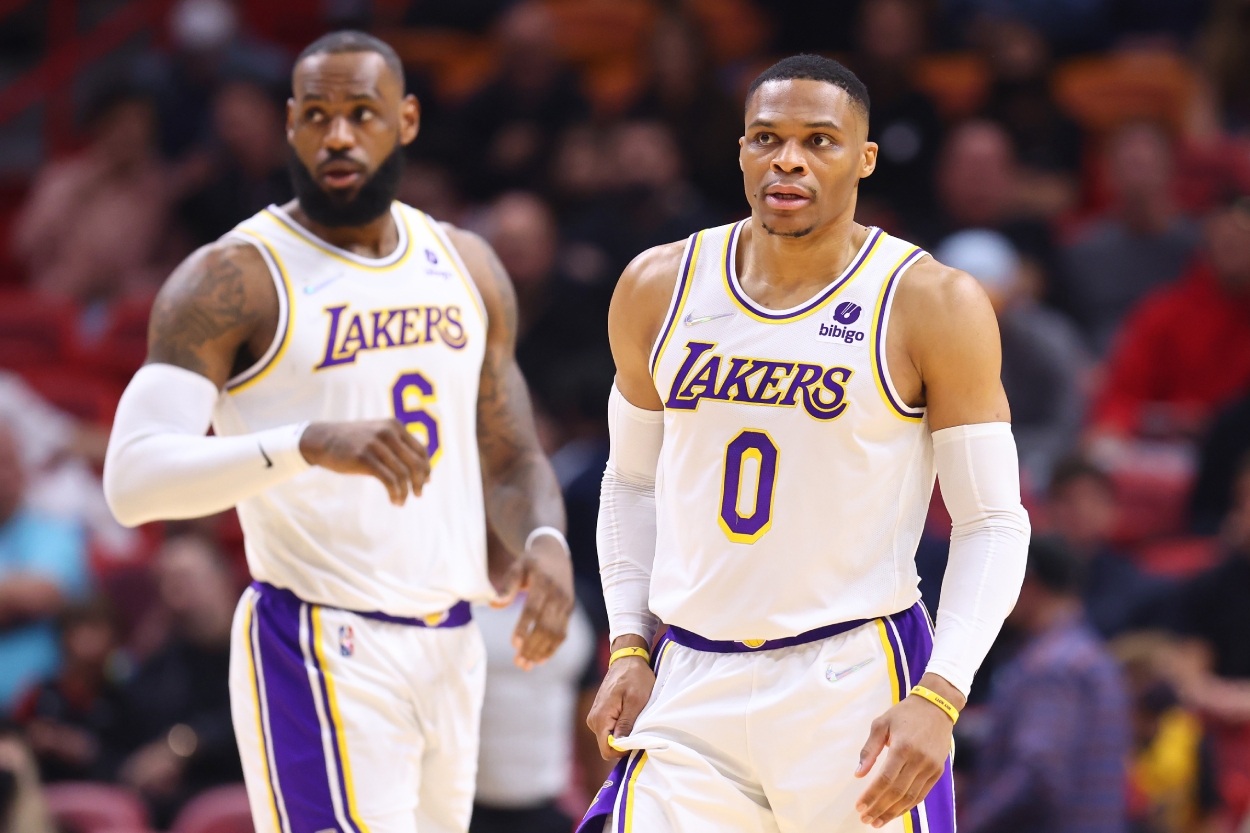 The Lakers spent the entire season trying to figure things out with the roster they had. And at many points, LeBron James and Anthony Davis said they needed to "let Russ be Russ" so he could reach his full potential in their offense.
When asked about those comments, though, Westbrook subtly threw his teammates under the bus.
"Yeah, but that wasn't true," he said during his exit interview, per the Lakers' YouTube. "So, let's be honest."
The 2016-17 NBA MVP said the struggles were a combination of where they were "on the floor, positioning, fit and challenge, trial and error, [and] being able to play on the floor with each other." They were simply trying to figure out how to best utilize their abilities as a unit, but Westbrook said he "very rarely" felt like himself on the court.
"There were times in spurts, but I was just trying to find my way, honestly," he said. "Just trying to do whatever it is that was asked of me. Whether it was best for the team, I just do what is asked of me, and that's it. Sometimes I may not have agreed with it, but that I kept to myself and did what I could for the team. The frustrating part is losing. Making a big sacrifice and trying to find ways to play differently and do different things … and we're still losing; to me, [that] didn't make much sense."
What's in store for Russell Westbrook and the Lakers?
Russell Westbrook admitted that he didn't perform at the level he expected to this season, which aligns with his production. He averaged his fewest points (18.5) since his second season in the league and wasn't as effective as he had been in years past.
But will he get another chance to prove himself with the Lakers? That's unclear. He didn't seem to know that answer, and neither did general manager Rob Pelinka, who stated that the front office would "partner with him after that decision is made about what's best for his future." (h/t ESPN)
The biggest factor in Westbrook's future is his player option. He can become a free agent and go to any team he wants, but play for a considerably lesser amount of money next year. Or he can pick up his option and make $47 million.
If the latter takes place, the Lakers may have a difficult time trying to find a trade partner who will want to pay him that much in 2022-23. They may also have to take on other players with longer contracts in a potential deal.
There are just currently too many factors at play to know what the future holds for Westbrook and the Lakers.
No matter what happens, though, hopefully the nine-time All-Star will get a chance to perform at a high level again next season.
Hopefully, Russ can be Russ.