Russell Wilson Voices a Passionate Plea for the Seahawks to Make a Risky Investment to Keep Him Protected
Russell Wilson has been begging his Seattle Seahawks all offseason to surround him with better protection along the offensive line. The seven-time Pro Bowler has taken more sacks than any other quarterback in the NFL since 2017, and he's tired of running for his life on nearly every dropback.
Seattle made a few moves to grant Wilson's wishes by trading for guard Gabe Jackson and re-signing tackles Cedric Ogbuehi and Jordan Simmons, but the team still faces a troubling issue regarding star left tackle Duane Brown.
Brown has been sitting out training camp practices in hopes of inking a new contract with the Seahawks before the 2021 season. Seattle has been hesitant to break the bank for the 35-year-old tackle, but the franchise might be forced to cave after hearing Wilson's recent plea for his blindside protector.
Duane Brown wants a new contract with the Seahawks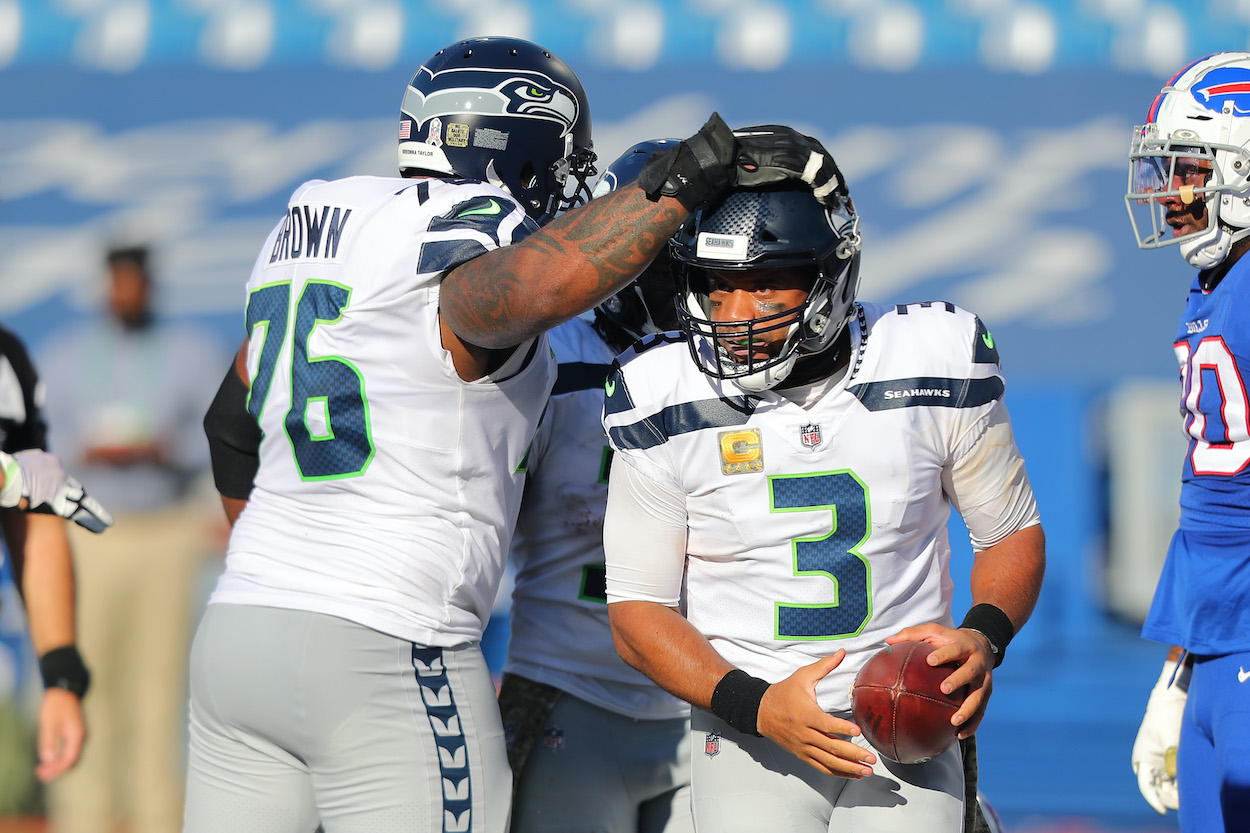 Ever since the Seahawks traded for Brown in 2017, the 6-foot-4, 315-pound left tackle has been Wilson's most trusted bodyguard along the offensive line. In fact, Brown has been one of the sturdiest offensive tackles in the NFL over the last decade, but he doesn't feel he's being paid like it.
Brown is set to earn $10 million in base salary this season as part of the three-year, $34.5 million contract he signed with the Seahawks in 2018. That would make him just the 16th highest-paid left tackle in football this year. There aren't even six left tackles in the NFL better than Brown right now, let alone 16.
So, Brown has decided to watch training camp from the sidelines until the Seahawks give him the contract extension he believes he deserves. At nearly 36 years old, it makes sense for Brown to want to lock up some financial security a few years into the future.
But does it make sense for the Seahawks to shell out extra cash for an aging offensive lineman?
If you ask Wilson, that answer is a resounding yes.
Russell Wilson makes passionate plea for the Seahawks to pay Brown
The Seahawks are nearly two weeks into training camp, and Wilson can already sense the issues they would face if Brown isn't in the lineup by Week 1. After the team's mock game on Sunday, Wilson didn't mince words when speaking about Brown's contract dispute.
"Not having Duane Brown out there is a pretty significant deal because I think he's one of the best left tackles in the game," Wilson said, per ESPN. "There's no arguing it. I think he's as good as it gets. There's nobody more athletic, more talented than he is. Age is just a number. He looks like he's 28-30 out there. He's really exceptional. So smart and physical, understands the game, and I think people fear him, to be honest with you, when they're rushing him and playing against him. So we definitely want to be able to get him back out there. We've got to figure that out because we need Duane Brown."
Strong words from your franchise player. You listening, John Schneider?
Should the Seahawks make a risky investment to please Wilson?
We now know what Wilson thinks of Brown's contract situation, but unfortunately for the disgruntled offensive lineman, his quarterback doesn't have final say on personnel decisions. All he can do is wait it out and hope the team listens to their franchise QB.
But would it be a smart investment for the Seahawks?
Brown is about to turn 36 later this month. Despite Wilson saying his favorite offensive tackle has "several more years to play," the Seahawks have to be careful before forking over more cash for a guy who could be one major injury away from retirement. But at the same time, Seattle doesn't exactly have a strong backup plan at left tackle entering the season.
Ogbuehi, Jamarco Jones, and Tommy Champion have all suffered injuries in camp, which leaves the team with just three available tackles on the roster right now. If the Seahawks start the season without Brown in the lineup, their protection issues might be even more pronounced than in previous years.
It would be a risky investment to extend Brown and give up more guaranteed money that could be used to develop young talent along the offensive line, but the Seahawks might not have another option at this point.