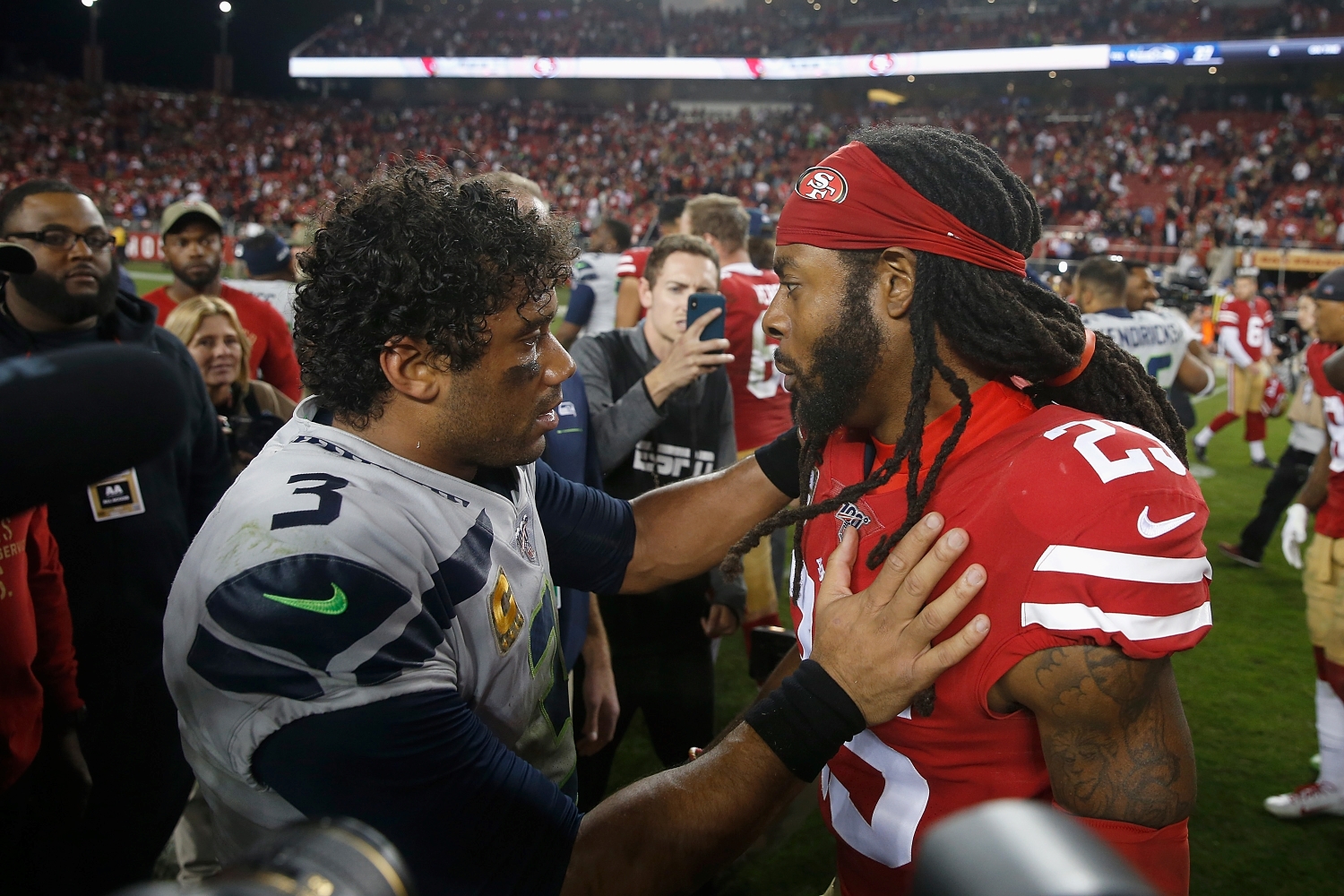 An Old Friend May Rejoin Russell Wilson and the Seahawks to Take Care of Some Unfinished Business
Could Richard Sherman's next NFL stop take him back to Seattle? Don't be surprised if the veteran corner joins forces with Russell Wilson again to help the Seahawks try and win a Super Bowl title.
Thanks to a well-timed interception by undrafted free agent corner Malcolm Butler, the New England Patriots prevented Russell Wilson from leading the Seattle Seahawks to back-to-back Super Bowl titles. In fact, Seattle's stunning loss represented a major turning point for a franchise that looked capable of dominating the league for years to come.
While Pete Carroll's team has made the playoffs in each of the last three seasons, the Seahawks haven't come close to capturing the Lombardi Trophy. Luckily for Wilson, an old friend with an impressive resume may join forces with him again to take care of some unfinished business.
Ironically, he plays the same position as the player who spoiled the Seahawks' dynasty dreams on Feb. 1, 2015. And given the current state of their cornerback depth chart, the reigning NFC West champions should do everything possible to convince Richard Sherman to come home.
Russell Wilson and Richard Sherman both face uncertain NFL futures
Sherman and Wilson have experienced plenty of highs and lows during their respective NFL careers. The former entered the league as a fifth-round pick in 2011 and developed into one of the most dominant defensive backs of all time. However, Sherman's time in Seattle came to a painful end when he suffered a season-ending torn Achilles in 2017.
He bounced back with a solid first season with the San Francisco 49ers before turning in an All-Pro-caliber campaign in 2019. Unfortunately for Sherman, he couldn't stay on the field last season. A nagging calf injury limited the long-limbed corner to only five games. The 49ers released the five-time Pro Bowler in February, but the 33-year-old remains on the free-agent market. Given his age and durability concerns, it's not exactly surprising that Sherman hasn't signed a new deal. At this point, his football future hangs firmly in the balance.
While Wilson looks poised to play at an elite level yet again, how long he calls Seattle home still seems like a difficult question to answer. After all, the future Hall of Famer raised serious doubts about his future with the Seahawks this offseason by identifying a four-team list of acceptable trade destinations. Whether that has more to do with his contract (Wilson will make just $70 million across the next three seasons), the team's lack of playoff success, the moves made by the front office, or a combination of the three, it's clear he's thought about playing elsewhere. So even though Wilson's under contract through the 2023 season, it's entirely possible that his Seahawks career could come to an end sooner than that.
The Seahawks could feature the former Legion of Boom member in their secondary again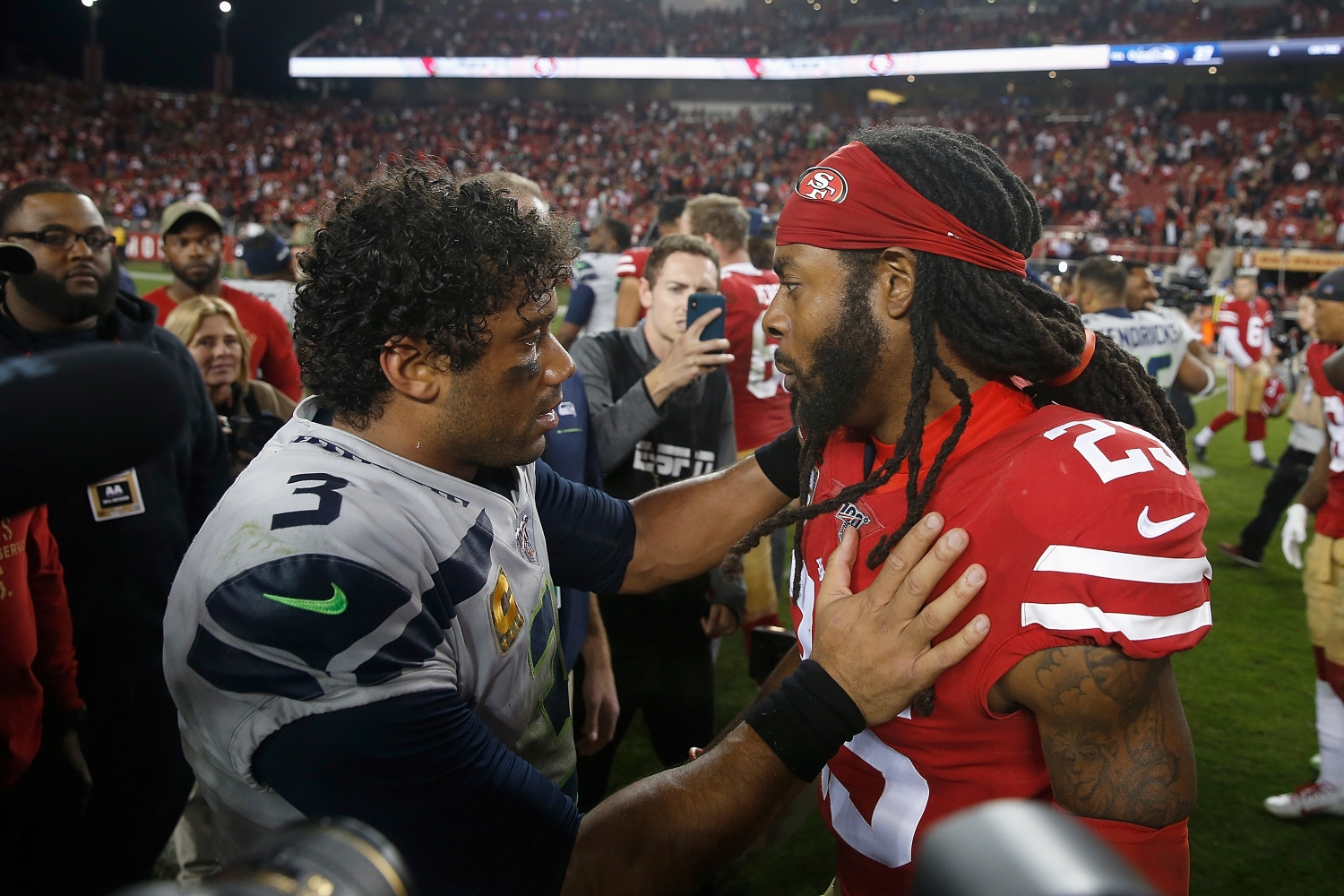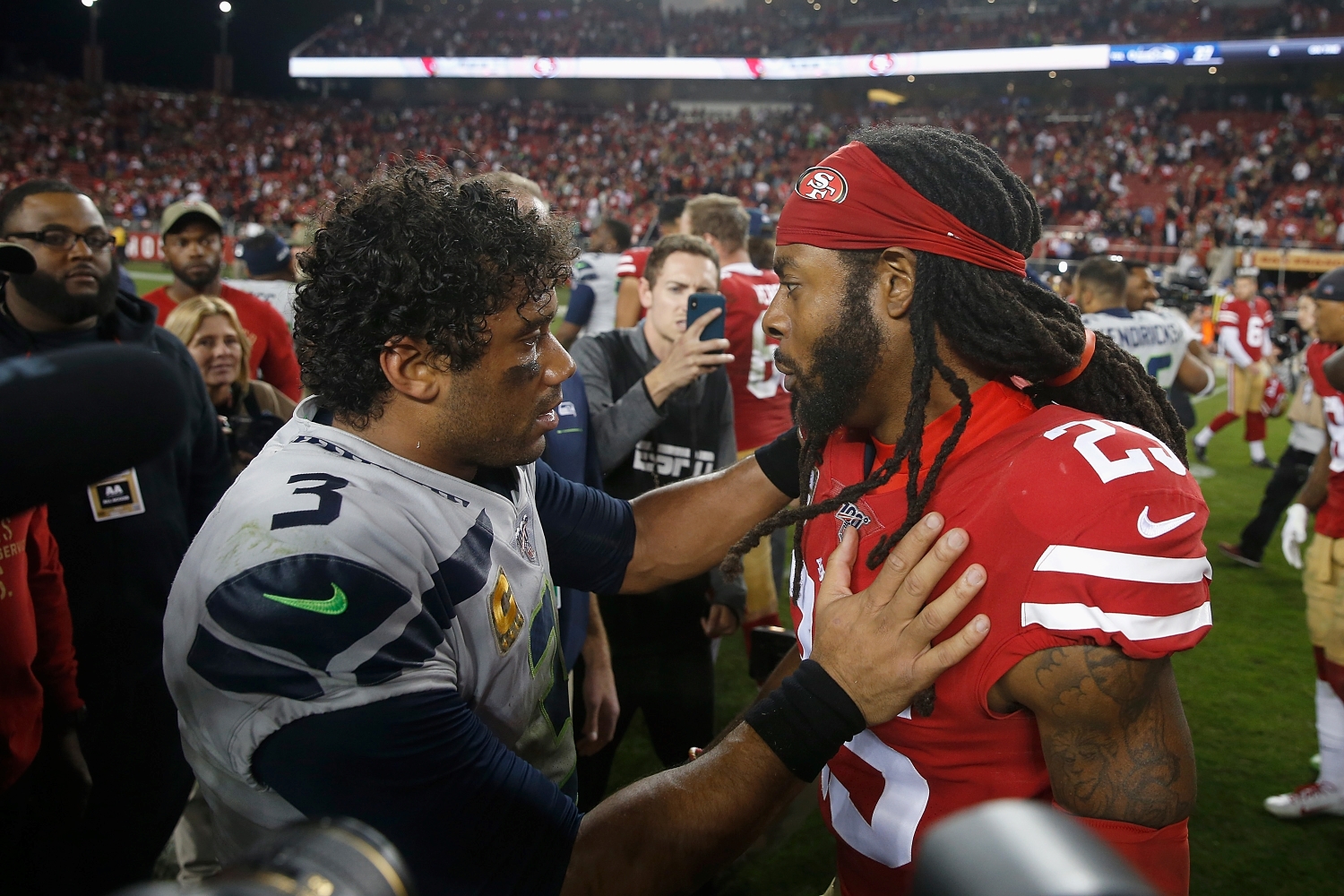 Available to sign with any team, Sherman may have his next destination already picked out. In fact, the veteran defensive back could call Wilson his teammate again in the near future.
On Sunday, ESPN's Jeremy Fowler appeared on SportsCenter to deliver an update about the state of Seattle's secondary.
"I'm told that this is not off the table, that Sherman is still open to returning to the Legion of Boom, or what remains of it," Fowler said, per Bleacher Report. "He makes a home on the West Coast, still has a home in Seattle, most people think he'd like to still play on the West Coast and Seattle needs cornerback help. Nothing's working right now, but maybe closer to training camp something could shake out."
Before anything with Sherman happens, though, the Seahawks have to take care of an important piece of business.
"Seattle needs to figure out the [Jamal] Adams money allocation before they take resources elsewhere," Fowler explained. "Because a guy like Sherman, he's not going to take the minimum. This is a high-caliber player that would need a decent contract."
Returning to Seattle would give Sherman the opportunity to chase that elusive second Super Bowl ring he's been after for almost a decade. Not only did he watch Wilson throw a game-ending interception in Super Bowl 49, but he also saw the 49ers squander a fourth-quarter lead against Patrick Mahomes and the Kansas City Chiefs in Super Bowl 54. Most importantly, signing Sherman would give the Seahawks a much stronger secondary heading into the 2021 season.
Does Seattle have a legitimate shot at winning a Super Bowl title in 2021?
Even though Sherman's days as a first-team All-Pro may be over, he still brings tremendous value to a defense. He has excellent size (6-foot, 3, 205 pounds) and knows how to utilize it to shut down receivers. Without a true No. 1 corner on their roster, the Seahawks shouldn't hesitate to sign someone who knows the system and understands what it takes to be successful in it. Plus, adding a respected veteran like Sherman to the meeting room would give the rest of Seattle's corners a fantastic resource for guidance on how to operate like a pro.
But if a reunion happens, does that necessarily make the Seahawks a Super Bowl favorite?
Unfortunately for Sherman and Wilson, even if the former Legion of Boom star rediscovers his vintage form, their path to winning a title together doesn't look easy.
The Seahawks don't have a particularly impressive pass rush, and outside of Bobby Wagner and Jamal Adams, the defense doesn't have another player anyone would describe as elite. Meanwhile, the offensive line has to prove it can protect Wilson better, and running backs Chris Carson and Rashaad Penny must show they can stay healthy and out of the trainer's room in 2021.
Ultimately, the Seahawks still seem like a team that's a notch below the Tampa Bay Buccaneers and the Green Bay Packers (with Aaron Rodgers). And the Los Angeles Rams and the 49ers may even have better overall rosters, too.
So as much as the idea of a Wilson-Sherman reunion sounds exciting for Seahawks fans, the odds of the tandem accomplishing unfinished business don't look good at all.