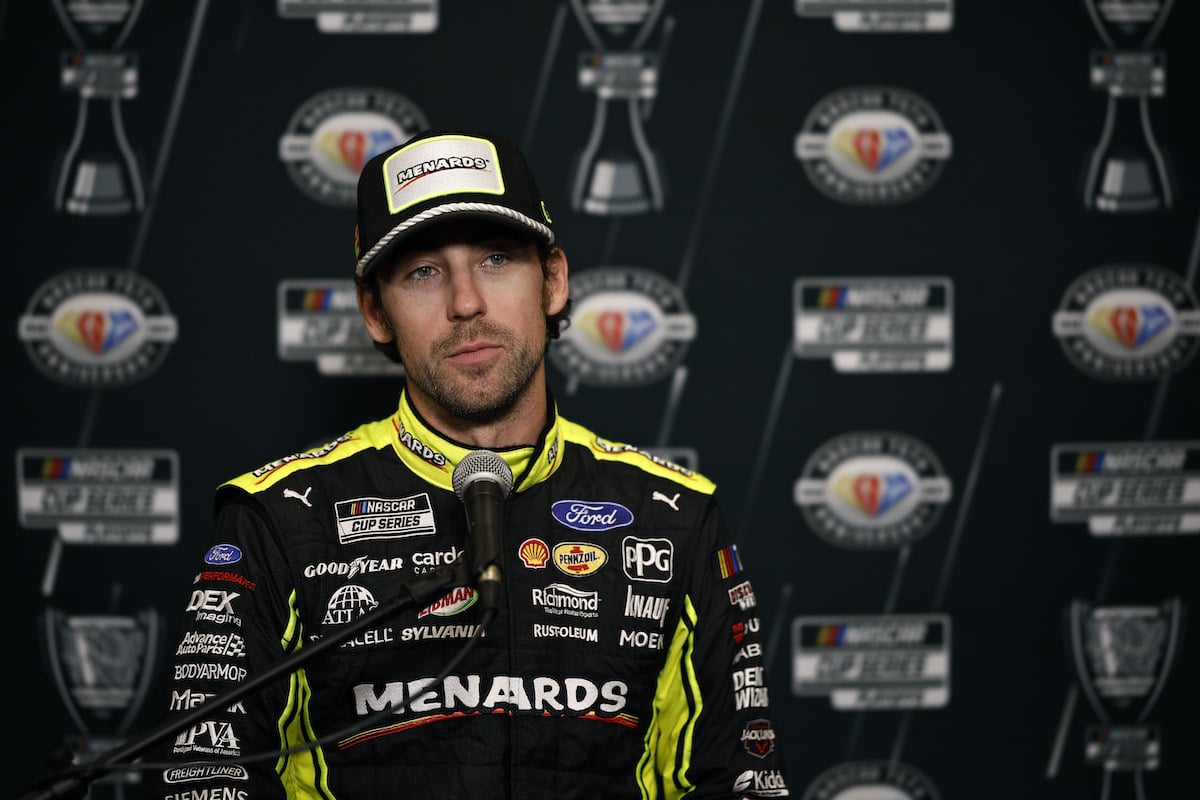 Ryan Blaney Offers Very Different Tone About NASCAR's Approach to Safety Than He Did a Year Ago
Ryan Blaney didn't sugarcoat his thoughts about drivers wearing mouthpieces as part of a safety study in 2022. Today, his position has completely changed.
Since the Next Gen car debuted in 2022, drivers have been outspoken about multiple safety concerns. Ryan Blaney was one of many drivers last year who admitted the impacts were harder than in the past. However, when asked last summer about a specific NASCAR study designed to improve safety by drivers wearing certain devices to measure impacts and provide valuable feedback, the Team Penske driver made it clear he wasn't interested.
This week, the 29-year-old revealed he's changed his position. 
Ryan Blaney pleased with NASCAR and safety improvements
Ryan Blaney never saw it coming on Saturday night at Daytona when Ty Gibbs got into his right rear and immediately sent the No. 12 car shooting up the track for a hard hit into the outside wall, where he collected the No. 54. Replays showed the violent impact and the SAFER Barrier bending and absorbing much of the energy from the blow. 
A short time later and after his mandatory visit to the infield care center, Blaney spoke with reporters and praised the safety of the car. 
"Yeah, that was large," he said. "Big testament of the new front clips. That would have hurt a lot more if we didn't have the new front clip on it. So that's a positive about that. Still pretty hard." 
Several days later on playoff media day, the Penske driver visited with the media and echoed his previous thoughts on the SAFER Barrier and the new clips doing their job. He was asked if he was wearing a mouthpiece like some drivers, which is part of a NASCAR study that measures the intensity of impacts. 
"I've worn it most of the year. Worked with Wake Forest on getting that thing fitting good to where it's comfortable for me to wear it all race," Blaney said. "And it is helpful wearing that thing. I didn't have it in at Nashville but I did at Daytona and it was — talking to (John) Patalak (NASCAR vice president of safety engineering) and all those guys at Wake Forest, the data they get off of that stuff is huge of actually what we go through in a hit like that. They have the car data but then what we're feeling is big for them, too. It's important for that mouthpiece I think for their research."
Blaney not happy with car or NASCAR in 2022
Blaney is clearly a believer in the value of the data provided by drivers wearing a mouthpiece. What's interesting is his position on the measuring devices has completely changed. 
Last July at Pocono, Blaney endured a big hit at the Tricky Triangle where he, like so many others, lost control of his car coming out of Turn 3, but instead of hitting the outside wall like Kurt Busch did the day before in qualifying, the No. 12 dipped down low for a hard right-front impact into the wall protecting pit road. 
He talked about the impact with SiriusXM NASCAR Radio's Claire B. Lang after the race.
"I mean, it wasn't terrible, but I've had softer," he admitted. 
When Lang followed up and asked if the hits were harder in the Next Gen car than years past like other drivers have claimed, the driver didn't hesitate.
"Yeah, they're harder," he replied. 
Interestingly, moments later, the reporter asked him about a report on a new NASCAR program where select drivers are wearing mouthpieces to measure the severity of the crashes. 
"You're not one of the drivers wearing the mouthpieces, are you?" she asked. 
"No, I'm not a mouthpiece guy," the driver responded. "If we're having to wear mouthpieces to measure how hard these cars hit, then we're doing something wrong."
Those remarks came just hours after Kurt Busch missed his first race of the season due to a concussion. Blaney was understandably unhappy at the time because drivers had complained all year about harsher impacts and one of his fellow competitors was now missing action due to an injury. 
But, to the driver's credit, he obviously realized at some point since those comments that participating in the study can do more good than harm. And as all the drivers will attest, they've had enough harm done to them in the car. Now, fortunately, they're starting to see some of the benefits of their outspokenness.  
To stay up to date on the latest happenings in NASCAR, including breaking stories you can't find anywhere else, follow Kyle on YouTube and Twitter.