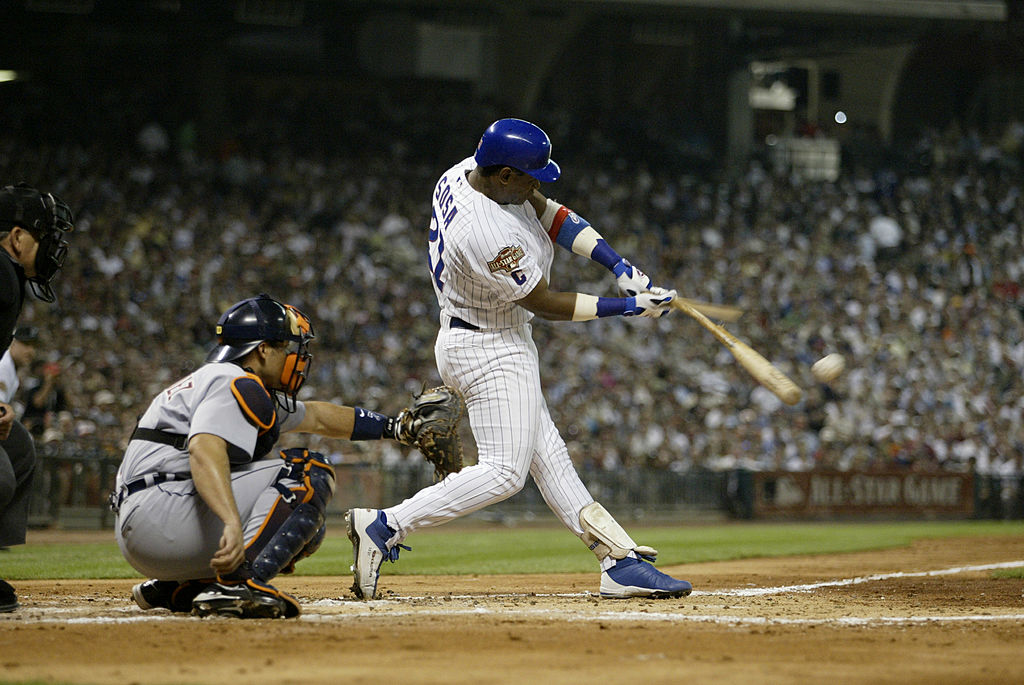 Sammy Sosa Had Five of the Craziest Statistical Years in Baseball History
Everyone knows about Sammy Sosa's 1998 season. That was just the beginning of a crazy stretch where he finished second in homers on his best years and first on his down years.
Sammy Sosa is most recognized for the 1998 season when he and St. Louis Cardinals first baseman Mark McGwire skyrocketed past Roger Maris's single-season home run record and dueled until the final day of the regular season to set new marks. That season was just the start of a stretch of seasons for the Chicago Cubs star outfielder that would see him finish second on his best years and first on his worst years. Here's a look at those five upside-down years of crazy statistics.
Sammy Sosa's 1998 season 
The 1998 season was a magical one for Sammy Sosa. Prior to that year, Sosa's highest power-hitting totals included a 40-home run season in 1996, and a pair of 119-RBIs seasons in 1995 and 1997. 
During 1998, as Sosa battled St. Louis Cardinals slugger Mark McGwire for baseball's home run title, he posted career-best numbers in several other categories. In conjunction with the home run chase, Sosa drove in a career-best 158 RBIs.  
Sammy Sosa not only hit for power in 1998, but he also hit for his highest career batting average to date finishing the year with a .308 average, his previous best was .300 in 1994. For the totality of his efforts that season, Sosa was named the NL MVP.
Sosa's huge years he finished second
While the 1998 season will always be remembered as the exciting record-breaking year McGwire and Sosa battled for home run supremacy, 1999 offered up an equally impressive duel between the two NL sluggers. 
Different year, however, the same result. McGwire finished the season belting 65 home runs while the Cubs outfielder, once again, finished close behind in second with 63. It was a pattern for Sosa that would strike again two years later. 
In 2001, Sammy Sosa stepped up to the plate and regularly delivered bombs throughout the season. He finished the season with the second-highest single-season home run total for his career with an impressive 64 homers.
Unfortunately, Sosa, once again, finished runner-up in home runs for a third time, but for the first time it wasn't to his NL Central division rival McGwire. That year Barry Bonds came out of nowhere and dominated the headlines on his way to breaking McGwire's previous record of 70 home runs in a single season by blasting 73.       
Sammy Sosa finally finishes first
Sandwiched in between those second-place finishes were a couple of home run titles for Sammy Sosa in both 2000 and 2002. What's interesting in those cases, Sosa had considerably lower home run production totals in both seasons.
In 2000, Sosa didn't appear to be aiming for big home run numbers as he finished the season with the best single-season average of his career to date at .320. His home run total for that year was 50, the lowest number in three seasons. However, that number was good enough to finish atop MLB in home runs. Bonds finished second at 49. 
During the 2002 season, as Sosa's career began to slowly wind down, he had his final power surge at the plate that year. He finished the season with 49 home runs, which was the most in the NL. Bonds finished second at 46. Sosa's total, while tops in the NL, was only good enough for third overall as Alex Rodriguez led all of MLB with 57 homers and Jim Thome finished second at 52.
Sosa's numbers from 1998 to 2002 prove that, in sports, much like life, timing is everything. Sosa's name will forever be associated with second place like Phil Mickelson is with Tiger Woods, and so many NBA players are to the other big Chicago star during those days, Michael Jordan.
All statistics courtesy of Baseball Reference.