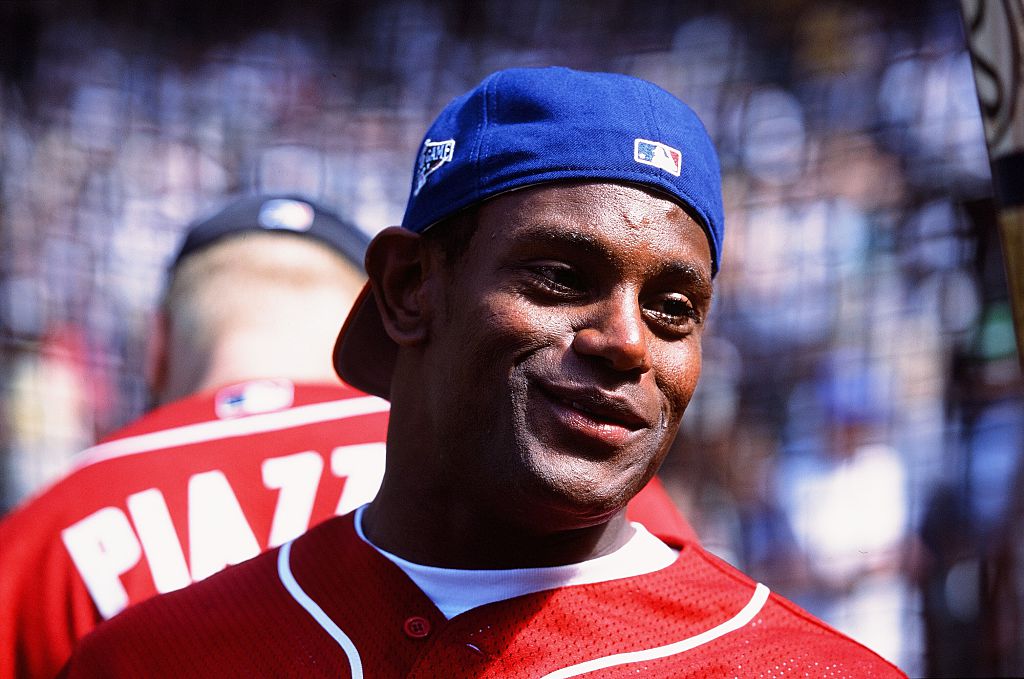 Sammy Sosa Could Have Hit Home Runs for the Yankees If a 2000 Trade Went Through
Sammy Sosa wanted to play for the New York Yankees in 2000. What would have happened if the Bronx Bombers acquired him that summer?
Sammy Sosa's home run prowess with the Chicago Cubs — and his subsequent exile from baseball — are again in the news after ESPN premiered Long Gone Summer, a documentary on Sosa and Mark McGwire's home run chase.
Although the film primarily focused on Sosa's historic 1998 season, it goes without saying he was among the league's best home run hitters while he played for the Cubs.
Two years after that famous summer, though, Sosa could have traded Wrigley Field's ivy for Yankee Stadium's short porch. This is how the Yankees nearly traded for Sosa — and why they eventually passed on him.
Sammy Sosa hit plenty of home runs with the Chicago Cubs
Although Sammy Sosa's reputation in Chicago is tainted because of his alleged ties to performance-enhancing drugs, the numbers speak for themselves.
Sosa hit .285 with 545 home runs, 1,414 RBIs, and nearly 2,000 hits in 13 seasons with the Cubs. He had three individual seasons with over 60 home runs, including the 66 he mashed in 1998, and won the NL MVP Award that year.
Sosa was worth 58.6 Wins Above Replacement, according to Baseball-Reference. That is the sixth-highest score of any hitter in Cubs history.
The New York Yankees nearly acquired Sosa in the summer of 2000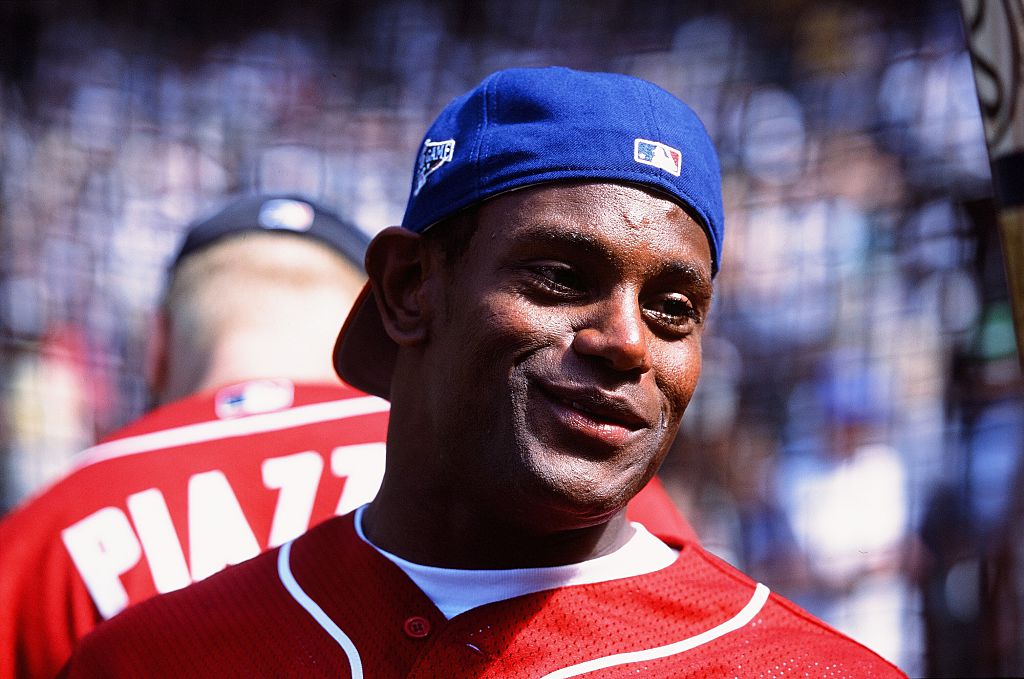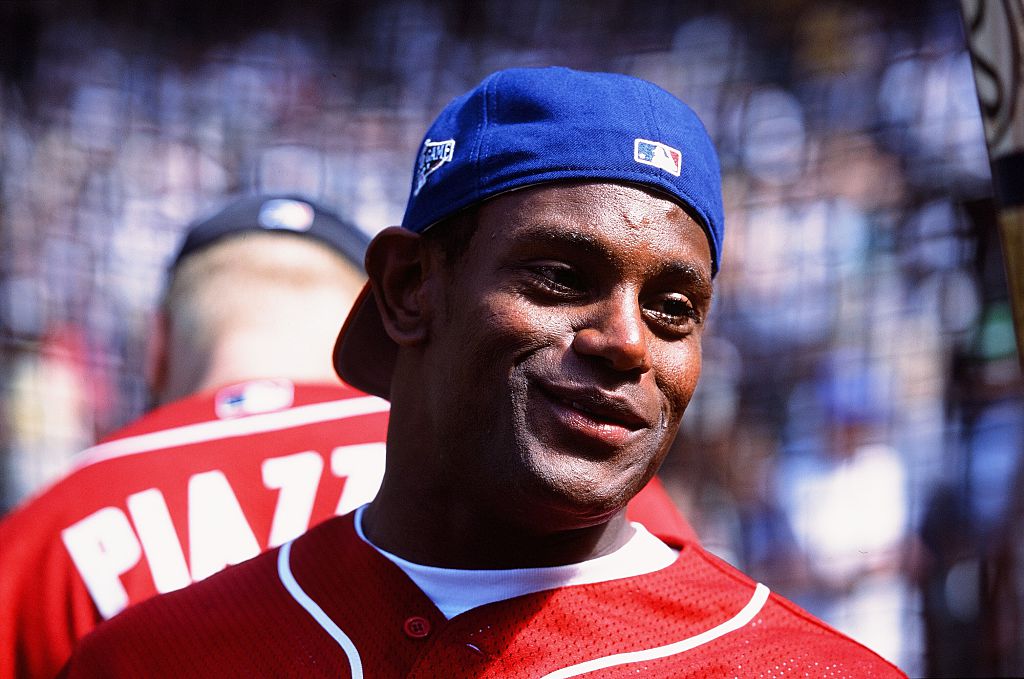 Sammy Sosa's final season with the Chicago Cubs came in 2004. His tenure there could have easily ended in June 2000.
The Cubs were amid another down year and the New York Yankees, two-time defending world champions, wanted another power bat. Yankees owner George Steinbrenner, according to the New York Times, was "enticed by the idea of getting Sosa's power and marquee presence."
Sosa reportedly wanted to play for the Yankees, too. New York was willing to part ways with top prospect Alfonso Soriano — who later signed with the Cubs — and other high-profile minor leaguers.
The two teams never reached a deal, though. The Yankees had concerns about taking on Sosa's $100-million contract and eventually acquired Cleveland Indians slugger David Justice.
What if Sammy Sosa wound up playing for the Yankees?
Although Sammy Sosa is far more a memorable name than David Justice, it is easy to forget how dangerous Justice was in the 2000 season.
Justice hit .305 with 20 home runs and 60 RBIs in 78 games for the Yankees that year. He also won the ALCS MVP Award after he mashed two homers and drove in eight against the Mariners.
The Yankees were 38-35 when they acquired Justice and ended the year with an 87-74 record. Would the Yankees have gone on a similar tear and eventually won the World Series with Sosa playing instead of Justice?
Justice played his first game for the Yankees on June 30, 2000. Sosa hit .327 with 29 home runs and 71 RBIs in that same stretch. He would have had far more opportunities with men on base in New York than he did in Chicago, though.
It's not unrealistic to think the net result — a Yankees world title — would have been possible with Sosa in pinstripes. The Yankees needed Justice's eight-RBI performance in the ALCS to move past Alex Rodriguez and the Mariners.
Sosa remained one of the league's best players through 2002 and was worth 2.7 Wins Above Replacement in 2003.
Sosa's presence may have given the Yankees that extra jolt in the 2001 World Series and the 2002 American League Division Series. He would likely have played through 2004 or 2005 as a full-time designated hitter with the rare outfield start.
The Yankees would have had Sosa's heavy contract on the books, though, and future Hall of Famers Derek Jeter and Mariano Rivera were approaching free agency. Landing Sosa may have resulted in one, or both, of Jeter and Rivera leaving the Bronx.
The thought of Sammy Sosa as a Yankee is a fascinating one. Yankees fans were robbed of that sight, but they at least enjoyed another world title thanks to Justice.