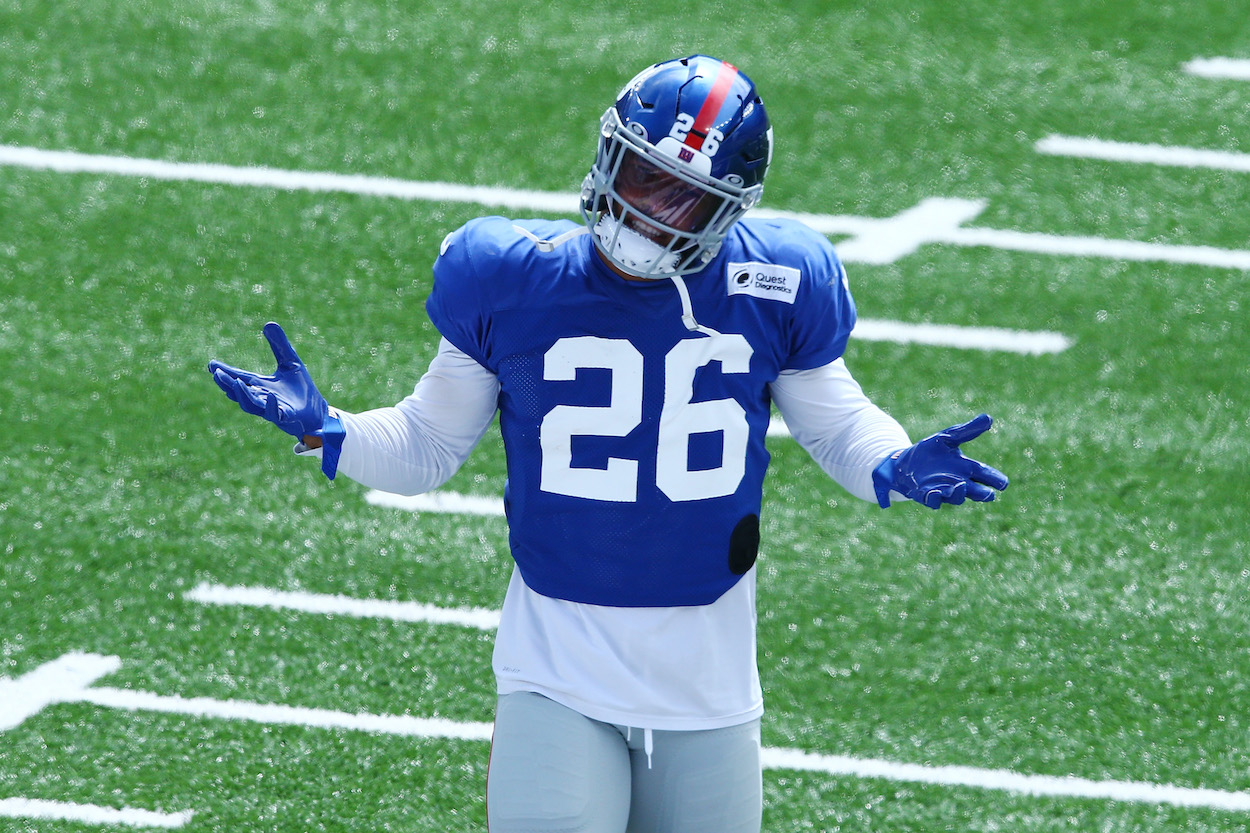 Saquon Barkley Responds to Getting Called out for Being Terrible at a Popular Drinking Game
New York Giants star running back Saquon Barkley tried to relive his college days at Penn State before the Auburn last weekend game and failed pretty spectacularly at a common college drinking game.
Before he was New York Giants superstar Saquon Barkley, the Pro Bowl running back was Penn State Nittany Lions legend Saquon Barkley. As the latter, the former All-American returned to State College, Pennsylvania, to take in a big game for his school and mingle with some of the current coeds before the game. Most of the day went exceptionally well for the running back until he got called out on social media for being terrible at beer pong.  
New York Giants running back Saquon Barkley returned to Penn State, where he starred 
Saquon Barkley might have been born in the Bronx, NY, but he is a Pennsylvania guy.
The running back moved to Coplay, Pennsylvania as a child and attended Whitehall High School, per Giants.com. There, he played basketball and ran track, but his best sport was football.
As a sophomore and junior, he helped lead Whitehall to league titles. As a senior, he racked up 1,856 rushing yards and 31 total touchdowns while also chipping in three interceptions and five tackles for loss on defense. That year he also became a first-team all-state running back and the 2014 Mr. Pennsylvania Football.
His prep career earned him a spot as the top recruit in PA, and Barkley chose to stay close to home at Penn State.
He was a success right off the bat, breaking the school's freshman single-season record with 1,076 rushing yards and winning Big Ten Freshman of the Year. Barkley didn't slow down next year either, putting up 1,927 all-purpose yards, including the fifth-most rushing yards (1,496) in school history.
The 5-foot-11, 233-pound back played one more season in Happy Valley. After his junior season, he finished fourth in the Heisman voting. He also left Penn State as the school's leader in rushing touchdowns (43), total touchdowns (53), all-purpose yards (5,538), and career scoring for a non-kicker (318 points).
His college career made him the New York Giants' No. 2 overall pick in the 2018 draft, but more importantly, earned him the undying love of Nittany Lions fans everywhere.
Barkley responded to being called out for his lack of beer pong skills
Barkley's New York Giants played on Thursday Night Football in Week 2, which freed up the running back's weekend to visit his old stomping grounds.
The Penn State legend returned to Beaver Stadium to watch his No. 6 ranked alma mater take on the No. 23 Auburn Tigers. The atmosphere was incredible in Happy Valley, and the home team beat the visitors 28-20.
The real show, though, came in the parking lot before the game where the Giants star back joined some Penn State students for a game of beer pong. According to Barstool Sports and several student-made Tik Tok videos, Barkley isn't a great beer pong player.
In one video made by Barkley's partner, someone in the crowd is taunting the runner because his partner is "carrying" him. The athlete talks trash back like a pro… then promptly misses the cup with the ping pong ball.
When Barstool posted the article, calling him "shockingly bad" at beer pong, Barkley retweeted the post and admitted that "It's been a minute" since he played the college drinking game, implying that's why his skills aren't up to par anymore.
The running back is returning to football after a major injury cost him most of the 2020 season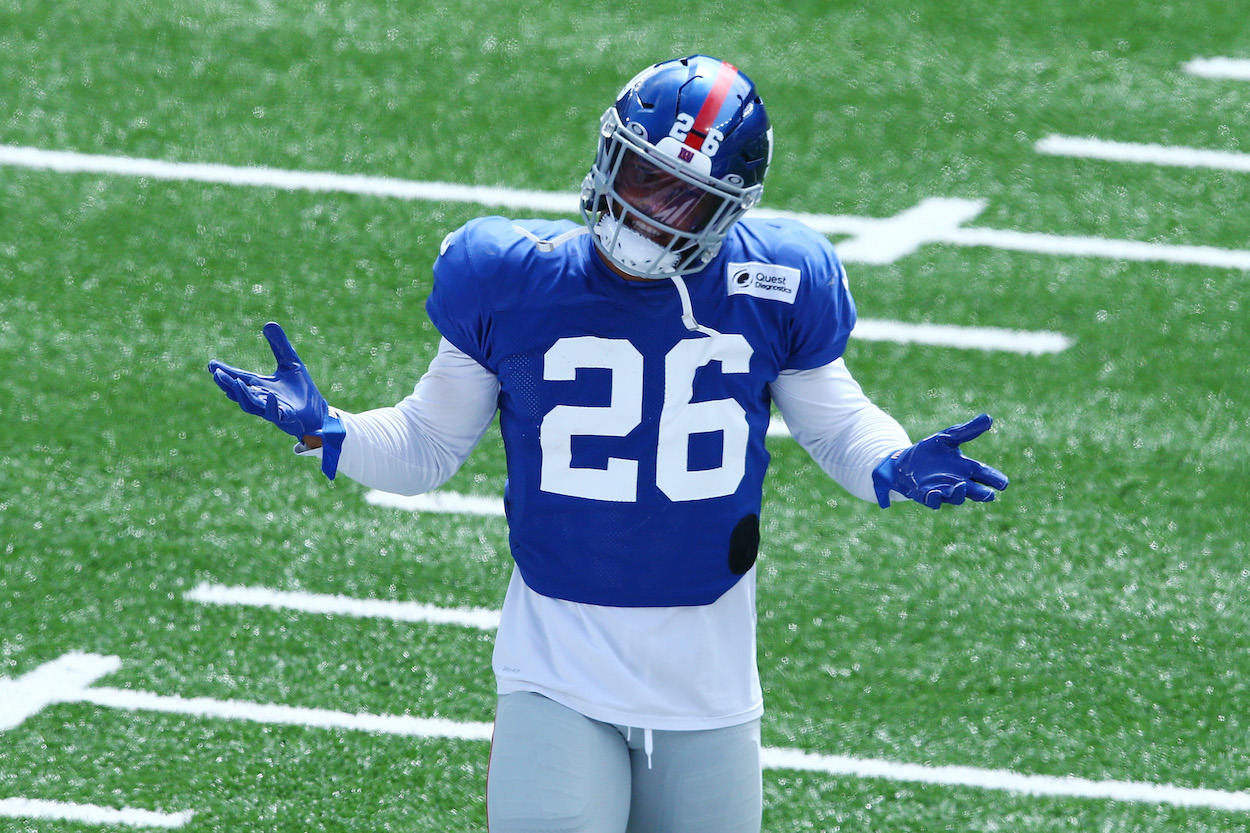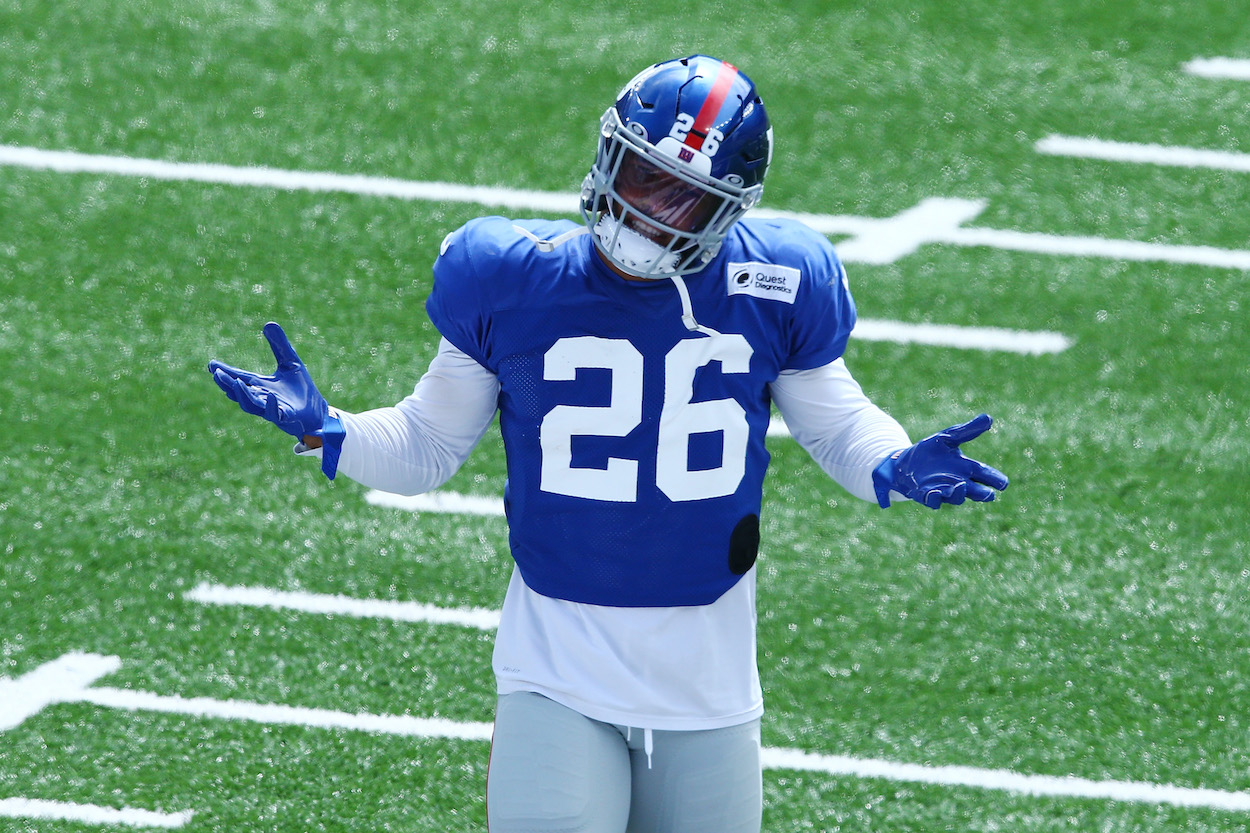 Saquon Barkley set the NFL on fire his rookie year, rushing for 1,307 yards, scoring 15 total touchdowns, and leading the league in yards from scrimmage with 2,028. Even missing three games with a high ankle sprain in season two, he still ran for 1,003 yards and added eight more scores.
In his third season, Barkley tore his ACL and suffered meniscus damage in his right knee during a Week 2 matchup with the Chicago Bears. He missed the next 14 games but recovered enough to return for Giants training camp and Week 1 of the NFL season.
In Week 1 of the 2021 season, Barkley struggled in a 27-13 loss to the Denver Broncos. He rushed for just 26 yards on 10 carries and caught 1-of-3 targets for a single yard. Some of it was on him, but he also ran behind a bad offensive line.
The good news for Barkley and the Giants is that he looked better in Week 2. On Thursday night, he ran for 56 yards on 13 carries and hauled in 2-of-3 passes for 12 yards.
Just like beer pong, "It's been a minute" since Barkley has played football. And, while the early results might not look great, as time goes by and he gets more reps, he should get better (at least at football).
All stats courtesy of Pro Football Reference