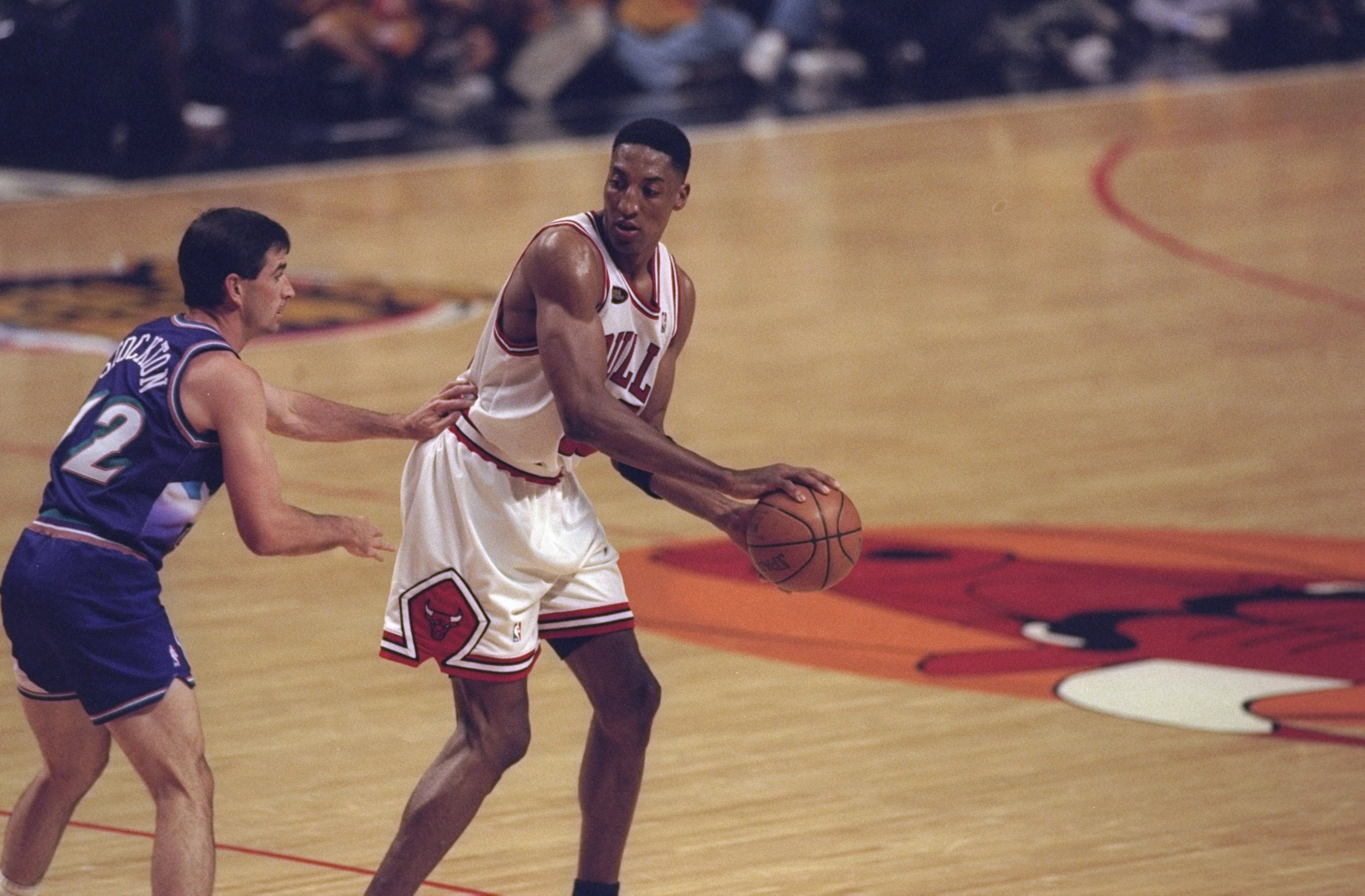 Scottie Pippen Has 1 Specific Regret About His Time With the Chicago Bulls
While Scottie Pippen became an NBA star during his time with the Chicago Bulls, he has one major regret about time with the franchise.
While he's primarily remembered as Michael Jordan's number two man, Scottie Pippen still had an impressive NBA career. During his time on the hardwood, the forward claimed six championships and a nice collection of individual honors. For all that success, however, his time in the association wasn't perfect.
In fact, Scottie Pippen has one specific regret about his basketball career. The NBA veteran wishes that he spent his final professional season in different circumstances.
Scottie Pippen's dramatic rise to NBA stardom
These days, virtually every basketball fan knows about Scottie Pippen and his time with the Chicago Bulls. His basketball career, however, began in much different circumstances.
During his time in high school, Pippen didn't look like a future star; as recorded by SLAM, the teenager was more of a role player than anything else. After a strong senior season, however, he headed to the University of Central Arkansas.
Pippen didn't head to campus as a basketball player, though. He actually began his time on campus as the team's equipment manager; after two players quit the team, the forward found himself on the active roster. Once he got his chance and hit the weight room, Scottie developed into a star.
While Central Arkansas isn't exactly a national powerhouse, NBA scouts began to notice Pippen. The Seattle SuperSonics selected him with the eighth overall pick of the 1987 NBA draft; they promptly traded him, however, to the Chicago Bulls. That move set the stage for modern NBA history.
Winning six titles with the Chicago Bulls
While he arrived in Chicago as a lottery pick, Scottie Pippen didn't turn into a star immediately. During his rookie season, the forward failed to start a single game; he only averaged 7.9 points and 3.8 rebounds per outing.
Working with Michael Jordan, however, took Pippen's game to the next level. "One of the smartest things Doug Collins did was match them up," Jerry Krause explained, according to Harvey Araton of the New York Times. "And I mean Michael just killed Scottie, beat the hell out of him. But it was the best thing that could have happened to Scottie, winding up with Michael in Chicago. He had to get stronger. He had to learn to compete."
Pippen became the perfect foil to MJ; he was capable of scoring, but also did the little things like playing lockdown defense and pulling down rebounds. Together, the two men turned the Bulls into a dynasty, claiming six NBA titles during the 1990s.
Scottie Pippen regrets returning to the Chicago Bulls
After spending most of his career in Chicago, Scottie Pippen finally left the Windy City. Although he received a significant pay raise, the isn't always greener on the other side of the fence.
Pippen played the 1998-99 seasons with the Houston Rockets before joining the Portland Trail Blazers; he then returned to Chicago, but only played 23 games during the 2003-04 campaign before calling it a career. In hindsight, however, the forward wished that he could have played for a more veteran team rather than rejoining a young Bulls squad.
"I wish I had played with more veteran teams, teams where I could have pulled back on my minutes," Pippen explained on ESPN. "Even playing in Portland, I carried a lot of minutes on that team. But after I left Portland, I think that, you know, going to Chicago, I went to another young team. It would be a better fit for me had I went to a more veteran team and being able to pull off the court a little bit and focus more on the postseason instead of the regular season."
Overall, Scottie Pippen played 17 NBA seasons, won six championships, and earned more than $109 million in total salary. If he had joined some more veteran teams down the stretch, however, his total resume could have been even better.
Stats courtesy of Basketball-Reference