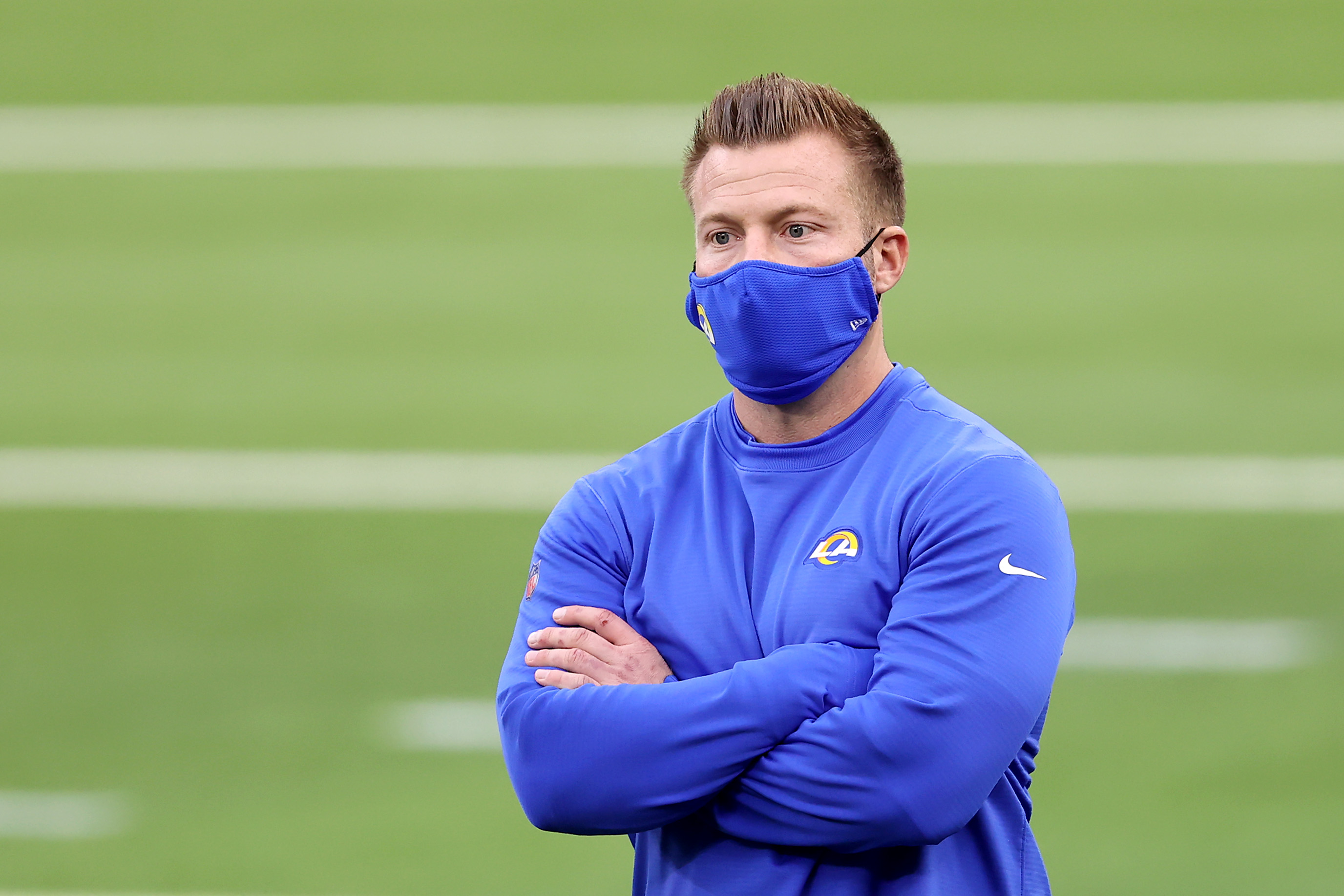 What's With Sean McVay's Creepy Picture on His Draft-Room Wall?
You may have noticed a creepy picture on the wall of Los Angeles Rams coach Sean McVay when watching the NFL draft.
Sean McVay has been considered one of the NFL's great young coaches. In his second year as head coach of the Los Angeles Rams, he guided the team to a 13-3 record and a Super Bowl berth. Granted, his Rams got some help from a bizarre non-call on a blatant pass interference during the NFC title game against the New Orleans Saints. Who knows, maybe that explains the creepy picture on McVay's draft-room wall.
Sean McVay has been an outstanding young coach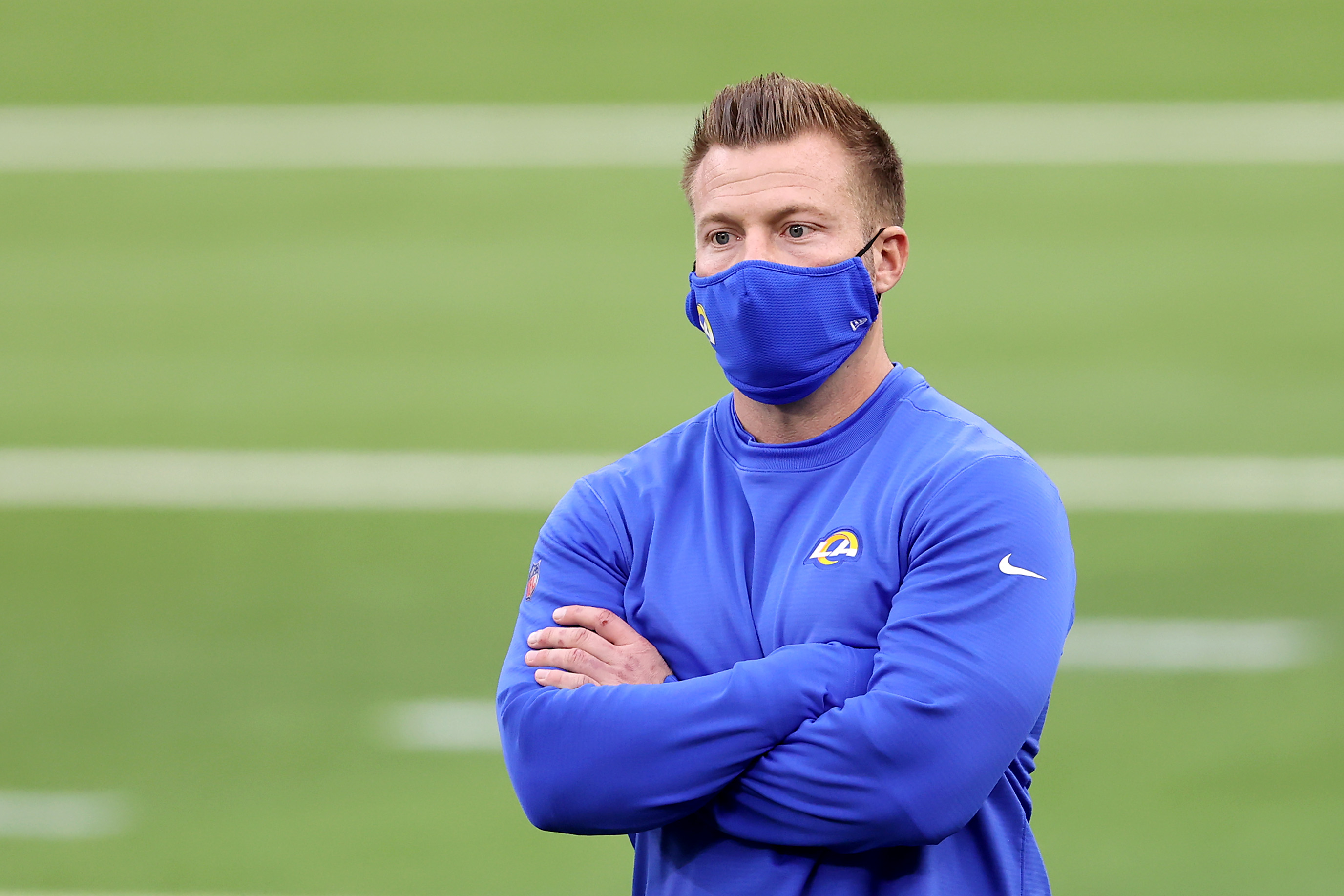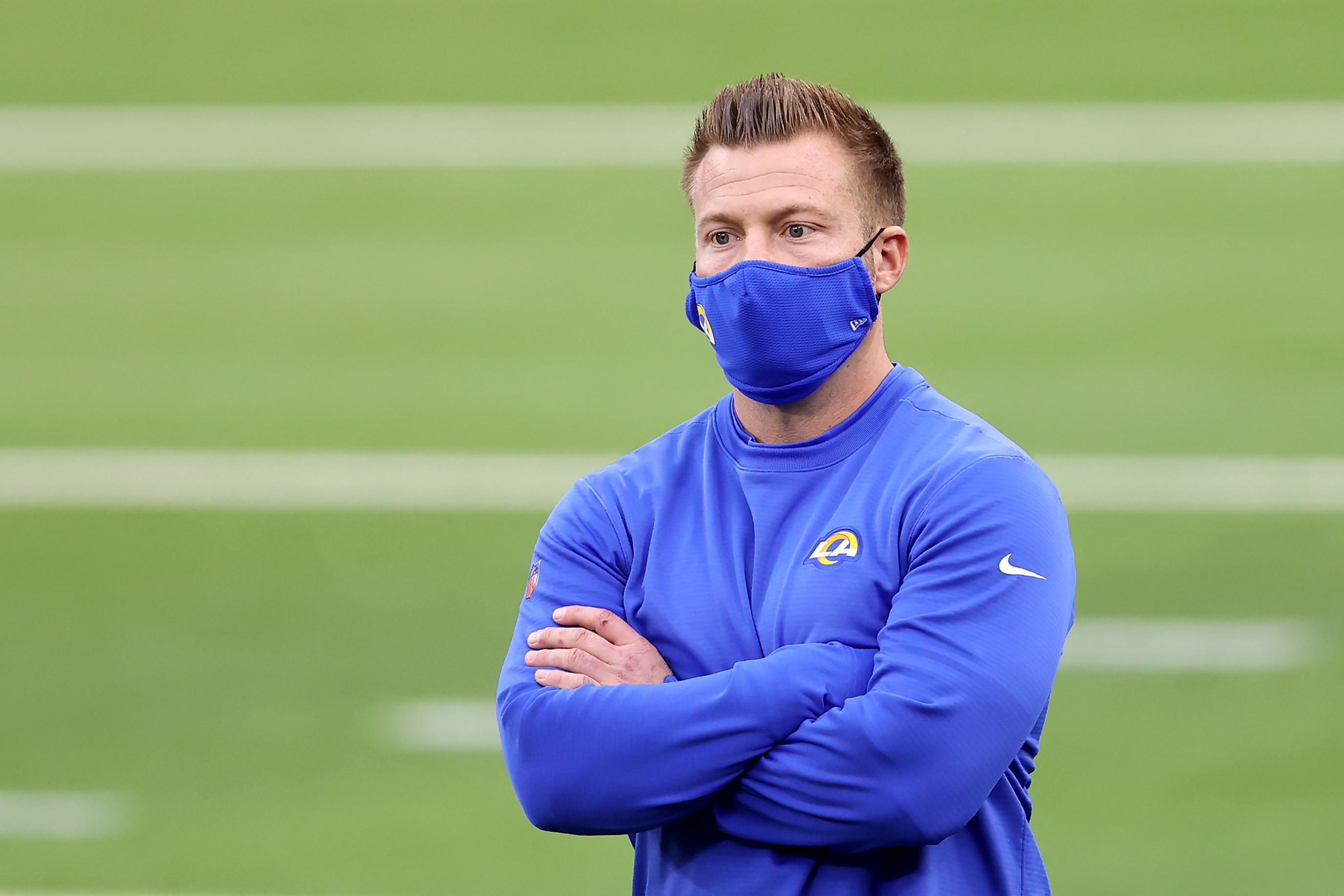 McVay is just 35 years old, and he's already been a head coach in the NFL for four years. He's already in the league's history books for being the youngest coach in NFL history and is also the youngest to take part in a Super Bowl and win AP Coach of the Year. McVay is considered a brilliant offensive mind.
He's never had a losing season during his time as a head coach in the NFL. After leading the Rams to an 11-5 mark in his rookie year, LA went on to represent the NFC in Super Bowl 53, where they lost to the New England Patriots. The following seasons, the Rams went 9-7 and 10-6. He's 43-21 during the regular season.
McVay and the Rams made a blockbuster move this year. They traded former No. 1 overall pick, quarterback Jared Goff, in the offseason. The Rams traded Goff to the Detroit Lions in a package that included veteran quarterback Matthew Stafford.
The Rams went skill over strength in the 2021 NFL draft
The LA Rams had a draft plan and stuck to it. They wanted a speedy wideout who could stretch the field. Without a first-round draft pick in 2021, the Rams selected lightning-fast wide receiver Tutu Atwell out of Louisville.
Atwell doesn't look like the typical football player. He weighed all of 155 pounds at his pro day last month, according to ESPN. What he lacks in size, he makes up for it in speed. "Coming into this offseason, we really wanted to add speed to our wide receiver corps," Rams GM Les Snead said after making the pick. "By our standards, by some of our measurements, Tutu is one of the fastest, if not the fastest, player in the draft."
The Rams wound up taking three pass catchers, two wide receivers and a tight end. In the fourth round, they selected Jacob Harris out of UCF. Harris is listed as a wide receiver, but is 6-5, 211 pounds, and is expected to play tight end. In Round 7, they snagged Notre Dame receiver Ben Skowronek. What was surprising is the Rams elected not to address their offensive line with any of their eight picks.
What's with that picture on McVay's wall?
During the draft, ESPN cameras continued to check in on the teams before and after they made their picks. When they put their cameras on McVay, it was hard not to notice the blaring photo in the background. McVay's draft-room wall was bare with the exception of one creepy picture.
Behind the Rams coach, settled nicely inside a thick gold frame and place on the wall was a picture of NFL Commissioner Roger Goodell. McVay was shown at work on the phone with the creepy picture overlooking him. McVay was wearing a mask so we were unable to see if he was smiling as the cameras were rolling.
The Rams made it to Super Bowl 53 after a very controversial no-call in the NFL Championship Game against the New Orleans Saints. Maybe, just maybe, it's just there as a token of thanks. No word if Saints coach Sean Payton has a Goodell picture in his room.
All stats courtesy of Pro Football Reference.