Sean Payton Has Officially Taken a Critical Step to Save the Saints From Suffering a Huge Blow to Their Offense
Nobody knows how the New Orleans Saints will look without Drew Brees in charge. While fans got a brief glimpse of that reality last year, there's no doubt Sean Payton faces a major challenge to keep the unit rolling with a new starting quarterback under center.
Of course, the reigning NFC South champions would be in a much stronger position heading into the 2021 season if they had their top receiver available. However, even though Michael Thomas won't see the field for a while, his head coach took a crucial step to save the Saints from suffering a huge blow to an offense that already has to replace its legendary leader.
The Michael Thomas situation has been a major distraction in New Orleans
The 2020 season didn't go as expected for Michael Thomas. A nagging ankle injury limited the 2019 NFL Offensive Player of the Year to only 40 receptions across seven games. Plus, the two-time first-team All-Pro didn't do himself any favors by punching teammate C.J. Gardner-Johnson in practice, which resulted in a $58,823 fine and another game missed. 
Given his status as one of the highest-paid receivers in the league, Thomas definitely didn't live up to expectations last year. And the odds of him justifying his $10.1 million cap hit this season don't appear strong, either. Thomas reportedly delayed surgery on his ankle, which will force him to miss roughly a third of the upcoming season. His decision could have costly implications for a Saints team that has to prove it can win without Brees.
The drama surrounding Thomas and his apparent unhappiness has raised questions about his long-term future in New Orleans. Under contract through the 2024 season, the 28-year-old seems like a player who would command a high level of interest if placed on the trading block. Then again, perhaps the Saints would rather not deal a proven playmaker who they signed to a record-setting contract extension two summers ago.
Sean Payton takes critical step to keep the Saints from suffering a blow to their offense
The idea of Thomas suiting up for another team has become a realistic possibility over the past year or so. And with everything that's transpired during the offseason, rumors of a potential trade involving the four-time Pro Bowler haven't come close to going away. In fact, those rumblings reached new heights recently when Thomas made a cryptic post on Twitter. 
However, the situation between the Saints and arguably their biggest star has taken an abrupt turn. To little surprise, Sean Payton took a necessary step to make sure his offense doesn't suffer a critical blow. And like any attempt to resolve a misunderstanding or issue between two sides, it took the participation of both parties to get the ball rolling in the right direction. 
According to Charles Robinson of Yahoo Sports, Payton and Thomas met recently to clear the air about comments the Saints head coach made about his frustration over the timing of the wideout's surgery. They also met to discuss the social media post that raised questions about Thomas' desire to remain in New Orleans.
"They had a good talk about [the issues]," a source told Robinson. "I think they both believe it's not anything that has to go any further than what is already out there. There was some frustration from both viewpoints and that was the point of the meeting."
Considering Jeff Duncan of Nola.com recently reported that Thomas chose not to return calls to the team over the summer regarding his troublesome ankle, the fact the star receiver met with Payton suggests brighter days should be ahead. Communicating directly rather than through the media or Twitter seems like a better method of achieving a resolution. So, if the two men truly reached some sort of understanding, that bodes well for a Saints offense that desperately needs a healthy, focused version of Thomas in the lineup.
Can the Saints do enough damage on offense to earn another postseason berth?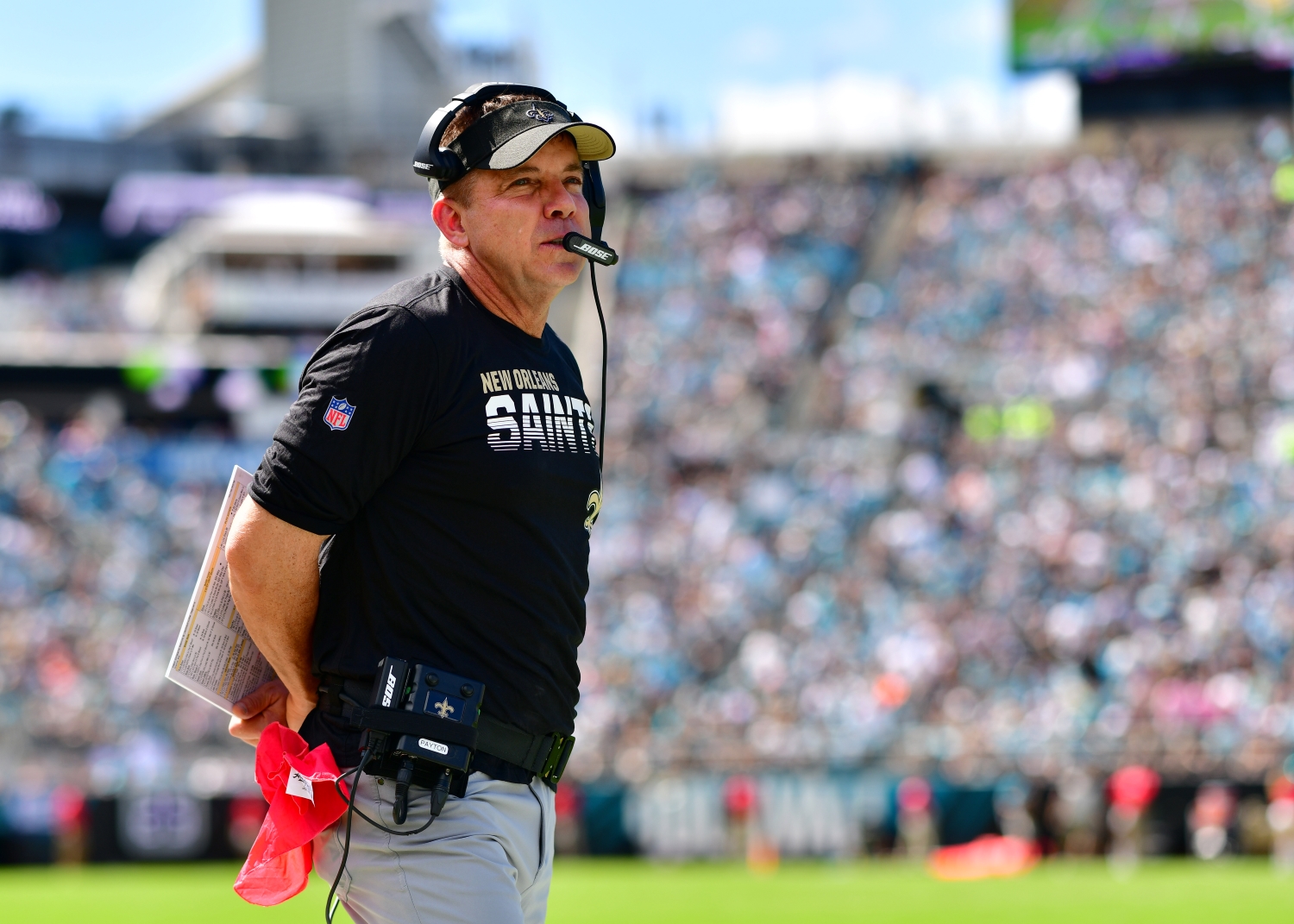 Just because the Thomas situation seems to be trending in the right direction doesn't mean the Saints will finally overcome their playoff woes. After all, it's not as if meeting with Payton will help accelerate his recovery timeline.
With Thomas expected to return by Week 7, New Orleans will have to find a way to consistently put points on the scoreboard without the services of one of the league's most productive pass catchers. As much as Thomas failed to impress in 2020, he clearly showed the ability to carry the Saints' passing game from 2017-19. And the franchise demonstrated its belief in the former Ohio State standout by giving him a five-year, $96.5 million extension before his record-setting 2019 campaign.
Unfortunately for the Saints, they don't have a particularly imposing group of receivers, and the uncertainty at quarterback only creates more questions about what the offense will look like in 2021.
Luckily for Payton, he shouldn't have to worry about the offensive line. And there's no reason Alvin Kamara can't continue to put up huge numbers as a dual-threat weapon out of the backfield.
However, with Thomas set to miss more time, can the Saints make enough plays in the passing game to keep up with the Buccaneers for the division title? Based on their current wide receiver depth chart and the expected downgrade from Brees to Winston or Hill, it's entirely fair to wonder whether New Orleans will take a major step back on offense.
And even when he does come back, can Michael Thomas rediscover his pre-injury form?
Ultimately, all the uncertainty surrounding the Saints makes them tough to support as a true Super Bowl contender.
All statistics courtesy of Pro Football Reference. All contract data courtesy of Spotrac.