Sean Payton Shares His Solution to the NFL's Pass Interference Review Problem
Subjective calls, like pass interference, always leave someone unhappy. There's just enough room to argue that your team got the short end of the stick thanks to some poor officiating. There's one thing that all NFL fans can agree upon, however: the league's pass interference review simply isn't working.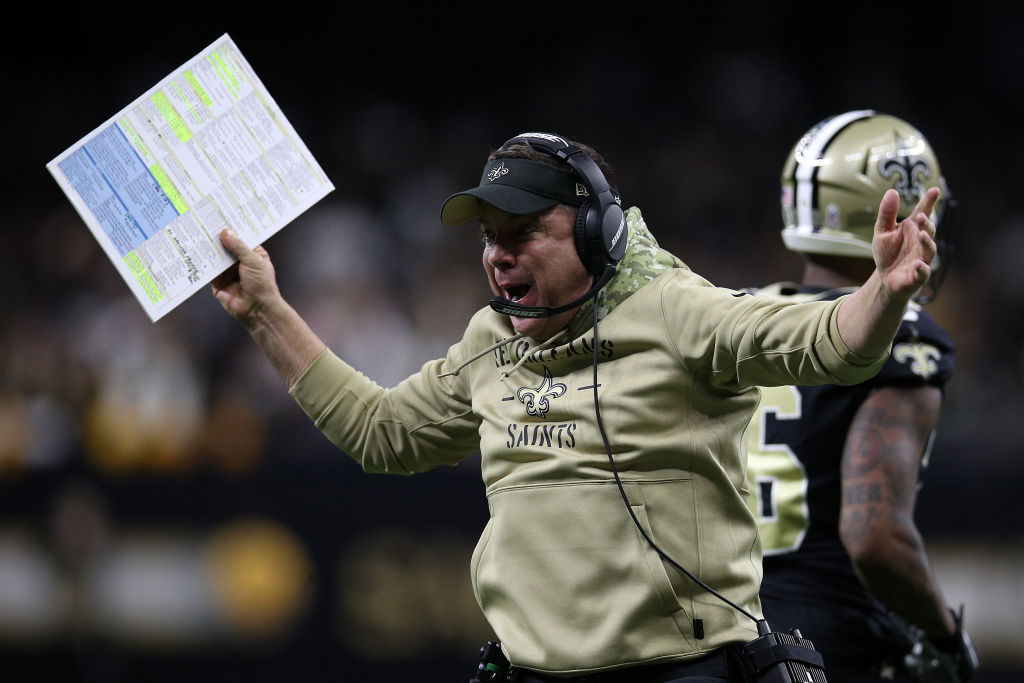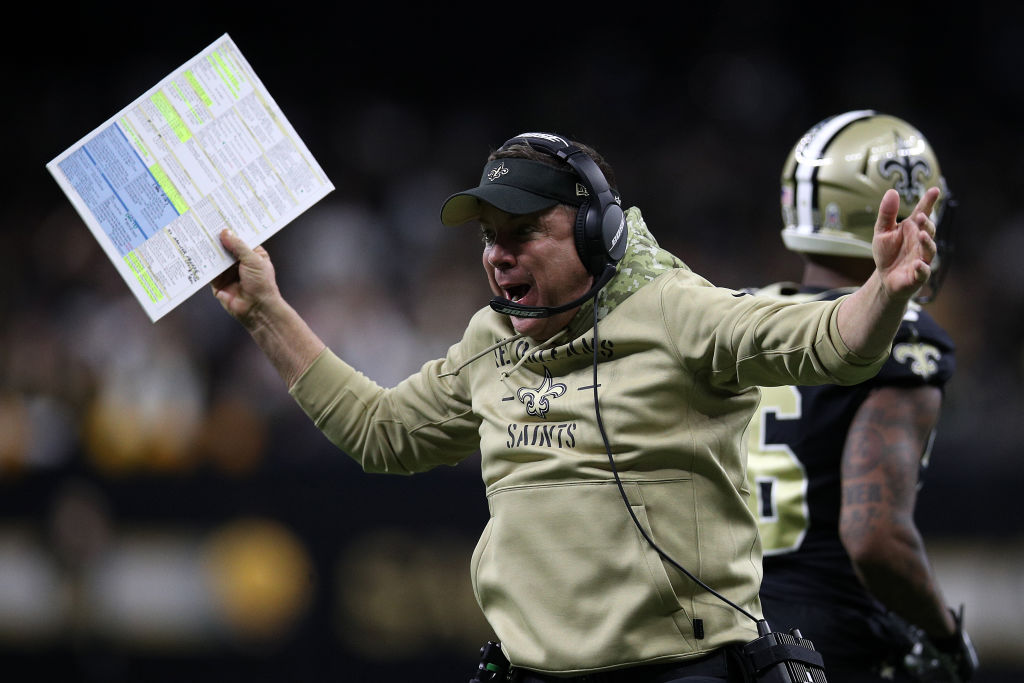 While there's been plenty debate about the review process this season, nothing has changed thus far. New Orleans Saints head coach Sean Payton, however, won't be deterred; he recently shared his unique solution to the problem.
The NFL's pass interference problem
We've all seen the play. Last season, an egregiously blown pass interference call overshadowed the NFC Championship game between the New Orleans Saints and Los Angeles Rams. The NFL knew they had to do something, so they made pass interference a reviewable call; the process, however, has been far from ideal.
While coaches were allowed to throw the challenge flag on potential penalties, the NFL created an incredibly high bar. "A pass interference ruling will be changed in replay only when there is clear and obvious visual evidence that the on-field ruling was incorrect," the league wrote. "To change the ruling on the field, there must be clear and obvious evidence that contact "significantly hindered" or "did not significantly hinder" an opponent."
While that standard seems reasonable—no one wants to see the entire game relitigated with slow-motion replays—it quickly turned into a farce. The definition of "clear and obvious" isn't very "clear and obvious." No one is quite sure what needs to happen for officials to overturn a call. For the most part, the rule seems to have been written as an emergency solution for any outrageous missed calls like the one during last year's playoffs; beyond cases like that, the call on the field will stand.
From Bill Belichick to DeAndre Hopkins, no one is happy
On the field, the pass interference review process has received almost universally negative feedback. Whether you're listening to coaches or players, no one seems to understand what is and is not pass interference anymore.
Earlier in the season, Bill Belichick said that it's generally not worth challenging pass interference."I think it's been pretty clear and the league has come out and said, it has to be clear and obvious," Belichick explained. "What the definition of that is, I'm not sure." Texans head coach Bill O'Brien expressed a similar sentiment last weekend, saying that he "has no idea" what warrants a pass interference penalty.
Texans wide receiver DeAndre Hopkins also weighed in last weekend, after he was seemingly wrapped up in the endzone. The receiver retweeted a series of photos, which showed the play in question, adding the comment, "As a leader in the NFL, we need someone new in New York deciding calls."
Sean Payton's potential solution to the pass interference problem
On Friday, Saints head coach Sean Payton weighed on the pass interference problem. He proposed an interesting solution: turn reviews over to a small group, rather than one man.
"I think it's a challenge for [senior V.P. of officiating] Al [Riveron], it's a challenge for New York when we go to New York and quite honestly, I think the numbers looking at those plays from a consistency standpoint need to be — it's hard to be singular in that position, it's hard for one person," Payton told #PFTPM. "[Thursday] night, when [Saints coaches] meet on a phase of our game, you know there's going to be four or five voices that can have thoughts and opinions that can help you arrive at decisions than one person, and I think Al does a great job and yet I think that number needs to be more of three or five."
Payton's idea is grounded in reality. The "wisdom of a crowd" is an established phenomenon; more often than not, larger groups make better decisions than individuals. Think of what you hear on a Sunday broadcast: the color commentator, play-by-play announcer, and rules analyst all discuss what they saw and come to a collective conclusion about what happened. Three heads, in general, are better than one.
In all likelihood, we'll have to wait and see if the NFL ever changes the pass interference review process. If nothing else, Sean Payton has certainly put forward a solid starting point for the discussion.