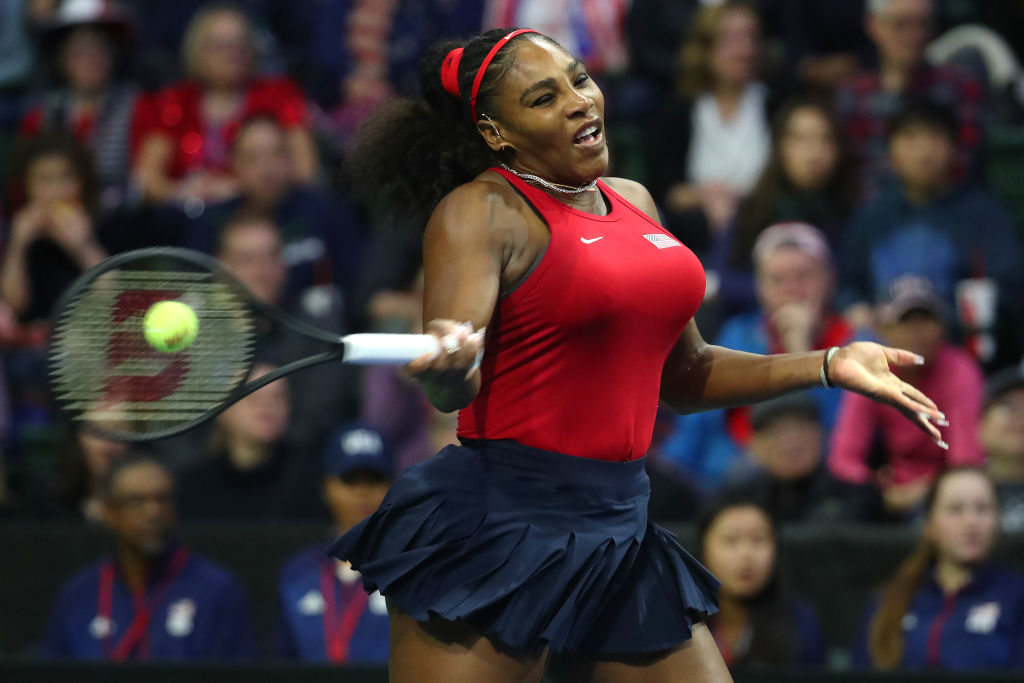 Serena Williams 'Almost Died' During One of the Biggest Moments of Her Life
On the court, Serena Williams is capable of beating any opponent with ease. In her personal life, though, the tennis star beat a tougher opponent: death.
When you're talking about tennis, it's tough to get any bigger than Serena Williams. During her time on the court, she's done just about everything possible; that includes winning 23 Grand Slam singles titles, spending more than 300 weeks at world number one, and taking home more than $90 million in prize money. The tennis legend's career, however, almost ended in tragedy.
In 2017, Williams welcomed her daughter, Alexis Olympia Jr., into the world. While that moment should have been cause for celebration, Serena "almost died" after giving birth.
Serena William's legendary tennis career
In the world of professional sports, tennis usually doesn't have the muscle to compete with the likes of the NFL or NBA. Serena Williams, however, still has some serious star power.
Serena, like her older sister Venus, started playing tennis at an early age. She showed great potential from an early age, both at Rick Macci's academy and working with her father, and broke into the professional ranks at age 14. Before long, she was beating older opponents and making a name for herself on the tour.
In 1999, Wiliams claimed her first major title, winning the US Open. After victories at the 2002 French Open and Wimbledon, she would go on to complete the Serena Slam early with the 2003 Australian Open title. From there, she became the sport's dominant power; while there have been some injuries and missteps along the way, Serena always seems to find a way back into the spotlight.
Although Serena has slipped in the rankings—the WTA currently has her at ninth overall—it's impossible to argue with her resume. Over the years, she has piled up 23 Grand Slam singles titles, placing her second all-time; she's also taken home 16 Grand Slam doubles titles, four Olympic gold medals, and over $92 million over the years.
Giving birth and cheating death in 2017
In September 2017, Serena Williams gave birth to her daughter, Olympia. While that moment should have been full of celebration, the tennis star found herself staring death square in the face within 24 hours.
"It began with a pulmonary embolism, which is a condition in which one or more arteries in the lungs becomes blocked by a blood clot," Williams explained in a CNN column. "Because of my medical history with this problem, I live in fear of this situation. So, when I fell short of breath, I didn't wait a second to alert the nurses."
Her issues didn't end there, though. Even after seeking help, Williams could have died due to a variety of complications.
"First, my C-section wound popped open due to the intense coughing I endured as a result of the embolism," she wrote. "I returned to surgery, where the doctors found a large hematoma, a swelling of clotted blood, in my abdomen. And then I returned to the operating room for a procedure that prevents clots from traveling to my lungs. When I finally made it home to my family, I had to spend the first six weeks of motherhood in bed."
Even a near-death experience couldn't stop Serena Williams
As anyone who has ever watched her on the court can confirm, Serena Williams is one fierce competitor. She proved that again by returning to the court after he near-death experience.
In May 2018, Serena made her return to Grand Slam tennis, hitting the court at the French Open; she lost in the finals at Wimbledon and the US Open, with the latter defeat coming in controversial circumstances, later that year. While Williams didn't win a major during the 2019 campaign, she did make it back into the top-ten in the world rankings.
Although she's only won one tournament—the 2020 Aukland Open—since giving birth, it's impressive that Serena Williams returned to professional tennis at all. Over the years, she's beaten plenty of opponents on the court; now, she's also beaten death.