Shaquille O'Neal Apologized to Yao Ming After Being Called out By His Dad: 'You Need to Show This Young Man More Respect'
Shaquille O'Neal found himself in hot water in 2003 after making an insensitive remark directed at Houston Rockets rookie center Yao Ming. Little did he know that Yao had idolized him for years, prompting Shaq's father to insist on his son making a genuine apology.
Shaquille O'Neal said his father demanded he make an apology to Yao Ming after making an insensitive comment
News outlets were all over O'Neal in the early months of the 2002-03 season after audio surfaced of him directing racially insensitive remarks at Yao Ming.
According to the Los Angeles Times, O'Neal did not believe he was being racist when he said, "Tell Yao Ming, 'Ching-chong-yang-wah-ah-soh,'" but the remarks came under immense public scrutiny. He issued a public apology, though there was an outcry for more sincere action from within his own family.
O'Neal told Hot Ones host Sean Evans that his own stepfather, Phillip Harrison, was especially upset at his actions, in part because Yao used to write letters to Harrison explaining his admiration for Shaq. The Diesel explained to Evans that his father demanded he show remorse and heightened awareness.
"You need to show this young man more respect," Shaq said his father told him.
For his part, Yao said he never took offense to O'Neal's initial remarks, though he added it was important to bridge the gap between different cultures and sizable populations.
"I think there are a lot of difficulties in two different cultures understanding each other, especially countries of very large populations, China and the United States," Yao said, via the LA Times. "The world is getting smaller and has a greater understanding of cultures."
Still, O'Neal made sure to honor Harrison's demand. He even practiced saying "Toy-inchee," the Chinese word for "I'm sorry," so he could apologize to Yao in person, per the LA Times.
The Diesel had a complicated relationship with his stepfather
Shaquille O'Neal's biological father left him and his mother when he was just a child. He was raised by Harrison, whom he took to calling "The Sarge."
Harrison married O'Neal's mother, Lucille, when Shaq was just 2 years old. A former military man, Harrison went to great lengths to instill discipline in his stepson, though not always by the most suitable means.
O'Neal revealed that his stepfather would "whoop" him in front of the class when he was younger, though he said the tactics Harrison used ultimately kept him on the straight and narrow. As O'Neal put it, he had been a "major, high-level juvenile delinquent," and Harrison went to extreme measures to prevent his son from walking that path.
Harrison died in September 2013, bringing forth a well of emotions in Shaq. But despite his stepfather often preaching a more hardened approach, O'Neal has displayed emotion and reverence when talking about the impact Harrison had on his life.
In some ways, Harrison's demand for his son to make a formal apology to Yao also gave birth to a lifelong friendship.
Shaq and Yao remain close friends to this day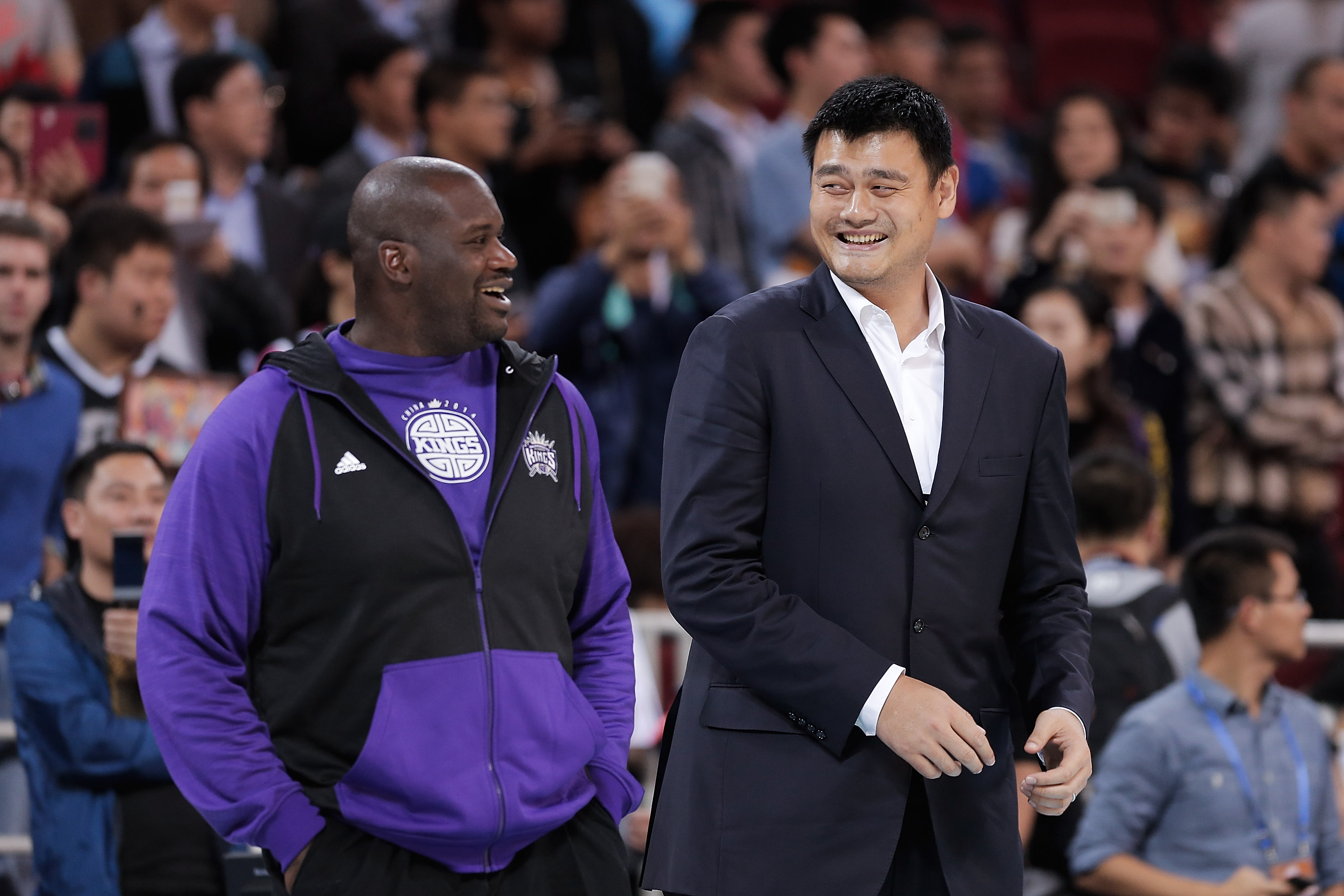 What began in controversy has since blossomed into a beautiful friendship.
O'Neal told Evans on Hot Ones that he makes sure to connect with Yao whenever he is in China. The two were also in the same Hall of Fame class back in 2016. Yao joked about his touch at the free-throw line, while The Diesel told a funny story about how he learned Yao could speak English.
Shaq and Yao are two of the definitive stars of a bygone era. They are also friends, thanks partially to The Sarge demanding his son take accountability and apologize.