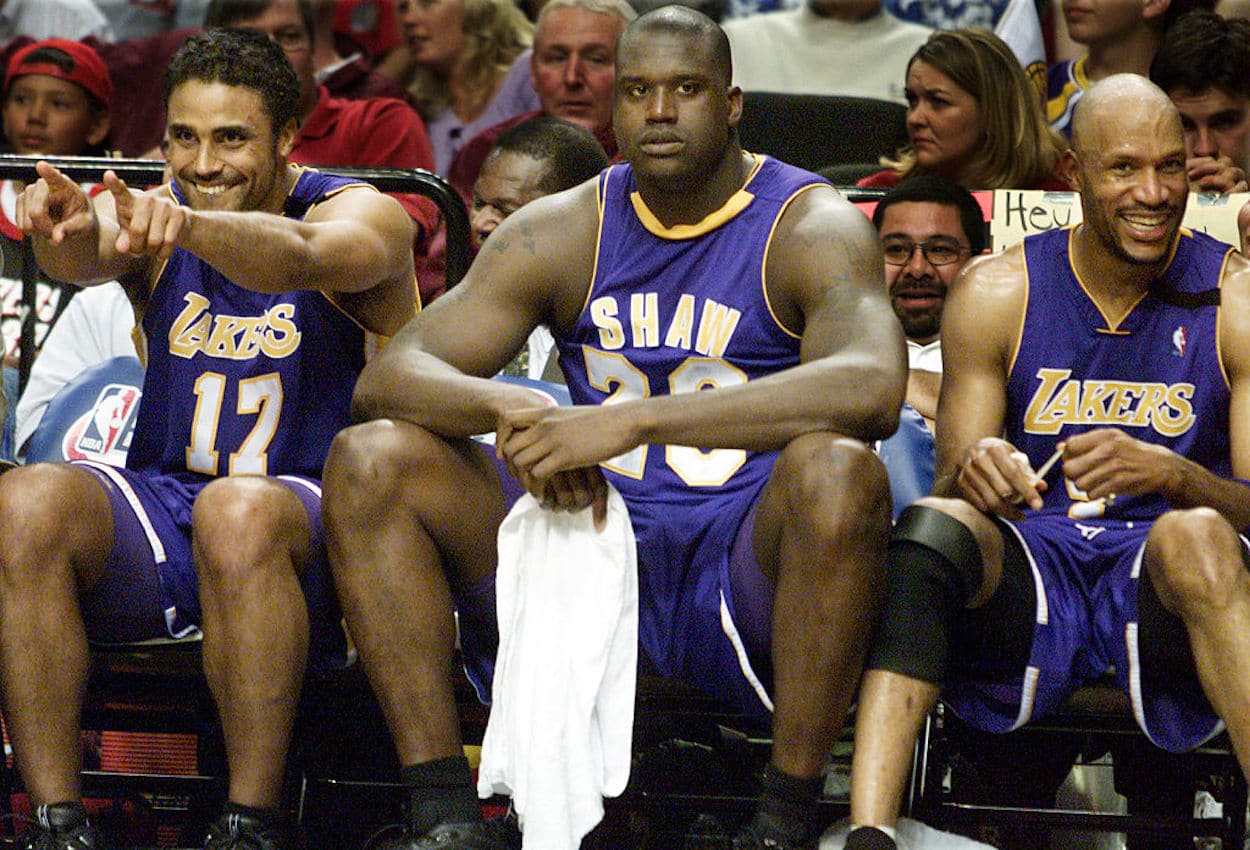 Shaquille O'Neal Remembers Dennis Rodman as His Worst Teammate Ever
Dennis Rodman was an elite rebounder, but that wasn't enough for Shaquille O'Neal to consider him a good teammate.
While some NBA players prefer to play things diplomatically and avoid rocking the boat, Shaquille O'Neal isn't one of them. The big man has always done things his own way and said what's on his mind, whether that means giving himself a new nickname or taking some shots at another center.
For better or worse, that tendency resurfaced on an episode of The Big Podcast with Shaq. When asked to name his worst teammate, The Diesel knew exactly who took that dubious distinction: Dennis Rodman.
Given The Worm's reputation, that might not be much of a surprise. O'Neal, however, still had some new details that give a bit of extra insight into Rodman's behavior.
Let the center explain.
Shaq remembers Dennis Rodman as a talented player who wasn't always the best behaved
During his time in the NBA, Shaquille O'Neal crossed paths with plenty of legendary players. When it came time to name his worst teammate, though, one name jumped to the top of the list.
"Worst teammate? Dennis Rodman," Shaq said during an AMA within The Big Podcast with Shaq. "He was a great player, but he made it hard."
So what does "made it hard" actually mean? The legendary center took us behind the curtain to understand Rodman's behavior.
Like when you try to corral the guys together and the people above you letting this one guy do whatever he wants, and rightfully so. So we had to be there an hour before the game, he'd come in 15 minutes before the game eating chicken and rice. Big-ass plate of chicken and rice. While the coaches are talking, he'll jump in the shower. Cold shower. Come and give you 15-20 rebounds. After the game, don't take a shower. … Just put his clothes on and go.

Shaquille O'Neal, The Big Podcast with Shaq
While that sounds like a reasonable trade-off for Rodman's defense and rebounding, it clearly left an impression on Shaq.
Rodman annoying O'Neal is a reminder that you can't build a fantasy team in real life
While Shaq's claims about Dennis Rodman aren't exactly surprising — The Worm was known for making some questionable choices, after all — they do provide a valuable lesson: chemistry, even if it seems fluffy, does matter.
During his time in Chicago, for example, Rodman was still a character; as we saw during The Last Dance, he dabbled in pro wrestling, dated celebrities, and even went AWOL in Las Vegas during the NBA Finals. Despite that, Michael Jordan praised the forward as "one of the smartest guys [he] played with." No talk of "worst teammates" there.
Phil Jackson's relationship with Rodman is an even more striking example. Despite some early tensions, the coach and player came to share a "Native American bond." The Zen Master realized that Rodman was different, and the forward appreciated being seen for who he was. Needless to say, that connection paid off.
Jumping forward to the 1998-99 campaign, things were a bit different. The Lakers weren't being led by Phil Jackson; instead, a combination of Del Harris, Bill Bertka, and Kurt Rambis ran the show. Shaq and Kobe were the two biggest names on the roster, but they were both still relatively young and trying to reach the NBA summit.
It was in that context that Rodman came to Hollywood. Given the different environment — he didn't have the support of Jackson, and both Shaq and Kobe, for all their talent, didn't dominate the locker room like Michael Jordan — things didn't last. The forward did pull down 11.2 rebounds per contest but only spent 23 games with the Lakers before being waived.
In the modern era of stars, super teams, and fantasy sports, it's easy to think that the easiest way to succeed is to cram as much talent as possible onto the roster. Dennis Rodman's brief cameo in Hollywood, however, reminds us that chemistry and team composition does matter.
Stats courtesy of Basketball-Reference