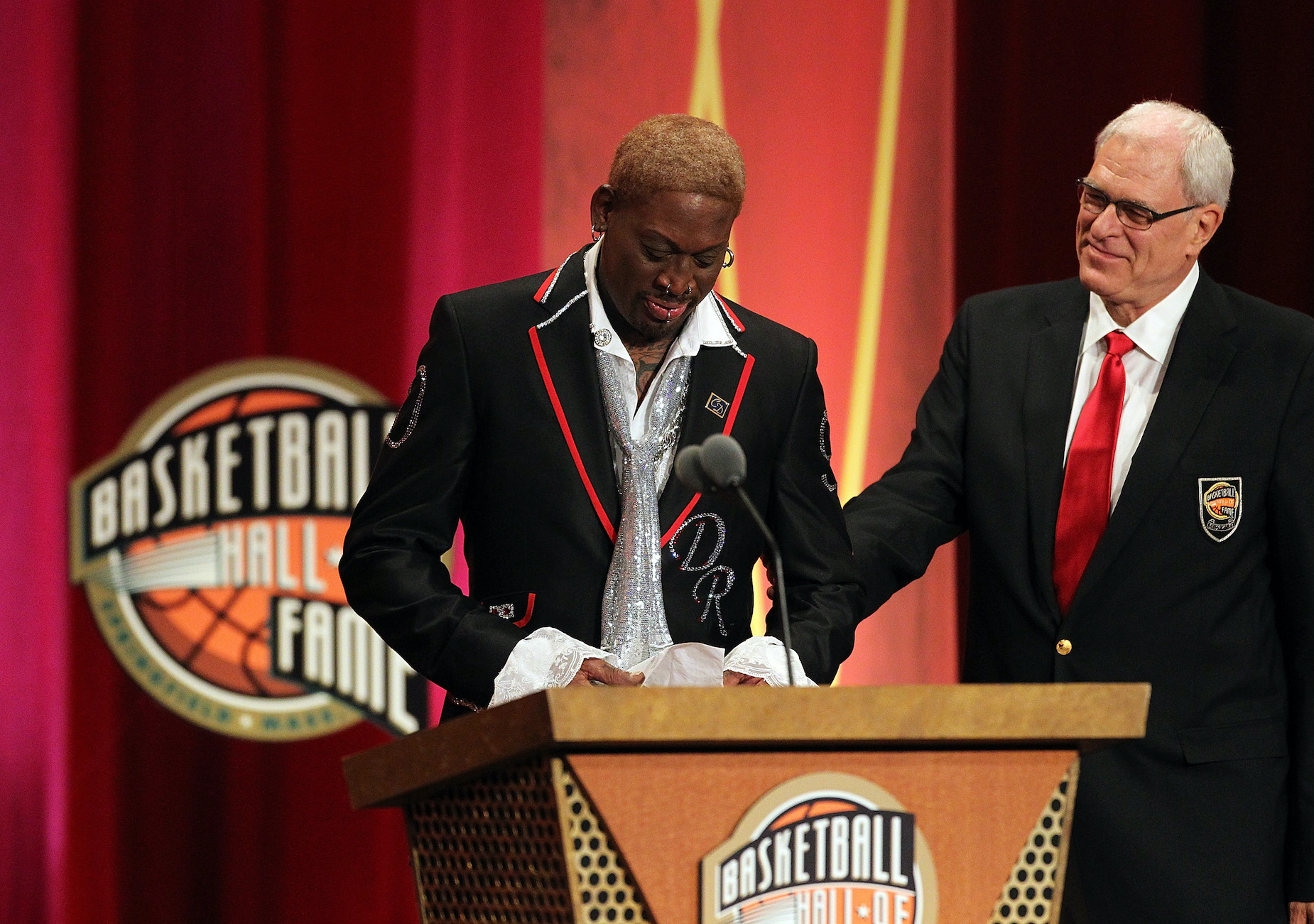 Dennis Rodman Made the Worst First Impression on Phil Jackson Before the 2 Men Developed 'This Native American Bond'
Dennis Rodman always does things his own way. Phil Jackson experienced that reality firsthand.
During his time in the Association, Dennis Rodman developed a reputation as someone more than willing to push the envelope and do things his own way. For better or worse, the Worm didn't always play by the rules. Just ask Phil Jackson about that.
While the legendary head coach and Rodman eventually developed a "Native American bond," the two men didn't always hit it off. In fact, the forward made an awful first impression on his new boss when he joined the Chicago Bulls.
Dennis Rodman and Phil Jackson have very different public images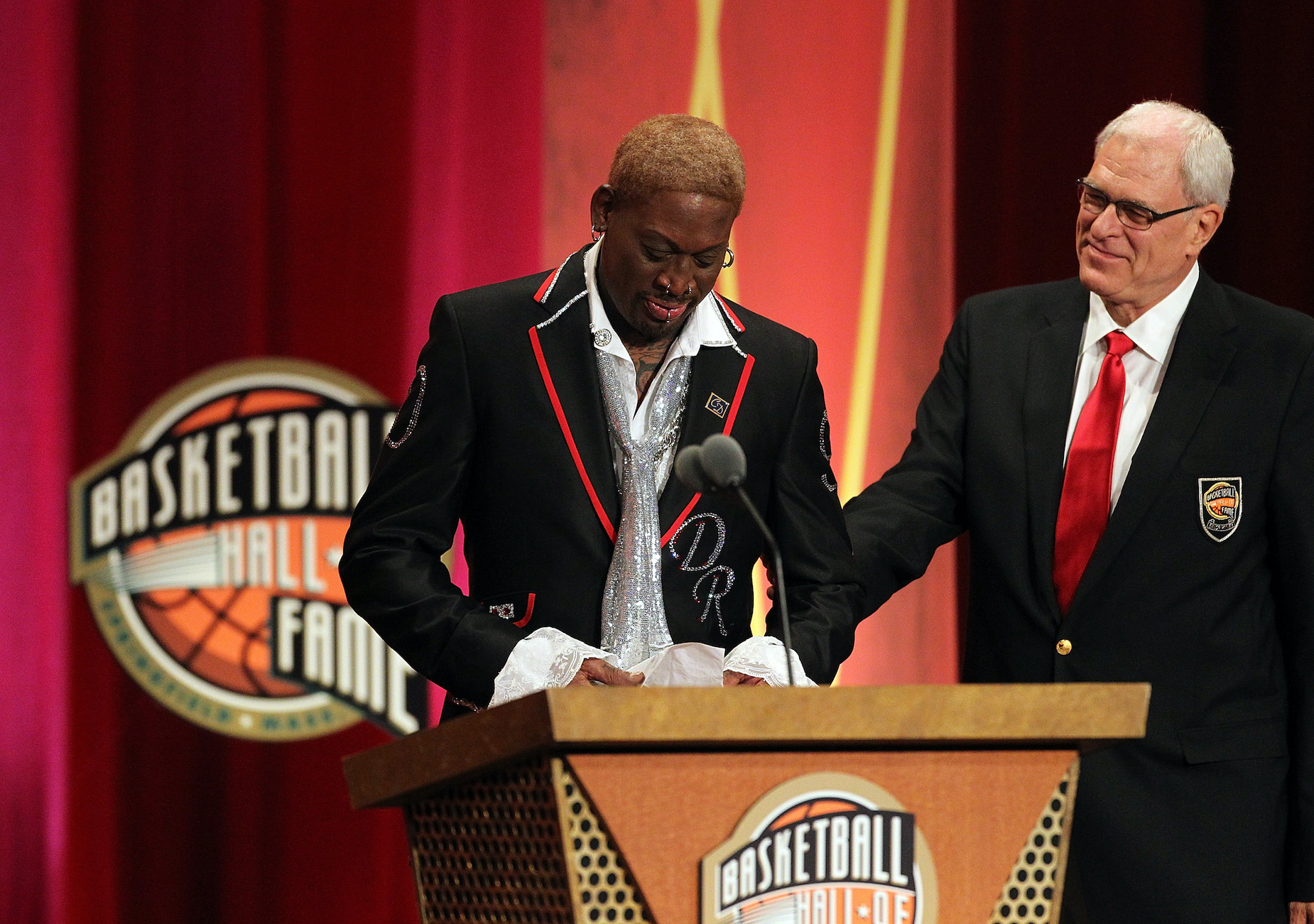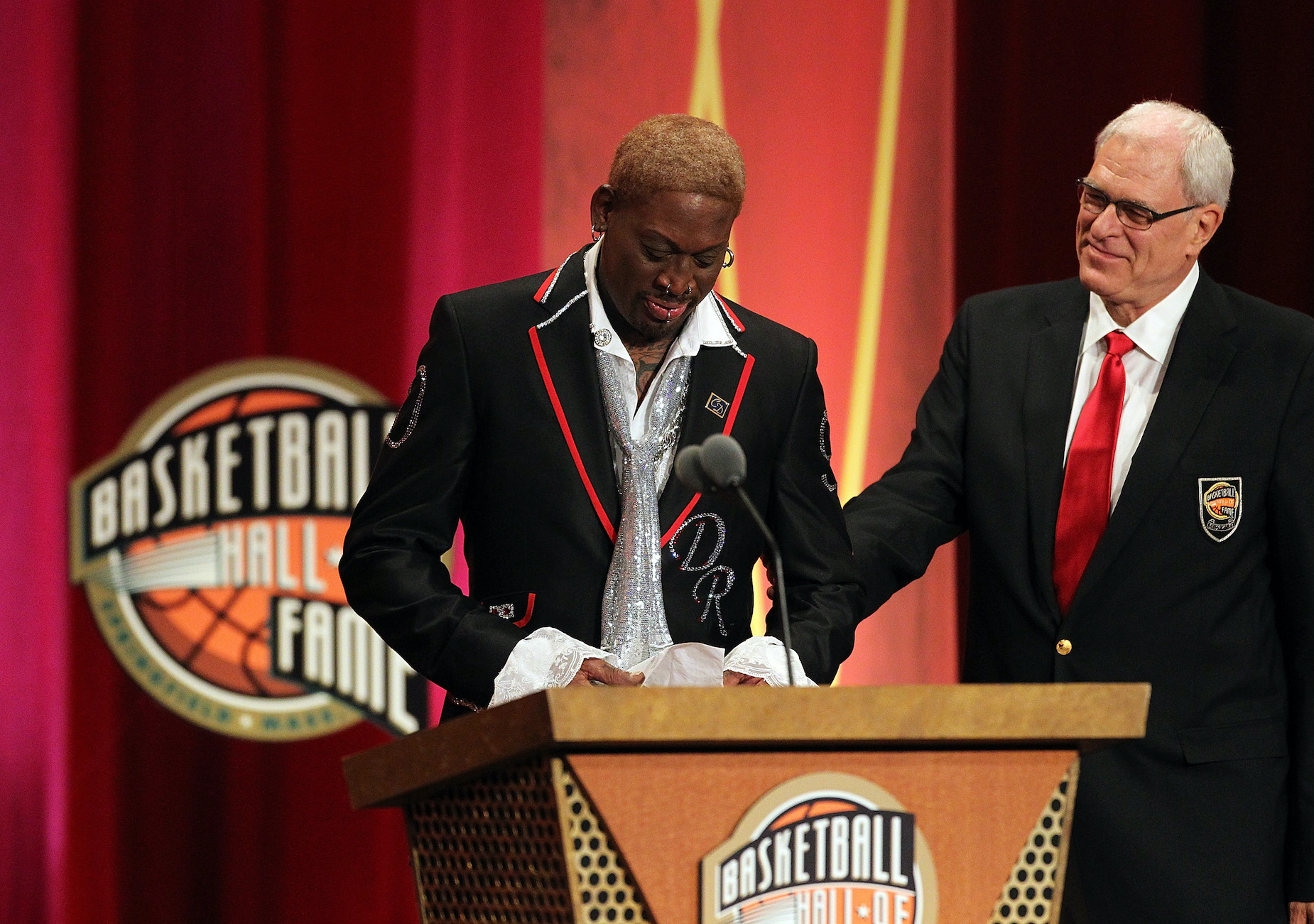 As fans in the stands, none of us know what professional athletes are really like on a personal level. Based on what we've seen over the years, though, it's pretty safe to conclude that Rodman and Jackson go about their business differently.
Even if you've never watched an NBA game in your life, you're probably familiar with Rodman's eccentricities. While the forward proved himself to be a capable player on the hardwood, he also became famous for his extracurricular activities. The Worm dyed his hair a variety of different colors, donned a wedding dress, and dated multiple celebrities.
Not everything was fun and games, though. He also kicked a cameraman, earned himself multiple suspensions, and received a hefty fine after making a public comment about all the "f****** Mormons" in Utah.
If Rodman lacked impulse control, Jackson sat firmly at the other side of the spectrum. During his time in the Association, the coach became known as a "zen master," using a blend of Eastern philosophy and Native American thought to bring the best out of his players. He instituted the triangle offense, which stressed sharing the ball, gifted his players books he thought would speak to them, and encouraged players to think rather than simply chewing them out.
The Worm made an awful first impression on his new coach
According to the old cliche, there's no second chance to make a first impression. While that may be true, it didn't seem to bother Rodman.
As seen during The Last Dance and as documented by NBC Sports Chicago, the Worm didn't exactly go out of his way to win over Phil Jackson after he joined the Chicago Bulls. In fact, he seemed pretty unenthusiastic about the entire situation.
"It was awful," Jackson recalled. "I walk into Jerry Krause's house. [Rodman's] sitting on the couch. He's got a pool boy hat over his eyes. He's got the rings in his nose and his mouth, and he doesn't stand up to greet me. I said, 'Stand up, Dennis, take your hat off, shake hands. Let's go outside and talk.'"
While the forward told a slightly different version of the story, the interaction was still far from textbook.
"We had to break bread then, at the house," Rodman said. "So he basically said, 'Dennis, do you want to come play for the Bulls?' I said, 'I don't care, whatever. What's up?'"
Dennis Rodman and Phil Jackson eventually forged a 'Native American bond' and won 3 NBA championships
Despite that rough start, Rodman and Jackson eventually found common ground. Both men appreciated Native American tradition, and based on that reality, they found themselves speaking the same language.
"Dennis and I had this Native American bond between us," Jackson explained, according to the NBC Sports writeup. "In the team room, I had a bear claw necklace, a turtle shell that came from another reservation, and various other Indian artifacts. Dennis is like, 'Wow, I have this necklace from the Ponca Indians in Oklahoma. I'm hip to that.' I say, 'Well, Dennis, in their tradition, and the tradition that I knew, you would be a heyoka — a backward-walking person. They were people that were different, and they were a heyoka. So you're the heyoka in this tribe.'"
For the Worm, that acceptance made all the difference. For a man who felt like an outsider before unabashedly embracing his own uniqueness, he now felt like he was working with someone who understood him.
"Phil realized that I was different, man," Rodman added. "Phil knew me so well because he knew I needed to get my head right. That's what was so cool about playing with that team. If anybody needed something, they were all about it. And Phil was very cool about it."
From a basketball perspective, that personal relationship seemed to pay off. While Rodman had some bizarre moments during his time with the Bulls, he also proved to be a perfect counterpart to Michael Jordan and Scottie Pippen. He served as a key part of Chicago's second three-peat, and then everyone went their separate ways.
Based on the quality of players he worked with, some could cynically question Phil Jackson's coaching chops. Looking at his work with Dennis Rodman and the Bulls, however, shows that, if nothing else, he had a knack for relationship management.