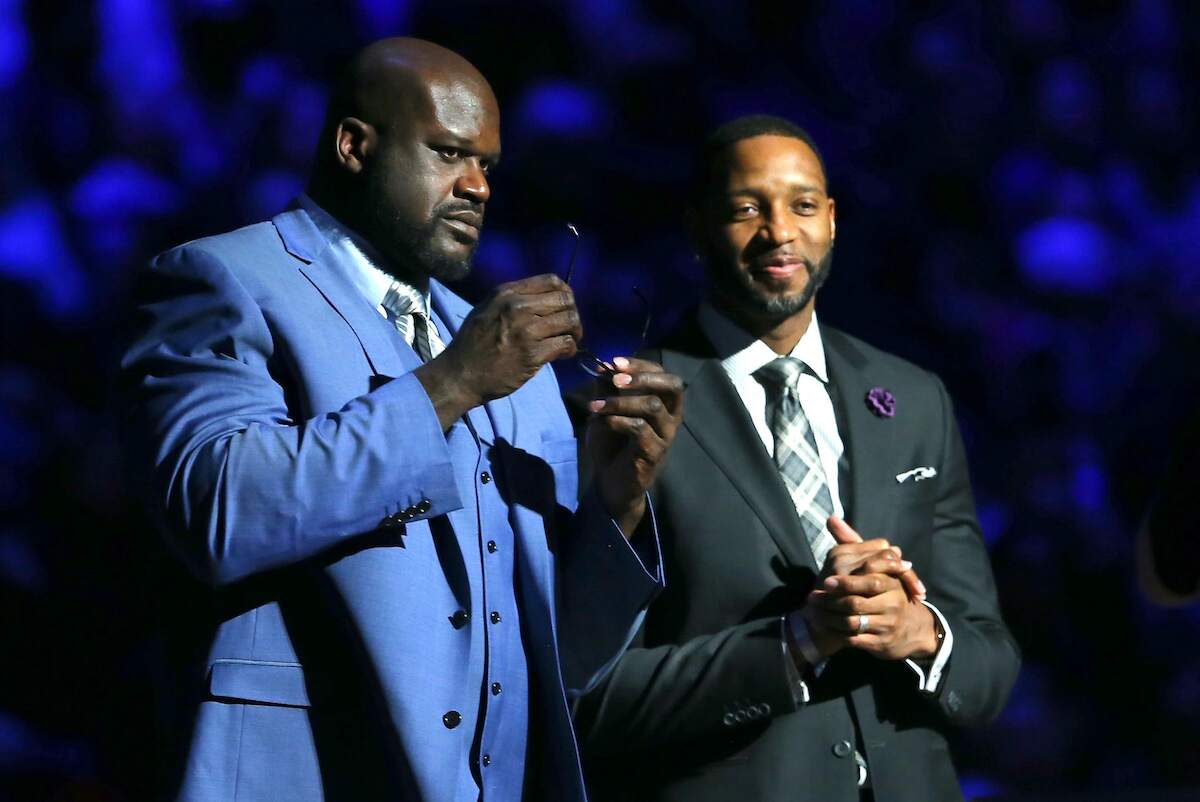 Shaquille O'Neal Reveals 4 Players He Respected So Much, He'd 'Let Them' Score on Him
NBA Legend Shaquille O'Neal was dominant on both sides of the floor, but he would allow four specific players to score at will against him.
Shaquille O'Neal was one of the most dominant players to compete in the NBA. The Big Diesel could exert power over an opposing team anytime during a game. However, Shaq didn't always play his hardest against certain competition. 
The Hall of Fame center said he would allow four players to score at will against him. He was a fan of their games and enjoyed watching these All-Stars. O'Neal gave these players' games the utmost respect.
Shaquille O'Neal dominated the NBA for 19 years
At 7 feet, 1 inch, the Big Aristotle used his 325-pound frame to impose his will on opponents. Shaq averaged 23 points per game for his career, dominating the interior.
Because of his size, the three-time MVP posterized countless players. His emphatic dunks were always highlight-worthy, sometimes causing the rim and backboard to break. When opposing players guarded Shaq, they were often victims of his exceptional footwork. The combination of phenomenal footwork and power at the rim made O'Neal almost unguardable down low.
His offensive game wasn't his only dominant skillset. Shaq averaged 2.3 blocks per game for his career, swatting back shots regularly. He averaged 3.5 blocks a game his rookie year, a career-high. Opponents had a tough time trying to score over O'Neal's 7-foot-7 wingspan. 
As good as Shaquille O'Neal was, he didn't play every opponent the same. The four-time champion admitted he wouldn't play as hard on defense against a few players. He respected their game so much that he wanted to watch them work, even if it hurt his team.
Shaq admits he would let four players 'do what they wanted' against him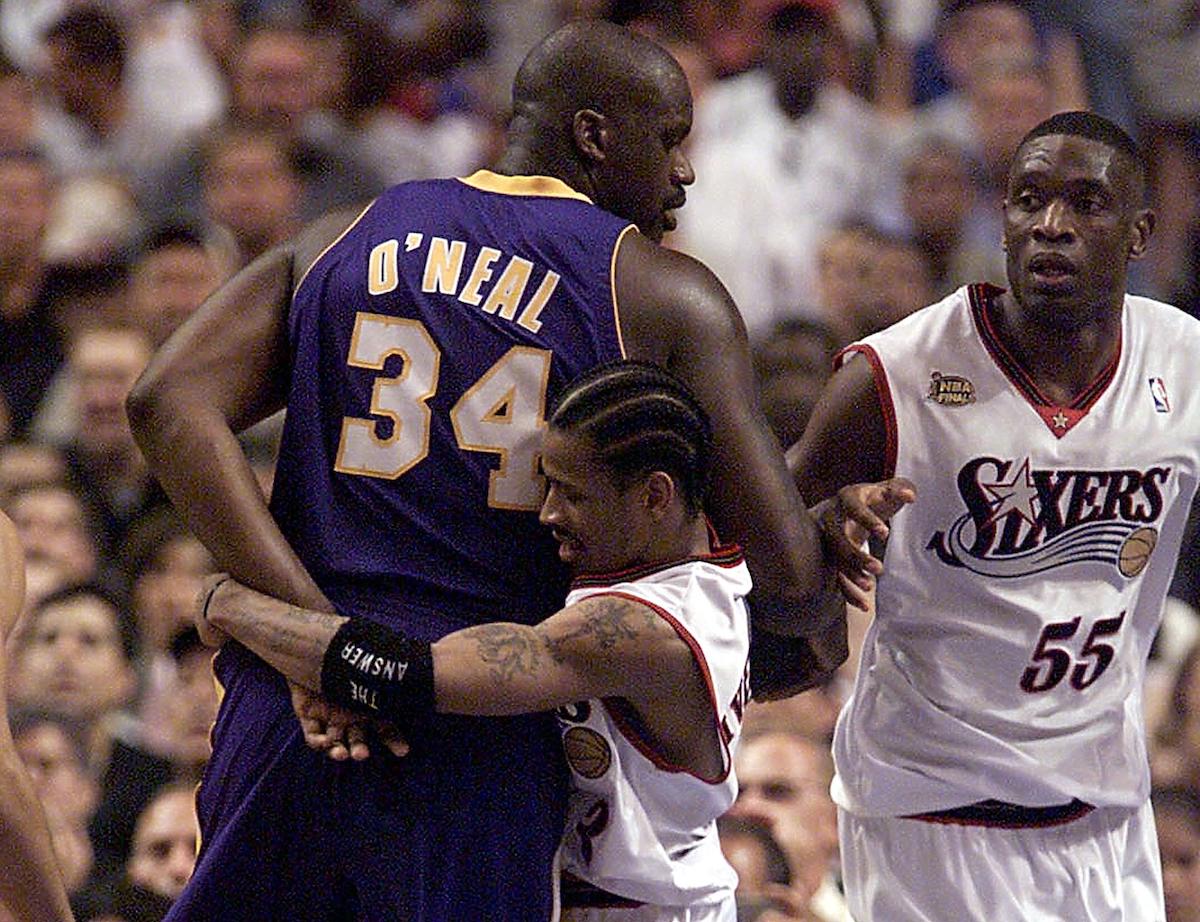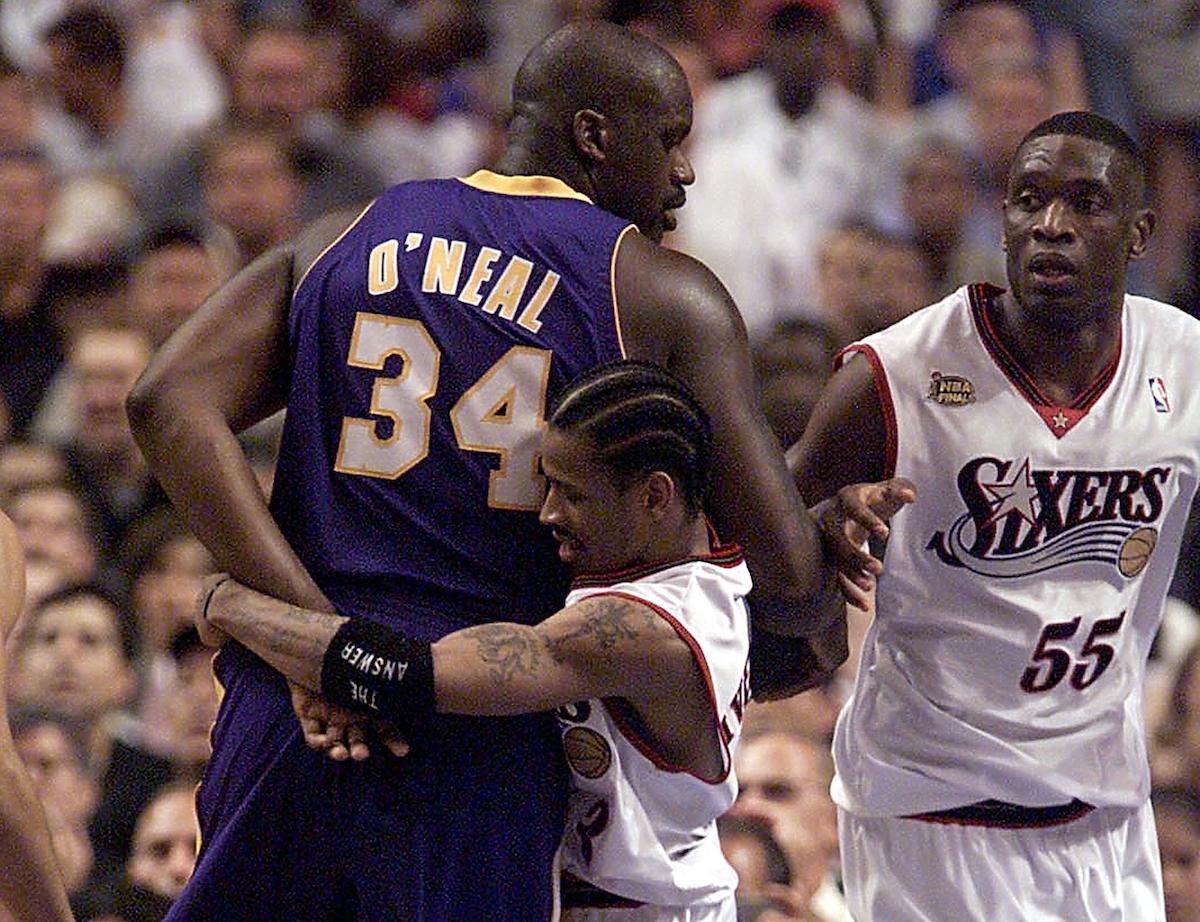 Many amazing talents faced Shaquille O'Neal during his playing days. His teammate, the late Kobe Bryant, served as one of them. Shaq faced some extraordinary players, but four were so special that he didn't even try guarding them. O'Neal was such a fan of their games; he'd rather watch them score than block their shots.
"There were guys that when we played them, I was such a fan I let them do what they wanted on me. White Chocolate [Jason Williams], I want him to go to work. Vince Carter, A.I. [Allen Iverson] and Tracy McGrady," O'Neal said per The Adam Lefkoe Podcast.
Shaq's claim sounded so crazy he asked former teammate Dwyane Wade to back him up. O'Neal's list is stacked, as all four players had unique offensive talents that tormented opposing defenses.
Jason Williams was a prototypical point guard. He had surreal handles and was among the most underrated passers in the history of the NBA. Vince Carter's ridiculous leaping ability made him a walking poster for anyone in his way, and he was a decent 3-point shooter. McGrady was a pure scorer, getting buckets at every level of the floor.
Allen Iverson had a one-on-one mentality, wanting to embarrass defenders with his iconic crossover. O'Neal faced him in the 2001 NBA Finals. He elaborated more on Iverson than the other four players he named, saying the former MVP was such an extraordinary athlete.
Shaquille O'Neal praises Allen Iverson's game
It's no secret that Allen Iverson was a problem on the court, averaging 26.7 points per game for his career. He might've been undersized at 6 feet, but that didn't stop him from torching opposing defenses. Shaquille O'Neal knew Iverson was an extraordinary talent. He would watch the guard work without interference each time they played each other.
"Whenever we played A.I., I liked him crossing over, and he was tough. I could've blocked his shot multiple times; I just didn't want to," O'Neal told the Lefkoe Show.
Shaq and the Lakers stopped Iverson's Philadelphia 76ers from winning the title, beating them 4-1 in the 2001 NBA Finals. That would be the closest A.I. ever came to a championship in his career. Iverson and Shaq were part of the same Hall of Fame induction class, something O'Neal cherishes to this day.
"Iverson had the heart of a lion. He did it his way. I was glad to go into the Hall of Fame with him," O'Neal said.
Shaquille O'Neal couldn't help but admire the talent of four of his NBA counterparts. Not playing the strongest defense against Williams, Carter, Iverson, and McGrady was unwise, but who could blame Shaq? O'Neal just wanted to see their brilliance at its fullest potential.
Stats courtesy of Basketball Reference