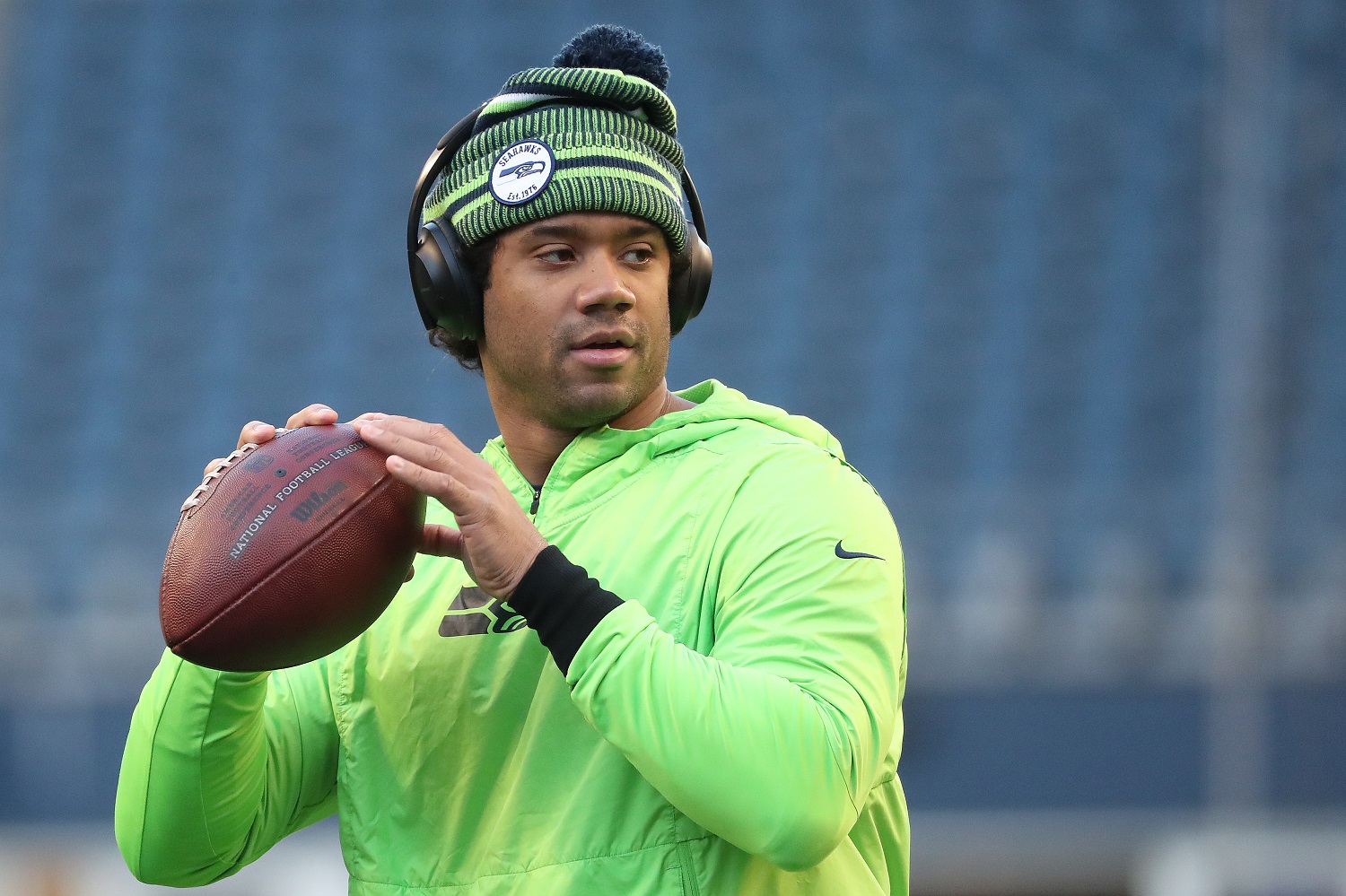 The Sharks Are Still Circling as Russell Wilson and the Seahawks Hash Out His Future
Russell Wilson probably has not thrown his last pass for the Seattle Seahawks, but his future remains unclear. He traveled to Mexico wife Ciara recently to swim with sharks and get his mind off the drama.
Time is running short on the Seattle Seahawks as they figure out how to address their Russell Wilson problem. The team is treading water at the moment because it isn't genuinely clear just how disenchanted their star quarterback really is or what his trade value might be with so few potential bidders.
Russell Wilson has impeccable credentials
Russell Wilson leads a charmed life. He grew up as the son of another outstanding athlete, Harrison Wilson, who went on to a distinguished career in the education field. He's married to Ciara, a wildly talented and dynamic entertainer. Topping it off, Wilson is more than halfway to establishing no-doubt Pro Football Hall of Fame credentials.
Wilson has already won a Super Bowl with the Seattle Seahawks and been selected to the Pro Bowl seven times. He's also made 144 consecutive starts since arriving in the NFL as a third-round pick from Wisconsin in the 2012 NFL draft.
Wilson has thrown 267 touchdown passes and just 81 interceptions in his nine seasons. Combined with almost 34,000 passing yards in the bank and 4,500 on the ground, he's well on his way to posing for a Hall of Fame bust a decade or so from now.
Playing probably his poorest playoff game earlier this year in the Seahawks' one-and-done postseason can't change that.
Russell Wilson holds all the cards
The Seattle Seahawks have won just one playoff game in the past three years, and the latest loss didn't sit well with Russell Wilson. The veteran quarterback went public with his frustrations over the state of the team. With Deshaun Watson demanding a trade from the Houston Texans, the speculation started that Wilson and Seattle might also have irreconcilable differences.
The situation has since evolved into one in which Wilson has signaled a preference to remain with the Seahawks. If they decide to move him – and remember that Wilson has a no-trade clause – the QB has issued a shortlist of teams he'd play for.
It's a sticky situation for everyone. Wilson wants a better offensive line at a time when Spotrac.com projects just $11.1 million in cap space and the Seahawks aren't blessed with a full set of draft picks. Seattle could theoretically manipulate the cap hit in a trade that would yield valuable draft picks, solving half their dilemma.
On the other hand, potential trade partners smell the blood in the water. They might be willing to pay for a franchise quarterback, but not overpay. And the Seahawks would still need someone to line up behind center in 2021.
Seattle's celebrity power couple went swimming with sharks
Russell Wilson spends his Sundays eluding oversized linemen and linebackers, not to mention the occasional blitzing safety. Getting in the shallow end of the ocean with sharks doesn't constitute child's play by comparison, but Wilson and wife Ciara gave it a shot anyway, according to NBC Sports.
In the midst of the frenzy of speculation about his football future, the couple traveled to Mexico for some relaxation – assuming one can actually relax when surrounded by sharks.
Wilson and Ciara posted photos of themselves in the water while surrounded by what appeared to be nurse sharks. "Swimming w/ the Queen Shark. @Ciara," he captioned one of his photos.
For what it's worth, nurse sharks are relatively docile. They're more inclined to dine on crabs than attack humans unless provoked. Of course, it took just one disappointing playoff loss to set off Wilson and create a frenzy.
Like Sportscasting on Facebook. Follow us on Twitter @sportscasting19.