The Shot ESPN Took at Maria Taylor Is So Subtle That You Might Miss It, but It's Undeniably There
The buzz that Maria Taylor generated this summer as her contract negotiations came down to the wire might have led some to believe that ESPN executives didn't think they could replace her. She left, and the sentiment seems to have changed.
It's not that the cable sports network can't replace her. Rather, ESPN isn't going to bother replacing her. That's a heck of a parting shot at a rising star in the business in the eyes of many.
There was more than money behind Maria Taylor's ESPN departure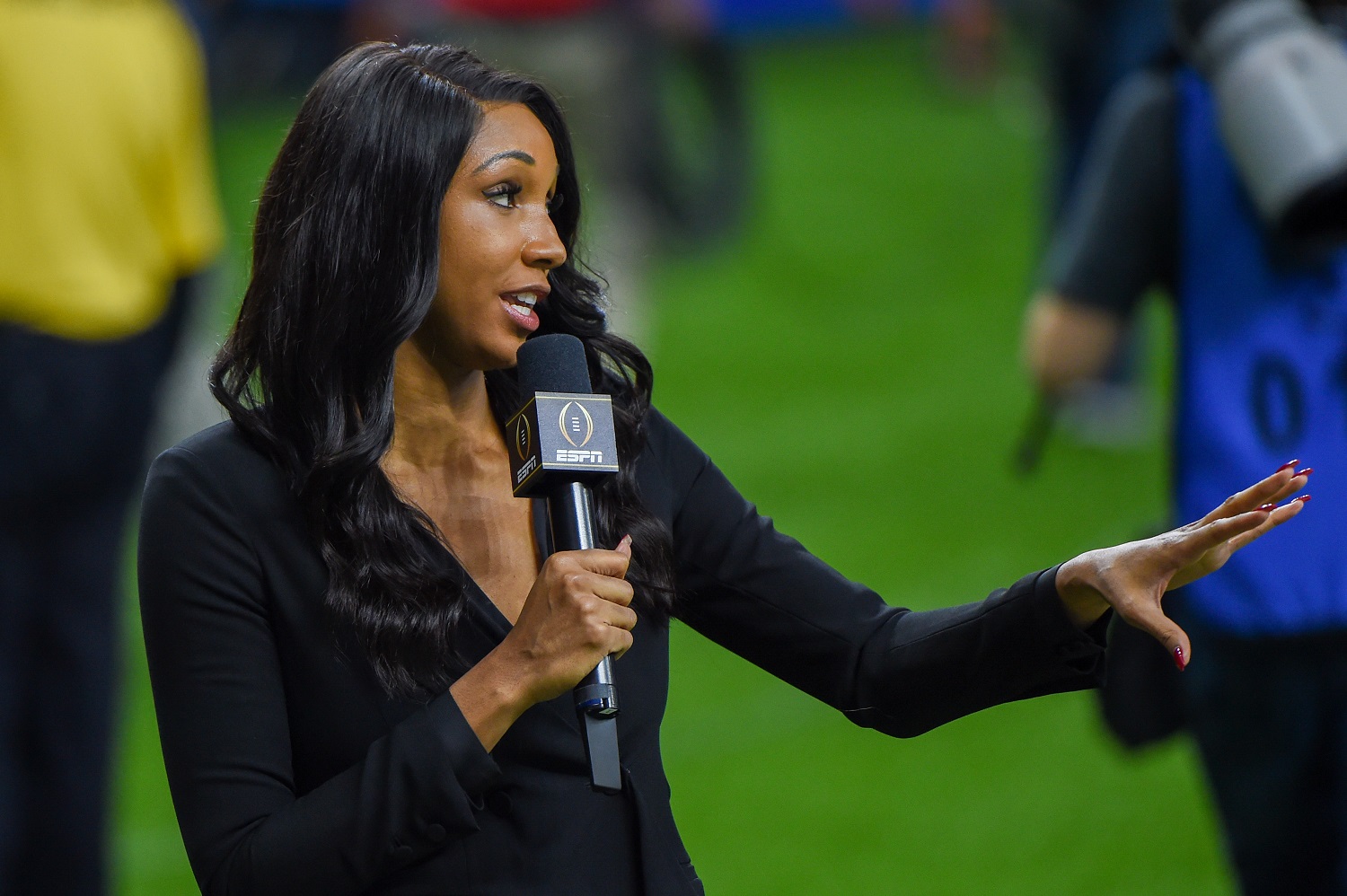 Cynics don't believe that a year-old story about ESPN reporter Rachel Nichols' displeasure with the network picking Taylor for a lead position on coverage of the finals of the 2020 NBA playoffs resurfaced randomly.
The story of a Nichols phone conversation with a friend, in which she all but accused ESPN of letting skin color influence assignment decisions, leaked out a year ago. The New York Times acquired the audio and reported in detail on racially tinged strife at the network just as Taylor's contract negotiations heated up.
If that was supposed to apply the screws to ESPN to present Taylor with a huge raise and more prominent assignments, then it didn't work. The clock ran out on her contract without the sides striking a deal. Taylor left for NBC, which quickly added her to Olympics coverage. She will likely contribute to college and pro football telecasts this fall.
The NYT story indicated that Taylor's final months at ESPN saw colleagues choosing sides between her and Nichols. Escaping that atmosphere surely goes into the win column for Taylor.
The shot ESPN took at Maria Taylor is subtle
ESPN isn't adding anyone to College GameDay this fall to replace Taylor, Front Office Sports reported.
"There are no immediate plans to replace that role," ESPN said in a statement. "We look forward to kicking off the 35th season of College GameDay with our talented crew, including Rece Davis, Lee Corso, Kirk Herbstreit, Desmond Howard, David Pollack, Chris 'The Bear' Fallica, and reporters Jen Lada and Gene Wojciechowski."
All are veterans of the show. The only perceivable change might be more contributions from Wojciechowski and Lada, who joined the show in 2012 and 2016, respectively. With Tom Rinaldi having departed ESPN for Fox Sports in December 2020, they will have more room for storytelling and essays.
However, ESPN obviously feels that Taylor, who joined College GameDay in 2017 as the replacement for Samantha Ponder, offered nothing that the rest of the weekly cast cannot pick up. Translation: She won't be missed.
Holly Rowe will pick up some additional duties
It's not as though Taylor did nothing of value at ESPN. However, even after waves of cost-cutting casting aside on-air personalities, the network possesses a deep bench and has not needed to make panic hires to fill her other roles.
Already, ESPN has announced that Holly Rowe will take on Taylor's responsibilities as the sideline reporter on its Saturday night college football games.
ESPN's bigger decision will be what to do once basketball season arrives. Taylor had worked her way up from a mix of responsibilities to hosting NBA Countdown beginning in 2019. That was her signature assignment by the end of her tenure, and ESPN will have to decide what's next.
Someone like Nichols could handle the role with ease, but the Taylor-Nichols history takes that possibility off the table. Even if executives in Bristol have hurt feelings over Taylor leaving for NBC, putting Nichols into Taylor's most visible former role would be awkward.
If they stay in-house and promote someone rather than poaching from outside the company, however, it both saves money and reminds Taylor that they never thought of her as indispensable.
Like Sportscasting on Facebook. Follow us on Twitter @sportscasting19.