Slam Dunk Contest Champ Dee Brown Got Some Dunking Advice From an Unlikely Source — Kevin McHale
Back in the 1990-91 NBA season, the Boston Celtics were an aging group. Larry Bird was 34 and suffered from back problems. Robert Parish was 37, and the third of the Big Three, Kevin McHale, was 33. Dee Brown, Boston's first-round pick in 1990, was part of a young group that included Reggie Lewis and Brian Shaw that was to take over the reins in Boston.
While Brown played eight seasons with the Celtics, he never became that next superstar. He had a solid career, averaging 11.6 points in his eight years with the Celtics. In his first season, he finished fourth in the Rookie of the Year voting, but he made his mark in the 1991 Slam Dunk Contest. He also got some advice for the event from McHale, the unlikeliest of sources.
Dee Brown dominated the 1991 Slam Dunk Contest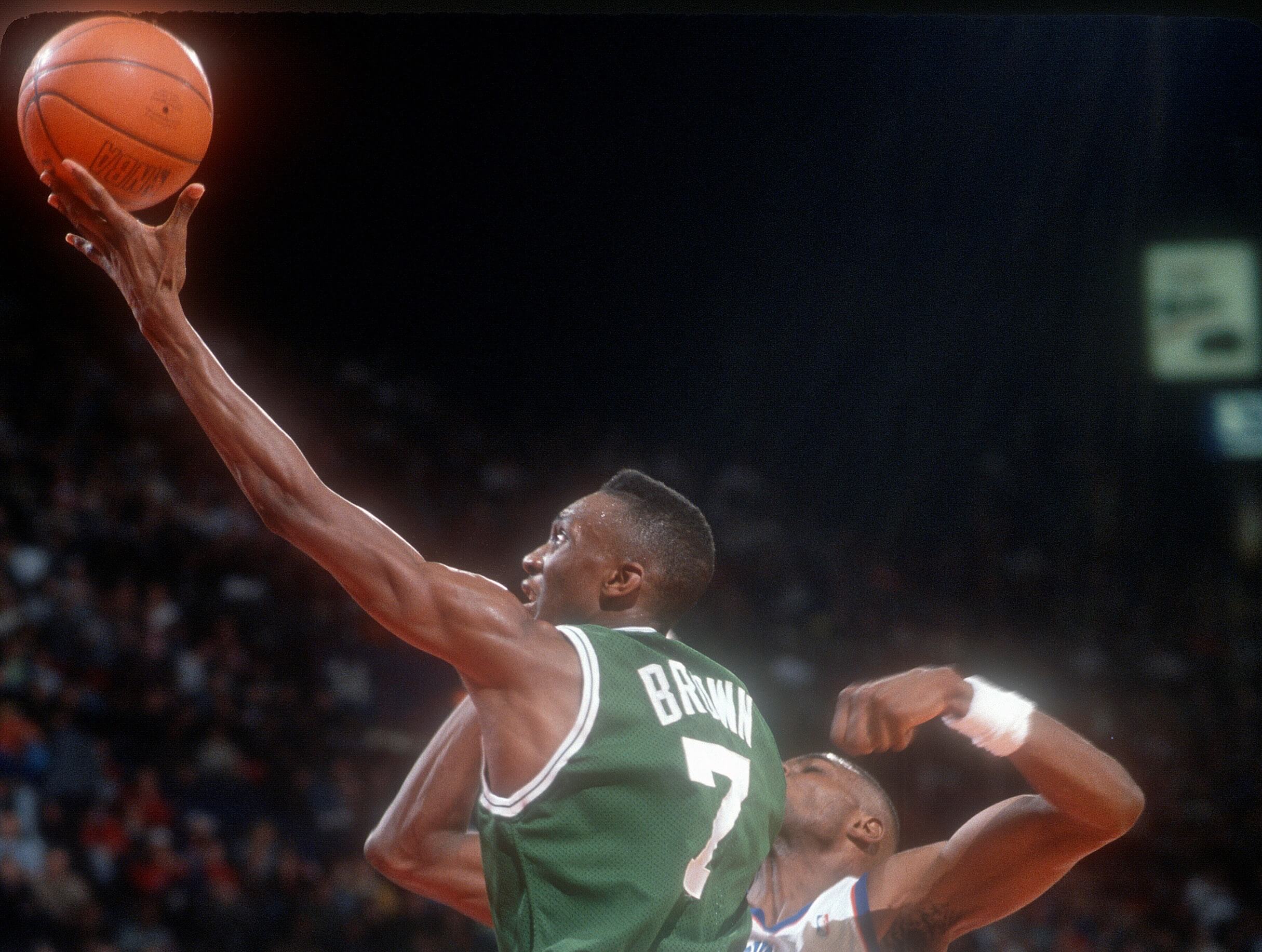 You may remember Brown for his performance during the 1991 NBA All-Star Weekend when he took part in the dunk contest. He was the one who dunked two balls at once, grabbing one off the back of the rim and jamming it home after he slammed the first one with his left hand. Brown made himself known by playing to the Charlotte crowd when he squeezed the pump on the tongue of his Reebok Pumps before each dunk.
Brown also capped his victory by dunking the ball with his arm covering his eyes in the final round against the favorite, Seattle SuperSonics star Shawn Kemp. That dunk, combined with winning the event, made Brown an instant celebrity.
"The day after, there was a full-page ad showing me with my arm covering my eyes in USA Today," Brown told Chad Finn of Boston.com in 2016. "I did stuff all over New England, New Hampshire, Maine, autograph signings, judging dunk contests at malls, and the crowds were crazy. I went to China and Taiwan doing dunk shows.
"It happened so fast. All of a sudden, I'm doing Dunkin' Donuts commercials with the "time to make the donuts" guy. I'm 22 years old, and suddenly I'm with the "time to make the donuts" guy, who I've seen on TV a million times before. It blew my mind. You hear the term a person becoming a star overnight. That really happened."
Brown admitted he got some dunking advice from Kevin McHale
Brown wasn't supposed to win that contest. Kemp was the overwhelming favorite, but Brown played to the crowd and executed some impressive dunks. He also said he got some advice from McHale, the unlikeliest of players when it comes to dunking.
"It wasn't Reggie and Brian and the other young guys who gave me input," Brown told Finn. "Kevin was actually the guy who was trying to give me the advice on dunking.
"We talked a lot about it. And I'd say, 'Kevin, you haven't dunked in like six years. You can't give me advice on dunking.' But he had ideas. It was mostly Kevin who helped.
"Larry, he was just happy for me. He said, 'Glad to have another Celtic representing us at the All-Star Game.' That was special. It was a big weekend for the Celtics. Larry, Kevin, and Chief (Parish) were playing in the game. Chris Ford was the (Eastern Conference) coach in his first season. I was proud to be part of it."