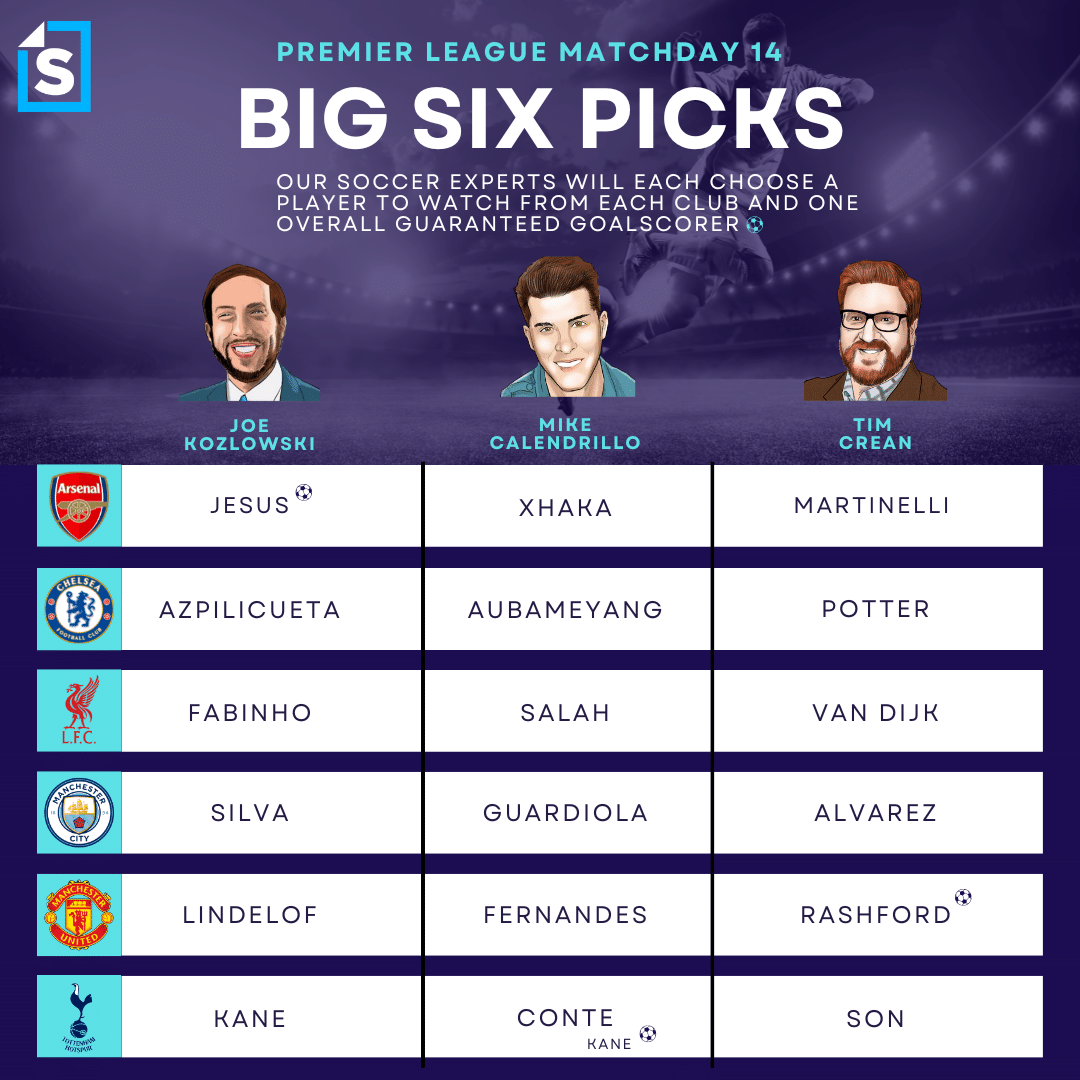 Sportscasting Big 6 Picks: Premier League Matchday 14
Can Arsenal escape their funk? Who will step up for Manchester City with Erling Haaland on the sidelines? We'll find out during Premier League Matchday 14.
While there were no domestic games during the week due to European engagements, Premier League soccer returns for another weekend matchday. There aren't too many eye-catching fixtures on the slate — Seriously, whose idea was putting Fulham and Everton as the NBC game? — but some storylines are back on the table. Can Arsenal escape their funk and stay in first place? Can Tottenham break their losing skid? Which Liverpool will show up against Leeds? Who will score for Manchester City in the absence of Erling Haaland?
With that in mind, let's get to the picks. Whether you want to know what to expect this weekend or you're simply waiting to tell us how wrong we were on Monday, we've got you covered.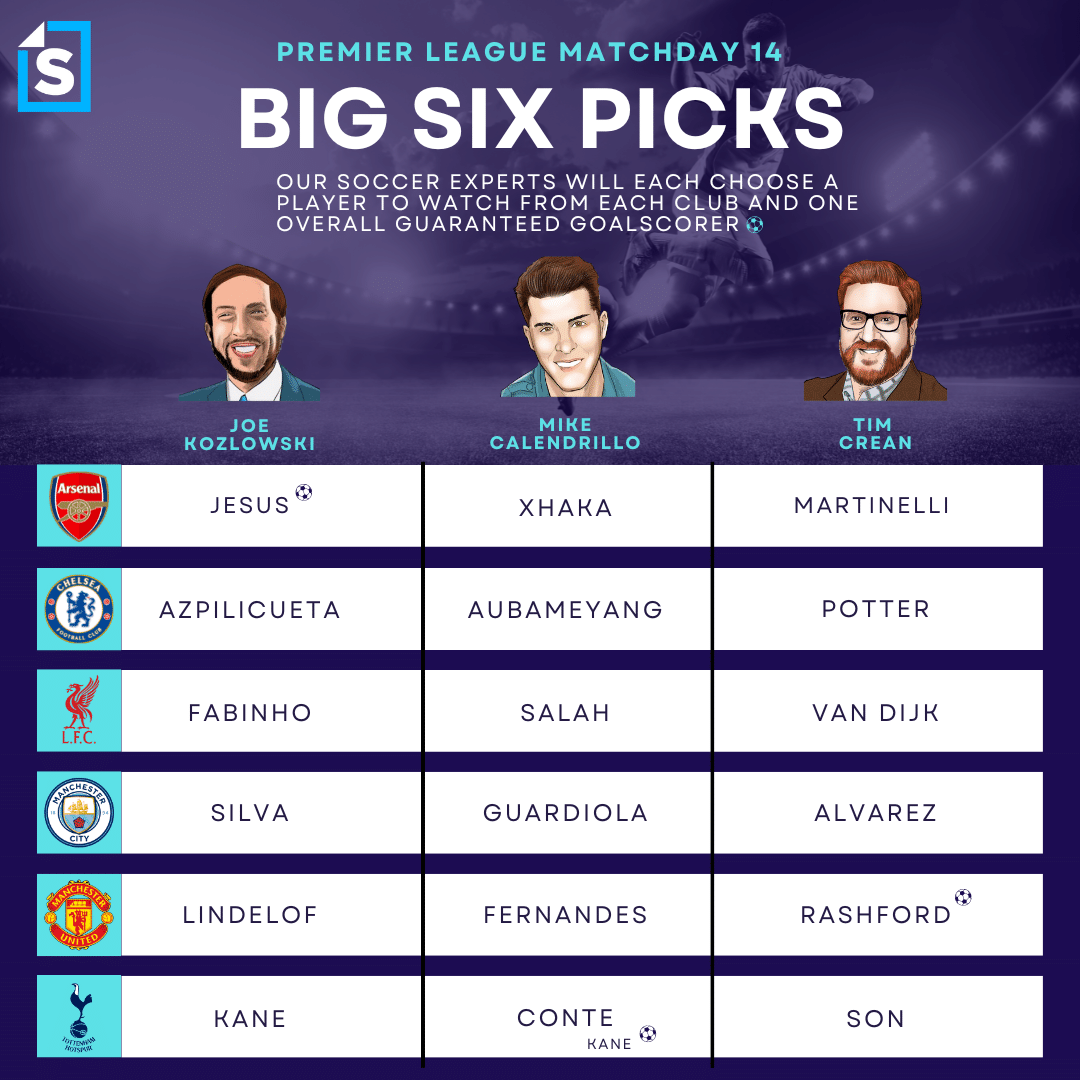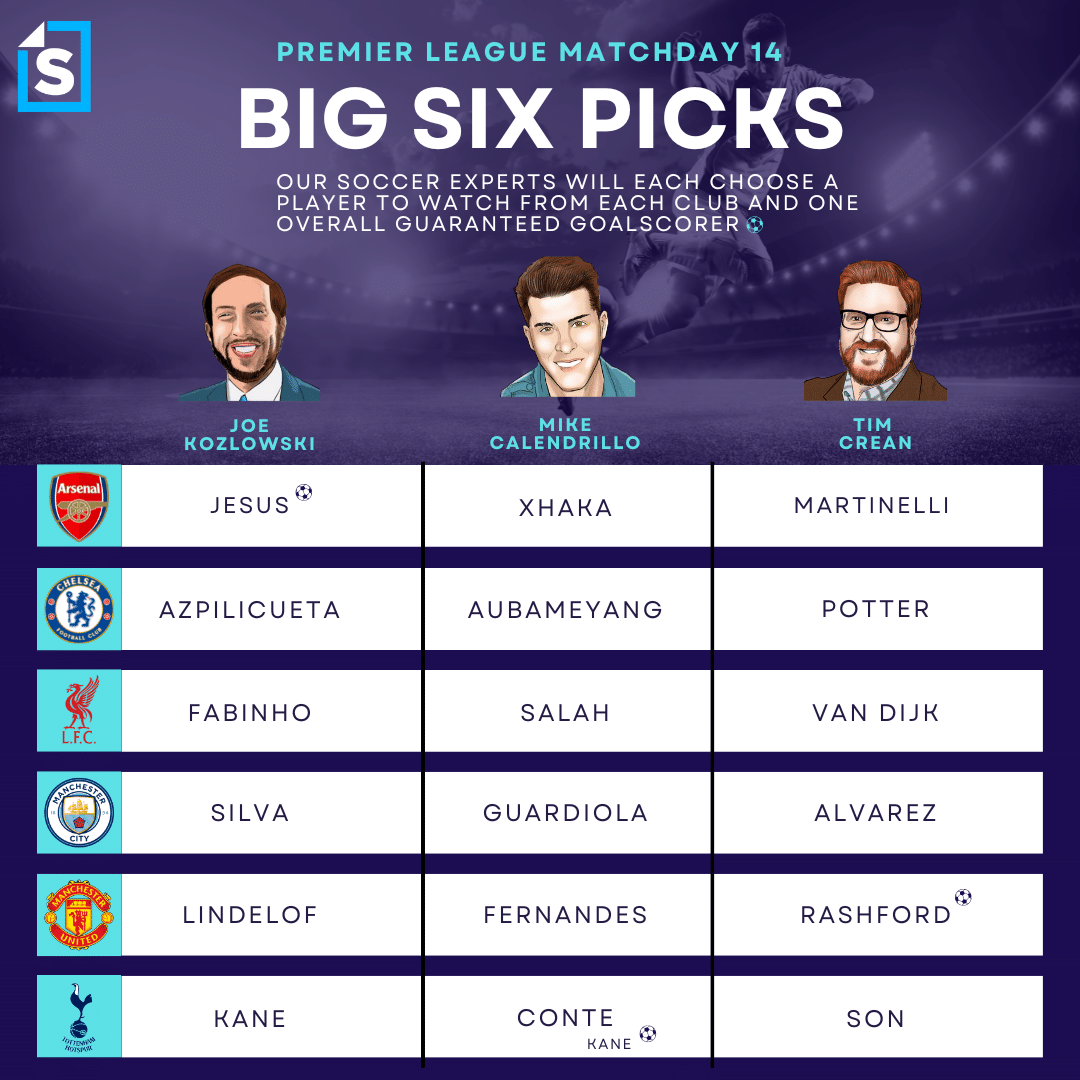 Manchester United vs. West Ham
Joe Kozlowski: Victor Lindelof – With Raphael Varane injured, Victor Lindelof is the obvious replacement in defense (you don't want to go full Harry Mcguire). Whether West Ham starts Mikael Antonio or Gianluca Scamacca, there will be a physical challenge looming for the United back line. Lisandro Martinez has proven to be largely up to the task; can his new partner hold up his end of the bargain?
Mike Calendrillo:  Bruno Fernandes – United have won their last four league games against the Hammers, their best run since an eight-game streak between 2008 and 2012. Losing just one of their past 14 home matches (8 wins, 5 draws) can be attributed to a number of players stepping up under manager Erik ten Hag, namely Bruno Fernandes, who has created more chances (28) in the Premier League this season than any other United player. 
Tim Crean: Marcus Rashford – The Manchester United striker hasn't found the back of the net in the last five games, and Cristiano Ronaldo got a goal in Europa League this week. Rashford is Erik ten Hag's No. 9 of choice, but if he doesn't start scoring, and there's one of the greatest goalscorers of all time behind him (even with a bad attitude), Rashford's spot could be in trouble. 
Liverpool vs. Leeds
Joe: Fabinho – While it's still not 100% clear what's wrong with Liverpool, Fabinho hasn't looked anywhere near his best. His form will be put to the test against Leeds, who we know will hassle, harry, and press at every opportunity. If the big Brazilian can handle the pressure, there will be opportunities for the Reds going forward. If he struggles, it will be a long day at the office.
Mike: Mohammad Salah – So, what did you think of Liverpool's Christmas came early kit in the Champions League? No bueno, right? What is good is that the Reds are unbeaten in their last 10 league matches versus Leeds (7 wins, 3 draws), dating back to a 2-1 loss in 2001. With Leeds floundering, and the English media burying American manager Jesse Marsch, Mohammad Salah will look to put perhaps the final nail in the coffin – he's been involved in six goals in two home league games versus the Peacocks. 
Tim: Virgil van Dijk – The once-dangerous Leeds United front three of Brenden Aaronson, Jack Harrison, and Rodrigo aren't as formidable as they were early in the season, and Liverpool's premier defender needs to keep it that way. If Van Dijk can hold down the fort in the back, hopefully the offense can get back on track in front of him.
Arsenal vs. Nottingham Forest
Joe: Gabriel Jesus – Arsenal have dropped points, which means it's time for Gooners everywhere to panic. (I'm mostly joking, but who can blame us?) Most of the chatter has focused on Gabriel Jesus, who is largely playing well despite failing to convert some chances in the past few matches. One way or another, the narrative will shift after a date with Nottingham Forest. Will the striker get back on the score sheet? Or will the whispers about his finishing get louder?
Mike: Granit Xhaka – Giant-killers Nottingham Forest head to the Emirates on the heels of beating Liverpool 1-0 last time out. Can the Tricky Trees do the same to a club they haven't faced since 1999? Probably not, but it sure would make the top of the league table that much tighter! In what should be Xhaka's 200th Premier League appearance, 42 more than any other Arsenal player since he joined in 2016, the Swiss midfielder will look to tie his career mark of four goals in a single season, achieved in 2018-19. 
Tim: Gabriel Martinelli – After scoring in back-to-back matches to open the 2022 EPL season, Martinelli has scored just two more Premier League goals. Arsenal needs a goal barrage against lowly Nottingham Forest, and a Martinelli goal would help the team and his confidence.
Chelsea vs. Brighton
Joe: Cesar Azpilicueta – As I noted last week, Graham Potter's rotations can make it a bit tricky to pick a Chelsea player, but I'm going to go with Azpilicueta, assuming the manager will want a more defensive right flank. That's because Brighton's biggest threat, Leandro Trossard, works on that side of the pitch. Potter will obviously know what his old team is capable of, so I'm watching how he counters those strengths.
Mike: Pierre-Emerick Aubameyang – Brighton have never beaten Chelsea in league play… NEVER! It would be ironic if the Seagulls could finally get off the snide in Graham Potter's return to the Amex – but considering Brighton has lost twice and drawn three times since Roberto De Zerbi took over, getting anything more than a point won't be easy. After scoring in his first three league games versus Brighton, Aubameyang has failed to find the back of the net in his last five against Hove. That's not what Chelsea need from their No. 9. So, why doesn't Armando Broja play more often?
Tim: Graham Potter – This is the classic case of a manager getting a bump up in class and then going back to face his old, less talented team. This is Brighton's Super Bowl (to mix league metaphors), so Potter needs to be ready to pull out all the stops in return and exploit what he knows about his old side's weaknesses.
Manchester City vs. Leicester
Joe: Bernardo Silva – At the risk of disrespecting the other teams in the league, most Man City matches are an exercise in seeing what Pep Guardiola's squad can do. In that vein, I wanted to shout out Bernardo Silva. The Portuguese midfielder doesn't get the same amount of ink as Erling Haaland or Kevin De Bruyne, but he's certainly worth watching. If City have a comfortable lead over Leicester (which is certainly possible), try ignoring the ball for a few minutes and simply watch how Silva moves around the pitch. It will be worth your time.
Mike: Pep Guardiola – Erling Haaland is hurt, sound the alarm! I mean, does Pep even remember how to run a team without a No. 9?! But seriously, if Haaland is forced to miss time due to the ankle knock he picked up against his former Dortmund mates (cheeky), will Julian Alvarez step in, or will we see the return of the utterly annoying false nine? One thing is for certain, Riyad Mahrez should take a break from penalty kicks after missing his two previous attempts. 
Tim: Julian Alvarez – City invested $23.5 million in backup striker Julian Alvarez and let their other No. 9, Gabriel Jesus, walk to Arsenal this summer. With Erling Haaland likely out with a knock, it's time for Alvarez to earn his keep and do his best Haaland impression to give Man City some pop vs. Leicester City this weekend. 
Tottenham vs. Bournemouth
Joe: Harry Kane – Spurs might be sitting in a comfortable position in the table, but things aren't 100% happy in North London. The club has dropped two (admittedly tough) matches in a row, injuries are taking their toll, and Antonio Conte's system doesn't seem to be helping. In that context, most of the weight falls on Harry Kane's shoulders. Bournemouth have been better since changing managers, but they're still a squad Tottenham should beat. Look for their star striker to get on the score sheet and (theoretically) make this one comfortable early.
Mike: Antonio Conte – After seeing red (both literally and figuratively) in the midweek Champions League match, manager Antonio Conte needs to right the ship if his club wants to stay in the top four before the World Cup break. Having lost just once in his last 19 league matches versus newly promoted sides (15 wins, 3 draws), Conte needs much more from his wing backs – and if he can't – move away from the 3-5-2 formation. Maybe the Italian should give Djed Spence a run of play.
Tim: Heung-min Son – With Dejan Kulusevski (thigh) and Richarlison (calf) still out with injuries, the pressure continues to be on Son to play and perform. The Korean winger has played less than 70 minutes just once in a match (all competitions) this season and has starred in his team's World Cup qualifiers and friendlies. He has to be tired but Spurs needs him badly this weekend vs. Bournemouth. 
Guaranteed Goalscorer
Joe (2-7 record): Gabriel Jesus – This is a last-second audible based on quotes that came out ahead of the Gunners' Europa League tie against PSV. The striker said that he would score in the next match (let's ignore his cameo in the Netherlands), and I'm not betting against a forward who's prepared to show that level of confidence. Add in the fact that Nottingham Forest have conceded 23 goals this year, and things look even better for the Brazilian. 
Mike: (8-1): Harry Kane – Everyone, including the head linesman, thought Kane scored the game-winning goal versus Sporting in dramatic fashion (thanks a lot, Emerson). Therefore, following the anticlimactic decision of VAR, I expect Kane to come out with a fury against the Cherries. It also helps that he has more league goals (7 in 8 appearances) than Bournemouth have against Spurs in the competition overall (5 in 10 games). 
Tim: (6-3): Marcus Rashford – The pressure is on the young striker to score this week against West Ham, and I believe he'll deliver. Look for Rashford to pop in his first Premier League goal since early September when he put in a brace vs. Arsenal. 
Have thoughts on this topic? Keep the conversation rolling in our comments section below.