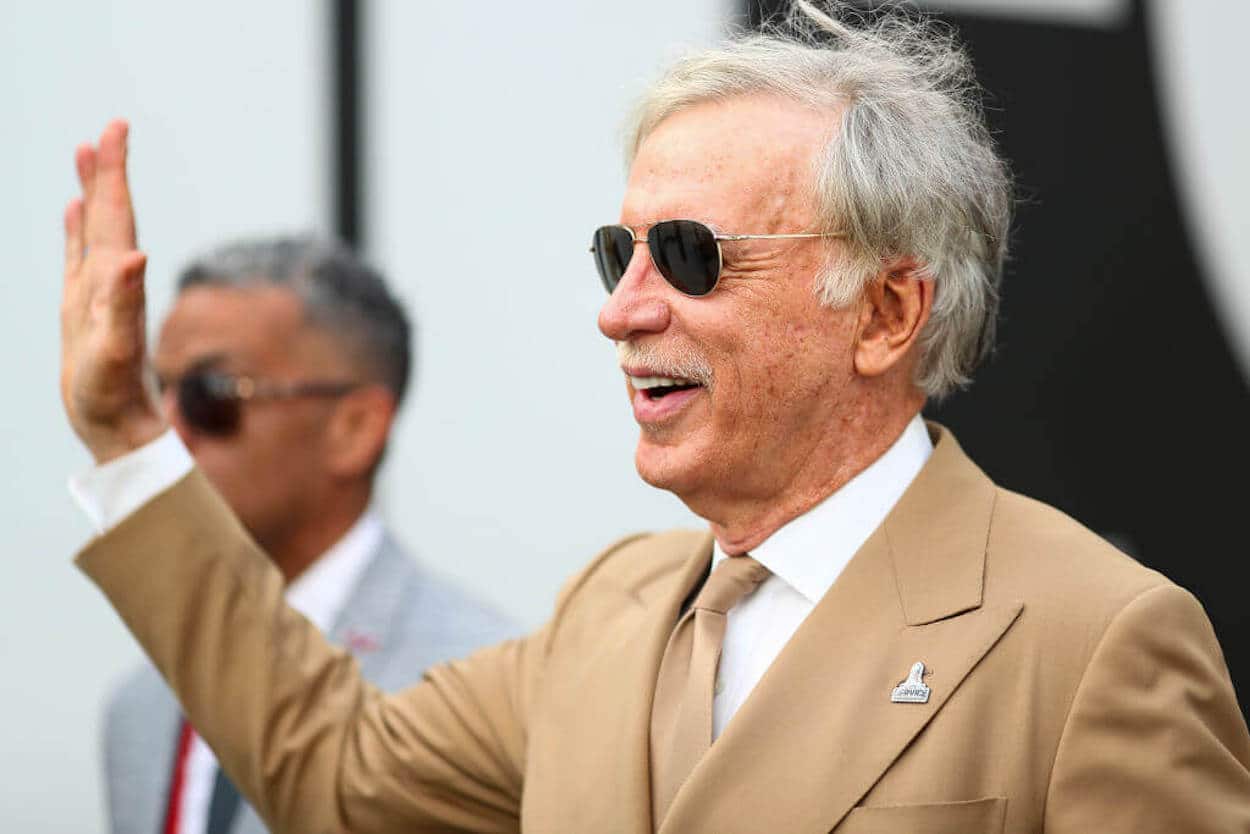 Stan Kroenke's $260 Million Arsenal Spending Spree Proves We Don't Really Care Who Owns Our Team
Money might not be able to buy happiness, but it can buy the support of a team's fan base. Just ask the Kroenke's about that.
Stan Kroenke, to put things politely, hasn't been a popular man in the sports world. Most of that dislike has been tied to his ownership of the Rams and how they abandoned St. Louis for the greener pastures of Los Angeles. In English soccer, though, Arsenal supporters also held a certain skepticism of the American owner. There were concerns about failing to spend money and seeing the club as a money-making machine, and things ultimately came to a head after the 2021 European Super League debacle. There were protests, banners, and an entire "We care, do you?" fan movement.
These days, though, the narrative is a bit different. The Rams won a Super Bowl. Then the Colorado Avalanche, another Kroenke-owned franchise, won the Stanley Cup. In 2023, the Denver Nuggets — also owned by Kroenke Sports and Entertainment (KSE) — claimed the NBA title. Arsenal are yet to reach the promised land, but the 2022-23 campaign was their best in years, and to top it off, the club has entered the summer transfer window with a bang, rapidly taking care of some big-time deals.
As you might expect, the protests are a thing of the past. Let's break that down.
Arsenal are on the verge of spending upwards of $260 million before preseason even begins
If you're a long-time Arsenal supporter, you'll remember the days of transfer war chests that never materialized and the concept of keeping the club's powder dry. These days, though, things are a bit different. While the club's transfer expenditure has grown over the years, the 2023 summer window would seem like a fever dream to someone from 2013.
Thus far, the Gunners have sealed a deal for Kai Havertz, with the German theoretically slotting into the left-sided 8 spot. The Declan Rice saga isn't officially over yet — according to updates from Fabrizio Romano and David Ornstein, Arsenal and West Ham are still hammering out the exact payment schedule — but there's an acceptance that the transfer will take place. Ajax's Jurrien Timber also seems to be on his way to London, adding another versatile defender into the mix.
And while reporting the financials around transfers can be tricky due to things like currency conversion, amortization, and incentives, it's safe to say those three deals didn't come cheap. The Havertz transfer cost somewhere around $82 million; Rice will clock in at a reported $132, including unspecified add-ons. The Timber deal is still a bit further away from completion, but the fee is reportedly going to be approximately $50 million. That adds up to $264 million in spending.
With that being said, though, there are caveats to that spending. Arsenal have balanced their wage bill over the years and qualified for the 2023-24 Champions League, meaning there's more cash on hand than in previous years; it's not like the Kroenkes are cutting a personal check for $260 million. It's also worth remembering that there will be some outgoing transfers at some point this summer. Even if those don't completely balance the spending — they won't — it will bring the net total down.
The Arsenal fan base's collective reaction suggests that the Kroenke family has won them over
As mentioned above, this transfer window has been unprecedented for Arsenal fans. Not only did the club identify some big-name targets, but they moved quickly, beat off the likes of Manchester City and Bayern Munich, and closed the deals early in the summer. Are there some concerns that the signings might not come good? Of course, but the Arsenal-related corner of the internet has been full of giddiness, disbelief, and "I used to pray for times like this" memes.
Notice what's absent? Complaints about the Kroenkes.
While it might seem completely logical that things have gone silent — Arsenal are coming off an excellent season and have spent big this summer — the historical complaints weren't entirely about financial backing. That was a piece of the puzzle, but there was more personal component. The sense was that the American ownership didn't really understand or care about Arsenal.
Could argue that spending money shows more care? Does Josh Kroenke's improved involvement in the club show that he's putting the effort in? Does the trio of Mikel Arteta, Edu, and Richard Garlic mean that KSE has put the right people in places of power and can now afford to be a bit more hands-off? Sure, that's all possible. I would contend, however, that the biggest change is results. As the famous sporting cliche says, winning fixes a lot of problems.
And, when we zoom things out and look at other clubs, that makes sense. During the 2022-23 season, there were times when some Chelsea supporters chanted the name of Roman Abramovich; his reign was more successful than Todd Boehly's time at the helm, making him the superior owner. Just set aside everything away from football.
Similarly, portions of the Newcastle fan base welcomed Saudi ownership with open arms. If it meant replacing Mike Ashley and returning to Europe's top table, that was enough to be cheered. And, during Manchester City's current run of dominance, the club's ties to Abu Dhabi and charges of violating financial rules were secondary to trophy-laden celebrations.
To be completely fair, that's painting with a broad brush. There are many subsets with a club's supporters, and plenty have taken a stand. When we're talking about things on a macro level, though, the people following a club — any club — really want one thing: Something to cheer for. If we're getting that, other concerns are secondary.
Stan Kroenke and those around him have to realize that. And, even if they don't, they're currently reaping the rewards of that reality.