Christian Pulisic: Biography, Career, Net Worth, Family, Top Stories for the United States Soccer Star
The soccer journey of Christian Pulisic has taken him from Hershey, Pennslyvania, to Dortmund, Germany, to London, England, to the 2022 World Cup in Qatar. And in between, the Chelsea and USMNT star has made history, broken records, and become the most expensive American soccer player ever.
At just 24 years old, Pulisic has accomplished more in both professional European football and international soccer tournaments than almost any other American in history. In a sport traditionally dominated by South Americans and Europeans, "Captain America" has become a bonafide star and made millions in salary and endorsements.
But who is Christian Pulisic? Below, you'll find everything you need to know about the USMNT star, ranging from personal information to his statistics to the top stories he inspired throughout — and beyond — his playing days. 
Article Contents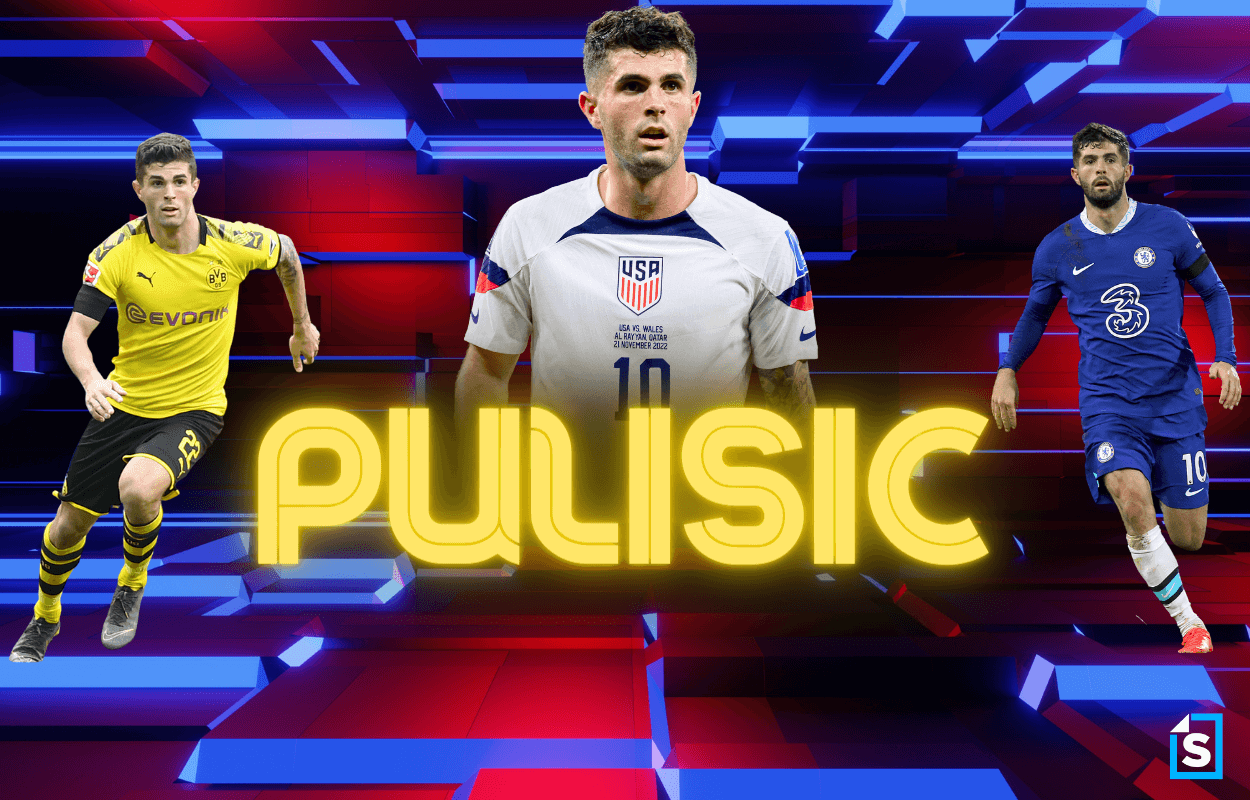 Quick facts
Early life
College
U.S. U17 career
Borussia Dortmund career
Chelsea career
USMNT career
Awards and achievements
Stats
Relation to Will Pulisic
Family
Girlfriend
Net worth and career earnings
Nicknames
Endorsements
Religion
FAQs
Quick Christian Pulisic Facts
Full name: Christian Mate Pulisic
Birthday: Sep. 19, 1998
Birthplace: Hershey, Pennsylvania
Parents: Kelley Pulisic and Mark Pulisic
Siblings: Devyn "Dee Dee" Pulisic, Chase Pulisic
Listed height: 5-foot-10
Listed weight: 161 pounds
High school: Hershey High School (Hershey, Pennsylvania)
EPL team: Chelsea
Positions: Attacking midfielder/left winger
Jersey number: No. 10
Pro soccer playing career: 2016-present
National team playing career: 2016-present
Marital status: Single
Where did Christian Pulisic grow up?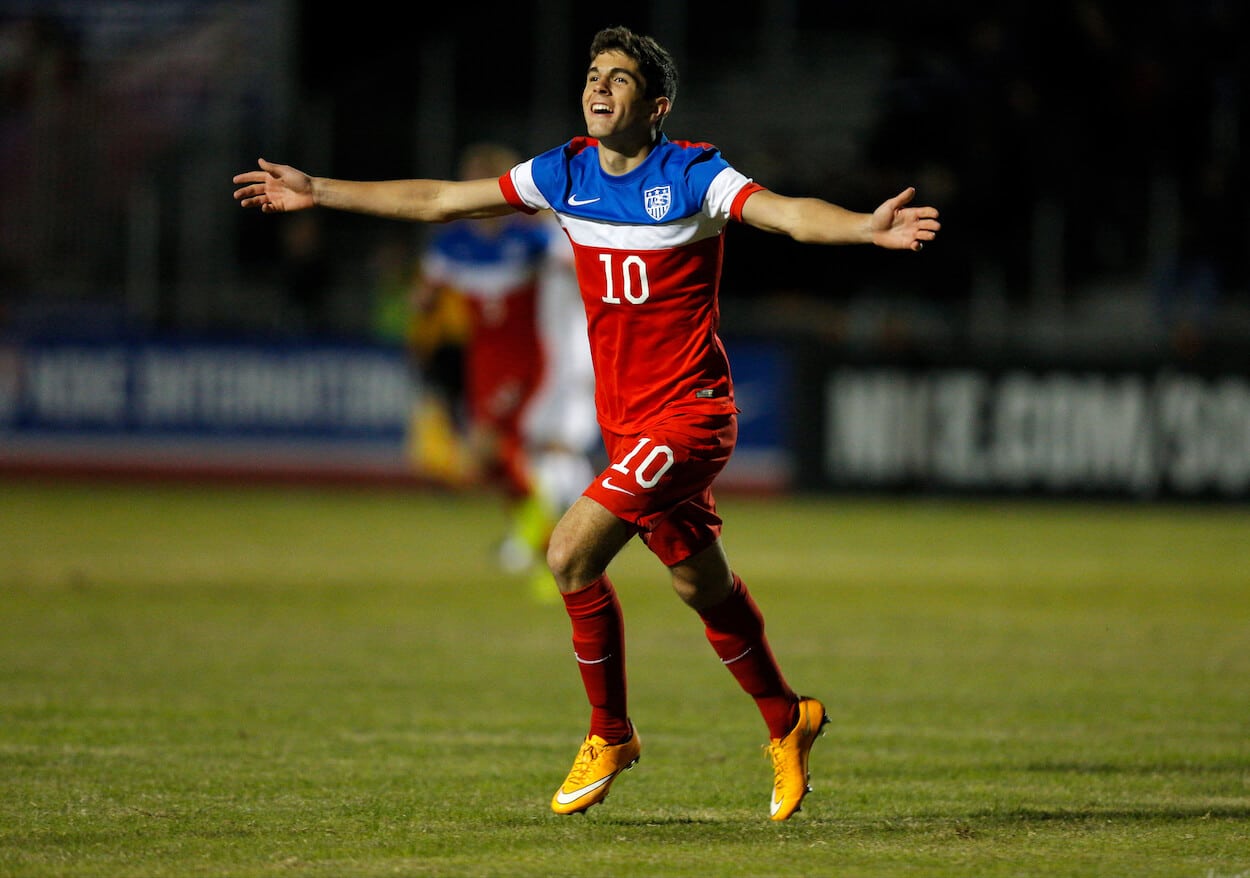 Christian Pulisic is a proud son of Hershey, Pennsylvania, but his late childhood took him across the country and across the Pond.
When Christian was seven, his mother, Kelley, spent a year teaching in Tackley, Oxfordshire, England, as part of the Fulbright exchange program. During that time, Christian got his first taste of European football playing for the youth side of Brackley Town FC in Brackley, Northamptonshire, England, a small town about halfway between London and Birmingham.
After the family's year abroad, the Pulisic clan moved back to the States, and Christian's father, Mark, a former college and professional indoor soccer player, took a job as the general manager of the Detroit Ignition. The team was part of the now-defunct Major Indoor Soccer League.
During his time in Michigan, Christian attended Workman Elementary School in Canton Township and played for the local soccer club, the Michigan Rush.
In 2008, the family returned to the Hershey area. Christian played for the U.S. Soccer Development Academy club, the PA Classics, while also training with local professional club Harrisburg City Islanders, coached by his dad's former Harrisburg Heat teammate, Bill Becher.
Did Christian Pulisic play in college?
Identified as one of his generation's most promising young American soccer players, Christian Pulisic started training with the U17 U.S. National Team at 15 years old and headed to Germany to play professionally shortly after.
As a high-level prospect, Pulisic didn't play traditional high school soccer or at the American college level. However, the English Premier League star once told the Chelsea FC social media team, "I'm not sure if I would've wanted to go to college, but a lot of my friends go to Penn State, so I think that would have been a good one."
Christian Pulisic U17
In 2013, at age 15, Christian Pulisic made his debut for the U17 U.S. National Team. He was part of the squad that took on Brazil at the 2013 Nike International Friendlies in Lakewood Ranch, Florida. The U.S. team beat the Brazilians 4-1, with Pulisic scoring a goal. He eventually commemorated that moment with a tattoo of the date, "12/13/2013."
That 2013 U17 also included several names with which USMNT fans are familiar. Pulisic's future World Cup teammates Luca De La Torre and Haji Wright were on the team, as was Christian's cousin, William Pulisic. The next season Tyler Adams would join him on the squad.
Christian would stay with the U17 on the international level through 2015. That year, the team finished third in its group at the CONCACAF Under-17 Championship in Honduras and 21st overall at the U17 FIFA World Cup in Chile.
Christian Pulisic at Dortmund
As a teenager, Christian Pulisic caught the eye of Borussia Dortmund, one of the best teams in the German Bundesliga. The club specializes in finding young talent, developing them, and selling them on for huge fees. Before Pulisic it was Mario Gotze and Henrikh Mkhitaryan. After it was Jadon Sancho and Erling Haaland.
As an American, Pulisic should have had to wait until he was 18 to play for Dortmund due to European labor laws. However, thanks to his grandfather Mate Pulisic's Croatian heritage, Christian was able to get a European passport and play at 16.  
Christian played for the Borussia Dortmund U17 and U19 youth squads after moving to Germany before making his senior side professional debut in the second half of the 2016-17 season.
2015-16 season
At 17, Borussia Dortmund manager Thomas Tuchel handed Christian Pulisic his professional debut on Feb. 18, 2016, as a sub in the second half of a Europa League match vs. Porto. Three days later, the American teenager made his first Bundesliga appearance and start against Bayer Leverkusen.
On April 17, Pulisic scored his first professional goal vs. Hamburg, making him the youngest non-German and fourth-youngest player of any nationality to score a goal in the Bundesliga. Pulisic was 17 years and 212 days old at the time. Less than a week later, Pulisc scored his second goal vs. VfB Stuttgart, becoming the youngest player ever to score two goals in the Bundesliga.
2016-17 season
In his first full season with Borussia Dortmund, Pulisic continued making history by accomplishing things at a young age. 
On Sept. 14, 2016, just four days before his 18th birthday, Pulisic started and played 90 minutes in a Champions League Group Stage match vs. Legia Warszawa, becoming the youngest Dortmund player to play in a UCL match.
Six months later, Pulisic scored his first Champions League goal in a Round of 16 match vs. Benfica, making him the youngest UCL goal-scorer in Dortmund history. These feats earned the star a new three-year deal with the German club.
2017-18 season
As an 18-year-old, Pulisic played his most minutes in a single season to date, logging over 3,000 minutes on the pitch in all competitions for Dortmund. He even started the third-most Bundesliga games (27) on the club, only trailing goalkeeper Roman Burki (33) and veteran defender Sokratis Papastathopoulos (28).
Unfortunately, the club didn't have a great season. Dortmund finished fourth in the Bundesliga, got knocked out of Champions League in the Group Stage, and didn't make it past the Round of 16 in the DFB-Pokal domestic cup.
2018-19 season
Pulisic struggled with injuries throughout the 2018-19 campaign, missing multiple games and limiting his playing time. His contract was also approaching its final season, so Dortmund agreed to see the budding young star to Chelsea in the English Premier League for a €64 million fee during the January transfer window.
Borussia Dortmund sporting director Michael Zorc explained, per BVB.com, "It was always Christian's big dream to play in the Premier League. That certainly has to do with Christian's American background, and as a result we were unable to extend his contract. Against this background, we've decided to accept an extremely lucrative bid by Chelsea, given the low contract maturity."
Chelsea allowed Dortmund a free loan for Pulisic to finish the season in Germany.
Christian Pulisic at Chelsea
The €64 million fee Chelsea paid for Christian Pulisic made him the most expensive American soccer player of all time. That fee was also the second-highest in Borussia Dortmund history, only behind the €140 million Barcelona paid for Ousmane Dembele in 2017.
2019-20 season
Christian Pulisic made his Chelsea debut on Aug. 11, 2019, in a Premier League match against Manchester United, and scored his first goals for the London-based side on Oct. 26, 2019, vs. Burnley. In that game, Pulisic had a hat trick, making him just the second American to achieve that feat in the EPL (Clint Dempsey, Fulham, 2012) and the youngest Chelsea player to do it at 21 years and 38 days.
Pulisic tore an abductor muscle in January and missed several matches leading up to the COVID-19 shutdown in March 2020. When the league returned in June, he played in all nine remaining Premier League games, scoring four goals and tallying four assists.
2020-21 season
Pulisic struggled with various injuries at the beginning of the 2020-21 season and never found his footing under manager Frank Lampard. However, Chelsea fired Lampard in January, replacing him with Pulisic's former Borussia Dortmund boss, Thomas Tuchel.
At the end of the '20-21 campaign, Chelsea played in the Champions League final against EPL rival Manchester City, winning the game 1-0. Pulisic played the last 24 minutes of the game as a sub, making him the first American to play in a UCL final. With the win, he became the second American to hoist the trophy, after Jovan Kirovski won it while on the bench with Borussia Dortmund in 1997.
2021-22 season
Pulisic again had a rough start to the next season, missing 14 matches (all competitions) due to COVID-19, followed by an ankle injury. He rebounded and stayed mostly healthy the rest of the year. However, the American star struggled to find consistent playing time as Chelsea had a glut of young forwards — Timo Werner, Mason Mount, Callum Hudson-Odoi, Hakim Ziyech, and Kai Havertz — all vying for time at the same positions.
2022-23 season
By the start of the 2022-23 season, Pulisic had fallen down the pecking order of the young forwards under Tuchel, especially after the arrival of England National Team forward Raheem Sterling. And even though the team was struggling, Pulisic was only being used as a sub.
In September, new Chelsea owner, American Todd Boehly, sacked Tuchel and replaced him with Graham Potter. Pulisic scored in his first game under Potter and started getting significantly more minutes. However, he hurt his knee in January 2023 and has missed over a month of the season.
Christian Pulisic USMNT
After coming up in the U.S. National Team development system, USMNT manager at the time, Jürgen Klinsmann, gave Christina Pulisic his senior side USMNT debut as a late-game substitute on Mar. 30, 2016, against Guatemala. At 17, Pulisic became the youngest American to ever play in a World Cup qualifier.
Throughout his late teens and early 20s, Pulisic became the youngest USMNT player to accomplish several more feats. He was the youngest American to score for the national team when he netted against Bolivia in the 2016 Copa America and the youngest to start a World Cup qualifier against Trinidad and Tobago later that year.
At the age of 20 in 2018, Pulisic was the youngest player to captain the USMNT after a friendly against Italy, and in March 2019, the PA native became the youngest U.S. player to score 10 international goals.
The Christian Pulisic tenure with the USMNT has had its ups and downs, though. He was part of the disappointing squad that failed to qualify for the 2018 World Cup and the team that won America's first-ever CONCACAF Nations League Final.
In 2022, Pulisic accomplished another milestone as part of the USMNT that reached the World Cup in Qatar. That side drew 1-1 against Wales, drew 0-0 against England, and beat Iran 1-0 to move on to the Round of 16. Pulisic assisted on Timothy Weah's goal vs. Wales and scored the team's only tally against Iran.
That 2022 World Cup USMNT ultimately lost in the first knockout round game 3-1 to the Netherlands.
Christian Pulisic awards and achievements
Team Titles
Chelsea
UEFA Champions League (2020–21)
UEFA Super Cup (2021)
FIFA Club World Cup (2021)
USMNT
CONCACAF Nations League (2019–20)
Individual Awards
U.S. Soccer Young Male Athlete of the Year (2016)
UEFA Champions League Breakthrough XI (2016)
U.S. Soccer Male Athlete of the Year (2017, 2019, 2021)
CONCACAF Best XI (2017)
CONCACAF Gold Cup Best Young Player Award (2019)
CONCACAF Gold Cup Best XI (2019)
CONCACAF Nations League Finals Best XI (2021)
Christian Pulisic stats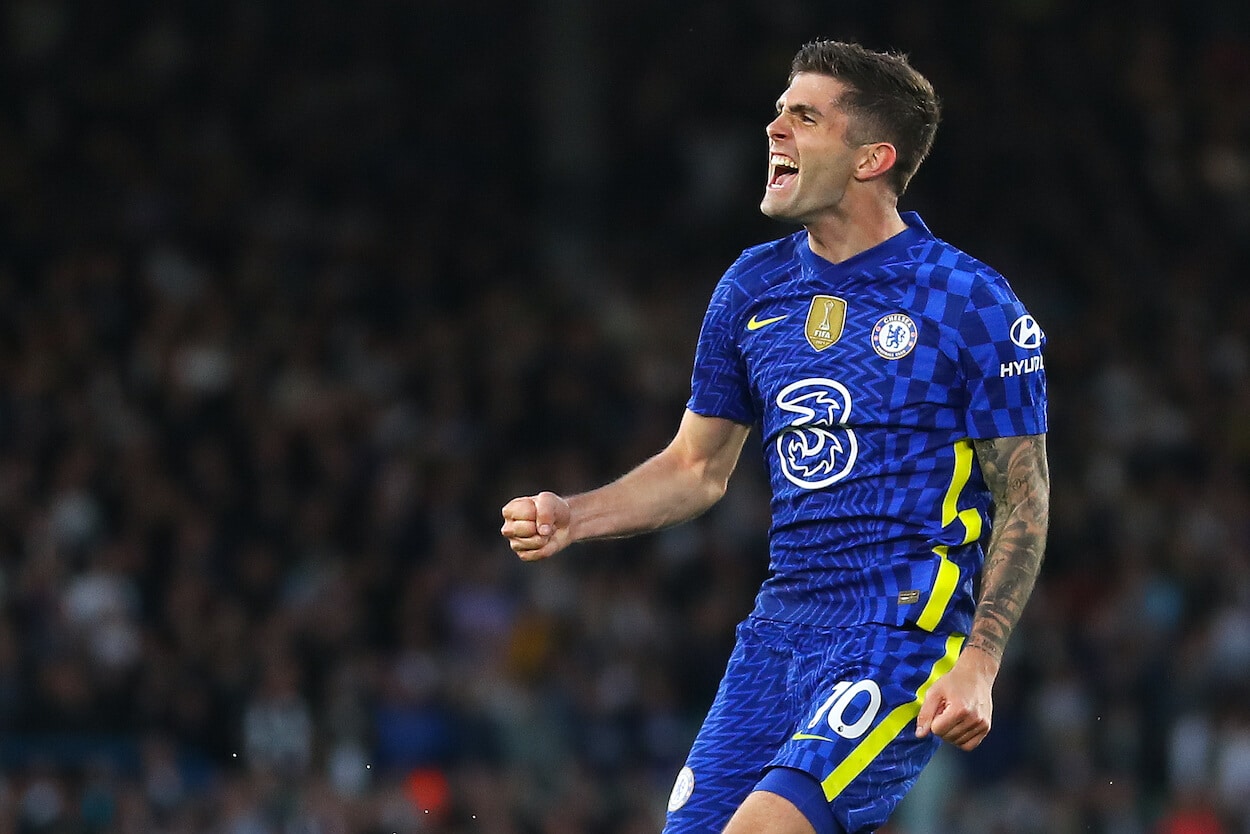 Christian Pulisic has played in multiple competitions during his professional and international career. Professionally, the stats below are broken up into domestic league, domestic cup, and international competitions. His international statistics are in a single table, broken down by competition.
Domestic League — Bundesliga, Premier League
Throughout his career, Pulisic has logged the most appearances and played the most minutes in his teams' domestic leagues. With Borussia Dortmund, that means the German Bundesliga and for Chelsea, it's the English Premier League.
| | | | | | | |
| --- | --- | --- | --- | --- | --- | --- |
| Season | Club | Appearances | Minutes | Goals | Assists | Cards |
| 2015-16 | Borussia Dortmund | 9 | 386 | 2 | 0 | 1 |
| 2016-17 | Borussia Dortmund | 29 | 1,514 | 3 | 8 | 1 |
| 2017-18 | Borussia Dortmund | 32 | 2,312 | 4 | 6 | 1 |
| 2018-19 | Borussia Dortmund | 20 | 926 | 4 | 4 | 2 |
| 2019-20 | Chelsea | 25 | 1,727 | 9 | 6 | 0 |
| 2020-21 | Chelsea | 27 | 1,735 | 4 | 2 | 2 |
| 2021-22 | Chelsea | 22 | 1,285 | 6 | 2 | 2 |
| 2022-23 | Chelsea | 16 | 605 | 1 | 1 | 1 |
Domestic Cups — Germany (DFB-Pokal, CFL Super Cup), England (FA Cup, Carabao Cup)
Within each of Pulisic's professional seasons, his teams took multiple midseason breaks to play in domestic cups. In Germany, he played in the DFB-Pokal tournament and the one-game DFL Super Cup to kick off the season. In England, Chelsea plays in two midseason cup tournaments: the FA Cup and the English League Cup, also known as the Carabao Cup.
| | | | | | | |
| --- | --- | --- | --- | --- | --- | --- |
| Season | Club | Appearances | Minutes | Goals | Assists | Cards |
| 2015-16 | Borussia Dortmund | 0 | 0 | 0 | 0 | 0 |
| 2016-17 | Borussia Dortmund | 4 | 210 | 1 | 2 | 0 |
| 2017-18 | Borussia Dortmund | 2 | 180 | 1 | 0 | 0 |
| 2018-19 | Borussia Dortmund | 3 | 320 | 2 | 2 | 0 |
| 2019-20 | Chelsea | 4 | 281 | 1 | 1 | 0 |
| 2020-21 | Chelsea | 6 | 297 | 0 | 0 | 0 |
| 2021-22 | Chelsea | 7 | 388 | 2 | 0 | 0 |
| 2022-23 | Chelsea | 1 | 90 | 0 | 0 | 0 |
European Competitions
​​Pulisic has appeared in four different Europe-wide tournaments during his time as a professional. Champions League is the most prestigious, followed by Europa League. He's also appeared in lesser European and International tournaments.
The UEFA Super Cup is a one-game tournament contested by the previous season's Champions League and Europa League winners. The Club World Cup is a seven-team tournament pitting the winners of the biggest professional tournaments on each of the six soccer-playing continents, plus a team from the host nation, against one another.
| | | | | | | | |
| --- | --- | --- | --- | --- | --- | --- | --- |
| Season | Club | Competition | App | Min | Goals | Assists | Cards |
| 2015-16 | Borussia Dortmund | Europa League | 3 | 47 | 0 | 0 | 0 |
| 2016-17 | Borussia Dortmund | Champions League | 10 | 599 | 1 | 3 | 1 |
| 2017-18 | Borussia Dortmund | Champions and Europa Leagues | 8 | 546 | 0 | 1 | 0 |
| 2018-19 | Borussia Dortmund | Champions League | 7 | 455 | 1 | 0 | 0 |
| 2019-20 | Chelsea | Champions League, UEFA Super Cup | 5 | 340 | 1 | 3 | 0 |
| 2020-21 | Chelsea | Champions League | 10 | 420 | 2 | 2 | 2 |
| 2021-22 | Chelsea | Champions League, UEFA Super Cup, Club World Cup | 9 | 534 | 2 | 1 | 0 |
| 2022-23 | Chelsea | Champions League | 4 | 103 | 0 | 1 | 0 |
All Competitions Totals
Here are the statistical totals for each of Pulisic's professional seasons, adding together all competitions.
| | | | | | | |
| --- | --- | --- | --- | --- | --- | --- |
| Season | Club | Appearances | Minutes | Goals | Assists | Cards |
| 2015-16 | Borussia Dortmund | 12 | 433 | 2 | 0 | 1 |
| 2016-17 | Borussia Dortmund | 43 | 2,323 | 5 | 13 | 2 |
| 2017-18 | Borussia Dortmund | 42 | 3,038 | 5 | 7 | 1 |
| 2018-19 | Borussia Dortmund | 30 | 1,701 | 7 | 6 | 2 |
| 2019-20 | Chelsea | 34 | 2,348 | 11 | 10 | 0 |
| 2020-21 | Chelsea | 43 | 2,452 | 6 | 4 | 4 |
| 2021-22 | Chelsea | 38 | 2,207 | 8 | 5 | 2 |
| 2022-23 | Chelsea | 21 | 798 | 1 | 2 | 1 |
USMNT
Since making his senior side debut in 2016, Pulisic has appeared in four major international tournaments, including the 2022 World Cup, as well as numerous World Cup qualifier and international friendly matches.
| | | | | | |
| --- | --- | --- | --- | --- | --- |
| Competition | Appearances | Minutes | Goals | Assists | Cards |
| World Cup 2022 | 4 | 315 | 1 | 2 | 0 |
| World Cup qualifiers | 23 | 1,582 | 12 | 7 | 1 |
| CONCACAF Nations League A | 5 | 428 | 2 | 0 | 1 |
| Gold Cup 2019 | 6 | 447 | 3 | 3 | 0 |
| Copa America 2016 | 3 | 84 | 0 | 0 | 0 |
| International friendlies | 15 | 1,006 | 4 | 2 | 0 |
| TOTALS: | 56 | 3,863 | 22 | 14 | 2 |
Christian Pulisic scouting report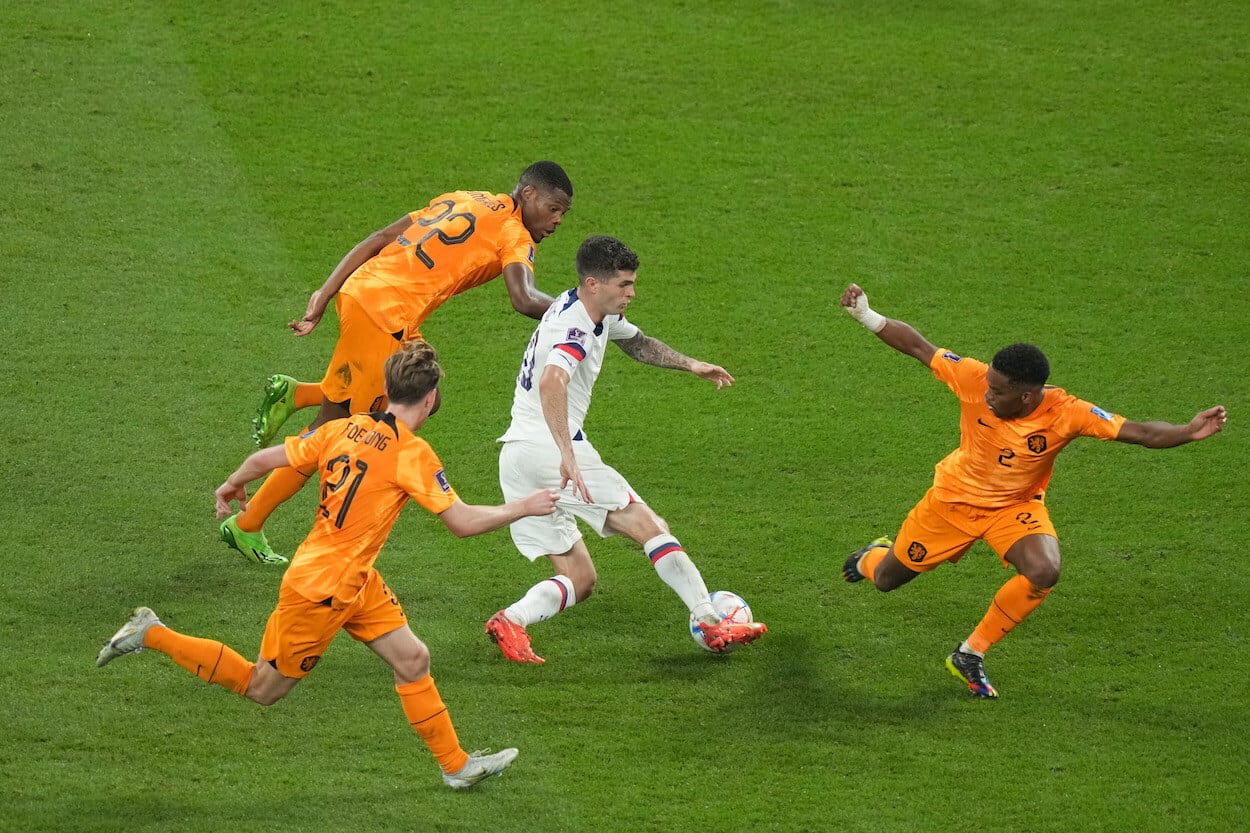 Christian Pulisc plays both on the wing and in central midfield for his professional and national team sides. In recent years, he's played more on the wing and can play both sides.
Pulisic is an excellent athlete, playing multiple sports growing up. Despite being just 5-foot-10, the soccer player says he can dunk a basketball.
The forward has good speed and is an excellent dribbler, excelling at moving the ball past larger players. This comes from his youth experience, where Pulisic routinely competed against older, bigger, and more experienced players.
While Pulisic is a skilled dribbler and finisher, passing is the weak spot of his game. He routinely gets past defenders and moves the ball into scoring positions. However, his expected assists (xA) and chance-creation numbers are always on the lower side.
Overall, Pulisic is a skilled and versatile forward. Still, his inability to truly excel at any one aspect of his game has, at times, held him back as his managers sometimes struggle to find a regular starting spot for him.
Is Christian Pulisic related to Will Pulisic?
Christian Pulisic isn't the only Pulisic on the United States soccer scene these days.
Goalkeeper Will Pulisic has also played in the U.S. National Team's developmental system and for several professional clubs.
Christian Pulisic and Will Pulisic are, in fact, related. The two soccer players are cousins.
Will was the starting goalkeeper at the 2015 FIFA U-17 World Cup and also followed in his cousin's footsteps by playing for Borussia Dortmund's U19 team. Unlike Christian, Will went to college and played soccer at Duke, starting all 66 games in his career.
The younger Pulisic eventually signed with Austin FC in MLS before being released by the club at the end of 2022. In January 2023, he signed with another MLS club's farm team, Minnesota United 2, in the MLS Next Pro league.
Christian Pulisic family
Christian Pulisic is the son of Kelley Pulisic and Mark Pulisic. The Chelsea star's parents met while both playing college soccer at George Mason University in Virginia. After college, Mark continued playing soccer. He was a member of the Harrisburg Heat in the 1990s, a professional indoor soccer team.
Christian has two siblings. He has an older sister named Devyn "Dee Dee" Pulisic, who is two years older than the soccer star. Dee Dee is a mom of a daughter born in 2022, lives in Jupiter, Florida, and got married in January 2023 to trainer Austin Sawyer.
He also has a brother named Chase, who is autistic. Christian told the Daily Mail in 2021 that his brother is an inspiration to him.
"Chase has taught me to just enjoy life. The way I see him, he enjoys just doing the simple things. He doesn't have a care in the world and doesn't let anyone's judgment affect him," Christian said of Chase. "He inspires me every day. I wish I could be like that at times; how confident he is in himself, it's amazing to me."
Christian Pulisic girlfriend
Not much is known about Christian Pulisic's dating life. The star has been incredibly private in his personal life and hasn't had any public relationships since he burst onto the international sports scene in his late teens.
As of 2023, it seems as though Pulisic does not have a girlfriend or partner and is currently single.
Christian Pulisic net worth and career earnings
In 2023, Christian Pulisic has an estimated net worth of $40 million, according to CelebrityNetWorth.com. That number comes from his approximately $9 million per season salary from Chelsea and his $5 million per year in endorsement deals.
Pulisic's salary from Borussia Dortmund early in his career isn't readily available. However, Spotrac reports that the current Christian Pulisic contract with Chelsea is a six-year, £42,900,000 deal with an annual average salary of £7,150,000.
Thus far in his Premier League tenure, Pulisic's career earnings are £35,100,000.
Christian Pulisic nicknames
Christian Pulisic has several nicknames, with the most common being "Captain America" for his position as the star of the USMNT. However, he isn't actually the captain of the team. Leeds United's Tyler Adams filled that role at the 2022 World Cup.
Lesser-used Pulisic nicknames often refer to his hometown, Hershey, Pennsylvania. The secondary nicknames include "Puli-God," "The LeBron James of Soccer," "The Hershey Hare," "The Hershey Hammer," and the "Pennsylvania Pele."
There is also a more derisive nickname for the Chelsea star. After the USMNT failed to qualify for the 2018 World Cup, soccer pundit and former USMNT star Alexi Lalas went on an epic rant, crushing the failed team and specifically calling out the "Wonder Boy," Christian Pulisic.
Christian Pulisic endorsements
As the best and most accomplished U.S. soccer player of the moment, it's no surprise that Christian Pulisic's endorsements include the biggest brands in the sports world, like Gatorade and EA Sports.
In 2021, Pulisic made a major jump when it comes to footwear and apparel. The young soccer star left Nike for Puma. He also got a deal that year with Volkswagen, a major sponsor of the USMNT, and has a contract with Chipotle.
As a proud son of Southeast Pennsylvania, Pulisic also — of course — has an endorsement deal with Hershey's candy company.
Christian Pulisic religion
Christian Pulisic is a prominent Christian and often talks about his religion and religious beliefs on social media and in interviews.
In a 2021 sit-down with GQ, the magazine pointed out he wears a gold crucifix chain around his neck, and when the interviewer asked if God is a big part of Pulisic's life, the Chelsea forward responded, "Oh, absolutely."
"Something that I've grown a lot closer with this past year is my belief in God, especially being alone over here. I feel like I always have someone who's with me," Pulisic continued. "I don't know how I would do any of this without that feeling that He's watching over me, and there's a reason why I'm here."
Christian Pulisic FAQ
Where was Christian Pulisic born?
Christian Pulisic was born in Hershey, Pennsylvania, to parents Kelley and Mark Pulisic.
How old is Christian Pulisic?
Born on September 18, 1988, Christian Pulisic is now 24 years old.
How tall is Christian Pulisic?
Per Chelsea.com, Christian Pulisic is listed at 5-foot-10 (1.78 m). Reports of his weight vary, but 158 pounds (72 kg) is the most commonly listed weight.
Did Christian Pulisic go to college?
Christian Pulisic did not go to college, nor did he play high school soccer, instead opting to play for national and professional developmental sides.
What team does Christian Pulisic play for?
Christian Pulisic currently plays for Chelsea FC in the English Premier League after playing four seasons for Borussia Dortmund in the German Bundesliga.
What position does Christian Pulisic play?
Christian Pulisic is a versatile forward who plays on both the left and right wings, as well as in a central attacking midfield role from time to time.
What number does Christian Pulisic wear?
Christian Pulisic wears No. 10 for both Chelsea and the USMNT.
Is Will Pulisic related to Christian Pulisic?
Yes, Christian Pulisic and Will Pulisic are cousins.
Is Christian Pulisic married?
No, the Chelsea star is currently single and has never been married or had children.
Where does Christian Pulisic live?
Christian Pulisic has a home in the southwest London borough of Wimbledon, as well as a house in Jupiter, Florida, near his sister, Dee Dee.
What is Christian Pulisic's net worth?
According to CelebrityNetWorth.com, Christian Pulisic has a net worth of $40 million and makes approximately $9 million per season with Chelsea.