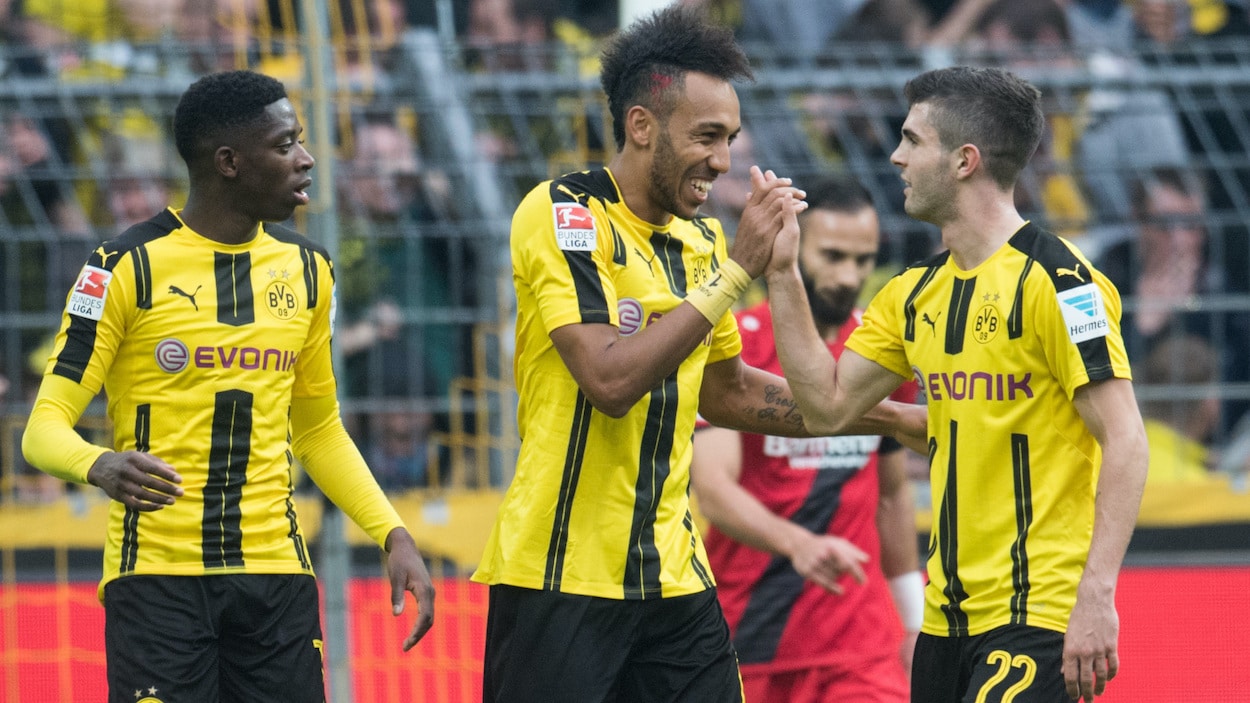 Christian Pulisic and the 10 Most Expensive Borussia Dortmund Transfers of All Time
Here's where American soccer superstar Christian Pulisic ranks among the most expensive Borussia Dortmund transfers of all time.
Borussia Dortmund is the second-most famous team on an international level in the Bundesliga after Bayern Munich. In recent years, the German soccer club has made a name for itself not just for its success on the pitch but also for developing young superstars and selling them on for huge fees. These players include American superstar Christian Pulisic, and the rest of the top 10 most expensive Borussia Dortmund transfers on the list below.
10 most expensive Borussia Dortmund transfers of all time, including American star Christian Pulisic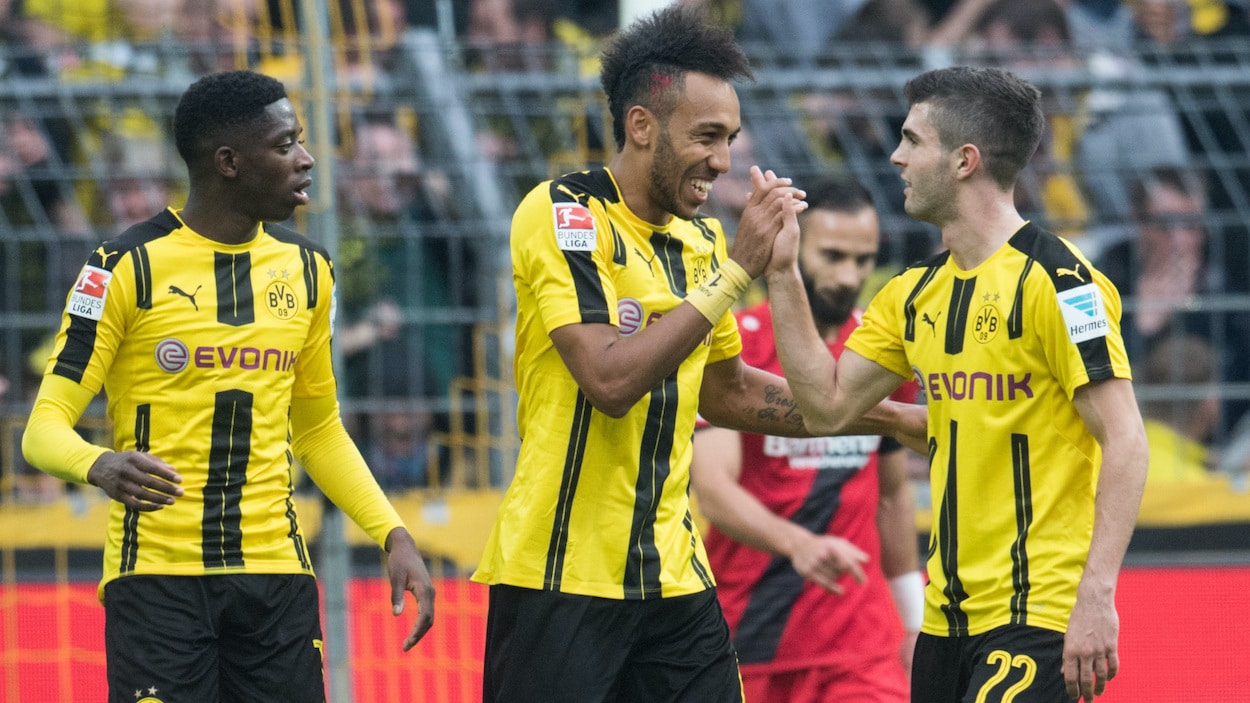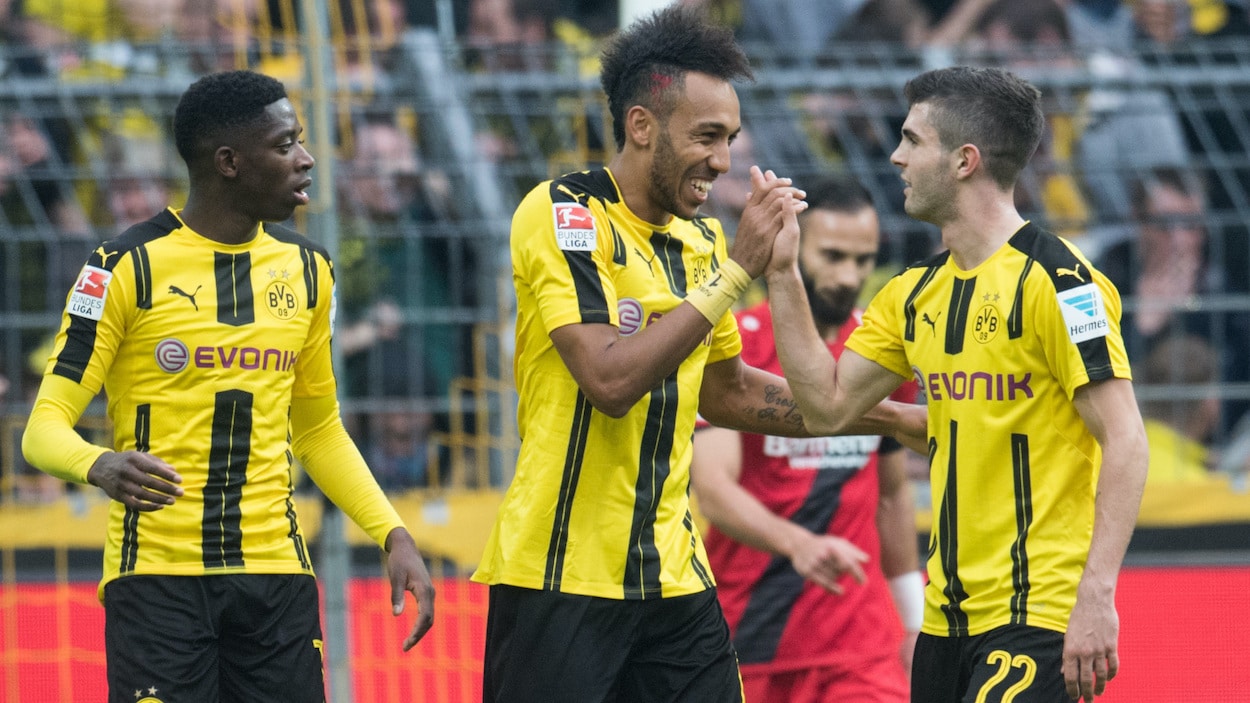 10. July 2016: Ilkay Gundogan, CM, Manchester City, €27M
German-Turkish midfielder Ilkay Gundogan arrived in Dortmund from fellow Bundesliga club FC Nuremberg in the Summer 2011 transfer window for €5.5 million. After 157 appearances, 15 goals, and 20 assists under manager Jürgen Klopp, Borussia Dortmund flipper Gundogan for a tidy €21.5 million profit to Manchester City in the English Premier League.
In the EPL, Gundogan has helped Man City become one of the best teams in the world, winning four Premier League trophies and five domestic cups. Ironically, in this period, City's biggest rival has been Liverpool, led by Gundogan's old manager Klopp.
9. July 2019: Abdou Diallo, CB, Paris Saint-Germain, €32M
The shortest-tenured BVB player on this top 10 most expensive Borussia Dortmund transfers list is 26-year-old Senegalese center-back Abdou Diallo. The young defender arrived at Dortmund from FSV Mainz 05 in the Summer of 2018 for €28 million, and the club flipped him one year later for €32 million to the French powerhouse PSG.
Diallo made 50 appearances for PSG but hasn't quite panned out. He is currently back in the Bundesliga on RB Leipzig on loan with an option to buy.  
8. July 2016: Mats Hummels, CB, Bayern Munich, €35M
German defender Mats Hummels has ping-ponged between Bundesliga giants Bayern Munich and Borussia Dortmund for his entire career. He started his football journey at the age of 7 with Bayern's youth side. After working his way up to the senior team, Munich loaned him to Dortmund, which eventually bought him for €4.20 million.
Hummels became one of the world's best CBs, and BVB sold him back to their rivals for €35 million in 2016. After three seasons with Bayern, the club sold Hummels back to Dortmund at the age of 30 for a €4.5 million loss.
7. July 2013: Mario Götze, CAM, Bayern Munich, €37M
Another player who went back and forth from Borussia Dortmund to Bayern Munich was attacking midfielder Mario Götze. In 2013, BVB sold Götze to Bayern for €37 million because the attacker wanted to play for Pep Guardiola instead of Jürgen Klopp.
After 114 appearances, 36 goals, and 24 assists in Munich, Gotze returned to the club he joined as an 11-year-old for just €20 million. In 2020, he left on a free transfer to PSV Eindhoven in the Netherlands, and in 2022 he returned to the Bundesliga for a €3 million transfer to Eintracht Frankfurt.
6. July 2016: Henrikh Mkhitaryan, CAM, Manchester United, €42M
Armenian midfielder Henrikh Mkhitaryan moved from Shakhtar Donetsk in Ukraine to Borussia Dortmund in 2013 for €27.5 million. After his third season in Germany, Mkhitaryan was one of the best playmakers in the world and won the Bundesliga Players' Player of the Season Award.
This led to a €27.5 million swoop from Man United in the Premier League. Unfortunately for the Red Devils, Mkhitaryan never lived up to his BVB form in the EPL. He's since bounced around European football, playing for Arsenal, Roma, and (currently) Inter Milan in Italy.
5. July 2022: Erling Haaland, ST, Manchester City, €60M
Manchester City striker Erling Haaland might not be the top player on this most expensive Borussia Dortmund transfers list, but he may go down as the best overall. The Norwegian is burning up the Premier League after moving from Germany to England for the €60 million release clause in his BVB contract.  
That €60 million is a nice profit after two seasons (and 86 goals) following a €20 million move from RB Salzburg in Austria. However, Dortmund did make a mistake by not upping Haaland's release clause high enough. With his age and talent, Haaland should have gone for well over €100 million.
4. July 2018: Pierre-Emerick Aubameyang, ST, Arsenal, €63.75M
Unlike many on this top 10 most expensive Borussia Dortmund transfers list, Gabon striker Pierre-Emerick Aubameyang came to Dortmund a little later in his career. After starting his career with AC Milan and bouncing around France's Ligue 1, St-Etienne sold Aubameyang for €13.00m at age 24.
The prolific goal-scorer had 141 tallies for Dortmund, which is why Arsenal shelled out €63.75M for the forward. While he's never hit his BVB heights again, he's been a productive scorer for Arsenal, Barcelona, and now Chelsea (as a teammate of Christian Pulisic).
3. January 2019: Christian Pulisic, RW, Chelsea, €64M 
Christian Pulisic is the most expensive American soccer player of all time with his move from Borussia Dortmund to Chelsea, but just the third player on this list. The USMNT star arrived in Germany as a teenager in 2015 and debuted for the club earlier than another American would have due to his Croatian passport.
"Captain America" put in 19 goals and added 26 assists in his teens and early 20s for BVB before Chelsea paid €64 million to bring him to England. In the EPL, Christian Pulisic is hit or miss and is currently the subject of transfer rumors, so he may be on the move again soon.
2. July 2021: Jadon Sancho, LW, Manchester United, €85M
Young Englishman Jadon Sancho was a Manchester City prospect before he forced his way out as a teenager due to a lack of playing time. City sold him to Dortmund for €20.59 million and a clause where his original English club would get 15% of his next sale.
That next sale was from Dortmund to Man City's rival, Manchester United, which netted the blue team in Manchester a little over €12 million.
1. August 2017: Ousmane Dembélé, RW, Barcelona, €140M
The most expensive Borussia Dortmund transfer in history happened in the Summer of 2017 when BVB sold winger Ousmane Dembélé to Barcelona for a whopping €140 million. That represents a €105 million profit after the German club paid French side Rennes €35 million for Dembélé in 2016.
The young French attacker showed a lot of promise in Germany, with 10 goals and 22 assists as a teenager. In Spain, Dembélé has been good, but he hasn't quite reached the heights Barca may have expected. In 178 appearances for Blaugrana, the forward has 40 goals and 41 assists over the last five-plus seasons.