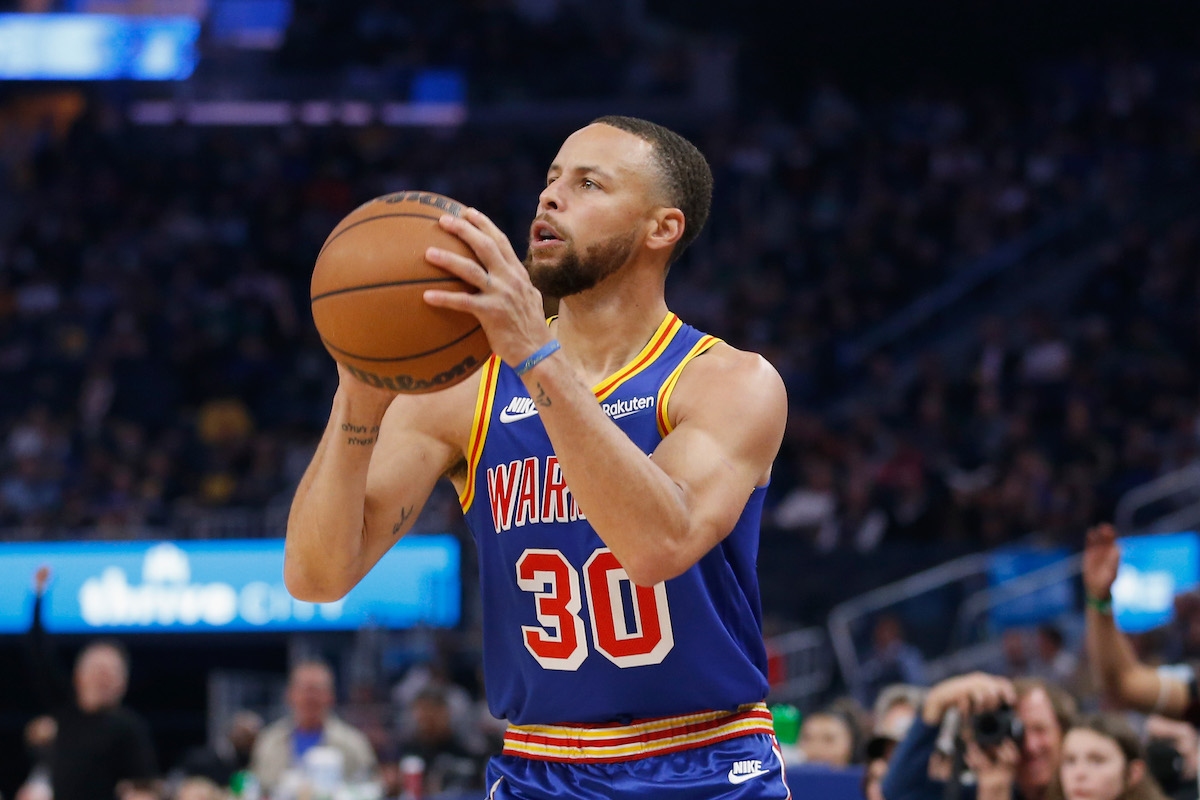 Stephen Curry Hasn't Come Close to Being NBA's Most Valuable 3-Point Shooter in 2021-22
Stephen Curry is the greatest shooter of all time, but he hasn't been the most valuable three-point shooter in 2021-22. He actually sits outside the top five.
Stephen Curry, the Golden State Warriors point guard with two scoring titles, two MVP trophies, and three NBA championships on his resume, among countless other recognitions, is basically synonymous with the very concept of three-pointers these days. He's credited with drastically altering how offensive basketball works at the sport's highest level, prompting plenty of imitators who have started to fire away from all angles and at all times.
But he hasn't been the league's most valuable shooter in 2021-22, hard as that may be to believe when he's almost universally — we really should be able to drop "almost " at this point, but stubborn holdouts will always exist — considered the greatest marksman in the sport's history.
To determine that objectively, we're turning to a simple formula.
By comparing a player's points per shot on three-point attempts to the league average (1.056) and multiplying the difference by the number of three-point attempts by that player, we can calculate how many more points the player has scored with such shots than a league-average sniper would've with the same number of attempts. This ignores how the shots were created and the degrees of difficulty, but it works as a pure volume/efficiency barometer.
Steph usually leads the pack, but he's not even the top finisher among his own family in 2021-22.
Nos. 10-6: Tyrese Haliburton, Stephen Curry, Grayson Allen, Seth Curry, Anfernee Simons
10. Tyrese Haliburton, Indiana Pacers: 62.26 points added
9. Stephen Curry, Golden State Warriors: 63.07 points added
8. Grayson Allen, Milwaukee Bucks: 63.2 points added
7. Seth Curry, Brooklyn Nets: 66.27 points added
6. Anfernee Simons, Portland Trail Blazers: 70.29 points added
The sprained ligament in his left foot after an unfortunate collision with Marcus Smart during a loose-ball scramble will prevent Stephen Curry from moving any further up these rankings in the near future, but it says a lot that he's brushing shoulders with so many impressive young snipers even during one of the least accurate seasons of his career.
Curry has connected on just 38.0% of his shots from beyond the arc in 2021-22, and that's the first time he's been below 41.0% during any qualified season. (He hit just 24.5% of his deep looks in 2019-20, but that came in only five appearances before he was shut down for the year.)
Of course, he still couples that with two factors that make his work all the more impressive.
The sheer volume with which he fires away continues to propel him up this leaderboard. Since he's taking 11.7 treys per contest, even that reduced accuracy has allowed him to pace the league in three-pointers made (285) by a rather substantial margin. This just isn't a volume contest, which is why the leading runners-up — Buddy Hield (233), Fred VanVleet (225), and Malik Beasley (225) — aren't showing up in this countdown at all.
The manner in which threes are generated also doesn't matter here, though it makes Curry's efforts that much more impressive. He's only needed assists on 57.2% of his successful threes, which is one of the lowest marks of his career and speaks to the persisting skill to find nylon off the bounce regardless of the defensive attention he receives.
5. Evan Fournier, New York Knicks: 74.31 points added
Shooting Line: 218-of-549
Three-Point Percentage: 39.71
Points per Shot: 1.191
Evan Fournier got his New York Knicks career started with a bang by drilling six triples in a season-opening victory over the Boston Celtics — not so coincidentally, that was the last team he suited up for in 2020-21 — and has continued to make long-range buckets with aplomb.
His overall campaign in Madison Square Garden? That's been rather lackluster since he's struggled to do much else at a high level and has been unable to lift up a down-in-the-dumps Knicks offense under head coach Tom Thibodeau. But he's kept making threes at a 39.7% clip, and that isn't coming on inconsequential volume since he's firing away 7.7 times per game.
Notably, Fournier became the Knicks' franchise leader for threes in a single season when he went 4-of-10 against the Charlotte Hornets on Wednesday night. John Starks, who made an NBA-leading 217 during the 1994-95 season, now sits at No. 2.
4. Patty Mills, Brooklyn Nets: 85.87 points added
Shooting Line: 212-of-521
Three-Point Percentage: 40.69
Points per Shot: 1.221
Patty Mills needs far more attention for the successful season he's had with the Brooklyn Nets.
Though Kyrie Irving's on-and-off availability, the James Harden-Ben Simmons drama, and Kevin Durant's consistent excellence have often taken center stage, the diminutive sniper has provided persistent production regardless of whether he's in the starting five or coming off the pine.
His per-game averages of 12.1 points, 2.0 rebounds, and 2.3 assists are nothing to write home about, but he's taking 7.2 threes per contest and hitting 40.7% of them despite spending just 29.8 minutes per game on the floor. That translates to 3.6 triples per 36 minutes, which would leave him behind only 11 qualified players throughout the Association, only one of whom (Anfernee Simons) is connecting at better than 40%.
Of course, this is nothing new for Mills, who has excelled from outside the rainbow throughout his career and quietly sits at No. 48 in lifetime treys made.
3. Cameron Johnson, Phoenix Suns: 102.15 points added
Shooting Line: 159-of-355
Three-Point Percentage: 44.79
Points per Shot: 1.344
Cameron Johnson can flat-out shoot the basketball.
After connecting on 39.0% of his triples as a rookie out of North Carolina and a meager 34.9% of his long-range attempts as a second-year player, he's reached that proverbial next level during his age-25 campaign. He's drilled his 5.9 attempts per game at a remarkable clip, and he's been downright unstoppable from the corners.
Especially effective from the right side but quite adept from the opposite end of the half-court set, Johnson has tickled twine on 47.7% of his shots from the corners. They almost invariably come off set-up feeds, but he makes each opponent who leaves him alone in his favorite spot regret the decision to lose track of his whereabouts.
At this early stage of his career, the only knock on Johnson's marksmanship is that he doesn't self-create. Of his 159 made threes this season, all but four have required a set-up pass.
2. Desmond Bane, Memphis Grizzlies: 108.55 points added
Shooting Line: 209-of-491
Three-Point Percentage: 42.57
Points per Shot: 1.277
At this point, we might have to accept that this is the standard for Desmond Bane, who deserves to be called one of the NBA's truly elite shooters even at this early stage of his professional career.
Entering the Association as the No. 30 overall pick out of TCU in the 2020 draft, Bane proceeded to knock down 43.2% of his triples while taking an even 4.0 per game as a rookie. This year, he's moved those numbers to 7.0 and 42.6%, respectively, in his age-23 go-round as a 6-foot-5, 215-pound three-and-D menace with an ever-expanding all-around game.
Except Bane, who's one of the biggest non-Ja Morant reasons for the Memphis Grizzlies' surge up the Western Conference standings, just keeps getting better.
Since returning from the All-Star break, Bane has taken 7.4 three-point attempts per game and converted them at an unfathomable 45.2%. Plus, he's doing all this while creating far more of his offense off the bounce, dropping his percent assisted on threes from 93.2 to 82.8 during his two campaigns on Beale Street.
At this point, it would be foolish to overlook him in any conversations about the league's best shooters.
1. Luke Kennard, Los Angeles Clippers: 110.87 points added
Shooting Line: 170-of-378
Three-Point Percentage: 44.97
Points per Shot: 1.349
Even while he was struggling to justify his draft slot (No. 12 overall in 2017) with the Detroit Pistons, Luke Kennard functioned as a top-notch sniper who could convert long-range attempts off the catch and off his own dribble. But everything clicked when he transitioned to the Los Angeles Clippers, and he's now — in rather overlooked fashion — emerged as one of the league's deadliest three-point weapons.
Kennard leads all qualified players in three-point percentage, and it's not like he barely makes the cut. He's taking an even 6.0 attempts per game and has made 63 appearances during his age-25 season.
To find someone earning more points per shot from beyond the arc, you have to drop the volume qualifiers down quite significantly.
Among players with at least 100 attempts, he (1.349) outpaces Cameron Johnson (1.344), Kyrie Irving (1.314), D.J. Augustin (1.289), and everyone else by a fairly substantial margin. Drop it to 50 required attempts, though, and he sinks to No. 5, trailing only Gorgui Dieng (28-of-62; 1.355 PPS), Rui Hachimura (39-of-84; 1.393 PPS), Joe Harris (41-of-88; 1.398 PPS), and Zeke Nnaji (37-of-76; 1.461 PPS).
Just don't forget that Kennard alone has taken 68 more three-pointers than Dieng, Hachimura, Harris, and Nnaji combined.
All stats, unless otherwise indicated, courtesy of Basketball Reference and accurate heading into games on March 25.