Stephen Curry Once Paused His Golf Round to Hop a Fence and Give Some Lucky Fans an Unforgettable Shooting Lesson in Their Backyard
Stephen Curry officially etched his name in the NBA record books by recently becoming the all-time leader in 3-pointers made, and he's remained humble through it all. The Golden State Warriors point guard is known as one of the most selfless superstars in sports today, and no story illustrates that better than the time he bailed on a round of golf to hop a fence and shoot some hoops with some extremely lucky fans.
Stephen Curry is one of the few "unselfish superstars"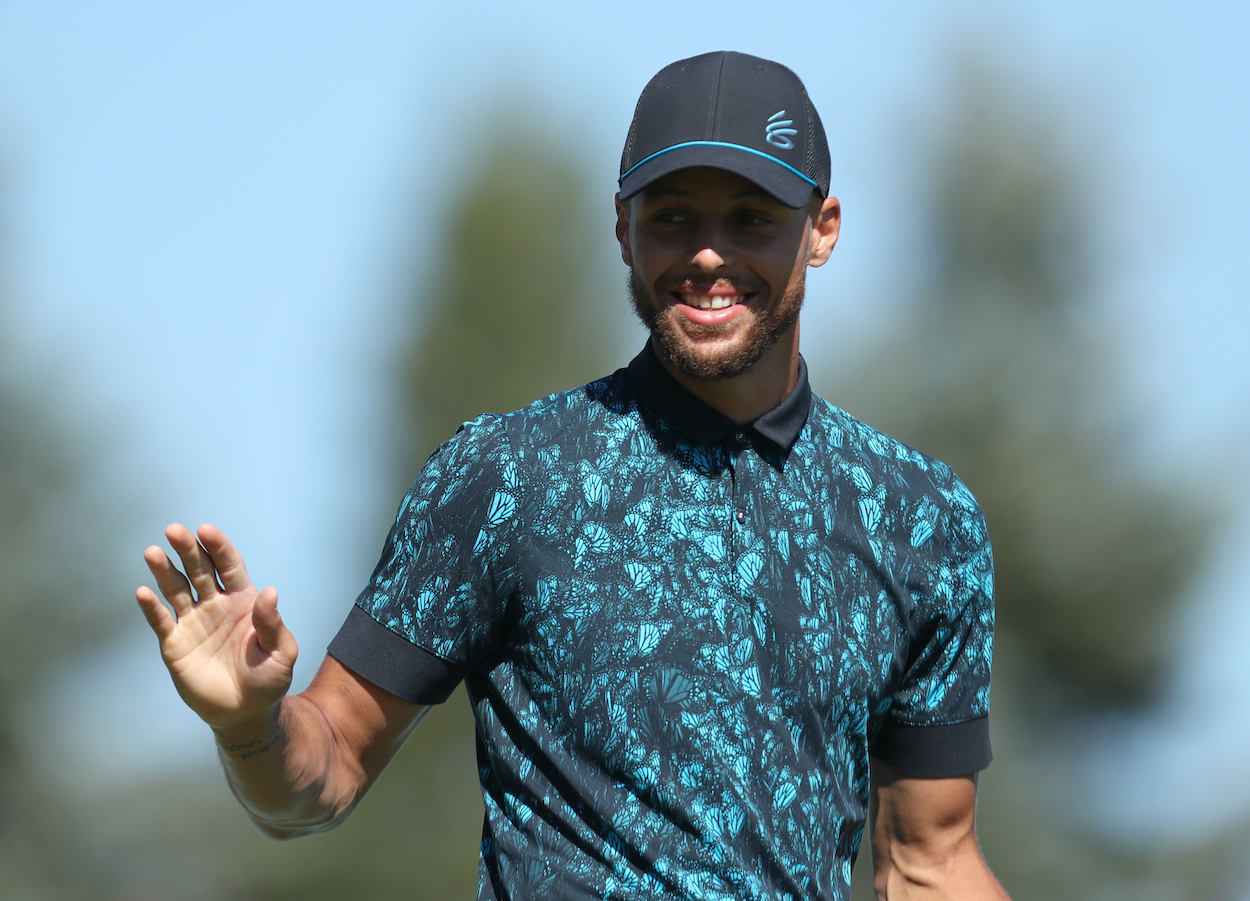 Curry is one of the most famous and most successful athletes on planet earth, but you wouldn't know it by the way he acts on and off the court. After winning the MVP award in 2016, Curry welcomed Kevin Durant to the Warriors and let him take over as the No. 1 scoring option late in games, and it paid off with two straight championships.
The sharpshooter might hold the NBA record for 3-pointers made, but he's also dished out more than 5,100 assists throughout his career. He's truly one of the few unselfish superstars remaining in professional sports.
And those aren't even my words.
"He makes everyone great," Warriors forward Andrew Wiggins said last year, per NBC Sports. "He's like the most unselfish superstar. That's a good way to put it. He attracts so much attention that he's going to find the open man, and he makes the right plays."
He's the same way off the court, too.
Curry once bailed on a round of golf to shoot hoops with some lucky fans
Curry is such a beloved athlete partly because of how he interacts with fans off the court. He's never been one to turn away a picture or autograph request.
In one instance, he even bailed on a golf round to give a few lucky fans a quick shooting lesson. Josh Sens of Golf.com recently told the heartwarming story.
"Seems that earlier this season, Curry, too, had played a guest round at Lake Merced, though his appearance caused a bit more of a stir than mine did," Sens writes. "On what was then the 11th hole (the course is now in the midst of a renovation, and the old routing is being reworked), a par-4 that runs along the edge of a residential neighborhood, Curry sees a couple of boys shooting hoops in a backyard. So he drops his clubs, heads over to the tall fence that separates the course from the homes, and asks the stunned kids if he can join them.
Um…sure?!
And just like that, Curry scales the fence and gives the kids an impromptu shootaround they'll never forget."
Incredible.
The humble 3-point king
After Curry broke the all-time 3-point record earlier this week, the first thing he did was thank the teammates who made the record possible.
"This is a career milestone because of everybody I got to suit up with," Curry said. "Everyone that set screens for me, everybody that passed me the ball, everybody that believed in our offense and believed in winning and the process. So, this is truly special man."
Curry also gifted Draymond Green and Andre Iguodala, the two teammates who have assisted on most of his career threes, engraved Rolex watches as a thank you.
How can you not like this guy?
Like Sportscasting on Facebook. Follow us on Twitter @sportscasting19.