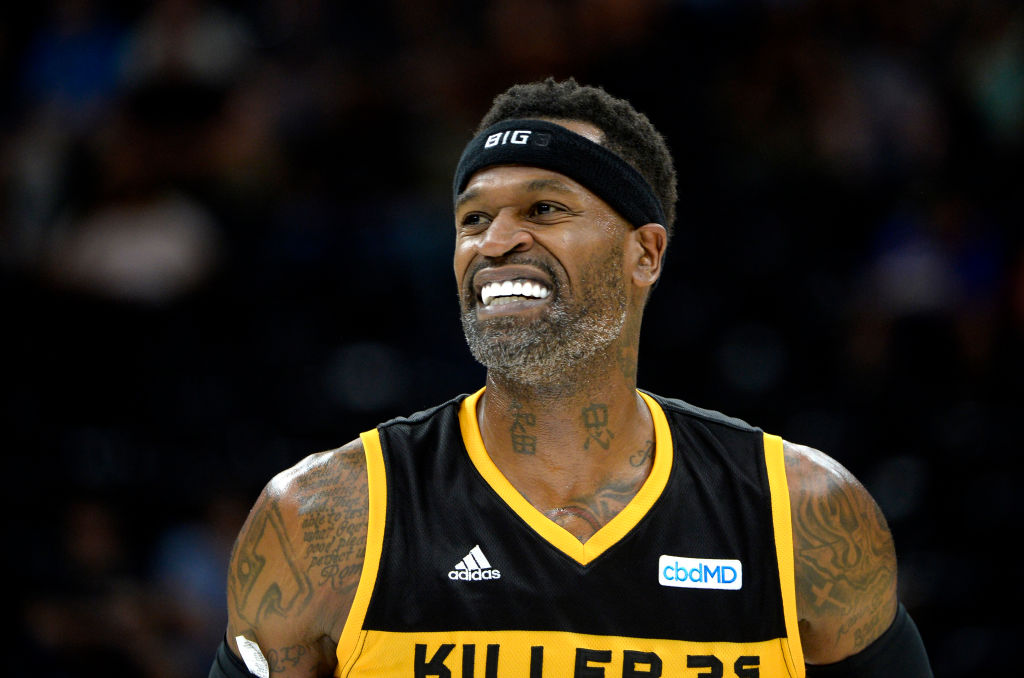 Stephen Jackson Says Now Is Not the Time for the NBA to Resume
Stephen Jackson says now is not the time for the NBA to resume playing because it will be a distraction from fighting racial inequality.
Stephen Jackson knew George Floyd personally. He also played in the NBA. Jackson said now would not be a good time for the league to resume its season because it would be a distraction as the country is focused on racial injustice after Floyd's death on May 25.
Stephen Jackson was George Floyd's 'twin'
Stephen Jackson put together a heartfelt Instagram post the day after his friend George Floyd was murdered by Minneapolis police officer Derek Chauvin. Floyd, who is black, had his neck kneeled on for nearly nine minutes as he was handcuffed during an arrest and pleading for help.
Floyd died as a result of the incident and his death has helped bring awareness to the social injustice and police brutality in the country. Floyd's death has rekindled talk of Colin Kaepernick's stance of kneeling during the national anthem when he was protesting racial inequality.
Jackson bore a physical resemblance to Floyd and they were friends, calling each other 'twin.' Jackson has recently come out and said the NBA, on hiatus since March 11 from the coronavirus (COVID-19), should not return at this moment.
The NBA has been considering a return in late July
The NBA has a plan to return to action July 30 with 22 teams coming to Orlando, Florida to play eight games to determine playoff seeding for the 16 teams that will make the playoffs. There has been some hesitation from players about being limited to the 'bubble' area in Orlando which would help players social distance.
Recently, Kyrie Irving, who is expected to be out the rest of the season after undergoing shoulder surgery, expressed concern about beginning the season for a different reason. Irving led a conference call with about 80 players, saying he didn't approve of returning to play because of the injustices taking place in the country.
"I don't support going into Orlando," Irving said, according to Sports Illustrated. "I'm not with the systematic racism and the bulls–t. Something smells a little fishy." Irving also said he's "willing to give up everything" for social reform.
Stephen Jackson echoes Irving's comments
In an interview with NBA Insider Shama Charania, former NBA player Stephen Jackson said the NBA should put a halt to resuming its season. He said there are more important things to deal with than playing basketball. He would like the country to continue its focus on resolving social injustice and he feels the NBA returning to action would be a distraction.
"We have to take advantage of this moment," Jackson said. "How long are we gonna put things more important than humanity? How long are we gonna put material things and games and stuff more important than people? This is the moment we have to stop that and I think people understand that, but I think they have to get out of their comfort zone."
He continued with, "We have to stop worrying about offending people because we're the ones getting killed."