Stewart-Haas Racing Got It Right Again With Another Major Driver Decision
Tony Stewart has worked hard for a year just to keep Stewart-Haas Racing in the ranks of the mediocre, and the job is only half done. His biggest decision is yet to come, and he can spring it on NASCAR fans at any time.
It'll need to be a winner, but at least he goes into it on a solid streak off the track that may eventually lead to victories on it.
Aric Almirola agreed to stay with Stewart-Haas Racing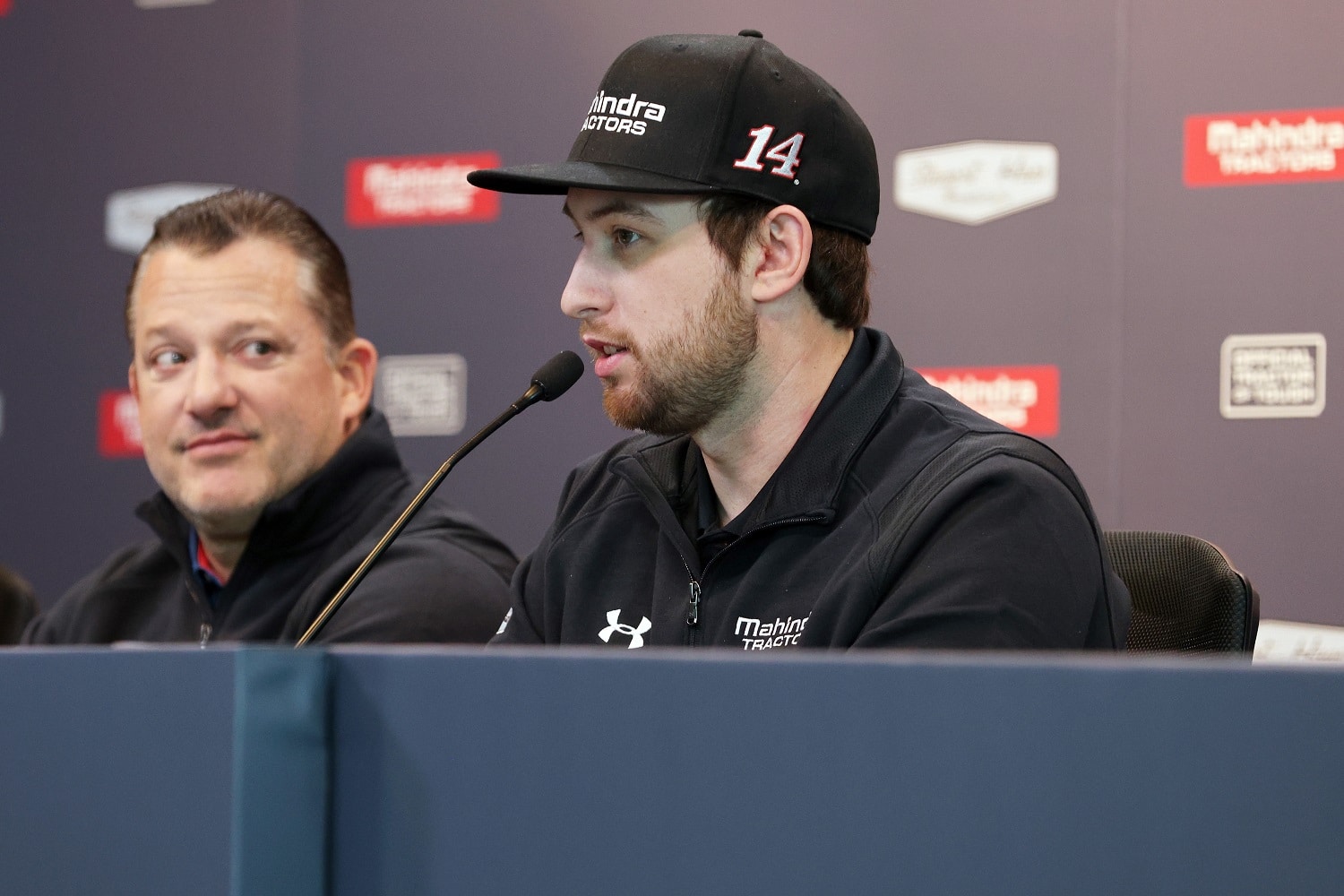 Aric Almirola kicked off the 2022 NASCAR Silly Season in record time, announcing just after the holidays that he was retiring at the end of the season. Almirola was only 37 years old at the time, and his decision to quit prematurely was a blow to an organization that saw Clint Bowyer retire a year earlier at the age of 42.
Almirola has only three Cup Series victories, but he was also the only Stewart-Haas Racing driver to win in 2021, a season in which Kevin Harvick face-planted. In quick order, SHR owners Tony Stewart and Gene Haas announced Ryan Preece, cast off by a downsizing JTG Daugherty, had been signed as a reserve driver.
SHR didn't give up on retaining Almirola, however. The driver of the No. 10 Ford was sponsored by Smithfield Foods, an arrangement that management feared losing if he left. Almirola reconsidered midway through last season and signed what was characterized as a multi-year deal, with Smithfield staying onboard.
Ryan Preece could be second in seniority at SHR by next January
Cole Custer wasn't panning out for Stewart-Haas Racing. He won once as a rookie in 2020, but the following season was poor, and 2022 proved to be worse. Owners Tony Stewart and Gene Haas were split on what to do with him, and Stewart eventually won out; Custer is dropping down to the Xfinity Series in 2023, replaced in the No. 41 Ford by Ryan Preece.
Preece's Cup series history isn't any better than Custer's, but he was in inferior equipment at JTG Daugherty. SHR can reasonably expect him to do better than Custer's one win and 12 top-10 finishes in 111 starts.
In fact, SHR needs Preece to make an impact. With Kevin Harvick definitely gone at the end of the season and Aric Almirola not a sure bet to stay, Preece could be second to Chase Briscoe in SHR driver seniority at this time next year.
And that's where Stewart's remaining decisions will have to start taking root. He already knows he must replace Harvick for 2024, and Almirola will likely make his status known by midseason.
Stewart-Haas Racing extended Chase Briscoe's deal
Even assuming he pulls off a brilliant hire (or two) to shore up the lineup, Tony Stewart doesn't want to be back on the driver turnover treadmill again a year from now. To that end, he announced a multi-year contract extension this week for Chase Briscoe, 28, and it was a smart move.
SHR promoted Briscoe from the Xfinity Series a year too soon because Clint Bowyer retired, but he produced a solid second season with a win in the No. 14 Ford at Phoenix in March and nine other top-10 finishes. His average finish in the 10 playoff races was 13.1, much stronger than his overall average of 17.3.
There's no way Stewart-Haas Racing (or anyone else, for that matter) is prying Ross Chastain loose from Trackhouse Racing, so Briscoe offers his team much-needed stability into the middle of the decade while Stewart sets the rest of the lineup.
"I wanted to be at Stewart- Haas; that personal tie for me to the '14' is important," Briscoe told Bob Pockrass of Fox Sports. "So, I felt like we were both kind of pushing it to get something done. But, at the same time, I think it was probably a little bit more than them than me."
Like Stewart, Briscoe has Indiana roots. He came up through the Ford system and envisioned driving for SHR in the Cup Series.
Said Stewart: "Chase has made the most of every opportunity and the proof is in the results. Keeping him at SHR was a priority and we're proud to have him in our race cars for many more years to come."
Got a question or observation about racing? Sportscasting's John Moriello does a mailbag column each Friday. Write to him at [email protected]