2022 NASCAR Cup Series Silly Season: Tracking the Winners and Losers
Aric Almirola kicked off the 2022 NASCAR Cup Series Silly Season before the schedule even opened at the Los Angeles Coliseum with the Busch Light Clash.
The pace picked up in early summer thanks to constant speculation about Kyle Busch's future, which remained unresolved entering August. But actual moves are getting made, and rumors will become facts right up until early 2023.
Here's the skinny as we grade the developments thus far:
July 30: Erik Jones re-signs with Petty GMS
The arrival of Maury Gallagher as the team principal last December has transformed the former Richard Petty Motorsports. Gallagher scuttled plans for his own team and instead doubled the size of Petty GMS to two cars.
Gallagher and Petty had been keen to keep Erik Jones for a third season and beyond, and they made that happen one day before the race on the Indianapolis road course.
Jones hasn't won since 2019, but he is having a solid season, even if he falls short of a playoff berth for the third straight year. He brings continuity to an organization actively seeking a replacement for Ty Dillon for next year.
Team grade: B+
July 16: Don't close the books on Aric Almirola just yet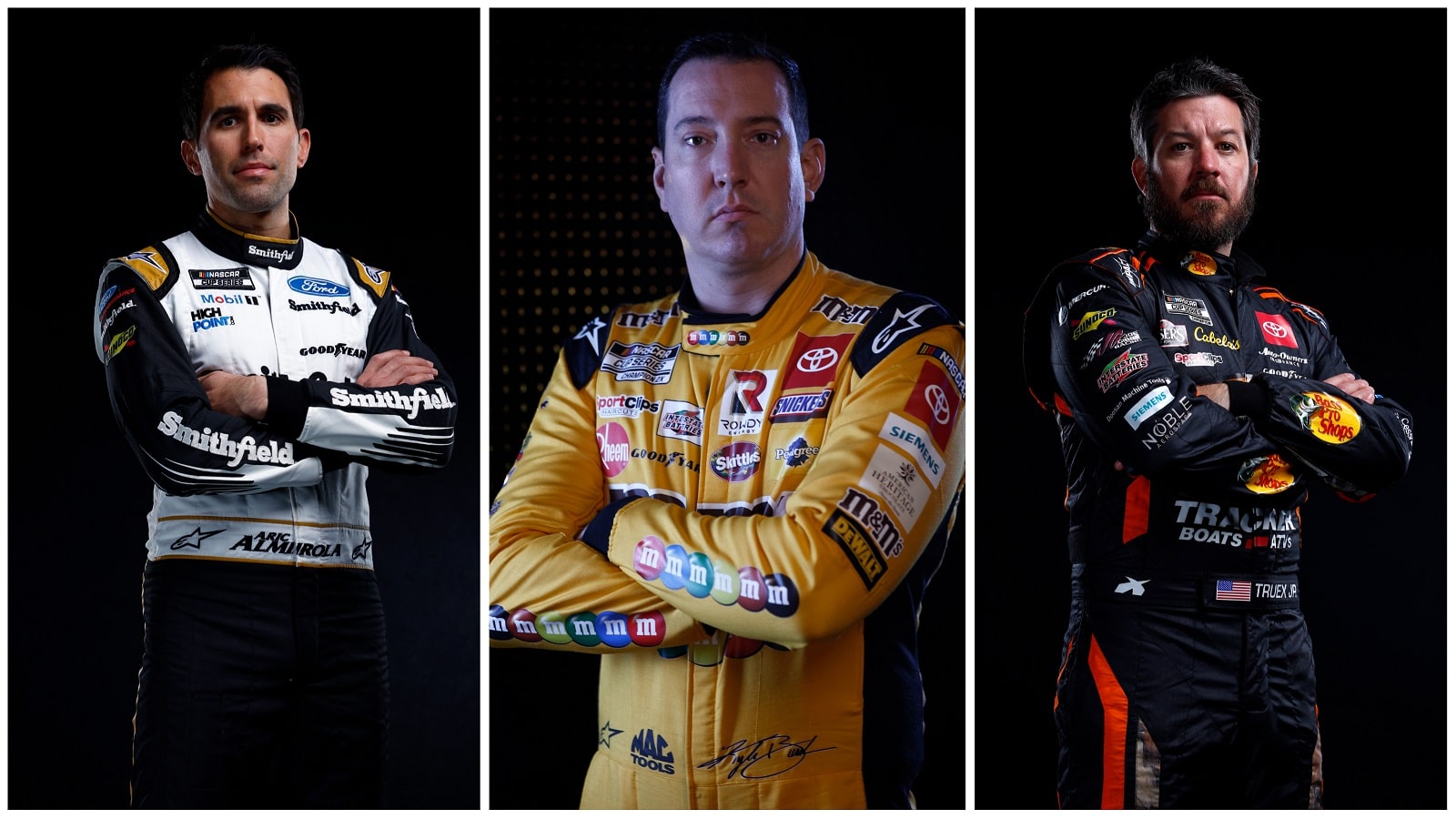 Aric Almirola is no longer a sure bet to retire after the Cup Series season following an NBC Sports update indicating that his return in a part-time role could help Stewart-Haas Racing retain its lucrative Smithfield Foods sponsorship.
"It keeps getting brought up, and the chatter turns into real chatter," Almirola said. "More questions are getting asked by decision-makers."
Family considerations (his son and daughter are growing fast but still a few years from their teen years) played a role in Almirola's announcement on Jan. 10 that he would exit the No. 10 Ford at least a couple of years sooner than expected.
Almirola returning to run even a partial season would be a blow to Xfinity Series drivers and displaced Cup Series veterans looking for full-time work in 2023.
Original grade: C+
Current grade: Incomplete.
July 16: Petty GMS reveals Ty Dillon will not return in 2023
This was framed as a mutual decision, but it clearly was a firing. Dillon wants to remain in the NASCAR Cup Series; regardless of family connections, there won't be a hot market for a driver who is winless, with seven top-10 finishes, in 188 career starts.
Dillon hasn't been blessed with great equipment, including four full seasons at Germain Racing, and consistently finishes on the good side of the average start/finish metric. However, Petty GMS is looking to gain ground on rival small teams. Dillon had to go, and it's up to the team to make an upgrade in the No. 42 Chevy.
Team grade: B
July 12: Tyler Reddick to compete for 23XI Racing beginning in 2024
Richard Childress Racing had Tyler Reddick locked up through the end of next season, so no one saw the shocker of the year coming. Though the two-car 23XI Racing team doesn't technically have a seat available yet, the team signed Reddick to drive for it beginning in 2024.
Richard Childress was understandably upset upon learning the news, but the best move for RCR is to bite the bullet and keep Reddick in the No. 8 Chevy for the duration to collect the owner points and the associated Cup Series payouts based upon three years of performance.
As for 23XI, Kurt Busch is presumed to be ready to retire after a 2023 farewell tour. That may not stop the team from pursuing a third charter, however, in order to continue expanding.
Driver grade: B (For a presumed big bump in pay)
23XI grade: A
June 24: Ricky Stenhouse Jr. signs extension with JTG Daugherty
Sponsorships with Kroger and Sunny D must be rock-solid. That's the only explanation for JTG Daugherty announcing a multi-year extension for Ricky Stenhouse Jr. in the No. 47 Chevy.
To be brutally frank, there's little that stands out on Stenhouse's driving record other than a propensity for getting caught up in wrecks. When he does finish, it's likely to be on the lead lap only half the time. Some of the fault there certainly lies on the team, but still …
This looks an awful lot like JTG Daugherty going the safe route money-wise instead of taking the low-risk gamble of bringing in a prospect who could grow into something other than perpetual 22nd- and 28th-place finishes.
Team grade: D
June 24: Martin Truex Jr. will remain at Joe Gibbs Racing in 2023
Of all the veteran drivers, Martin Truex Jr. started the season as the most likely to make 2022 his last year in NASCAR. However, Truex, 42, shut down the speculation just as it was intensifying. He still did not have his new deal finalized at the time of the announcement, but a one-year contract reportedly was in the works.
Truex enters August fourth in points but winless, putting a playoff berth at risk. He certainly still possesses the skills necessary to run at the front and get back to Victory Lane. Keeping him in place benefits JGR just in case Kyle Busch does not return next season.
Driver grade: A-
Team grade: A-
Jan. 6: Ryan Preece joins Stewart-Haas Racing as a reserve driver
Sponsorship money almost certainly tilted the scales when JTG Daugherty Racing opted to keep Ricky Stenhouse Jr. instead of Ryan Preece last fall as it dropped down to a one-car garage. There had been no discernable difference between the two in on-track performance over the last three seasons.
With COVID-19 still a marginal concern and knowing Aric Almirola was going to announce his retirement, Stewart-Haas Racing signed Preece as its reserve driver, a luxury for smaller teams but not a bad idea for a three- or four-car shop.
The idea was to find Preece some Xfinity and truck series races to stay sharp but also keep him available in the event of an emergency. When the Almirola announcement came four days later, some assumed Preece was getting the No. 10 Ford in 2023. But that wasn't a certainty then and is even less certain now in light of chatter about Almirola continuing to race.
Original driver grade: B
Current driver grade: C
Like Sportscasting on Facebook. Follow us on Twitter @sportscasting19 and subscribe to our YouTube channel.
Got a question or observation about racing? Sportscasting's John Moriello does a mailbag column each Friday. Write to him at JohnM@Sportscasting.com.
RELATED: Keeping Erik Jones Gives Petty GMS the Lead in Silly Season