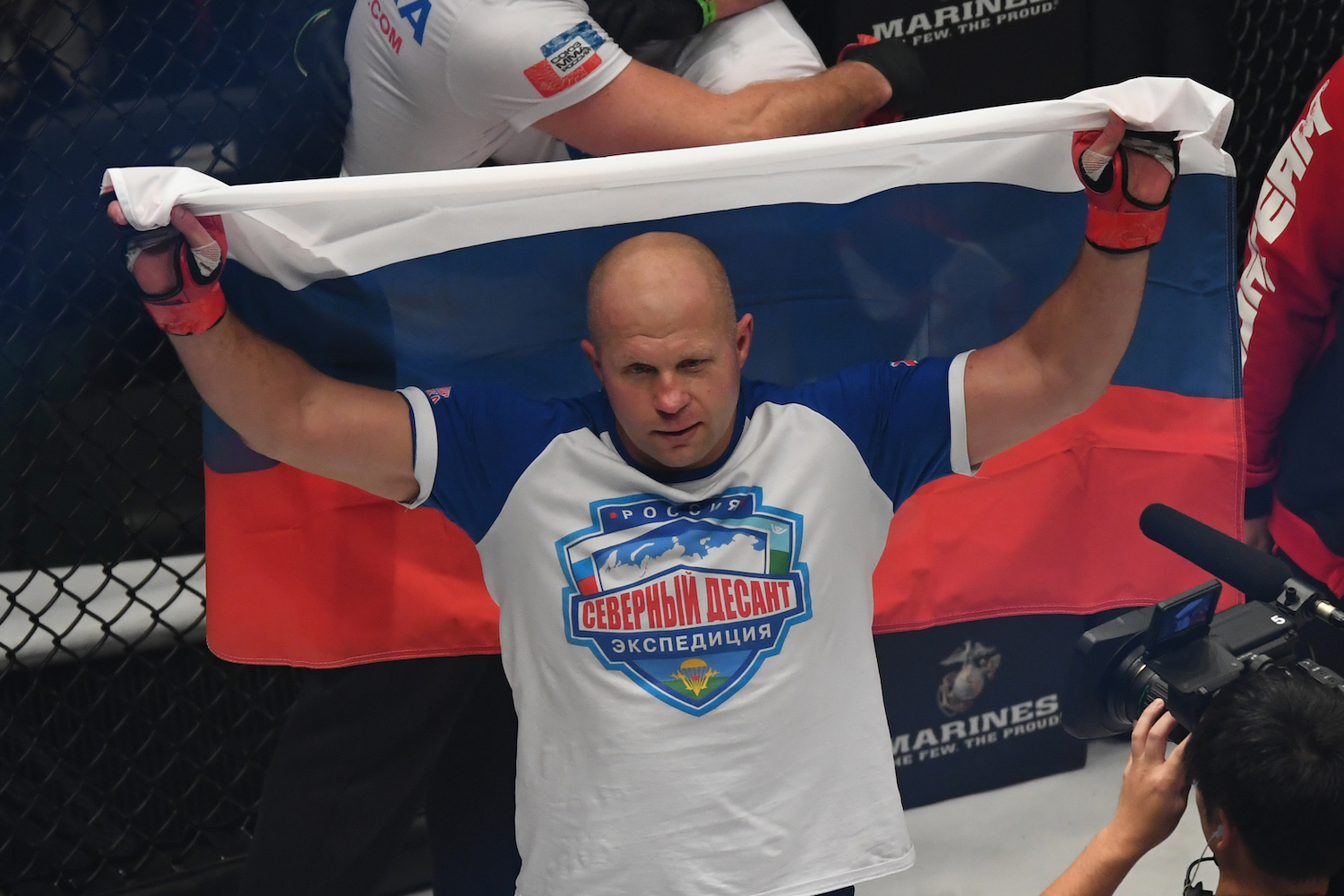 Stipe Miocic and Daniel Cormier Second Behind Fedor Emelianenko for Greatest MMA Heavyweight
Stipe Miocic and Daniel Cormier are fighting for the UFC heavyweight title and GOAT in UFC history. Neither can claim greatest heavyweight in MMA history. That title belongs to Fedor Emelianenko.
Tonight's UFC heavyweight championship title fight between the champion Stipe Miocic and former champion Daniel Cormier will determine who is the greatest heavyweight in UFC history according to the pundits, including UFC president Dana White. While that might be true for the promotion, that's not necessarily true for MMA history. Many believe Fedor Emelianenko is the greatest MMA heavyweight. Here's a comparison of the three heavyweights and their accomplishments.
Daniel Cormier's career
Daniel Cormier's career accomplishments are impressive. Since he made his debut in MMA fighting in 2009, Cormier has been a force. Just months after making his debut, Cormier traveled to Australia, where he won the XMMA Heavyweight Championship. More impressively, only two weeks later, he returned to fight back in the U.S. and captured the heavyweight crown in King of the Cage.
Cormier added to his heavyweight accolades winning the Strikeforce Heavyweight Grand Prix Tournament before he made his UFC debut in 2013 with an 11-0 record. His first UFC test was a tough one against former UFC heavyweight champ Frank Mir. Cormier won in an unanimous decision. He would win his next fight as a heavyweight before dropping down to compete in the light heavyweight division. 
What makes Cormier's claim to the best heavyweight fighter in UFC questionable is the years that followed. From early 2014 through mid 2018, he fought in the light heavyweight division. It wasn't until July 2018 when he defeated Stipe Miocic for the heavyweight strap. He successfully defended the title once and lost it to Miocic in 2019. 
(Cormier's career heavyweight numbers: 15-1 record, 10 finishes, 3 title fights won, 3 champions beaten)  
Stipe Miocic's career
Similar to Cormier, Stipe Miocic found success early winning in other promotions. In June 2011, he won the NAAFS Heavyweight Championship and improved his record to 6-0. Unlike Cormier, Miocic has fought exclusively in the heavyweight division his entire career.
He joined the UFC late in 2011 and won his first three fights before losing to Stefan Struve near the end of 2012. Miocic then won three straight again, lost to Junior Dos Santos, and then went on an unprecedented run and made UFC history after he defeated Fabricio Werdum in a first-round stunner to capture the heavyweight title.
Stipe Miocic successfully defended the heavyweight belt a record three times, which included avenging his earlier loss to Junior Dos Santos in a first-round TKO. He also added defeats of Alistair Overeem and Francis Ngannou. Cormier dethroned the champ in July 2018, but then Miocic recaptured the heavyweight title in 2019.  
(Miocic's career heavyweight numbers: 19-3 record, 15 finishes, 5 title fights won, 5 champions beaten)   
Fedor Emelianenko's career
Russian heavyweight Fedor Emelianenko made his professional debut in 2000. Similar to Cormier and Miocic, he won early in Rings, a fight promotion in Japan. In 2002, with a 10-1 record, Emelianenko joined the Pride promotion.
With Pride, Emelianenko maintained a high level of success. In just his third Pride appearance, he claimed the heavyweight championship, upsetting Antônio Rodrigo Nogueira, who later went on to become a UFC heavyweight champion. Emelianenko stayed at the top of the Pride heavyweight division for the next three years defeating the likes of Mirko Cro Cop and Mark Coleman, who would go on to become the first UFC heavyweight champ.
For the next several years, the UFC's Dana White tried to bring Emelianenko to the promotion. He never signed with UFC and instead continued to win with Affliction and at Strikeforce, including wins over Tim Sylvia and Andrei Arlovski, both future UFC heavyweight champs. 
In June 2010, Emelianenko lost for the first time in nine years at the hands of Fabricio Werdum. It was the first in a three-fight losing streak, and the initial signs of a decline in his career. He returned to winning shortly after and won eight out of his next 10 matches in various promotions, most recently with Bellator. 
(Emelianenko's career heavyweight numbers: 39-6-1 record, 30 finishes, 4 title fights won, 6 champions beaten)  
The greatest heavyweight in MMA history will continue to be a debate for years to come. That's because it will take years for Miocic or Cormier to put up the kind of numbers that Emelianenko has in his distinguished career.