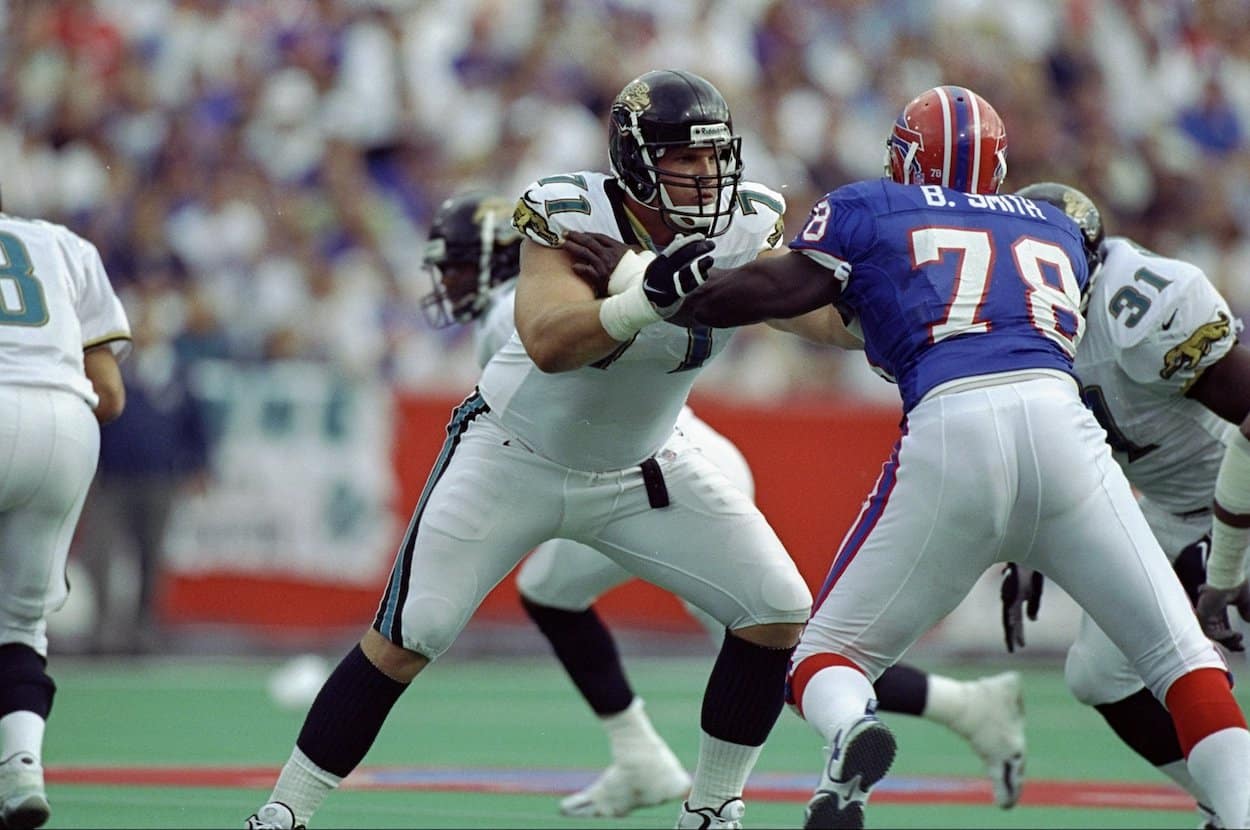 Buffalo Bills Legend Bruce Smith Goes off on Soon-to-Be Hall of Famer Tony Boselli: 'It Sets a Horrible Precedent'
Bruce Smith isn't happy about Tony Boselli's Hall of Fame campaign touting a game against him and he let the new HOFer and the world know it on social media.
Jacksonville Jaguars tackle Tony Boselli will go into the Pro Football Hall of Fame on Saturday, August 6, as part of the Class of 2002. Apparently, as part of his campaign, Boselli's "supporters" highlighted a playoff game against Buffalo Bills sack-master and fellow HOFer Bruce Smith.
Smith didn't like this at all and took to Instagram to share his intense displeasure with Boselli's candidacy. The pass-rusher even threw in some personal shots at the end about the left tackle's "brief career."
Tony Boselli had an excellent but short NFL career
With the No. 2 pick in the 1995 NFL Draft, USC left tackle Tony Boselli became the first draft pick in Jacksonville Jaguars history.
The 6-foot-7, 322-pound Colorado native was an All-American for the Trojans. The expansion Jaguars' head coach Tom Coughlin made him the franchise's first pick to protect quarterback Mark Brunell.
After a 4-12 inaugural season, the Jaguars started to click. In 1996, the team finished 9-6, good enough for a Wild Card bid. Boselli, Brunell, and Coughlin rode that playoff berth to wins over the Buffalo Bills and Denver Broncos before finally losing to the New England Patriots in the AFC Championship Game.
Boselli played five more seasons after that, helping Jacksonville make the playoffs three times. Personally, Boselli became one of the best offensive lineman in the league. In seven seasons, he made five Pro Bowls and three All-Pro teams.
In 2001, shoulder injuries limited him to just three games. A year later, the Houston Texans took him in the 2002 NFL Expansion Draft. Boselli was on the roster that year but never played a game for the Texans.
In 2022, Pro Football Hall of Fame voters chose Boselli for enshrinement alongside Cliff Branch, LeRoy Butler, Sam Mills, Richard Seymour, Bryant Young, coach Dick Vermeil, and official Art McNally.
Hall of Famer Bruce Smith went off on Tony Boselli on social media
Tony Boselli's day in Canton, Ohio, is still over a month away, but that didn't stop Hall of Fame pass-rusher Bruce Smith from voicing his displeasure about the enshrinement.
Smith started his Insta-rant by complaining, "A large part of the campaign to promote Tony Boselli into the Hall of Fame seems to hyper focus on a single successful performance he had against me in a 1996 playoff game."  
The only player in NFL history with 200 sacks continued by saying that he "and other HOFers believe it sets a horrible precedent to negatively zero in on a standing member of the Hall's play in order to validate the candidacy of a nominee."
Smith calls "underhanded tactics, like targeting a HOFer and hyping a one game matchup to bolster a nominee's merit" bad for the "harmony and goodwill" of the Hall.
The two-time NFL Defensive Player of the Year didn't stop there, though. He also took some shots at Boselli's "brief" NFL career:
Tony was a formidable opponent during his brief career, but I find it difficult to compare the totality of his body of work with those of the NFL's greatest left tackles. With the exception of the legendary Anthony Munoz; Jonathan Ogden, Willie Roaf, and Walter Jones all protected the blind side of the quarterback for 12 seasons or more. In Jacksonville, Leon Searcy bore the arduous task of protecting Mark Brunell's blindside, while Tony benefited from protecting the extremely talented, mobile left handed quarterback.

During my nineteen years in the NFL several outstanding LTs, such as Bruce Armstrong, Richmond Webb and Will Wilford, all had stellar games against me. Perhaps they too would be wise to build HOF campaigns highlighting that fact.

Bruce Smith on Tony Boselli
So, what happened in that 1996 playoff game that set Smith off?
AFC Wild Card Game, December 28, 1996: Jacksonville Jaguars 30, Buffalo Bills 27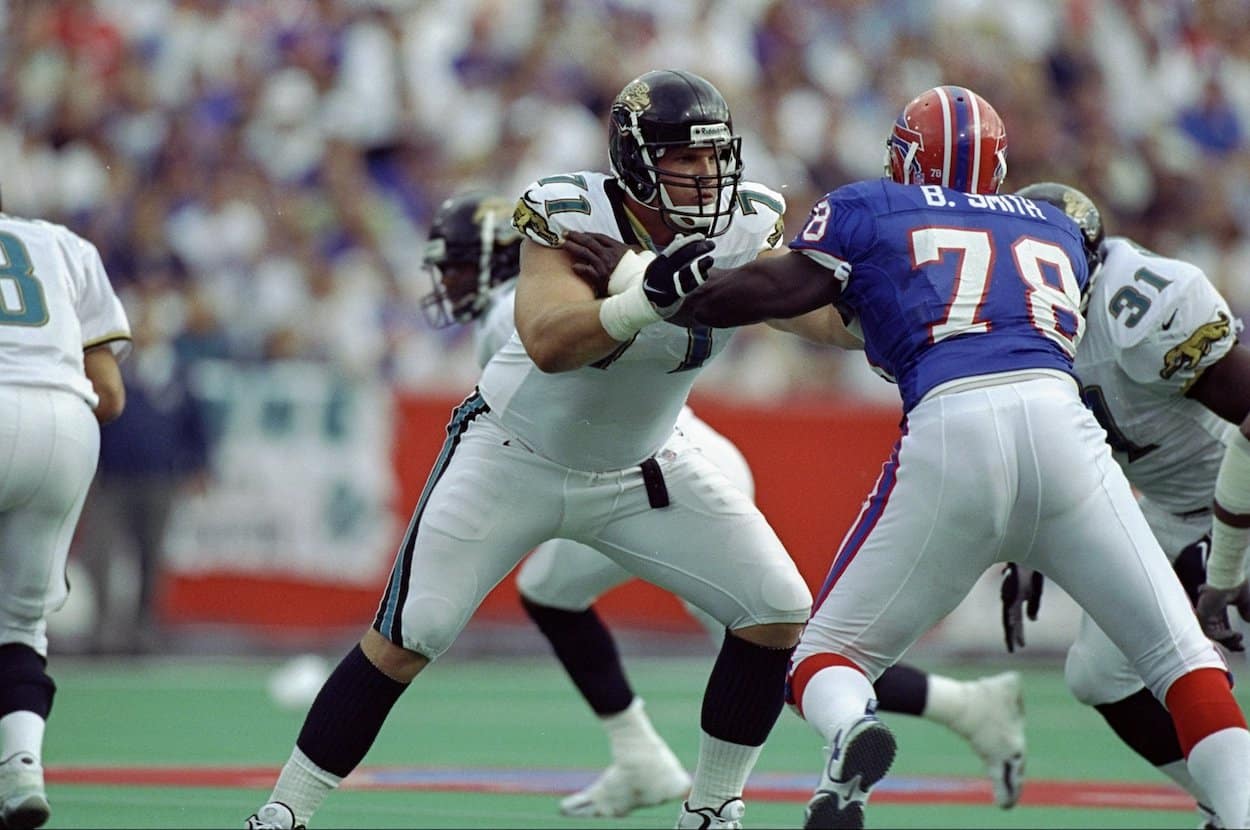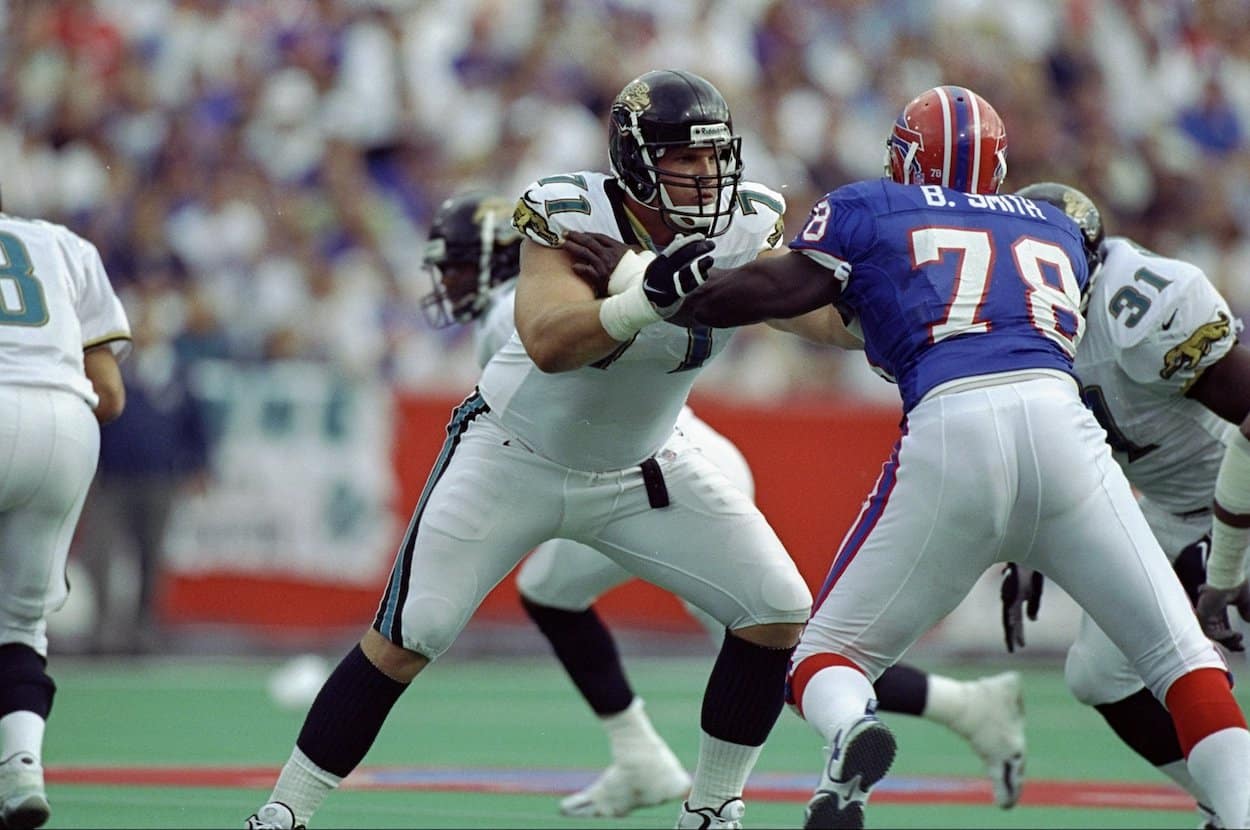 In 1996, the Buffalo Bills were three seasons removed from their epic four Super Bowl loss run. The team still had its big-name stars, but quarterback Jim Kelly (36 years old), running back Thurman Thomas (30), wide receiver Andre Reed (32), and Bruce Smith (33) were all getting up there in age.
The team still finished 10-6 for second in the AFC East to the New England Patriots. And Smith won his second Defensive Player of the Year Award, ninth Pro Bowl, and seventh All-Pro first-team.
On the Jacksonville Jaguars side, a young team with a young Tom Coughlin as head coach led the young franchise to its first playoff appearance.
The two 10-7 teams met in Rich Stadium in Orchard Park, New York, on a relatively balmy (for Buffalo in December) 39-degree day. The Bills were a strong -8.5 favorite.
On the day, Boselli held the veteran Smith to three tackles and no sacks on the mobile Mark Brunell. The Jags quarterback ended up with 239 passing yards with a touchdown and two interceptions. Jacksonville's secret weapon that day, though, was running back Natrone Means. The bruising back ran for 175 yards and score on 31 carries.
The game went back and forth for three quarters before the Bills took a 27-20 lead early in the fourth. The Jaguars scored a touchdown to tie it up, knocked Jim Kelly out of the game, and kicked a field goal with 8:40 left. With Todd Collins under center, the Bills couldn't mount another drive, and Boselli's Jaguars moved on.
Twenty-five years later, this game obviously still sticks in Smith's craw.
All stats courtesy of Pro Football Reference
Like Sportscasting on Facebook. Follow us on Twitter @sportscasting19 and subscribe to our YouTube channel.