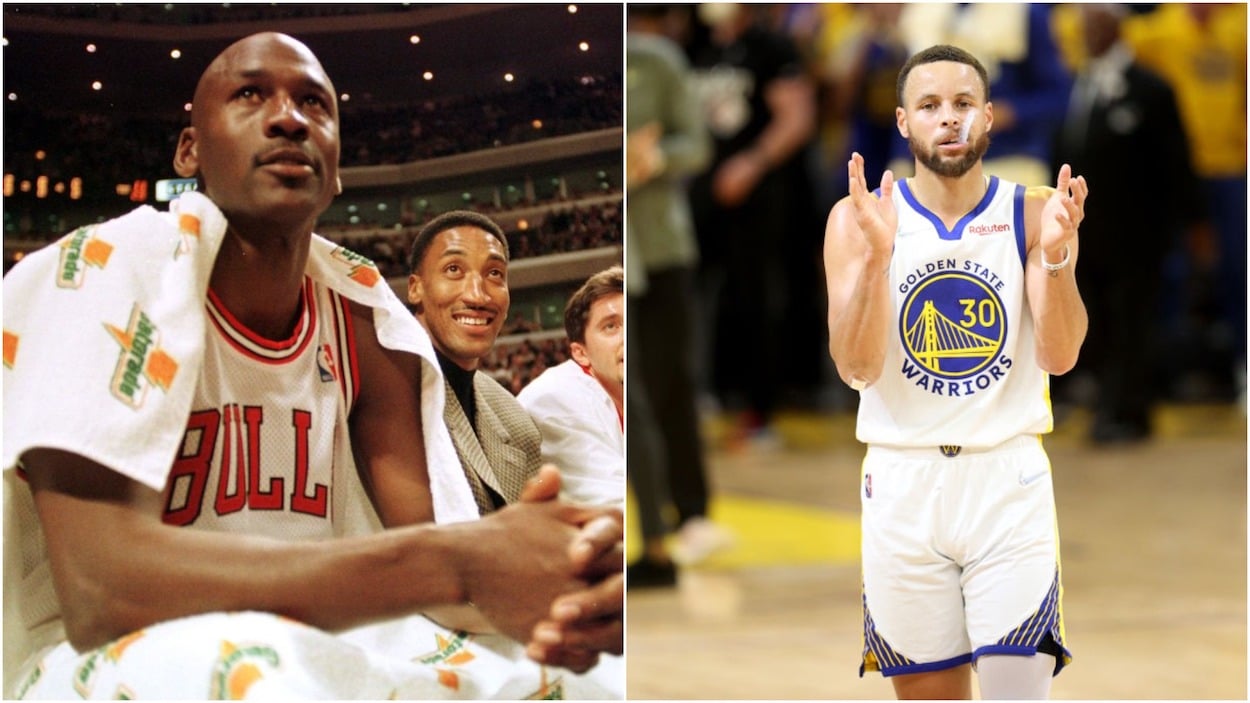 A Study Reveals Stephen Curry Gets More Internet Love than Michael Jordan, but Neither Can Match 4 Other NBA MVPs
Michael Jordan is usually the top dog in NBA circles, but when it comes to online love, he's sitting in sixth place behind Steph Curry and four other MVPs.
In the world of basketball, Michael Jordan is largely considered untouchable. Thanks to his incredible resume and unshakable will to win, His Airness sits atop of most GOAT rankings. Even if you don't think he's the best player to hit the hardwood, you have to respect his game. Right?
Maybe not.
According to a recent study, Jordan isn't the "most loved" NBA MVP, at least as far as social media goes. He sits in sixth place behind Steph Curry and four other stars.
Let's break down the results.
Michael Jordan may be the GOAT, but he receives less online love than Steph Curry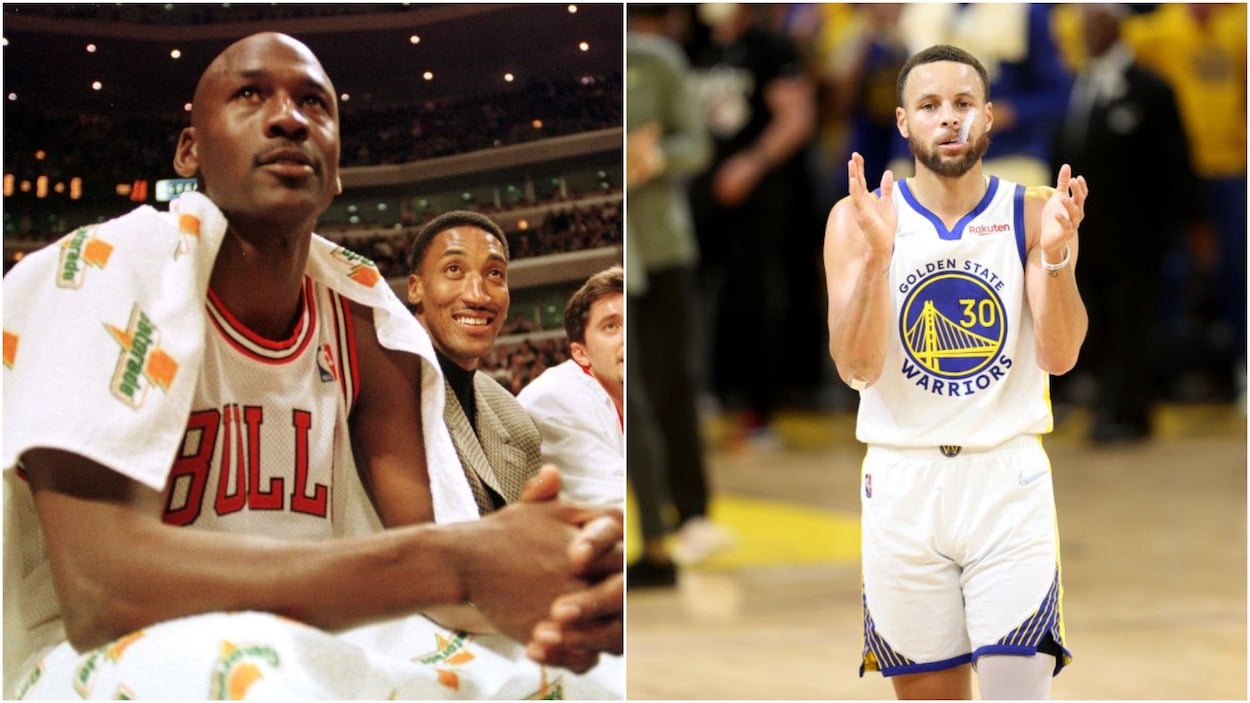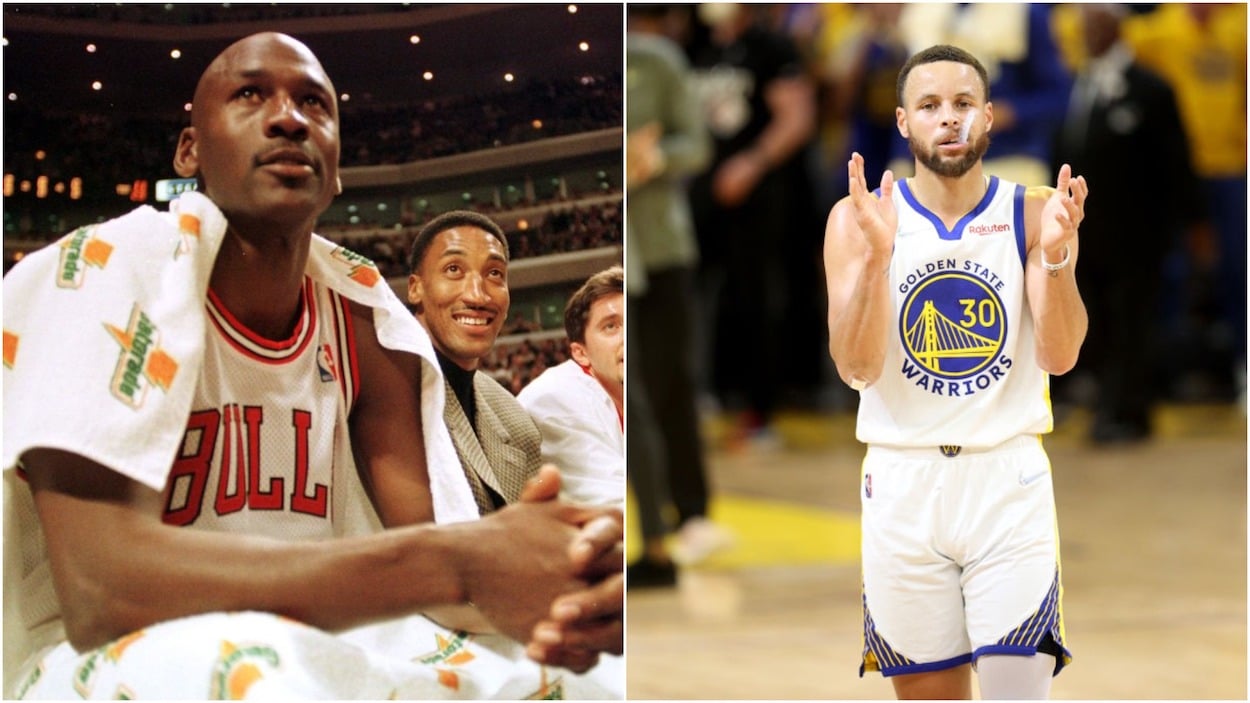 If you've spent any amount of time on social media, you'll know that there are plenty of positive and negative opinions flying around. While that can make overall online sentiments equal to quantify, a recent study tried to get to the bottom of that reality.
Betway, making use of "the Linkfluence social listening tool," considered the past 12 months of activity, both positive and negative, around previous MVPs. That data was then used to determine which players were viewed the most positively or, in the language of the study, were the most "loved."
In total, Betway ranked 20 NBA MVPs. Tim Duncan received the least online affection (5.81%). At the opposite end of the spectrum, the top 10 ranks as follows:
| | |
| --- | --- |
| Player | Positive Sentiment Percentage |
| Derrick Rose | 27.10% |
| Allen Iverson | 23.90% |
| Kobe Bryant | 17.80% |
| Giannis Antetokounmpo | 17.00% |
| Stephen Curry | 14.80% |
| Michael Jordan | 12.20% |
| Nikola Jokic | 11.30% |
| James Harden | 11.00% |
| Karl Malone | 10.70% |
| LeBron James | 10.70% |
As you can see, Michael Jordan sits behind Steph Curry. Both of those men, however, are a decent way off Derrick Rose in the top spot.
Those largely make sense, but MJ's placement also exposes the potential shortcomings of the study
Upon first glance, any list that has Michael Jordan in sixth place will receive a bit of scrutiny. In this case, though, that ranking makes a good amount of sense.
Jordan, through no fault of his own, hasn't played for quite some time. While he's still a massive pop-cultural presence, that probably limits the amount of attention he's receiving online. If you combine that with the way MJ's covered these days – it's largely about stories of him taking things personally or more tabloid-style pieces – it makes sense that the sentiments aren't universally positive.
Stephen Curry, on the other hand, is currently playing and has been turning in impressive postseason performances. It's also worth noting that the Golden State Warriors guard has a pretty clean public image; unless your team is on the receiving end of his hot shooting, you probably won't be taking to Twitter to rip the guard.
Similar points can also be made for the guys in the top four spots. Giannis Antetokounmpo is an incredibly talented player and, based on what we see, a pretty good guy. Kobe Bryant hasn't hit the hardwood in a while but still stands tall in NBA fans' collective memories. For an entire generation, he was the definition of basketball.
Allen Iverson was more than just an athlete. As explained by a 2020 SLAM post, he took elements of Black culture, like braids and tattoos, and made them part of mainstream culture. That, along with his incredible handles, earn him a place in NBA history. 
As for Derrick Rose, that 2010-11 MVP campaign still looms large in Chicago lore. The guard was simply unstoppable, and given his unfortunate injuries, that season remains a reminder of what could have been.
Again, all of that makes sense, but it also exposed some of the study's shortcomings. It's easier for someone like Giannis or Steph Curry, who are currently playing and earning praise from their respective fan bases, to be on the receiving end of positive social media sentiments. Someone like Tim Duncan, who retired in 2016 and had a reputation as somewhat of a boring guy, is never going to receive a lot of online love, no matter how fondly San Antonians remember him.
So, while that might create a ranking that isn't completely perfect, the reality is that this is one list where Michael Jordan didn't dominate the competition. 
How to get help: In the U.S., contact the National Council on Problem Gambling helpline at 1-800-522-4700.
Like Sportscasting on Facebook. Follow us on Twitter @sportscasting19 and subscribe to our YouTube channel.