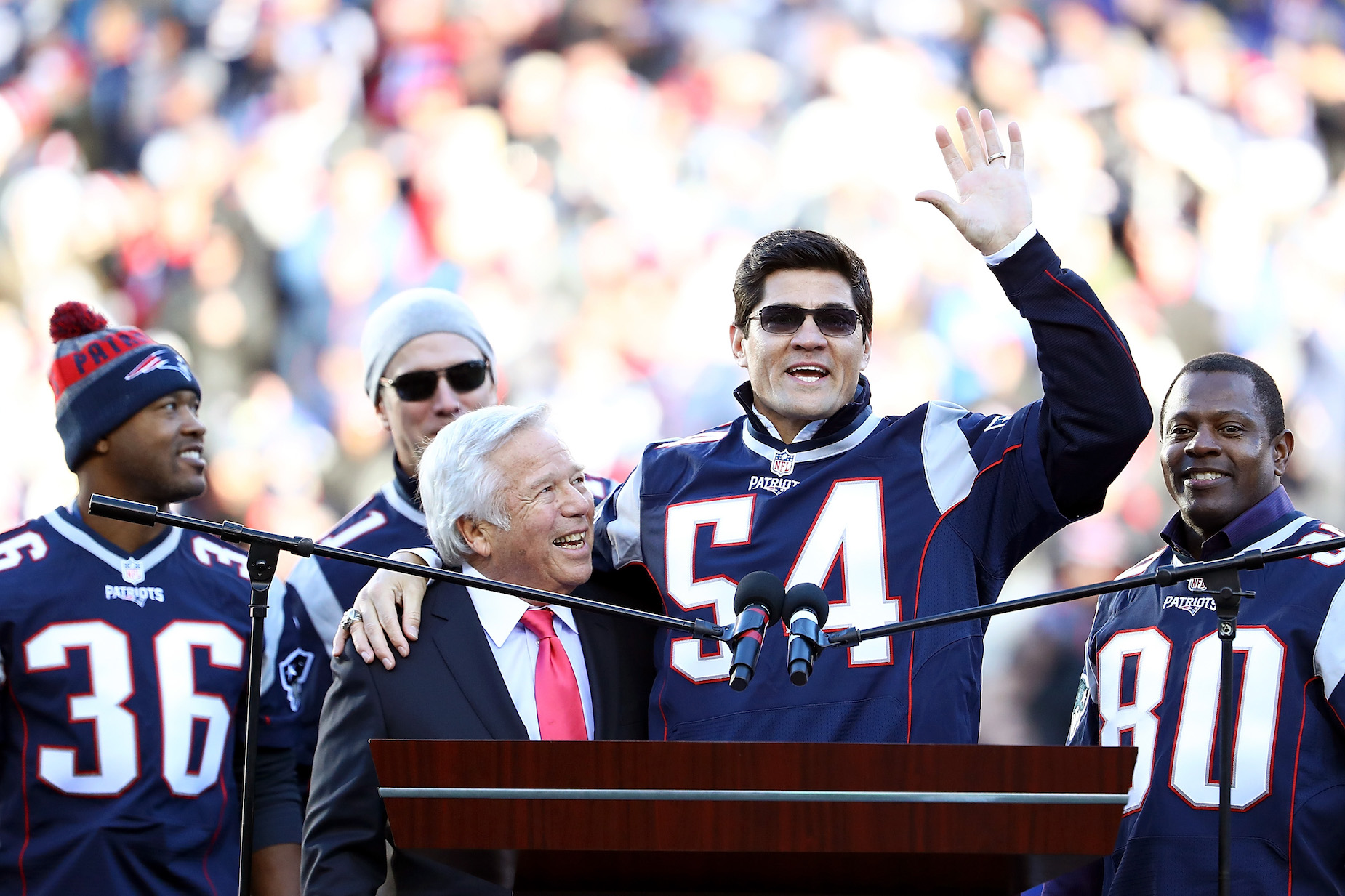 Tedy Bruschi Is Playing Defense Again After Appearing to Blast the New England Patriots
After appearing to blast the New England Patriots in a radio interview, Tedy Bruschi has taken to Twitter to play defense and clarify his comments.
During his time in New England, Bill Belichick made a career out of plucking players from obscurity and turning them into stars. One of the finest examples of that was Tedy Bruschi. The linebacker came to Foxborough as an undersized third-round pick; he retired as a three-time Super Bowl champion and the perfect example of 'the Patriot way.'
The NFL veteran, however, has recently found himself back on defense. After appearing to blast the New England Patriots in a radio interview, Tedy Bruschi wants everyone to know that he still thinks highly of his former team.
Tedy Bruschi became a Patriots legend during his time in New England
When you think of the New England Patriots dynasty, Tom Brady and Bill Belichick probably jump to the forefront of your mind. Tedy Bruschi, however, was a key member of those first few Super Bowl-winning squads.
Bruschi played his college ball at the University of Arizona, making a name for himself as a defensive lineman. When the 1996 NFL draft rolled around, however, scouts feared that he was too small to survive in the professional trenches.
Bill Belichick, however, wasn't concerned; he snagged Bruschi in the third round and converted the lineman to a linebacker. Those two decisions turned out to be a stroke of genius.
Bruschi ended up playing 13 seasons in New England, piling up 1,074 total tackles and 30.5 sacks. He was voted a defensive captain, earned Comeback Player of the Year honors after suffering a stroke in 2005, and lifted three Lombardi Trophies. He's since earned a place in the Patriots Hall of Fame and is still held in high regard by the fans.
Criticizing the New England Patriots?
Under ordinary circumstances, former NFL players try to avoid ruffling any feathers in the media. Tedy Bruschi, however, made some headlines on Wednesday when he appeared to call out his former employers.
During an appearance on WEEI's "Ordway, Merloni & Fauria," the conversation turned to Antonio Brown and a potential reunion with the New England Patriots. At that point, Bruschi explained why the receiver shouldn't return to Foxborough.
"They could use him. But I'm telling you, if I'm Antonio Brown, I wouldn't touch the Patriots with a 10-foot pole," Bruschi said, according to Yahoo Sports. "I say that because this team isn't very good anymore. You've got a quarterback now that I've got to be open for him to get me. Do I go to Cam? Or, let's see, maybe Russell Wilson that can put the ball in a place where I barely have to move my hand. What quarterback would I rather play for?"
Tedy Bruschi is playing defense after those controversial comments
As you might assume, Tedy Bruschi saying "this team isn't very good anymore" when talking about the New England Patriots quickly made headlines. While his point is pretty fair—the team is currently 2-3, and there's nothing egregious about picking Russell Wilson over Cam Newton—the former linebacker has since taken to Twitter to clarify his quotes.
"Words get twisted," Bruschi tweeted on Thursday morning. He then went on to explain that he was speaking to Antonio Brown's thought process and explaining why the receiver might be hesitant to join the Patriots.
"This Patriot team can still make the playoffs and I expect them to," Tedy Bruschi concluded.
Stats courtesy of Pro-Football-Reference