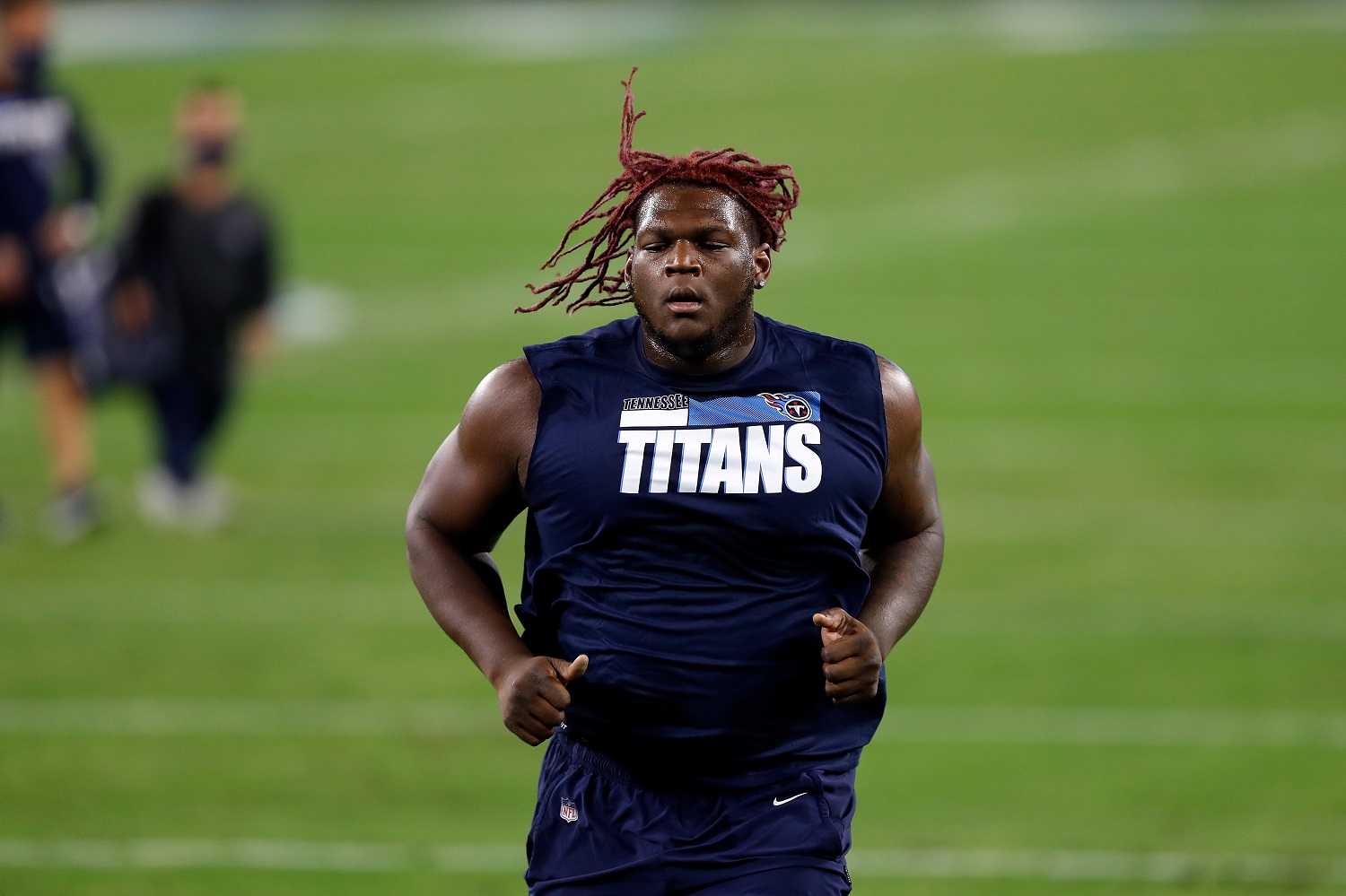 The No. 1 Bust of the 2020 NFL Draft Is Ready to Become Somewhere Else's $11.3 Million Disaster
Problem rookie Isaiah Wilson tweeted that he wants to part ways with the Tennessee Titans after playing just four downs in 2020.
There is no truth to the rumor that the Tennessee Titans will draft Isaiah Wilson for the second straight year on the premise that they didn't get all of the University of Georgia offensive lineman the first time around.
The more realistic scenario is that the Titans will cut ties with the biggest bust of the 2020 NFL draft, which would suit Wilson just fine. He seems to think that another suitor will come along and take on an $11.3 million train wreck who's making all-time bust Ryan Leaf look like Peyton Manning.
Mike Vrabel has the Tennessee Titans in a good place
The Tennessee Titans have momentum heading into the 2021 season. Ending the most recent NFL season with a 20-12 loss to the Baltimore Ravens in the wild-card round was a setback, but the year's positives outweighed the negatives. After four straight 9-7 seasons, the Titans went 11-5 in Mike Vrabel's third year on the job despite early-season scheduling chaos brought on by the pandemic.
The Titans found their bearings in 2019, moving on from Marcus Mariota at quarterback and making Derrick Henry the focus of the offense. In doing so, they learned that Ryan Tannehill could be more than a game manager at quarterback.
Tannehill, a player the Miami Dolphins gave up on after six seasons, has thrown 55 touchdowns and just 13 interceptions in a little more than a season and a half as the starter. He has posted the two best passer ratings of his life as a Titan and took a career-low 24 sacks last fall despite the absence of Isaiah Wilson, the rookie lineman projected to be Tannehill's personal protector for the next decade.
Isaiah Wilson is proving to be a wasted first-round pick
The first five tackles taken in the 2020 NFL draft appeared in an average of 15 games last fall. Tristan Wirfs (Tampa Bay), Jedrick Wills (Cleveland), and Austin Jackson (Miami) distinguished themselves, and the others had their moments on the field, too. And then there is Isaiah Wilson, selected No. 29 overall by the Tennessee Titans. He is now the hands-down No. 1 headache in the organization.
Wilson was seven months beyond his 21st birthday when he was arrested in Tennessee on a DUI charge two days before the Titans left for Denver for their opener. According to A to Z Sports in Nashville, the Davidson County Sheriff's Office arrested Wilson after he lost control of his car and hit a concrete wall.
The incident put Wilson even further behind than he already was. Wilson was the last Titans draft pick to agree to terms, finally settling on a $5,973,376 signing bonus and $11,357,982 in guaranteed money. When he did make it to camp, the rookie landed on the reserve/COVID-19 list twice.
Midway through camp, Wilson had another encounter with police, this time at Tennessee State University as authorities responded to a report of a party. Wilson considered jumping off a second-story balcony to flee, a campus police incident report said. The New York Post reported it was unclear if he violated NFL-NFLPA rules banning players from house parties with more than 15 people during the pandemic.
The last straw for the Tennessee Titans
Isaiah Wilson played a total of four snaps in his rookie season with the Tennessee Titans, spending the majority of time on the reserve/non-football illness list while dealing with unspecified personal issues. Over New Year's weekend, party video turned up showing him partying on a boat alongside an unidentified woman with dollar bills shoved in her bikini, according to A to Z Sports.
General manager Jon Robinson drew his line in the sand last week.
"We put him on the Reserve/Non-Football Injury list, and haven't spoken to him since," he said in a statement, according to Pro Football Talk. "He's going to have to make a determination on whether he wants to do what it takes to play pro football. That will be on him."
Well, Wilson has given his response. He posted on Twitter on Monday that he's done with the Titans. Various folks pulled down screengrabs before the lineman could delete the message, which said, simply, "Im done with football as a Titan… No further comments."
If he's willing to hand back a boatload of money, it's a safe bet that the Titans will accommodate.
Like Sportscasting on Facebook. Follow us on Twitter @sportscasting19